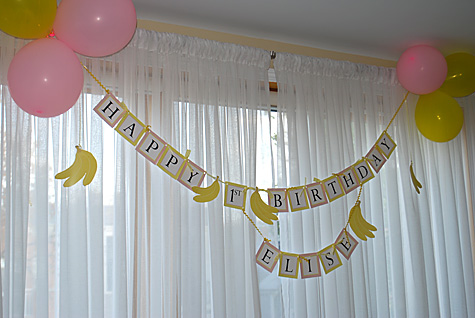 I made this "Happy 1st Birthday Elise" pink and yellow hanging birthday banner for Elise's pink monkey and bananas birthday party. I hung it over our living room curtains using three kinds of ribbon – vintage yellow ric-rac, yellow solid ribbon and yellow and white polka-dot ribbon, then I added pink and yellow balloons on the sides.
This free happy birthday banner hanging sign printable coordinates with Elise's other free pink monkey 1st birthday party printable templates – monkey birthday party hat, month-by-month photo display of how Elise has grown, front door happy birthday signs, bubble favors, monkey thank you cards, and monkey party cake: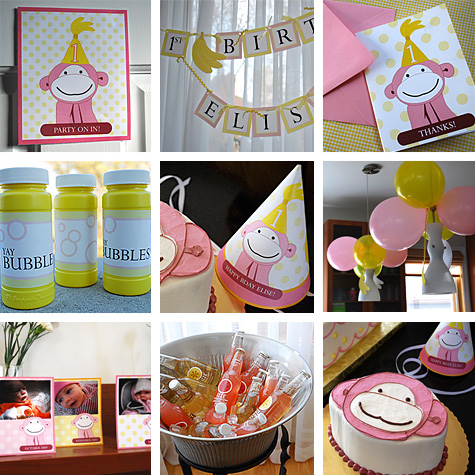 Happy birthday banners seem to be all the rage on etsy right now but I figured, why pay for what I can make my way for free? And now it is yours. Just email me if you'd like it customized — add names, change colors, change year and more — for bananas …oh, I mean peanuts.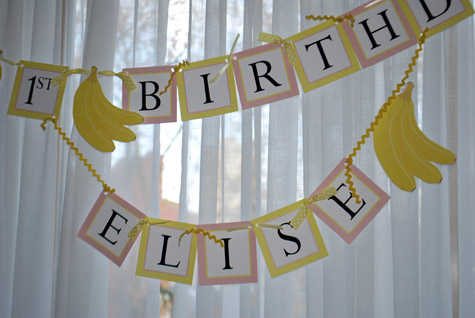 WANNA MAKE IT? Keep reading for my free printable DIY happy birthday banner in yellow and pink!
Supplies:
I can customize this printable template for you for a nominal charge – add names, change colors, change year and more – or create a custom party invitation. Just send me an email.
NOTE: This free templates do not include the large bananas that I hung from the Happy Birthday sign or put next to her refrigerator sign because I bought that illustration on iStockPhoto.com and then altered the colors and number of bunches. So if you'd like to use the large bananas, please buy the illustration at iStockPhoto.com or search for free banana clip art.
How to make 'a Happy 1st Birthday" Banner Hanging Sign
Print my "Happy 1st Birthday" free printable template onto card stock weight white paper. You can either print it at home or do what I do and send it online to FedEx Office.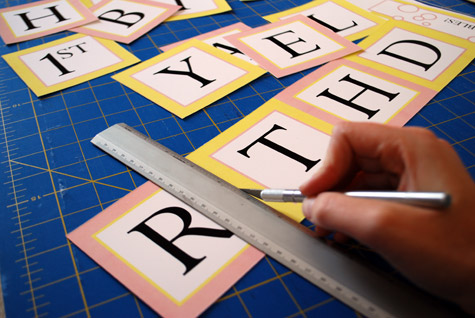 Cut out the letters using an Xacto knife, ruler and self-healing mat. Lay the letters out in order like this: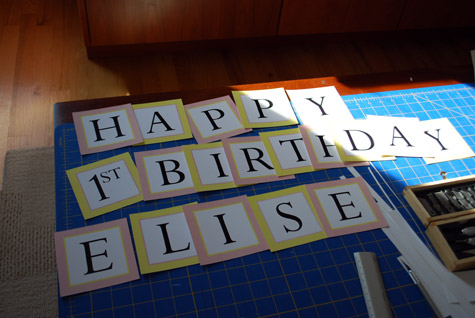 Punch holes in the upper corners where letters join.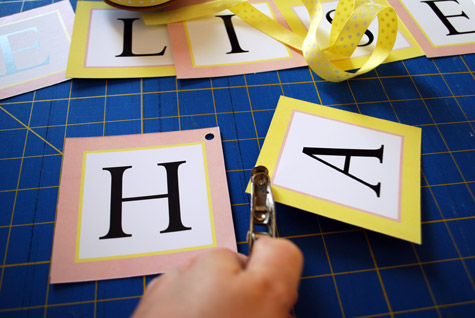 Cut a piece of ribbon about 5" long. String through the holes and tie, being careful not to tighten too tightly and break the paper. Repeat for Happy and 1st and Birthday. If you use bananas, put bananas between the words.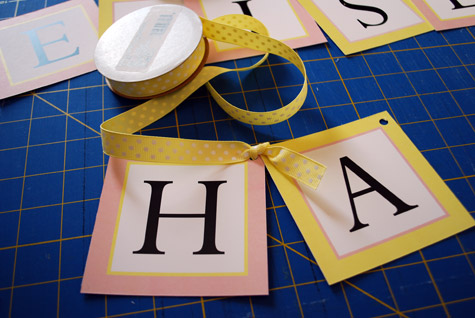 Using yellow ribbons and vintage ric rac, hang the sign, adding your child's name underneath asymmetrically, balancing it with cut-out hung bananas.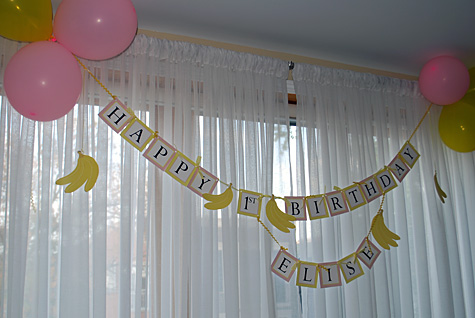 Add three balloons at each end, tying with ribbon.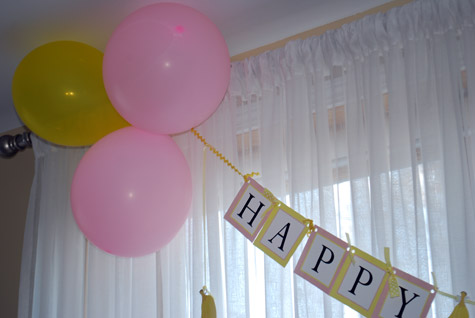 COPYRIGHT NOTE: You're more than welcome to use this free pattern and step-by-step tutorial instructions for personal use with the request that you post a comment below. Contact me for any commercial use – this includes etsy sellers. Craft and pass it on!
Save
Save