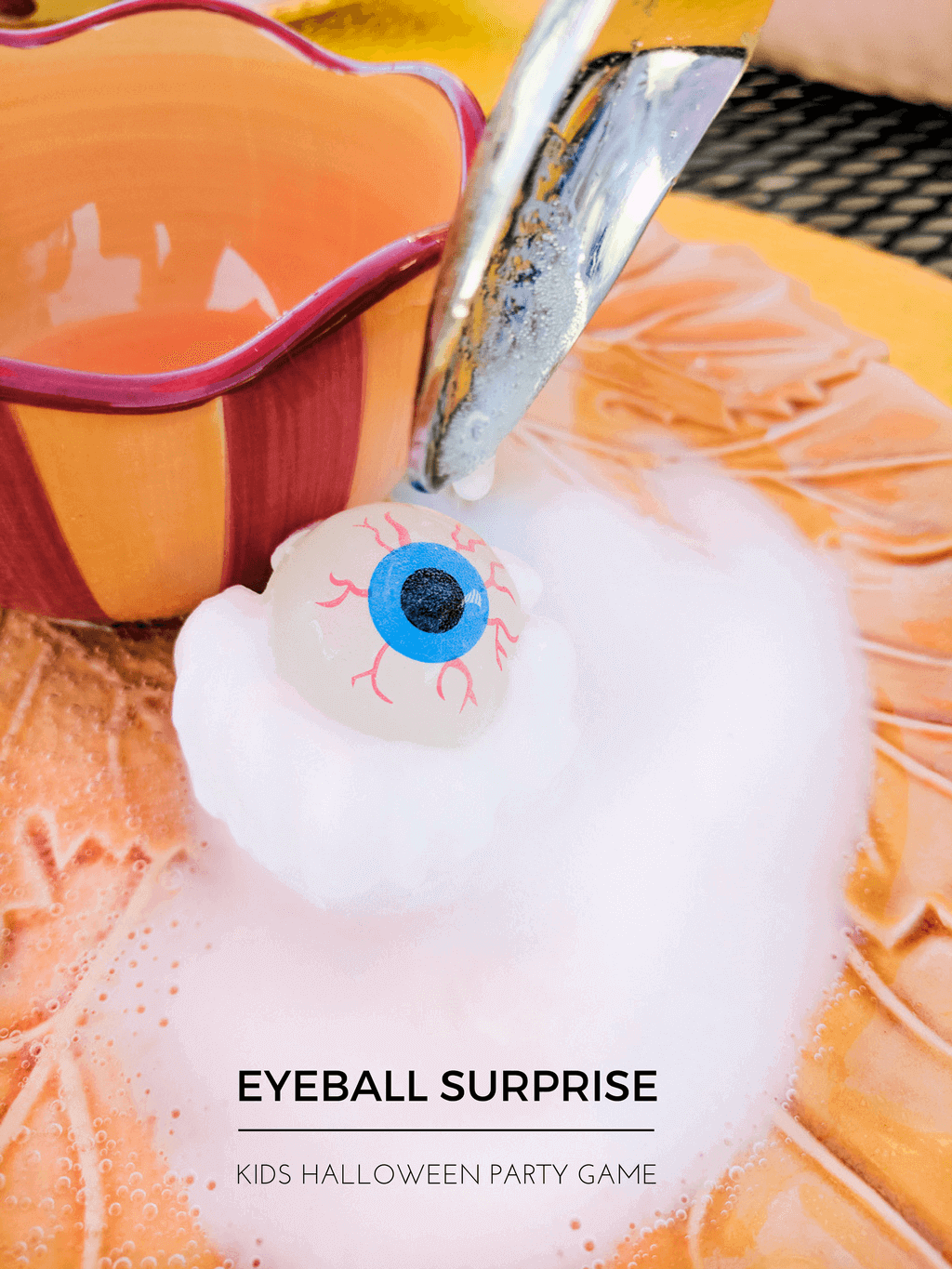 Here's a fun kids Halloween party game or Halloween kids activity that doubles as a cool science lesson: Freeze glow-in-the-dark bouncy ball eyeballs (affiliate) in baking soda and water, and then have kids spoon vinegar on top to reveal the eyeball surprise! It's a great way to put the STEAM into Halloween!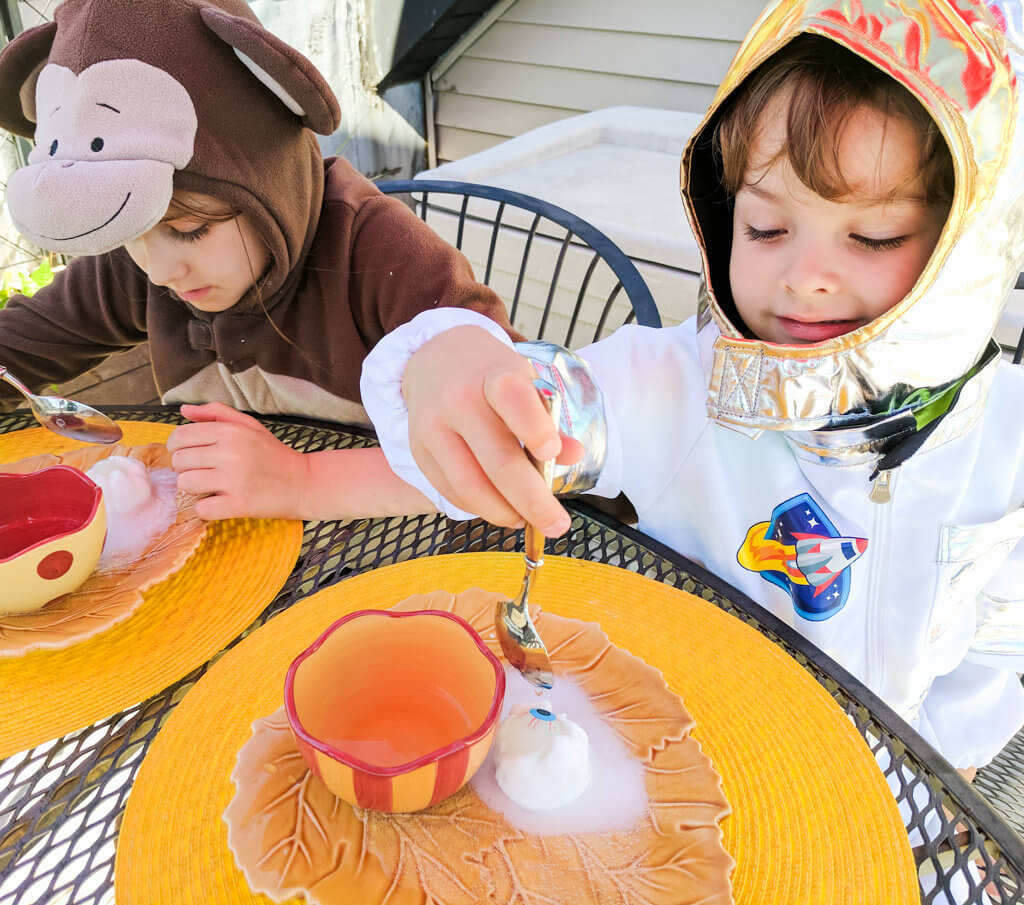 Check out the bubbling vinegar as it hits the baking soda eyeball in a science reaction…
Remember the Rescue Han Solo from carbonite kids game that we played at Elise's Episode 6: Return of the Birthday party? This easy Halloween game is a riff off of that game that was a HUGE hit!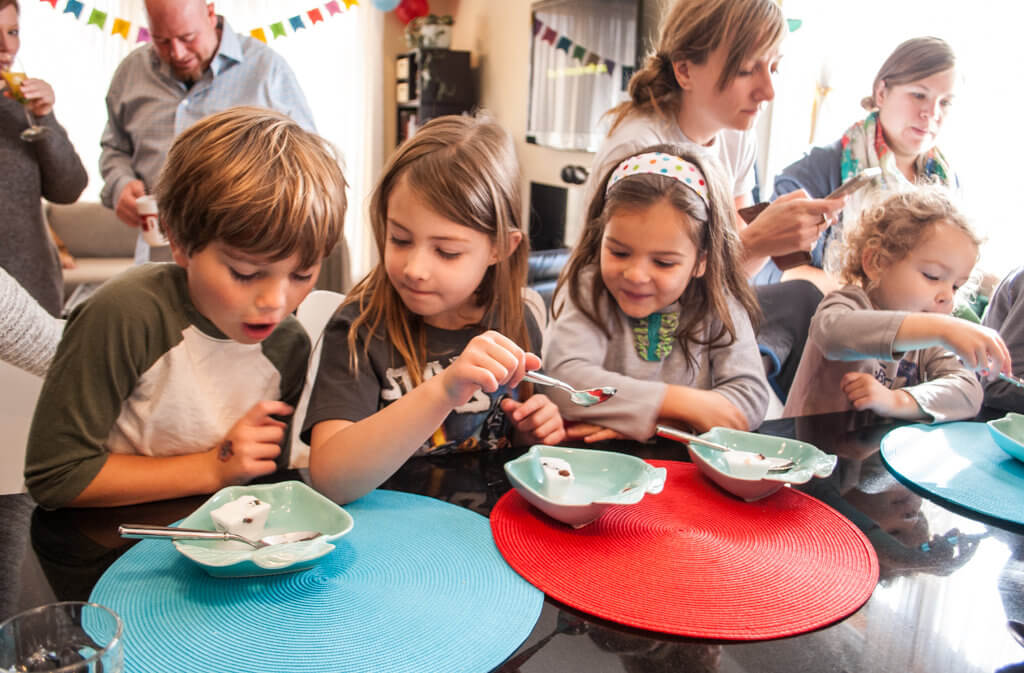 This time instead of Star Wars minifigures, I hid these glow-in-the-dark bouncy ball eyeballs and encased them in baking soda using this baby food freezer tray. Halloween party guests start off with a small bowl of vinegar with a spoon, and a mysterious white ball on their plate. Ooh …what's inside?!?!?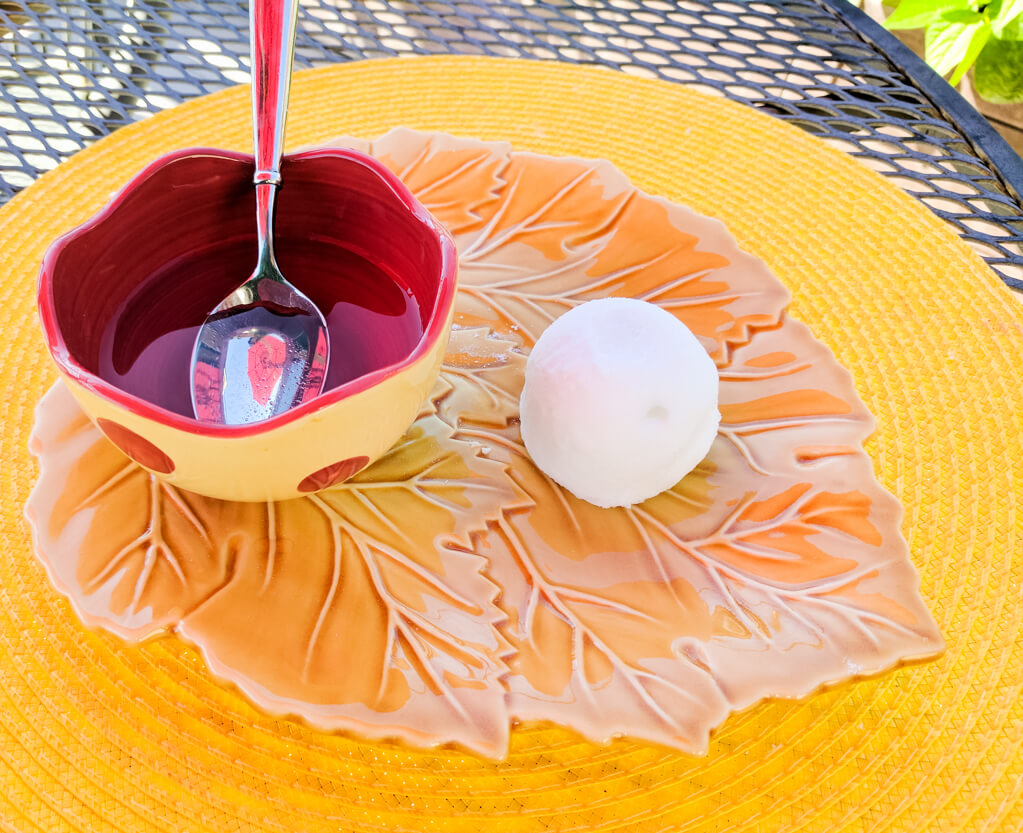 It's a super fun and easy kids Halloween party game that brings the smiles.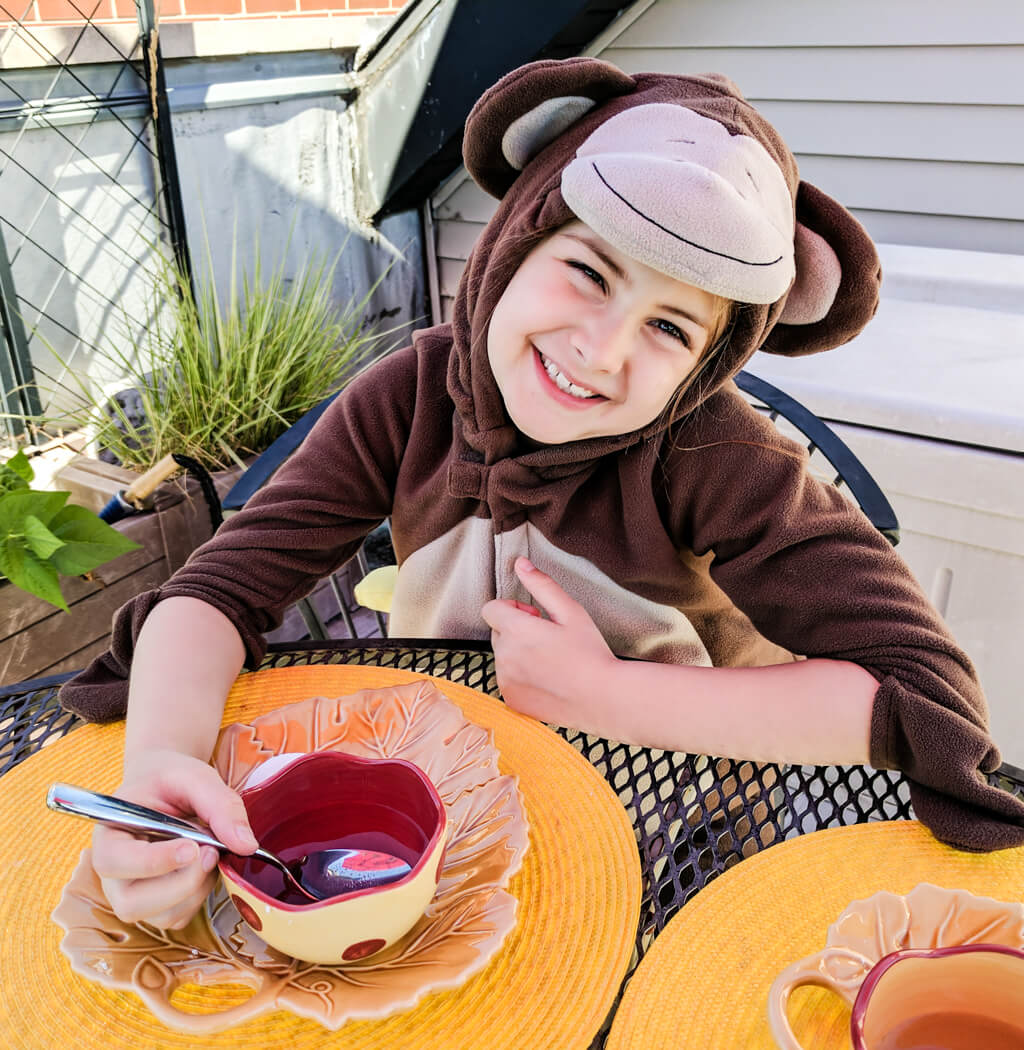 This post contains affiliate links which means that products I recommend may give me a nominal commission at no extra cost to you. Thanks – your clicks help me make more free DIYs!
++++++
Supplies for making this fun kids Halloween STEAM science activity and Halloween party game:
—
How to make a fun kids Halloween party game: Eyeballs surprise science experiment
Step 1: Make the frozen eyeballs
We used the same recipe from my free Han Solo from carbonite game that we played at Elise's Star Wars birthday party. This recipe is easy enough that kids can do it on their own.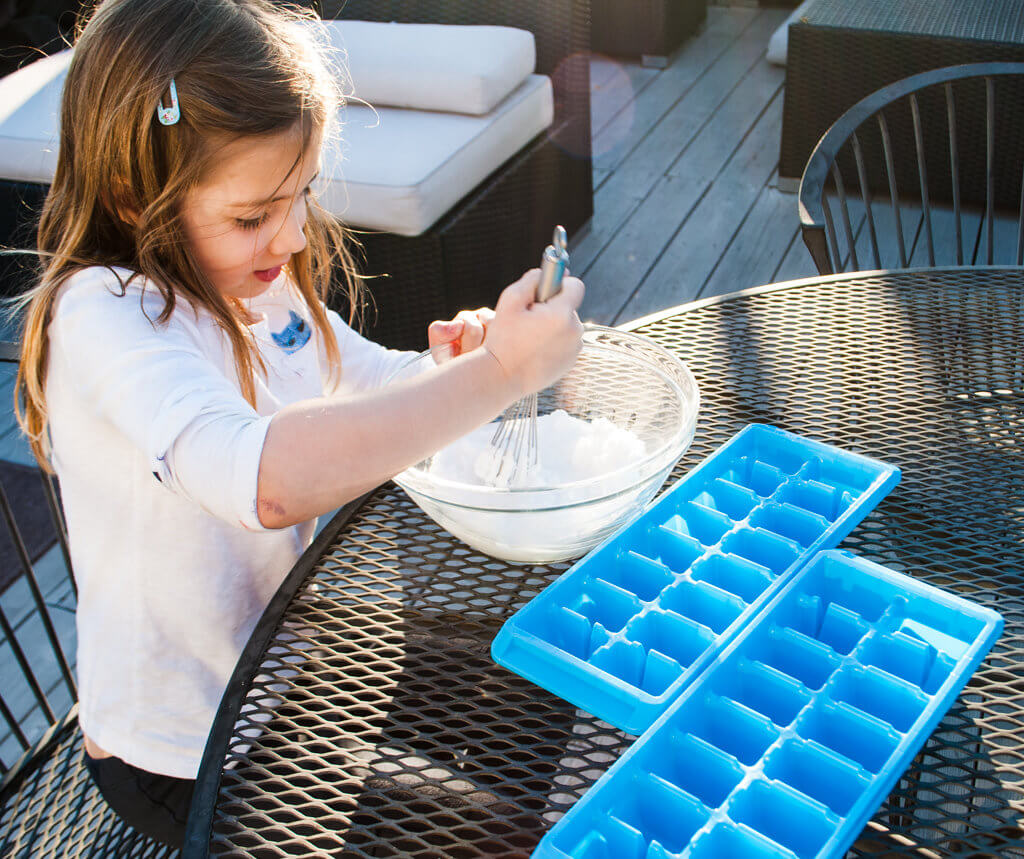 You'll need a big box of baking soda and a larger ice cube tray – I like this baby food freezer tray that I still use now that my kids are older to make purees for this sweet potato crackers recipe and other recipes. Freeze as directed and then store in the freezer until party time.
Step 2: Pour vinegar onto the frozen baking soda eyeballs
Give each party guest their own plate, bowl of vinegar, and a spoon and uncover the secret mystery!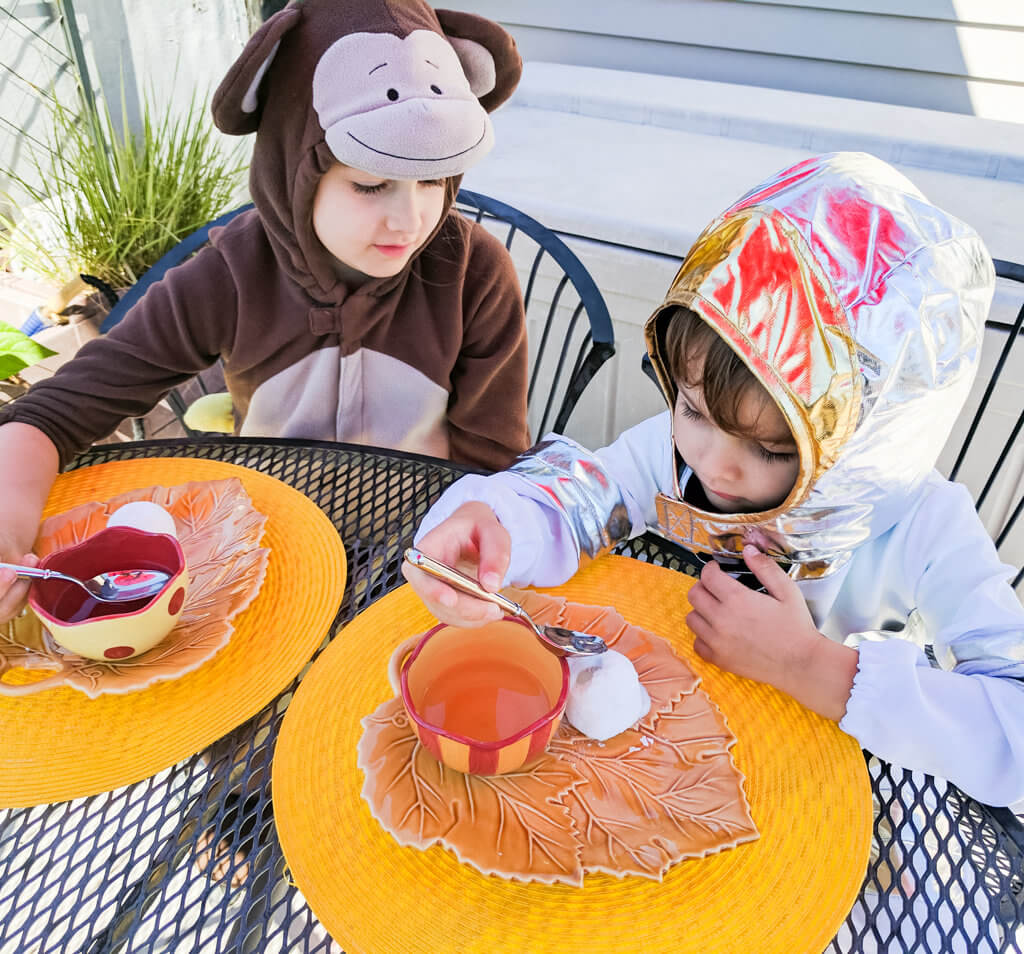 Step 3: Play with creepy bouncy eyeballs
Rinse off the bouncy eyeballs and then use them for your next kids Halloween party game.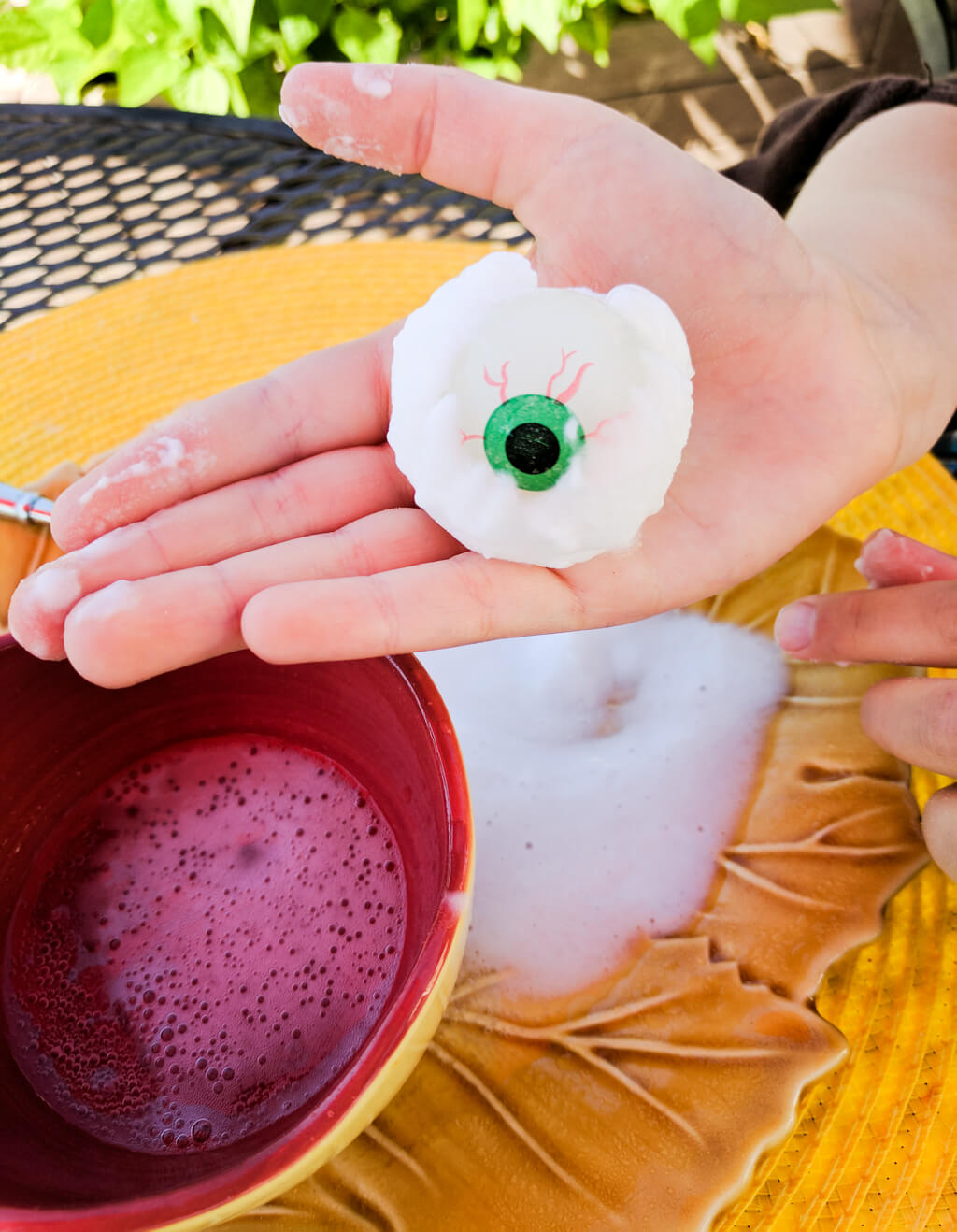 ++++++
Be sure to pin this Halloween science activity and kids Halloween party game

Be sure to check out more Halloween craft and DIY projects like these kid-friendly Halloween pumpkin and skull felt bracelets and DIY Halloween costumes ideas.
—
Like it? Share it!
The nicest way to say you like it is to pin it on Pinterest, post a comment, follow Merriment Design on Facebook, Pinterest, Instagram or sign up for monthly emails. Enjoy! 🙂
Copyright stuff: You're more than welcome to use this free project and tutorial for personal use. Contact me for commercial use and Etsy sales.