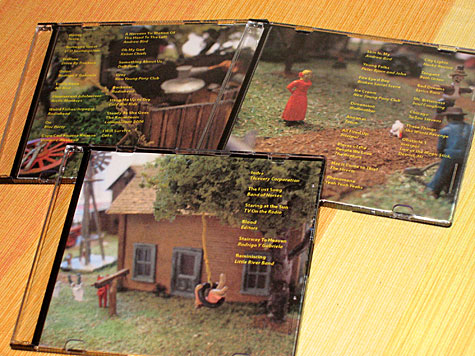 I made these three kitschy CD mixes to thank my friend Amy for letting me stay at her place for the first few days of my week in NYC.
Back when I was a kid, my dad handmade wonderful miniature farmland model worlds. I can still remember him individually painting figurines and gluing on grass and shingles. Last trip home I snapped buckets of great detail miniature farmland shots, not really sure where or when I'd use them. But Amy and I grew up together in Indiana so I thought they were the perfect covers for her CD tunes.
Supplies:
First I selected songs and burned them onto blank CDs
using iTunes. See my song choices after the jump.

Then I selected three farmland images: moonshine still, swing and garden. I then set up a 5″ wide x 4.75″ tall Illustrator file, but if you don't have Illustrator you could just use PowerPoint. Then I typed in the song titles and italicized artists in yellow, keeping it simple with the Myriad font.
I printed them on matte photo paper
give the covers some weight. I cut them using my rotary paper trimmer
and slipped them inside the CD cases.

If you're using my farmland CD Adobe Illustrator template it will be a breeze. Download and open the CD template. Change the songs to match your tunes. Print. Cut using the rotary paper trimmer
. Insert into the CD cases.
COPYRIGHT NOTE: You're more than welcome to use this project and images for your own personal use. Contact me for any commercial, distributed or published use.
See which songs I picked for Amy…
Skin Is, My :: Andrew Bird
Young Folks :: Peter Bjorn and John
Fire Eye'd Boy :: Broken Social Scene
Ice Cream :: New Young Pony Club
Dimension :: Wolfmother
Annanas :: Tosca
All Fired Up :: Interpol
Pieces of the People We Love :: The Rapture
Has It Come to This? :: The Streets
Phenomena :: Yeah Yeah Yeahs
City Lights :: Husky Rescue
Tangent :: Beth Orton
Bad Dreams :: Lyrics Born
Mr. Bitterness :: Soul Coughing
Chicago :: Sufjan Stevens
These Things :: She Wants Revenge
Obstacle 1:: Interpol, Live at the Magic Stick, Detroit, MI
Honey :: Tosca
Someone Great :: LCD Soundsystem
Wallace :: Drive By Truckers
Orion :: Rodrigo Y Gabriela
Emily Kane :: Art Brut
Fluorescent Adolescent :: Arctic Monkeys
Weird Fishes/Arpeggi :: Radiohead
On :: Bloc Party
Cape Cod Kwassa Kwassa :: Vampire Weekend
A Nervous Tic Motion Of The Head To The Left :: Andrew Bird
Oh My God :: Kaiser Chiefs
Something About Us :: Daft Punk
Grey :: New Young Pony Club
Reckoner :: Radiohead
Hang Me Up to Dry :: Cold War Kids
Steady As She Goes :: The Raconteurs, Lollapalooza 2006
I Will Survive :: Cake
Indra :: Thievery Corporation
The First Song :: Band of Horses
Staring at the Sun :: TV On the Radio
Blood :: Editors
Stairway To Heaven :: Rodrigo Y Gabriela
Reminiscing :: Little River Band
COPYRIGHT NOTE: You're more than welcome to use this project and pattern for your own personal use. Please post a comment below or email me if you use this project so I can smile when I see that it's being used. Craft and pass it on!