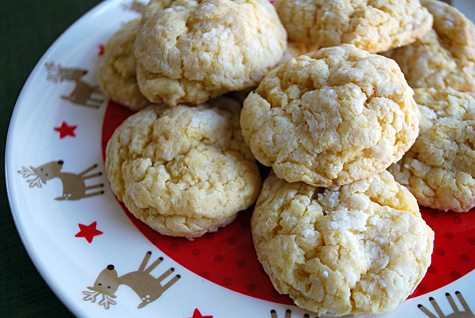 This recipe for gooey butter cookies is courtesy of my friend Debbie who makes these yummies for her annual Christmas party. Debbie is from St. Louis where gooey butter cake is a local staple and this gooey butter cookie recipe is meant to pay homage to that cake, albeit with about 10 fewer steps.
Now I've never tasted gooey butter cake but it's clear that if it tastes anything like these gooey butter cookie I would love it. The gooey butter cookie inside is indeed gooey — soft, moist, addicting, with a flavor unlike any other regular cookie that you'd find on a holiday cookie exchange table.
The secret to this gooey butter cookie recipe is cake mix. Yeah, a box of yellow cake mix. I was kind of floored when I read Debbie's email and saw cake mix as a main ingredient. But scoff if you will – you would never guess it once you take a bite.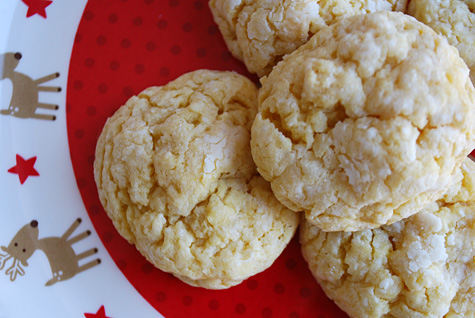 The only downside is that the gooey butter cookie looks a little plain compared with all the va-va-voom holiday cookies out there. But sometimes something plain on the outside hides something truly unique on the inside, yes?
Gooey Butter Cookies Recipe Ingredients:
1 (8 ounce) package full-fat cream cheese, softened
1/2 cup unsalted butter, softened (do not use margarine)
1 egg
1/4 teaspoon vanilla extract
1 (18.5 ounce) package yellow cake mix (make sure it is 18.5 oz – also you can buy gluten free yellow cake mix to make this recipe gluten free – you can also experiment with other cake mix flavors)
1/4 cup confectioners' sugar
Gooey Butter Cookies Recipe Supplies:
Preheat oven to 350 degrees F (175 degrees C).  In your KitchenAid stand mixer (or medium sized bowl), cream together the softenened cream cheese and butter. Add the egg and vanilla and stir. Slowly add the cake mix in batches, and stir until well blended. You may need to scrape down the sides of the bowl and mix again.
One dough is made, put in fridge for 1-2 hours. This will make it easier to work with because gooey butter cookie dough can be sticky. In the meantime, pour the confectioner's sugar into a shallow bowl. Now you're ready to scoop. Scoop up the gooey butter cookie dough in your small ice cream scooper…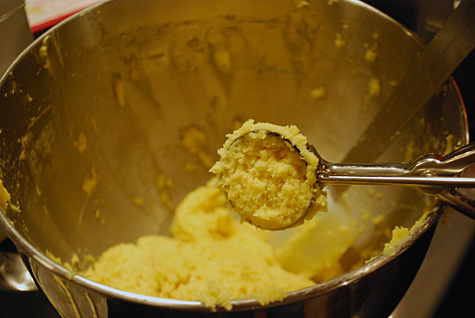 …and plop it in your bowl of confectioner's sugar. Coat the gooey butter cookie dough ball with the powdered sugar. They will no longer be sticky.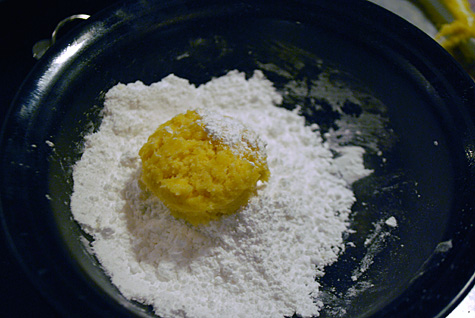 Roll the confectioner's sugar-covered gooey butter cookie dough balls in the palms of your hands to make them a bit more round. Place on a silipat-covered cookie sheet about 1 inch apart (or use an ungreased cookie sheet). They will not spread very much while baking.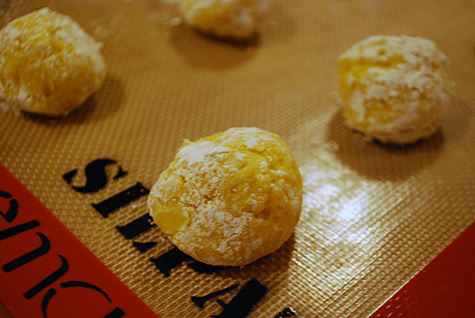 Bake for 10 to 13 minutes. BE CAREFUL TO NOT OVERCOOK! You want them to be gooey in the middle. Experiment with a couple in a trial batch and adjust baking time to your oven. I also recommend sliding the Silipat off of the hot cookie sheet, letting the cookies cool about 5 minutes on the Silipat, and then moving them onto wire racks to fully cool. Ooh, gooey.