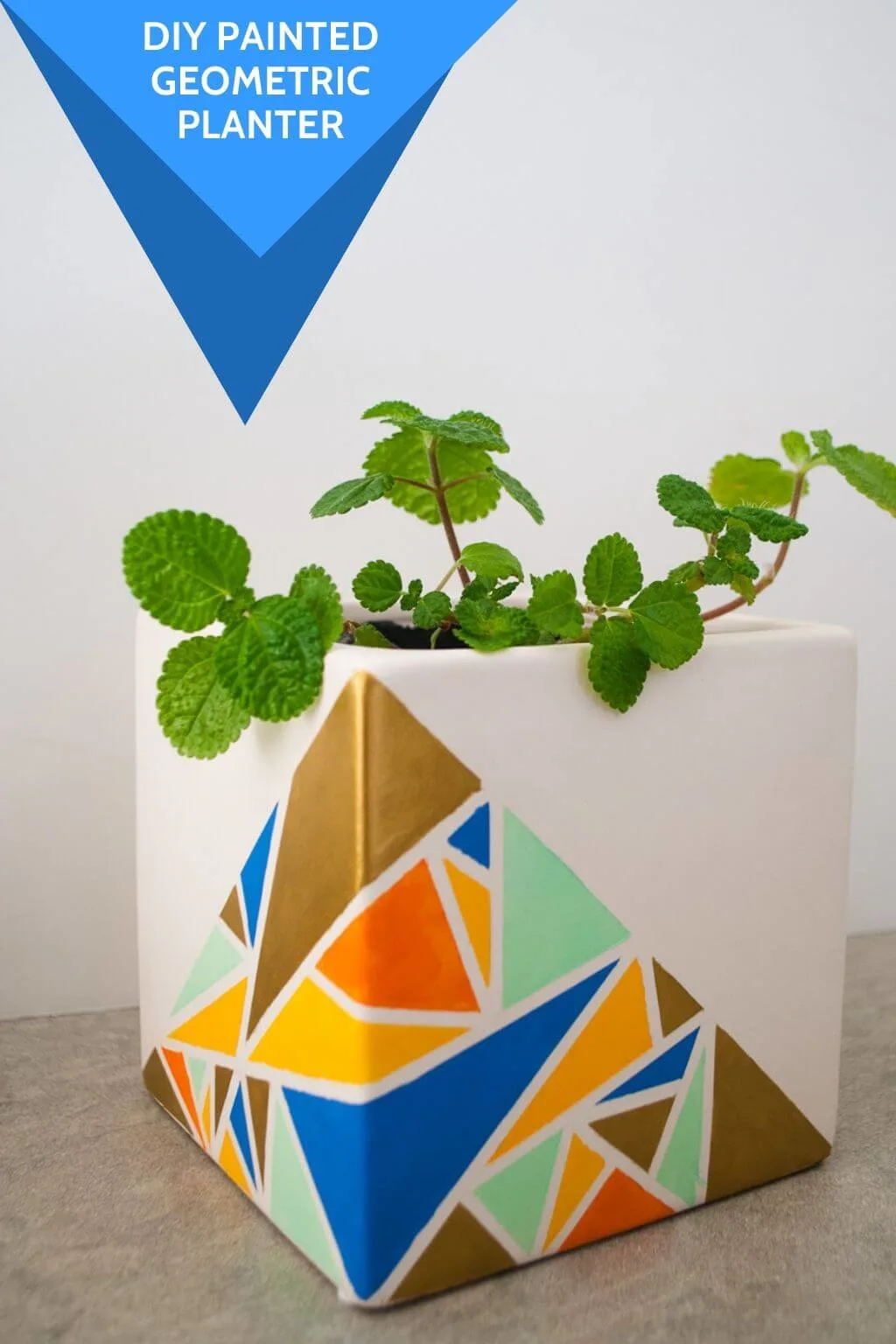 Here's an easy DIY geometric painted pots idea to get you in the mood for spring. This geometric painted planter is actually super easy to make yourself by hand. It may look complicated but it's actually really simple for beginners. Keep reading to see how to make your own DIY painted pots in your favorite color combination!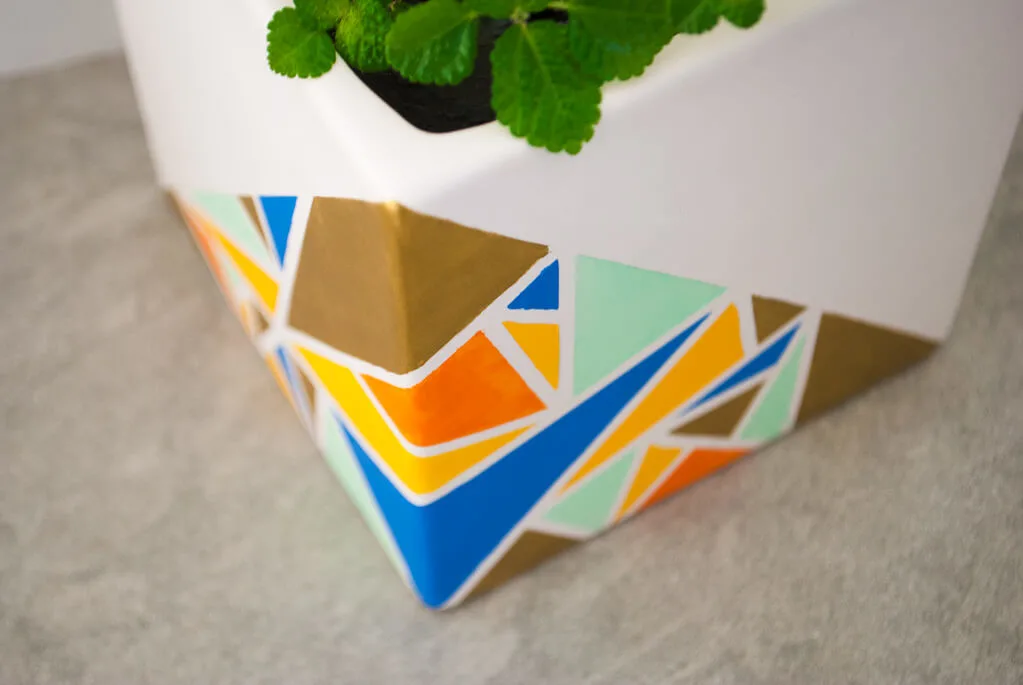 This tutorial is part of the JOANN Fabric & Craft Stores® National Craft Month #craftmonthlove campaign. JOANN asked me to create an original DIY project idea for them that makes spring crafting easy to help celebrate National Craft Month. JOANN sponsored this post and all opinions are mine.
See also: 'Make Modern DIY Tile Coasters' »
Geometric patterns are everywhere this spring and I'm obsessed. I have been pinning geometric inspiration all over the place. Have you seen the huge paper geometric dinosaur that I made for my son's birthday party? See, I told you that I'm obsessed! My favorite geometric patterns are asymmetrical ones like this one. And this one too. I wanted to make my own geometric creation for spring, and I'll show you how you can make your own geometric plant pot!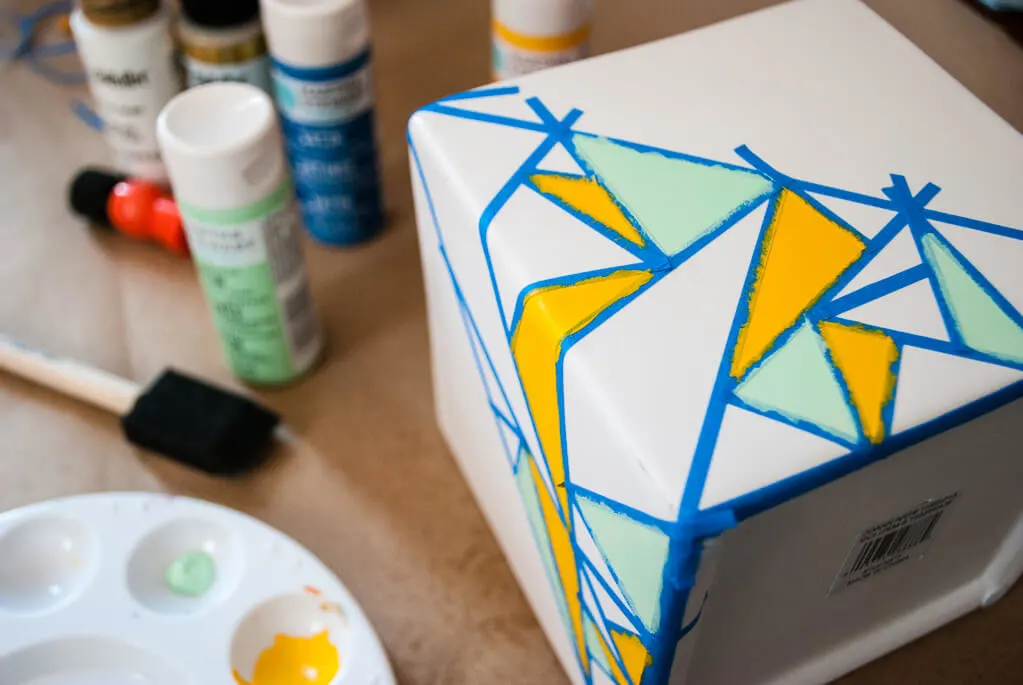 This DIY geometric pot looks modern and intricate but is really easy for beginning painters to do. You can make your own geometric flower pot in an afternoon or evening and customize your own color combination to brighten up your spring.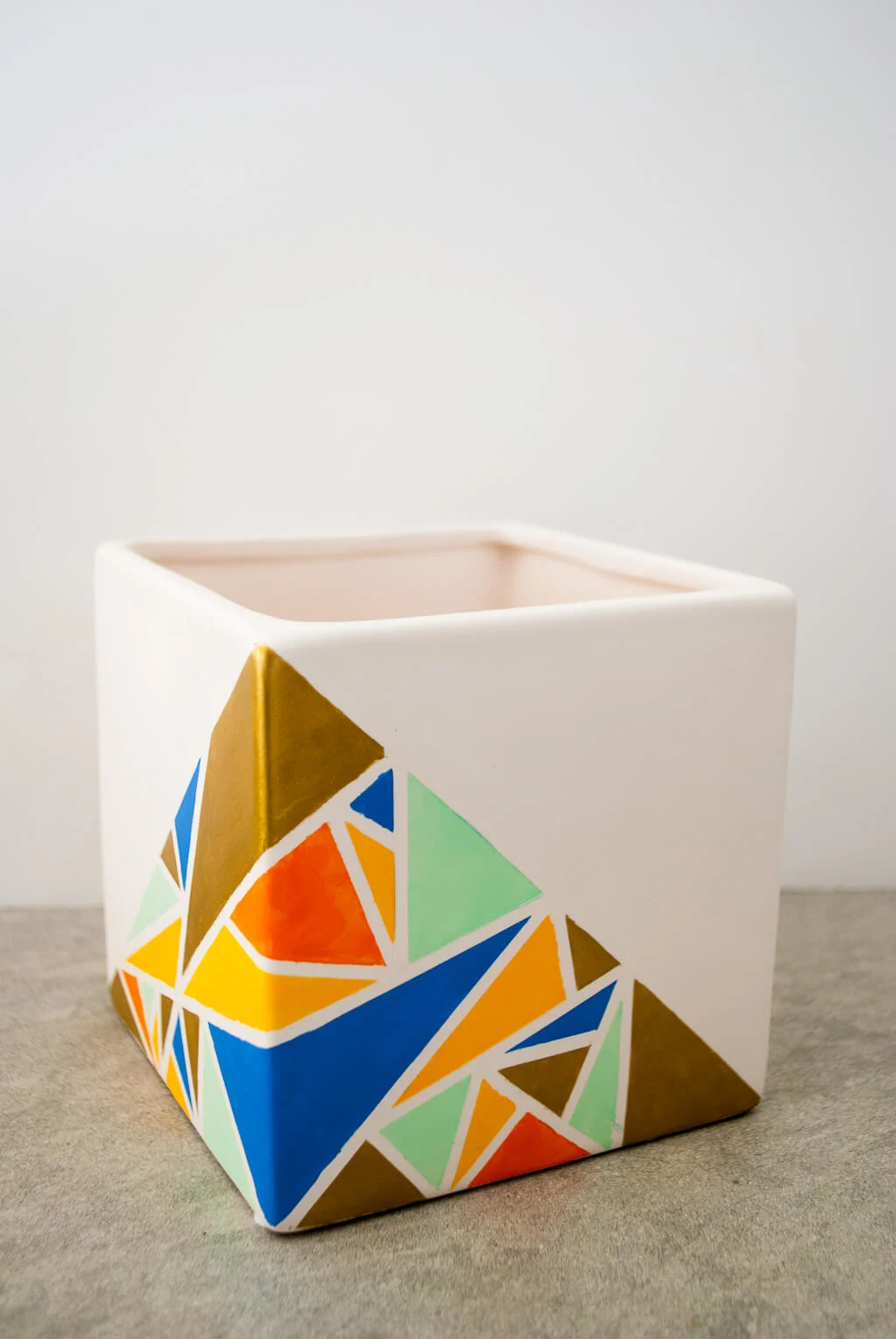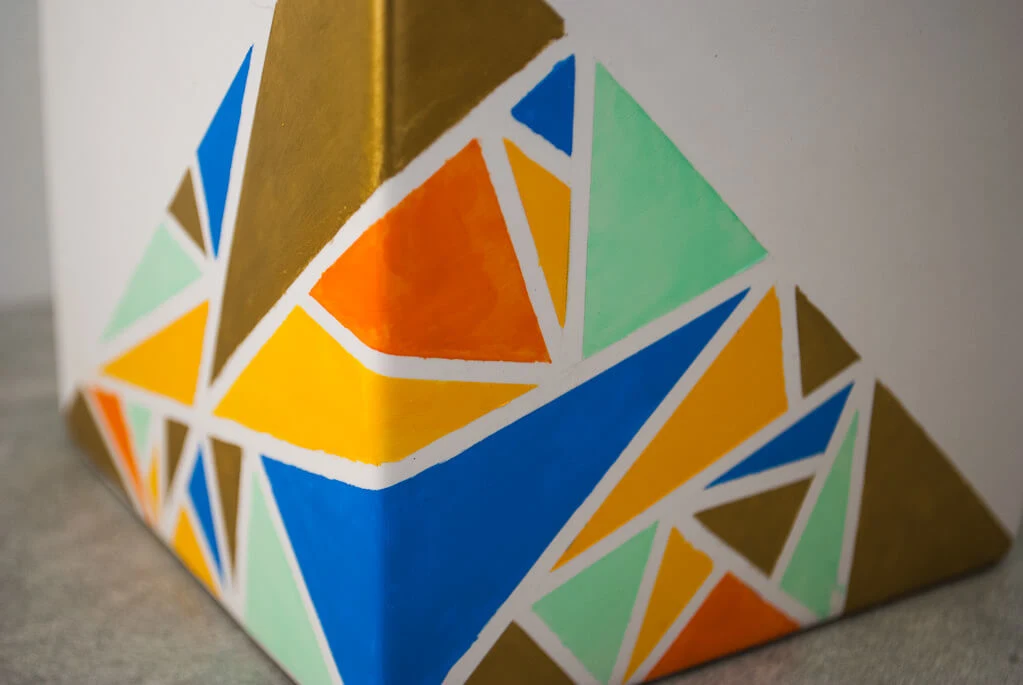 I don't know about you but I'm more than ready for to kiss this cold weather goodbye. It's been a brutal winter season here in Chicago — brutal with a Capital B. This DIY painted geometric planter was just the thing to help me forget how many times I shoveled snow this season. Hello, spring!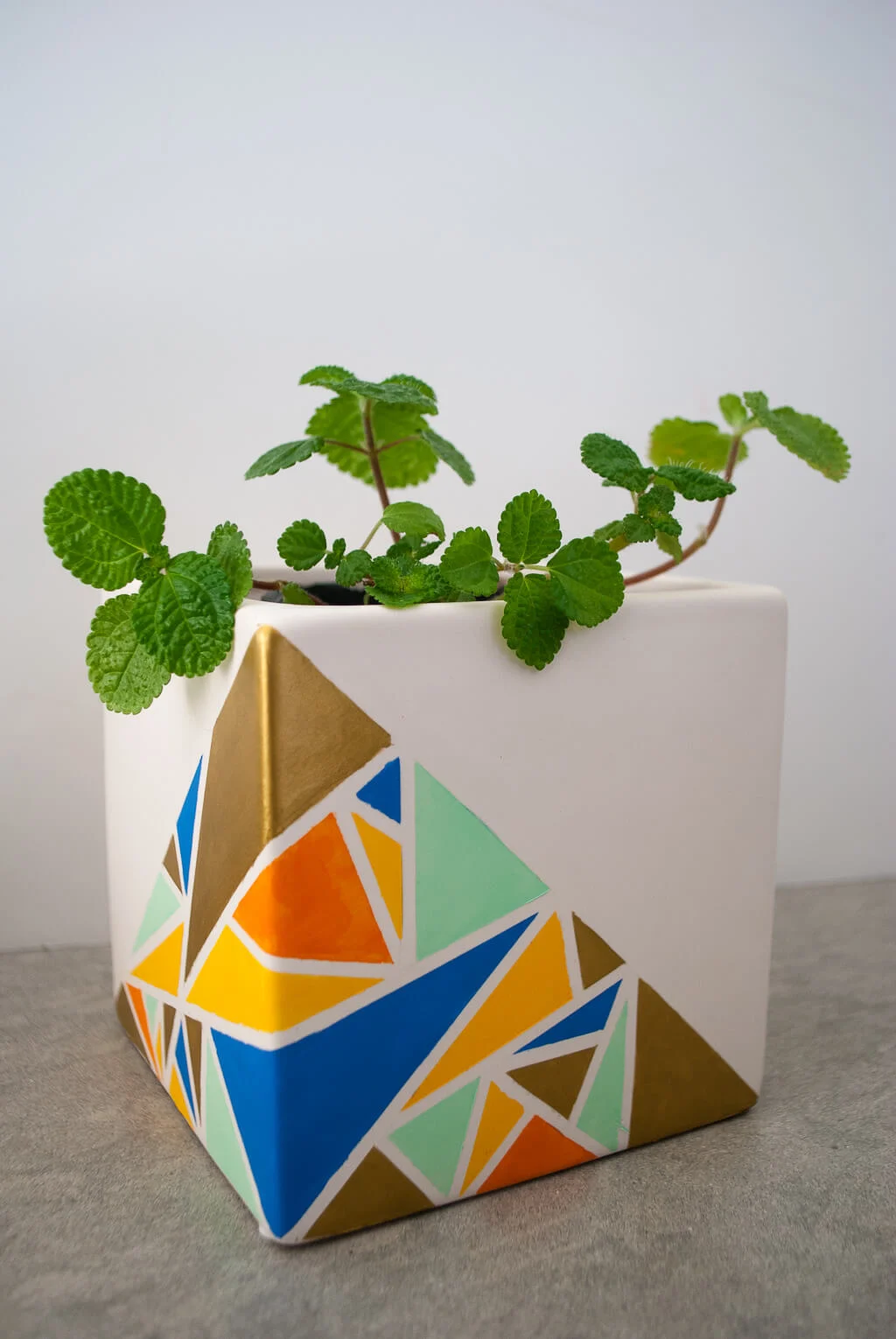 This post contain affiliate links which means that products I recommend may give me a nominal commission at no extra cost to you. Thanks – your clicks help me make more free DIYs!
++++++
Supplies for making a DIY Geometric Painted Pots and Planters:
(you can get it all at your local JOANN Fabric & Craft Store)
—
How to make DIY Geometric Painted Flower Pots:
Step 1: Prep your painting supplies
Gather your supplies. Clean off your planters or flower pot using an alcohol wipe and let it dry.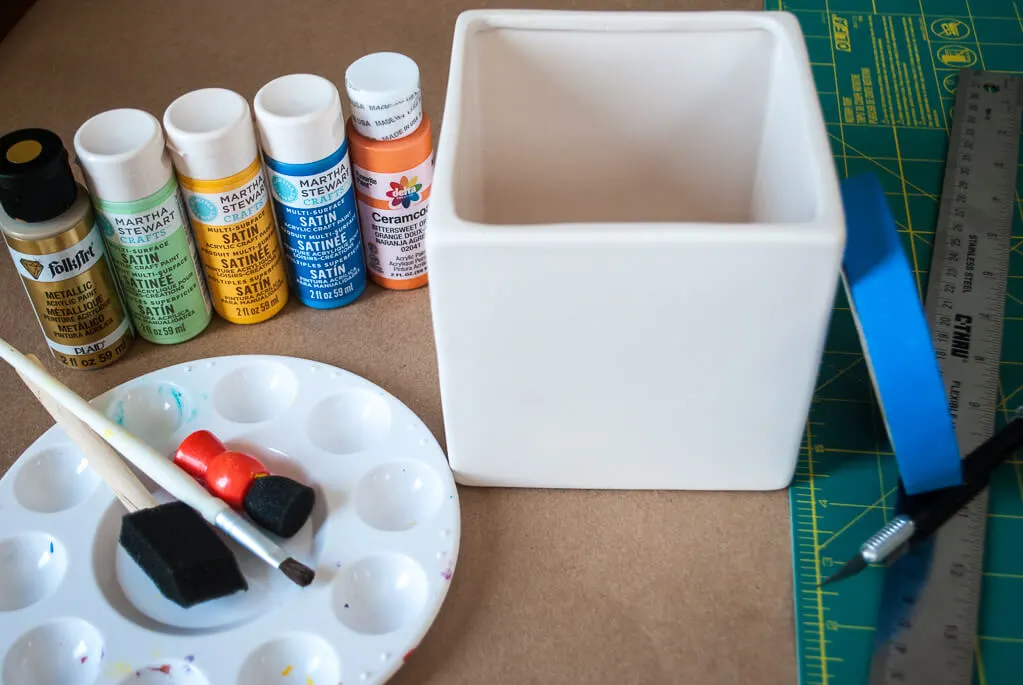 Step 3: Apply strips of painter's tape to the flower pots
Place a strip of painter's tape onto the self-healing cutting mat and cut 1/8″>craft knife and metal ruler. Tape from corner to corner and press firmly down to avoid paint seeping under the tape. I chose triangle shapes for this planter but you could use whatever shapes you like.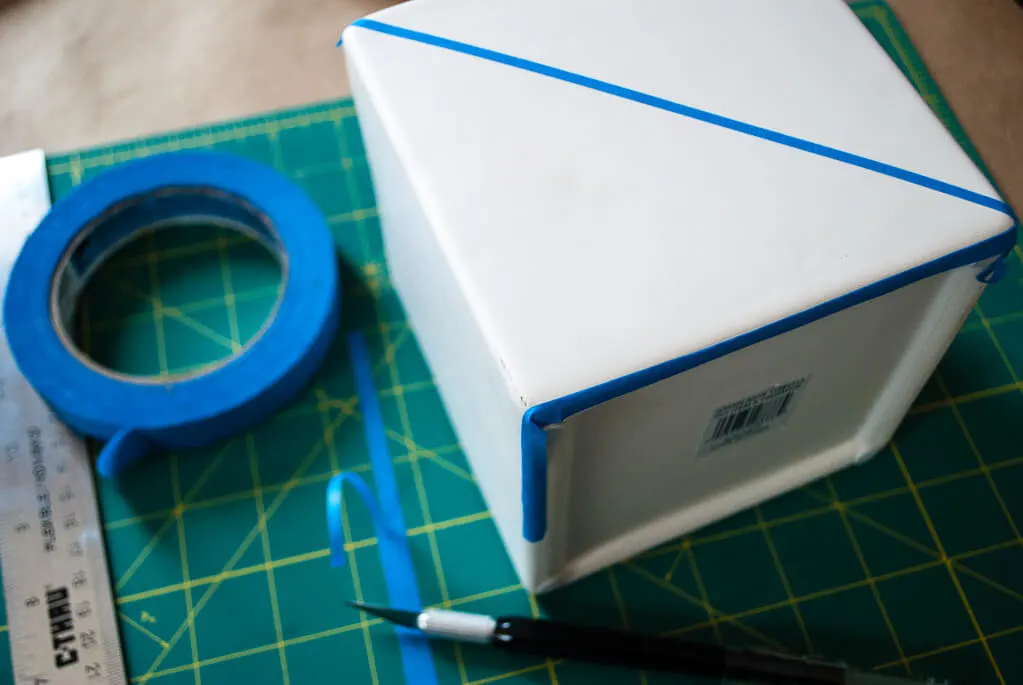 The asymmetry means you can skip measuring and planning it out; just start making triangles and keep going. I actually like how the planter looks even with just the tape!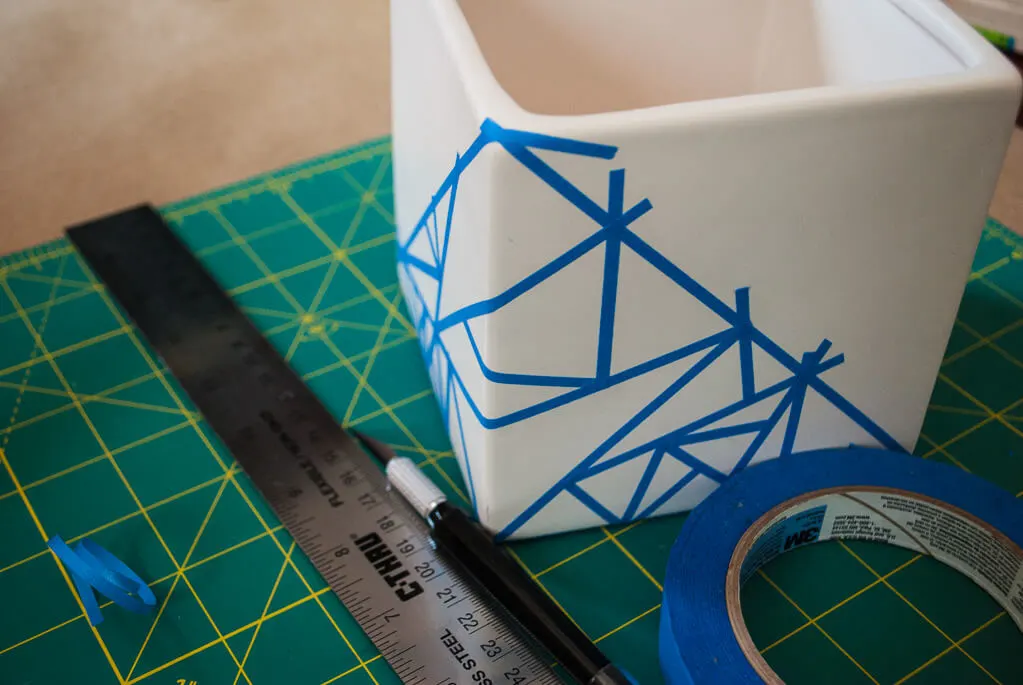 My craft assistant, Elise, thought the tape made a good mustache and beard. Comedy and crafting, huzzah!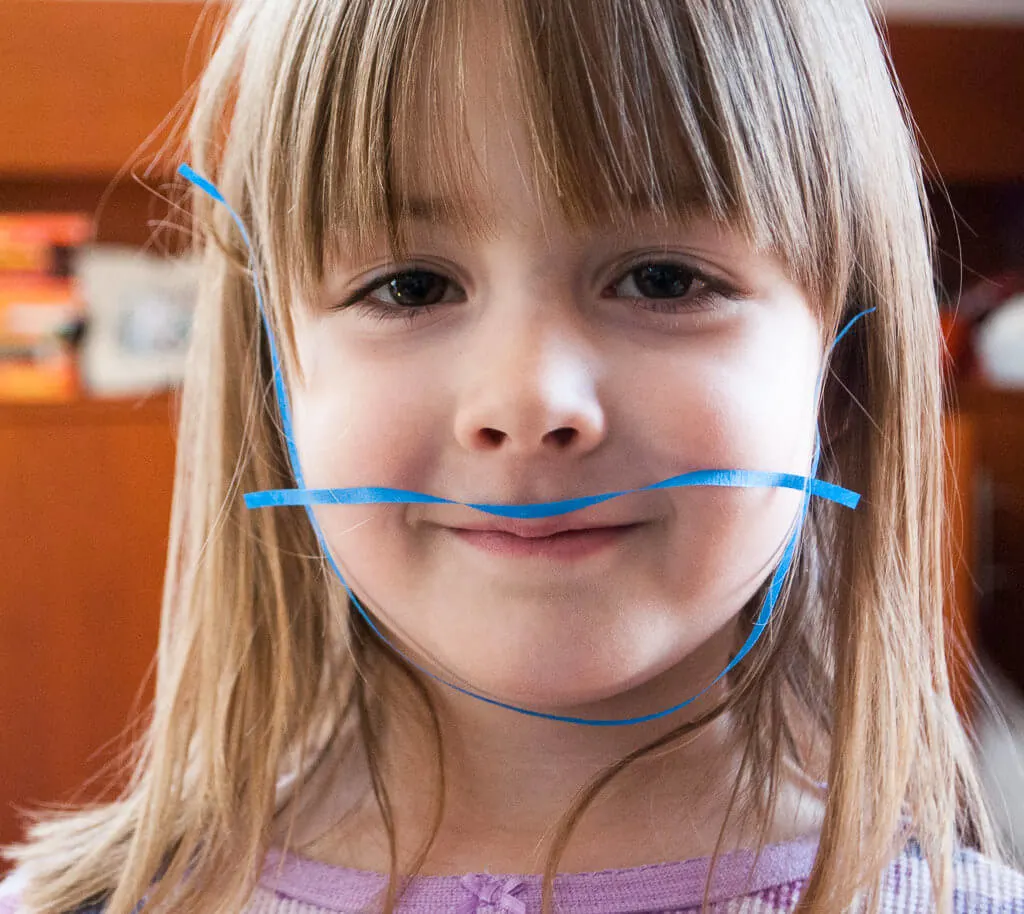 Step 3: Start painting your pots inside the geometric shapes
Next, paint triangles on the flower pot in two light coats. Be sure to use multi-surface craft paint for best results.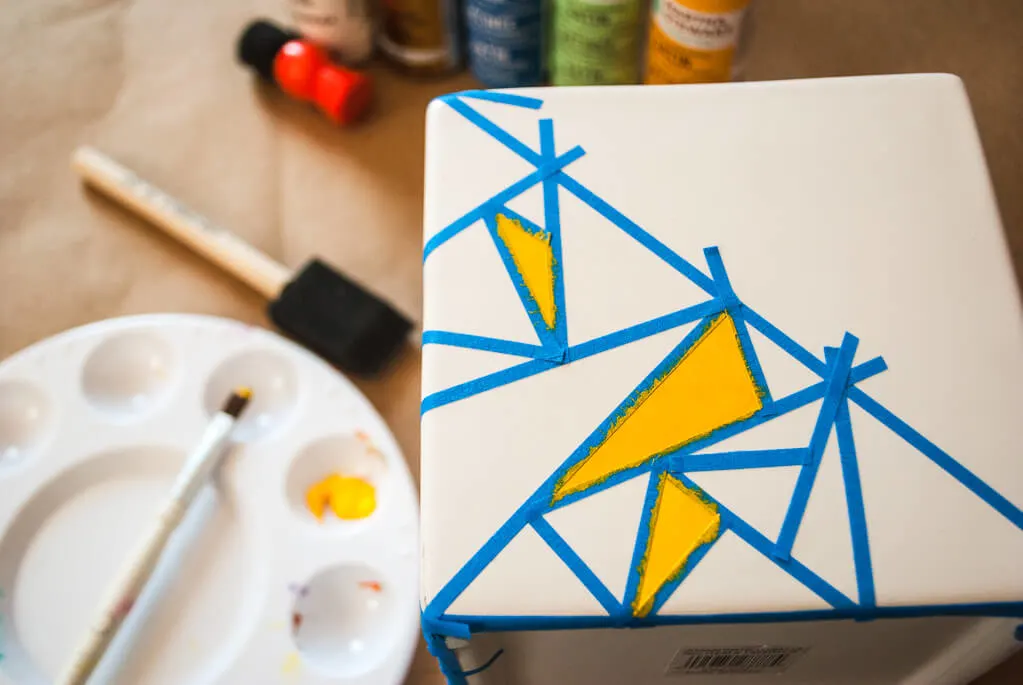 I used three coats of gold metallic paint on my geometric plant pots. I think it adds the right amount of shine to the planter.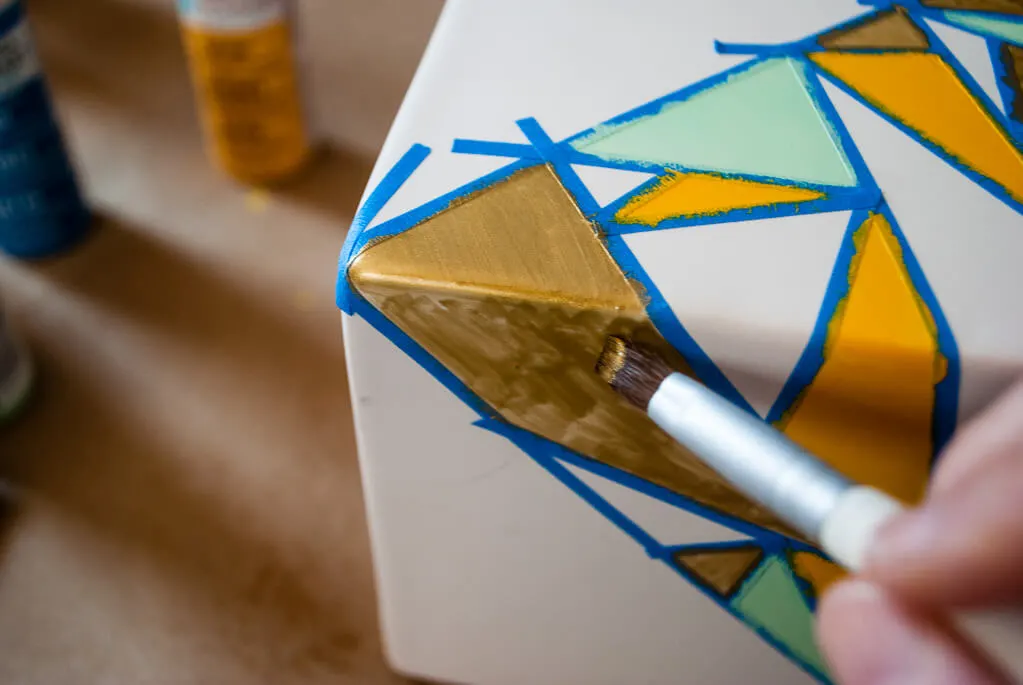 Step 4: Remove paint strips from the planter
Now I've been told that it's best to try to remove the strips from the flower pot when the paint is still dry. I must paint really slowly because my paint is almost always dry before I can peel it up.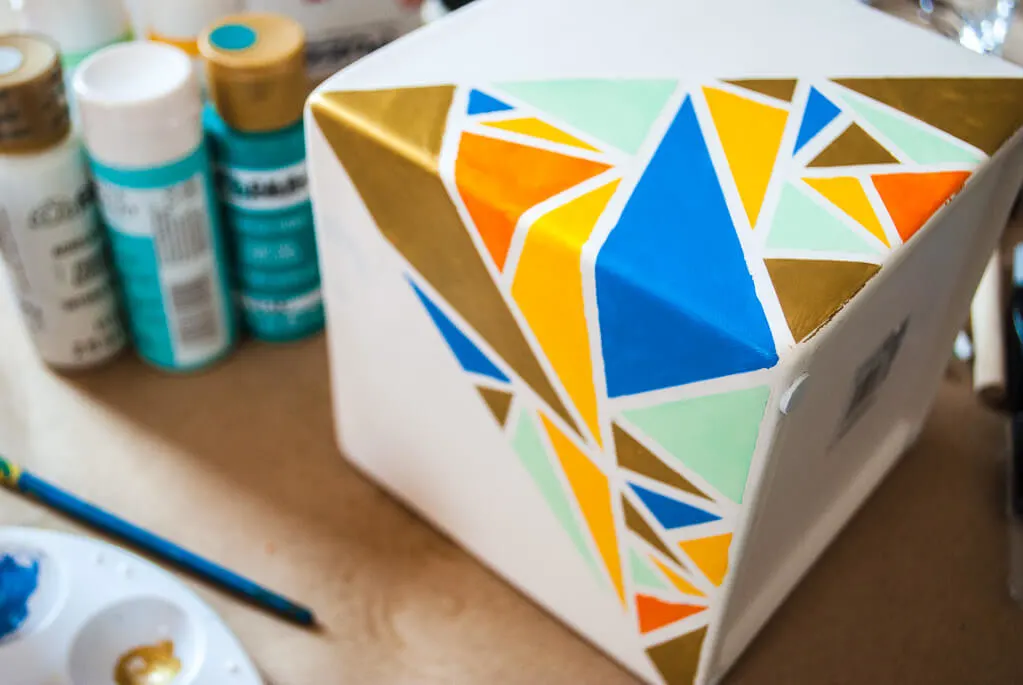 I learned the hard way the last time that I painted ceramics to score the blue paint strips before peeling it back. Just run a craft knife slowly against the side of the painter's tape and then gently pull it up. Go slowly here and you'll avoid touch ups.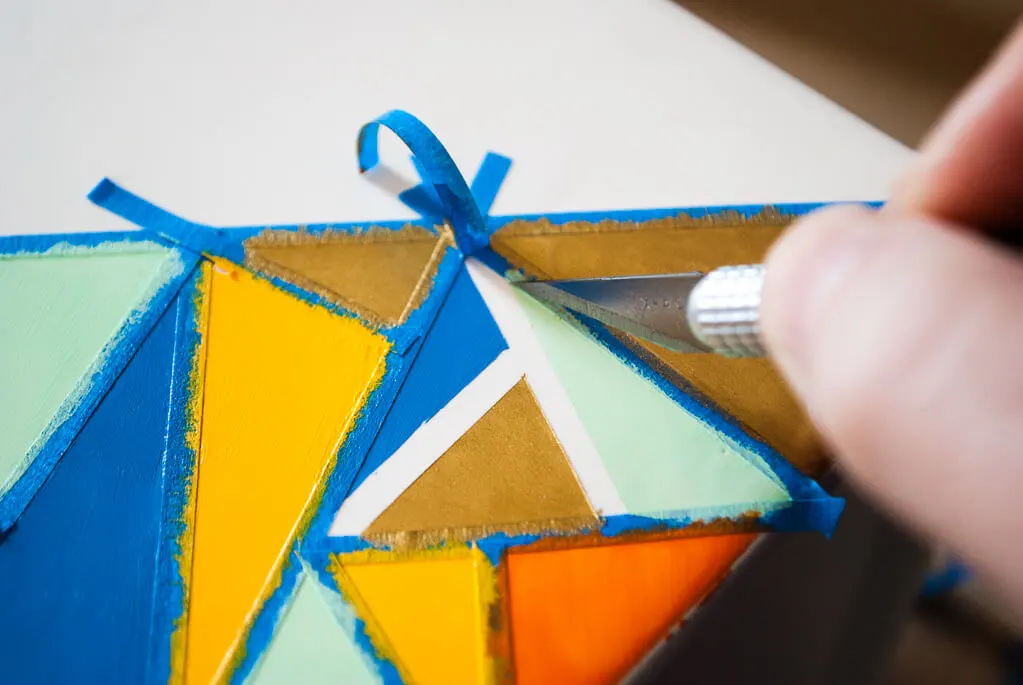 Step 5: Cure the paint on your planter or terracotta flower pot
Last step! Follow your paint instructions to cure the paint on your planter or terracotta flower pot. My multi-surface paint label said that it will air cure in 21 days OR bake in an oven for 30 minutes at 350 degrees Fahrenheit.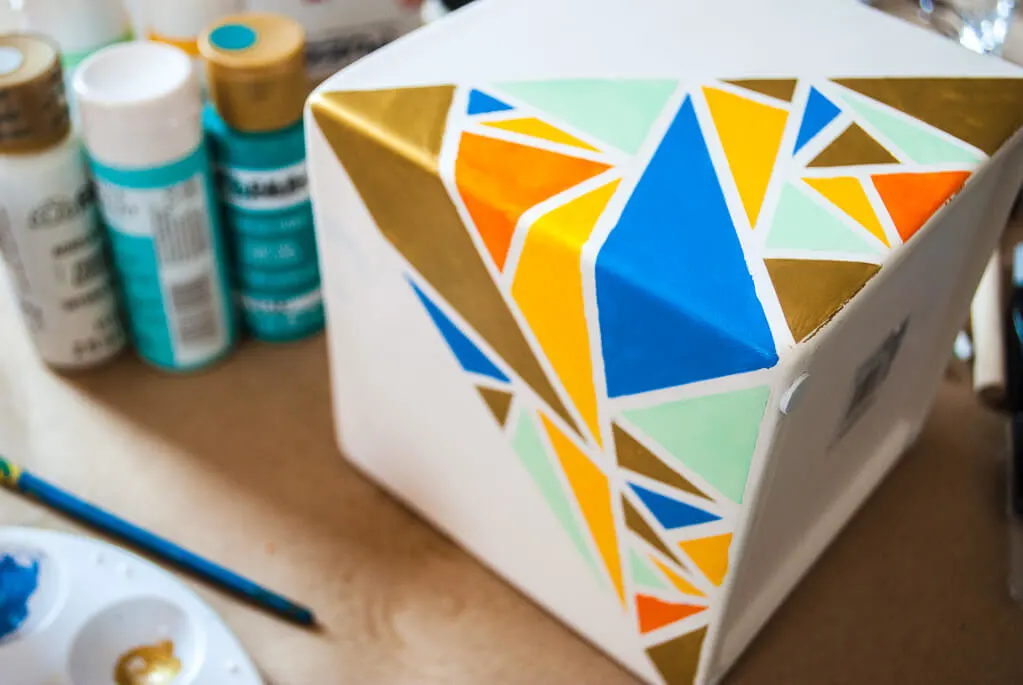 You could also paint large terracotta plants or planters for outdoors too using outdoor paint. Tell me: What would you make with painted geometric shapes?
+++++
Be sure to pin this DIY painted geometric planter for later: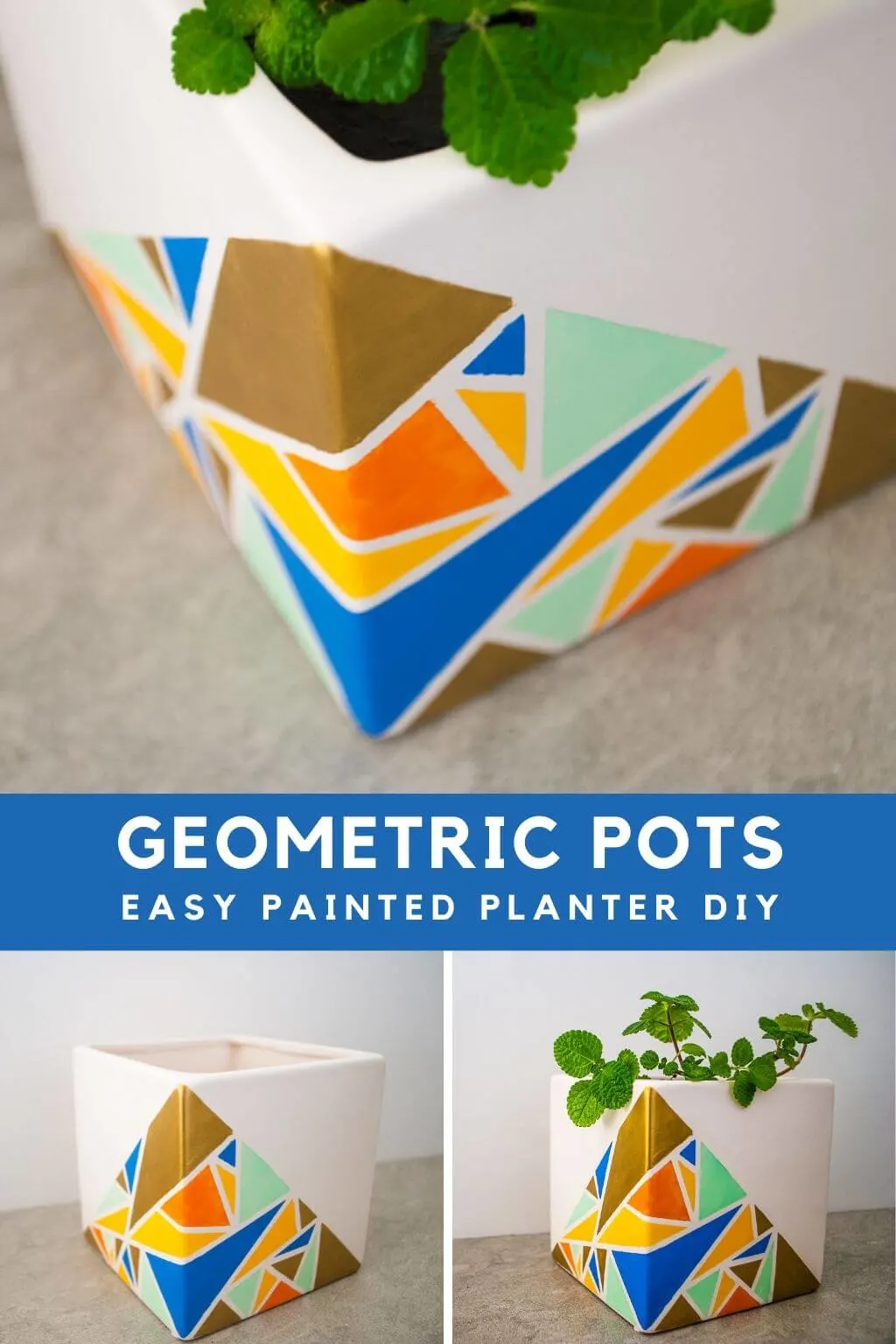 And be sure to see more DIY gift ideas and Earth Day craft ideas.
—
Like it? Share it!
The nicest way to say you like it is to pin it on Pinterest, post a comment, follow Merriment Design on Facebook, Pinterest, Instagram or sign up for monthly emails. Enjoy! 🙂
Copyright stuff: You're more than welcome to use this free project and tutorial for personal use. Contact me for commercial use and Etsy sales.