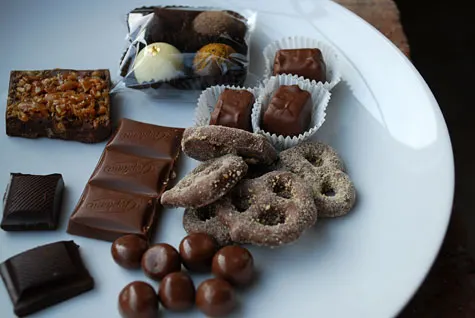 Anyone who works in the Fulton Market area on a windy day can attest that Chicago's long standing candy and chocolate history is still thriving. For his sister's recent Chicago weekend visit Joseph Dombroski planned a sweet creative activity: a self-guided tasting tour of top downtown Chicago chocolate emporiums.
Supplies:
Free chocolate scorecard template (rate by appearance, taste and texture)
Roughly $30 per person for a taste at each place
Something salty or savory to snack on when tastebuds need a break
Bottled water
Walking shoes
Print copies of the free chocolate scorecard template and choose places to visit. Joseph created a downtown tour but there are many small neighborhood venues to consider as well (Coco Rouge being one of my personal craves).
With the exception of Blommer's it's a fairly short walk between the places listed below (Prefer to outsource? Chicago Chocolate Tours provides guided tours for individuals and groups).
Blommer's, 600 W Kinzie
Leonidas, 231 S La Salle
Hannah's Bretzel, 180 W Washington
Macy's (for Frango's), 111 N State (lower level cash registers)
Fannie May, 343 N Michigan
Ethel's Chocolate Lounge, 520 N Michigan (1st floor)
Vosges, 520 N Michigan (2nd floor)
Teuscher, 900 N Michigan (5th floor)
Once at a location select your chocolates, nibble and rate your finds. Colorful commentary from Joseph's tasting highlights and low points after the break.
Places Joseph and his sister visited
Blommer's, 600 W Kinzie

Had samples in small buckets
Good for bulk chocolates or chocolate-covered treats
Chocolate-covered cookie dough balls (doesn't taste like cookie dough immediately)
Toffee-dusted pretzels (only a slight hint of Toffee), chocolate is decent

Leonidas, 231 S La Salle

Casaleo: delicious, nutty flavor; soft chocolate praline inside; similar to Kinderjoy
Delice: like a gourmet Almond Joy with smoothness that sticks to your teeth
Irresistible White: good white chocolate, but strawberry cream is somewhat overpowering

Hannah's Bretzel, 180 W Washington

Chocolate-covered graham crackers have a hint of honey

Sweet Factory, 100 W Randolph

Not worth visiting again
Chocolate-covered raspberry gummy bears taste just like they smell—bad

Macy's (for Frango's), 111 N State (lower level cash registers)
Fannie May, 343 N Michigan

Toffee Bark is good for nibbling

Ethel's Chocolate Lounge, 520 N Michigan (1st floor)

Cool place to relax after walking around downtown
Tea-flavored chocolates are a specialty
Chai spice was wonderful wintry warmness with a cooler inside bite

Vosges, 520 N Michigan (2nd floor)

Friendly service: small glass plates for in-store tasting (asked if we wanted them for here or to-go)
Barcelona Bar has hickory smoked almonds that add a bit of savory
Saffron pralines have spiced endnotes, but the sugar crystals are what sets the texture of this chocolate apart

Teuscher, 900 N Michigan (5th floor)

Friendly service
Champagne truffles are unique and light
Places not visited, but considered
Hershey's, 822 N Michigan
Ghirardelli, 830 N Michian
Lindt, 845 N Michigan
Godiva, 845 N Michigan