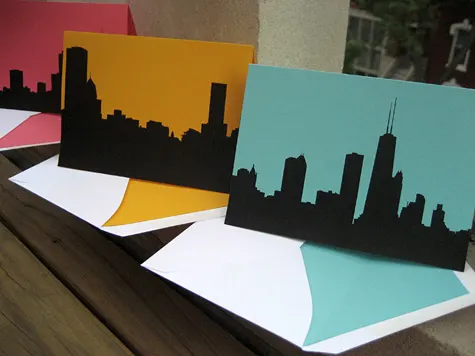 My favorite Chicago mommy blogger Janna Devylder, sons Gus and Eli, and husband John are moving to Savannah to teach at SCAD. So I decided to make them a goodbye gift.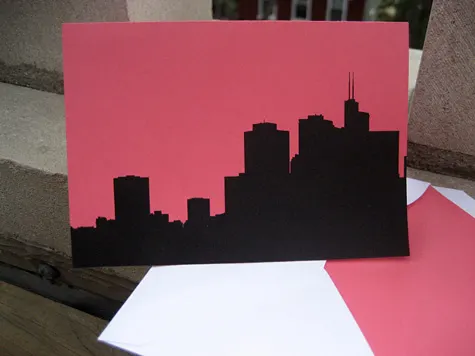 These handmade, bright, urban notecards and coordinating lined envelopes that depict the iconic Chicago skyline are the perfect size for keeping in touch old school style.
Supplies (for 10 cards):
COPYRIGHT NOTE: You're more than welcome to use this template for your own personal use. Please post a comment below or email me if you use this project so I can smile when I see that it's being used. Craft and pass it on!

Print out my free skyline templates on colored paper 5 times for 10 cards. Cut out notecards on the gray lines using your paper cutter or Xacto knife, ruler and self-healing mat.

Now here's a tip to ensure your cards fold perfectly. Measure the center of your card and put your ruler along that imaginary line. Turn your Xacto knife upside down. Yep, upside down. Run the *back* of your knife gently down the middle along the ruler two or three times. Your goal is to just score the line, not cut through the paper, so be careful. Now you'll be able to easily fold the card in half along a perfect seam. (Fun fact: Ironically, I learned this scoring trick from John years ago while watching him make his wedding invitations.)

Next make your lined envelopes. If you buy your envelopes from Paper Source then you can also buy their envelope liner template and just trace and cut. However, this time I had another brand of cards so I just winged it (just trace a bit smaller than the width/height of your envelope, creating a point just below the adhesive strip, and cut …easy). Slip the liner inside the envelope just under the adhesive strip.

Turn your envelope over and place on your mat. Bend the envelope flap backwards to reveal the back of the liner. Put rubber cement on the liner, then bend the envelope back to stick.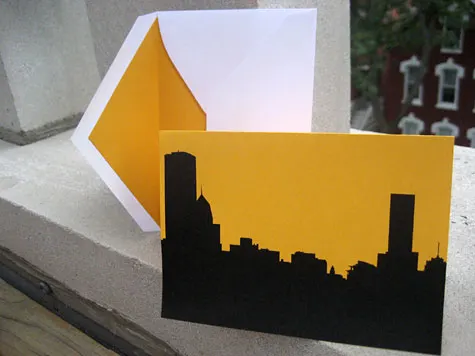 I hope the Devylders enjoy these notecards in their new home. I've known John and Janna for about eight years ago and hired Janna not one but two times. Chicago won't be the same without them!