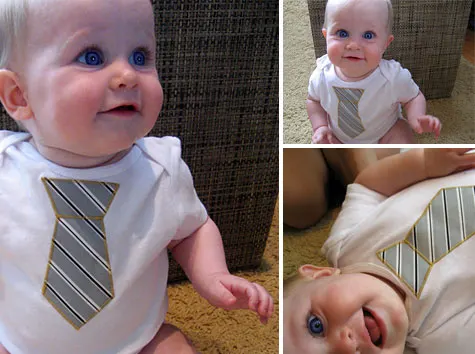 The first time I saw a sewn appliqué tie onesie bodysuit was about a year ago in an Uncommon Goods catalog. I thought it was really cute and looked super simple to make.
Well, my friends Anne and Darren just had a baby boy so I decided to put my money where my mouth is.
(First I would like to thank Tamara Bohorquez and Jon Sawyer for letting their adorable daughter Sienna model for me again. She's looks like a sassy little Annie Hall
, doesn't she?)
You're welcome to use these instructions and templates for free for your own personal use. Anyone using the template simply post a comment below or email me to track its usage.
Supplies:

Print my onesie tie shape template and cut. Place pattern on top of the right side of your fabric. Hint: If you have striped fabric lay it on the diagonal so it looks more like a tie. Trace lightly and then cut with scissors (alternatively you can cut it out or trim it up using a fabric rotary cutter).
Cut the tie shape from the fusible interfacing, making sure that the adhesive side is facing up. Iron the interfacing onto the wrong side of your fabric tie.

Unsnap the onesie bottom. Pin the tie onto the upper middle of the onesie. I like to use the colored straight pins
(they make me smile).
Set your sewing machine to a tight zigzag stitch. You're going to sort of bunch and slide the onesie onto your machine, making sure that only the top level is being sewn. It's OK for it to be bunchy *around* where you're sewing …just don't let it bunch *under* what you're sewing …the onesie is stretchy knit so you're going to need to avoid stretching the fabric while you sew to avoid puckering. This all sounds harder than it is. Just be aware of it.
Start your sewing at the left-side inner dip, going down the tie to the point and back around the perimeter. When you get around the entire tie perimeter, ensure your needle is down in the fabric, lift your presser foot, turn, lower the foot, and then sew straight across the fabric to create the necktie knot.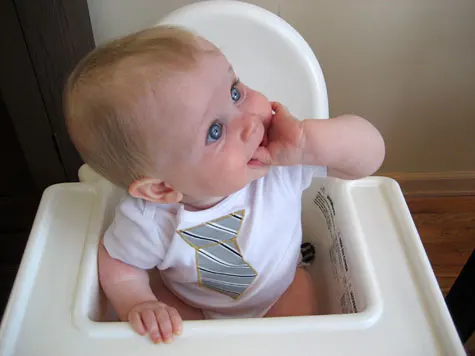 COPYRIGHT NOTE: You're more than welcome to use this theme and templates for your own personal use. Please post a comment below or email me if you use this project so I can smile when I see that it's being used. Craft and pass it on!