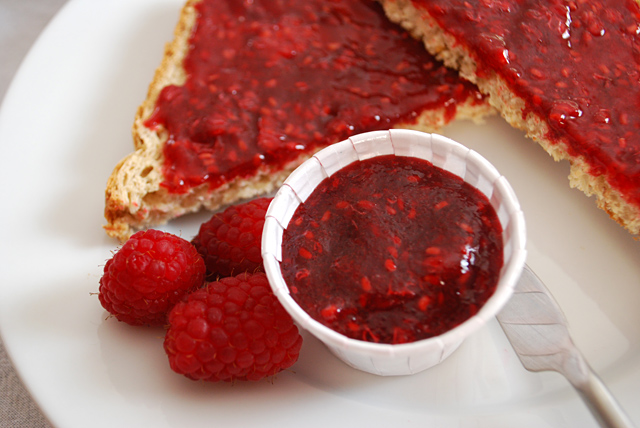 Looking for an easy raspberry freezer jam recipe idea? Try making these adorable individual teeny freezer jams using tiny nut cups. Kind of bed and breakfast-y don't you think? And much fresher than weeks-old half-jam jars sitting in the fridge.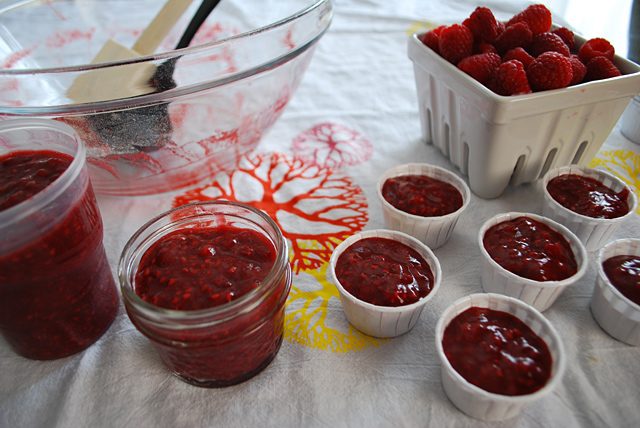 Thanks to your reader suggestions on facebook, I made this raspberry freezer jam recipe with my on-sale raspberries windfall at the grocery store. And calling this a "recipe" is generous …it's really just fresh raspberries, sugar and instant fruit pectin.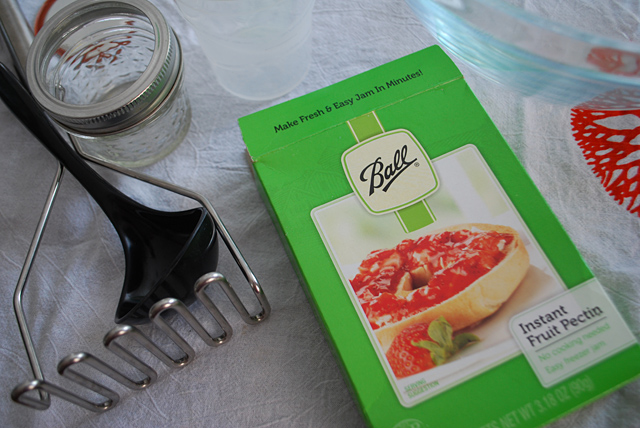 I did make some Ball mason jars too and topped it with my printable personalized canning labels (have you gotten yours yet?).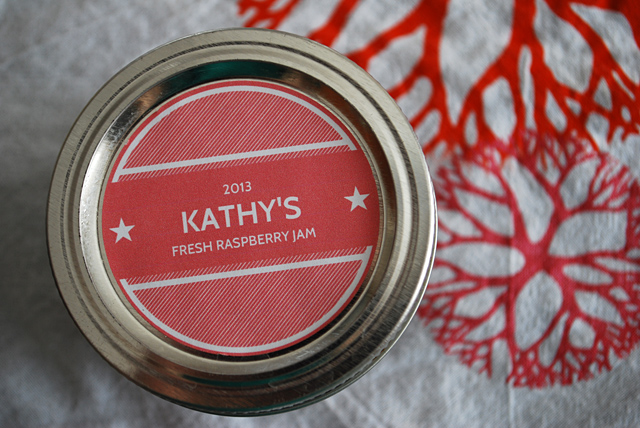 I used fresh raspberries but you could make this recipe with frozen raspberries too. So no excuses in the winter off-season, people. Give it a try. This raspberry freezer jam recipe is so easy and foolproof and pretty and delicious. No more store bought jam for us!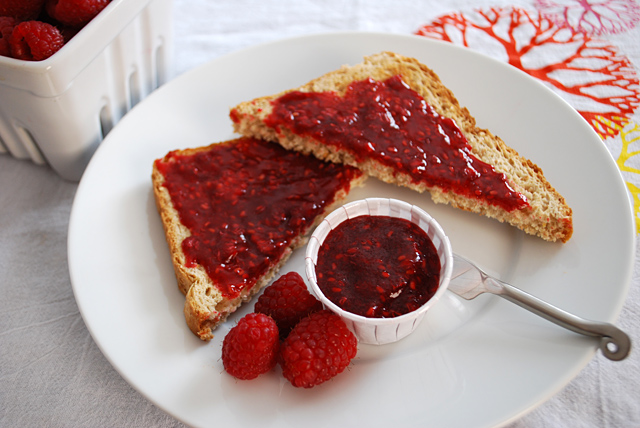 Raspberry Freezer Jam Recipe ingredients and supplies (this freezer jam recipe made what you see above; you could double if you wanted):
2 cups raspberries
3/4 cups sucanat (or regular sugar)
1/2 packet instant pectin (I used Ball Instant Fruit Pectin)
Mini white paper nut cups
Bowl
Ladle
Potato masher (optional)
Measure your sugar and wash your raspberries.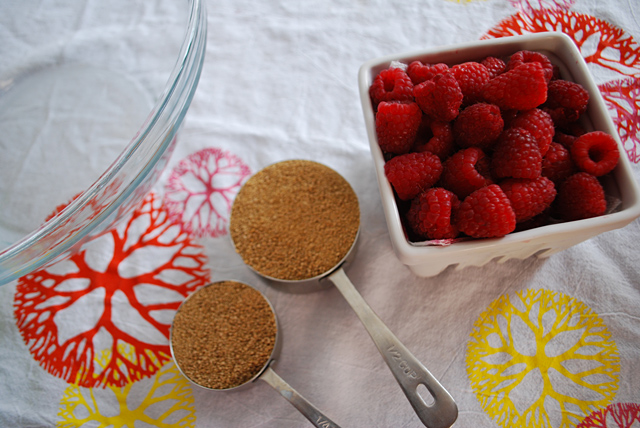 Mix the sugar with the pectin in a glass bowl.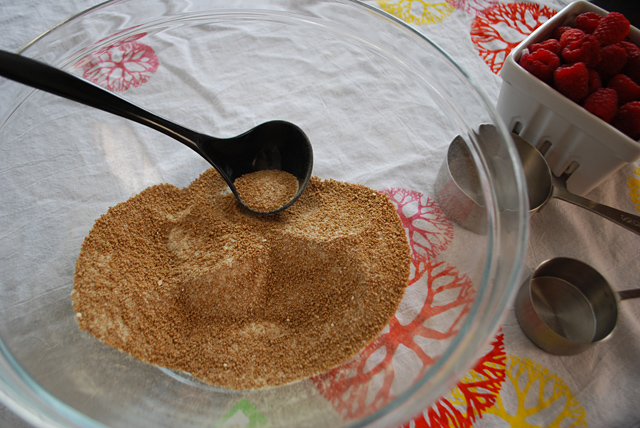 Add the raspberries and mash and mix with a potato masher so that they're crushed but not pulverized.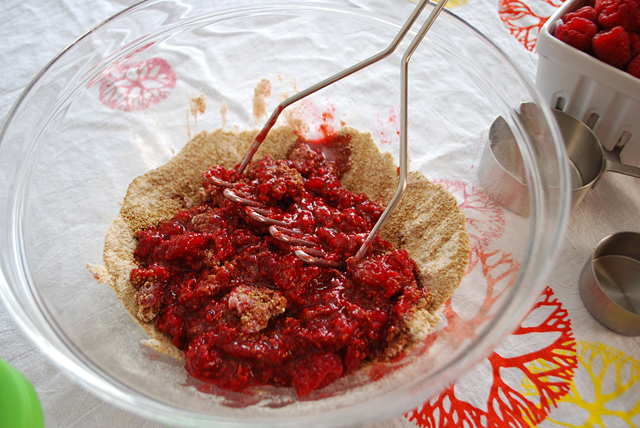 Keep mixing until it's all combined.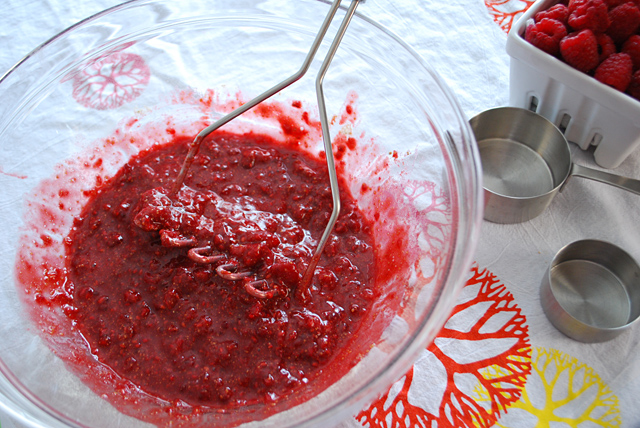 Ladle the raspberry freezer jam into nut cups and mason jars.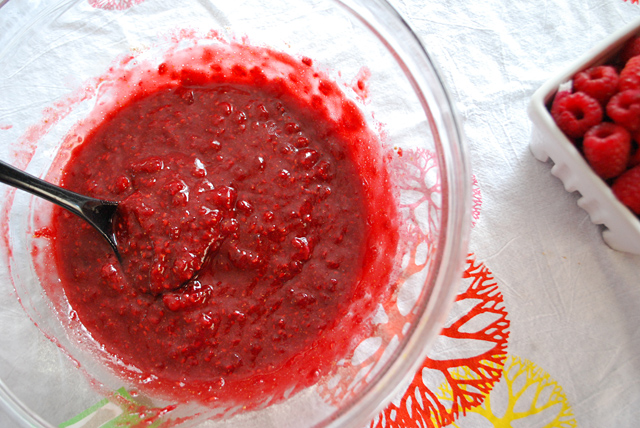 Fill the raspberry freezer jam close to the top.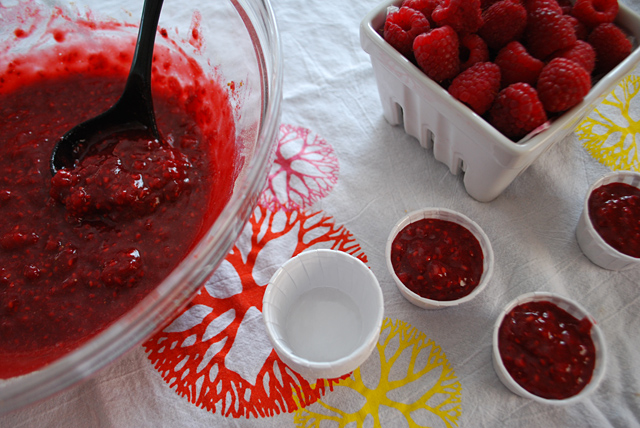 Put a little piece of plastic wrap on the top (and then save the plastic wrap cardboard tube to make these fabric napkin rings) and secure the bottom with some cute tape. Once the raspberry freezer jam is frozen, put them in a quart freezer bags for longer term storage. Then toast it up!