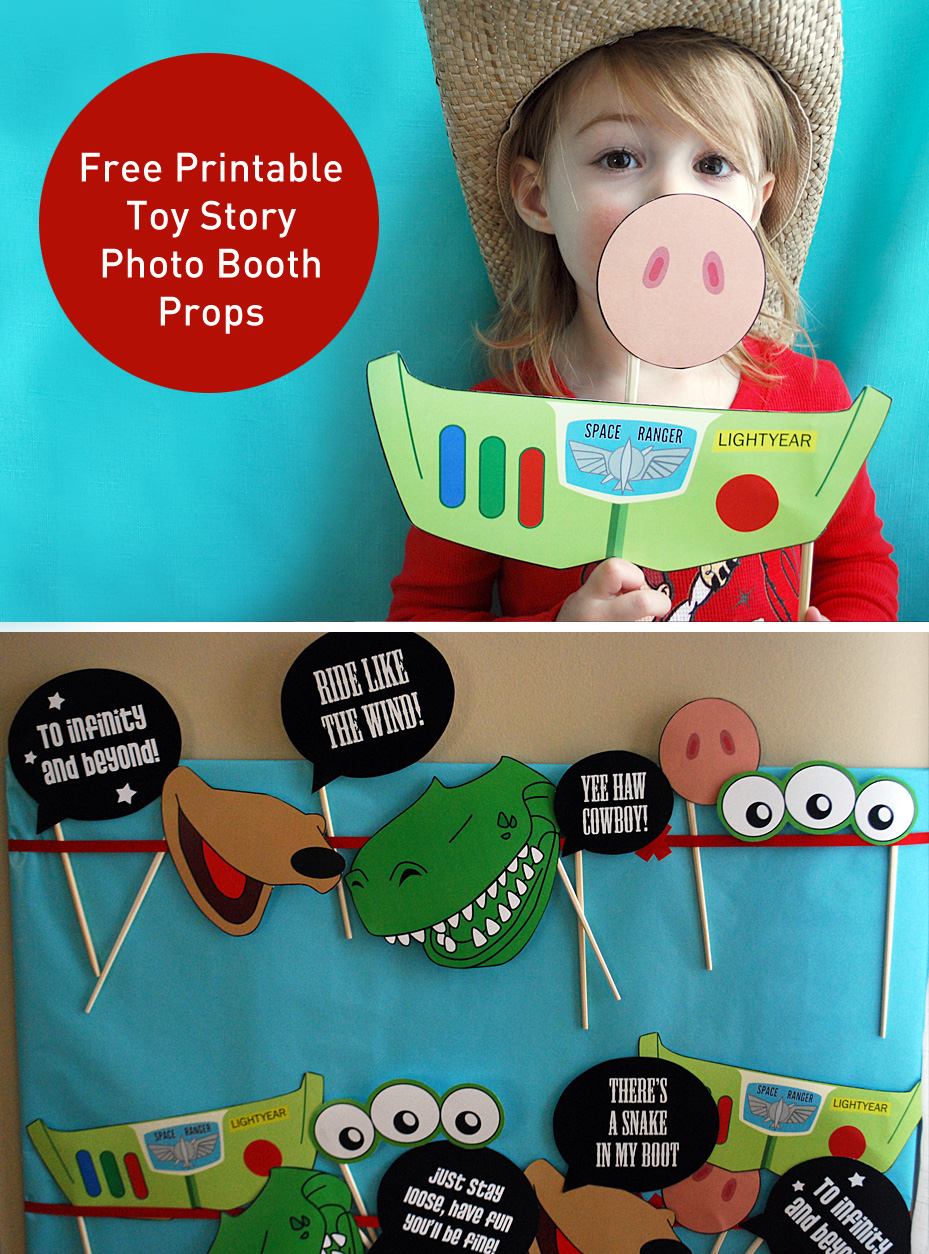 These free printable Toy Story photo booth props are sure to put the Yee Haw! into your Toy Story-themed birthday party.
My daughter Elise is a big fan of Buzz Lightyear, Woody and all the rest of the Toy Story gang. I saw the cute idea to make Toy Story photo props for birthday party guests. Their props were handmade and pieced together from colored cardstock but I decided to draw them in Illustrator and print them out.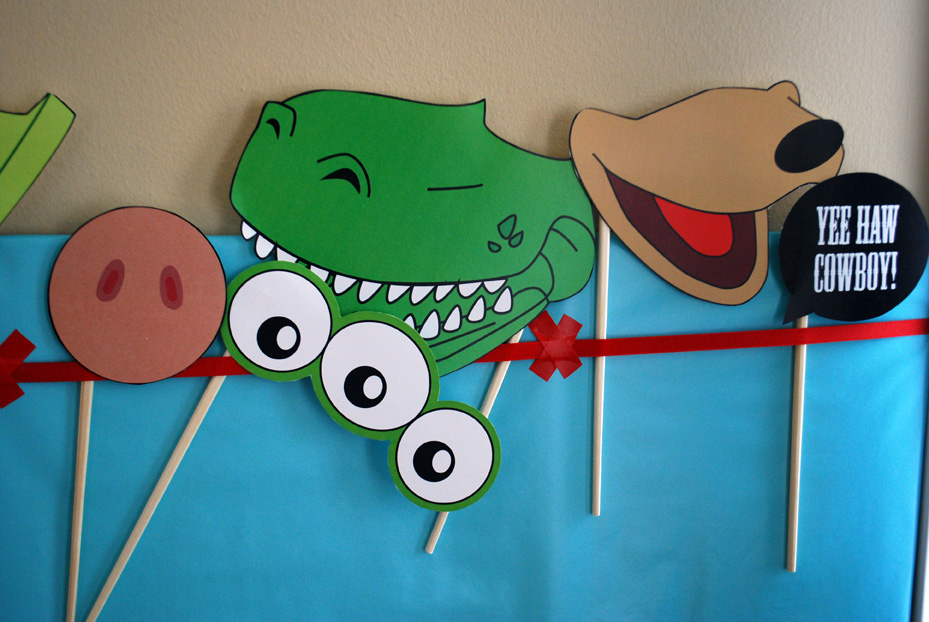 And so this means now they're yours too. Just print out my free printable files onto cardstock, cut out, and attach a chopstick or dowel rod with some tape.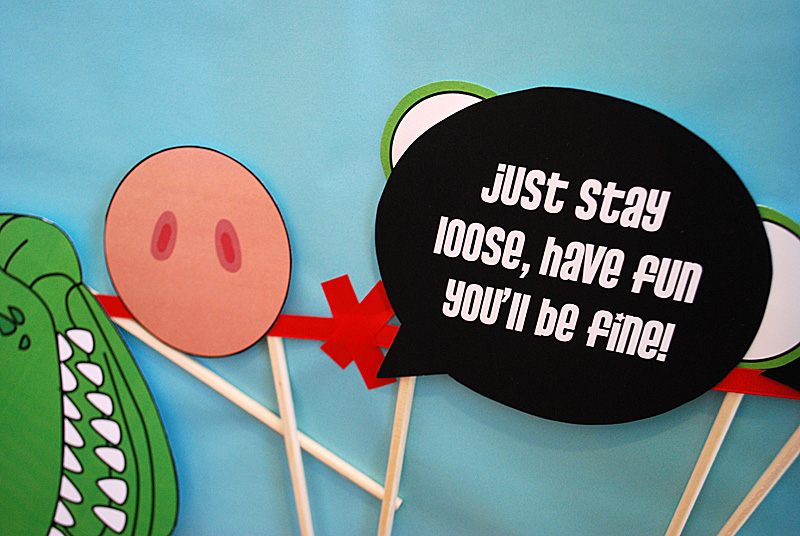 I made an easy prop hanging board (I'll show you how to make it and hang it without damaging your walls).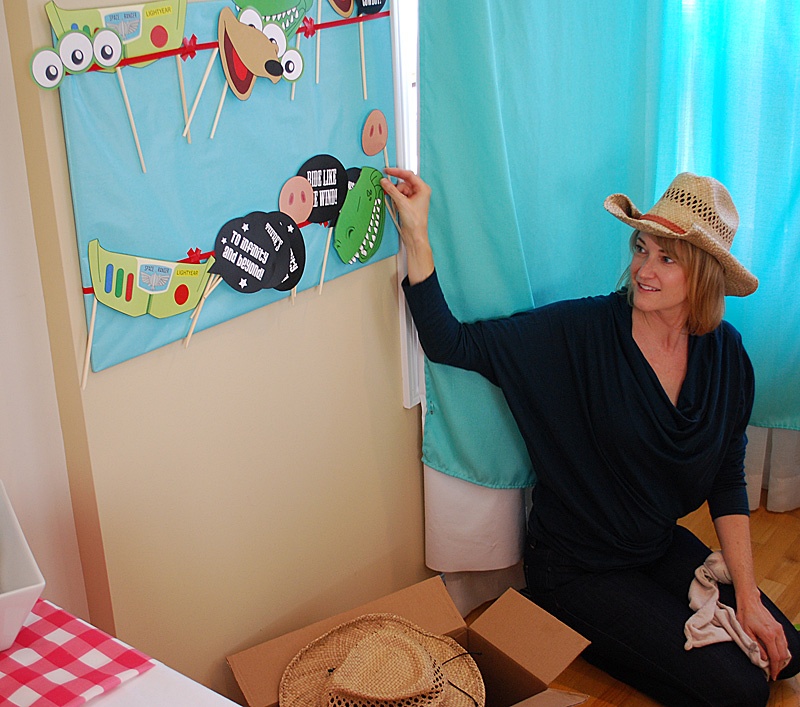 And I tossed some red bandanas and cowboy hats into a box labeled "Sunnyside."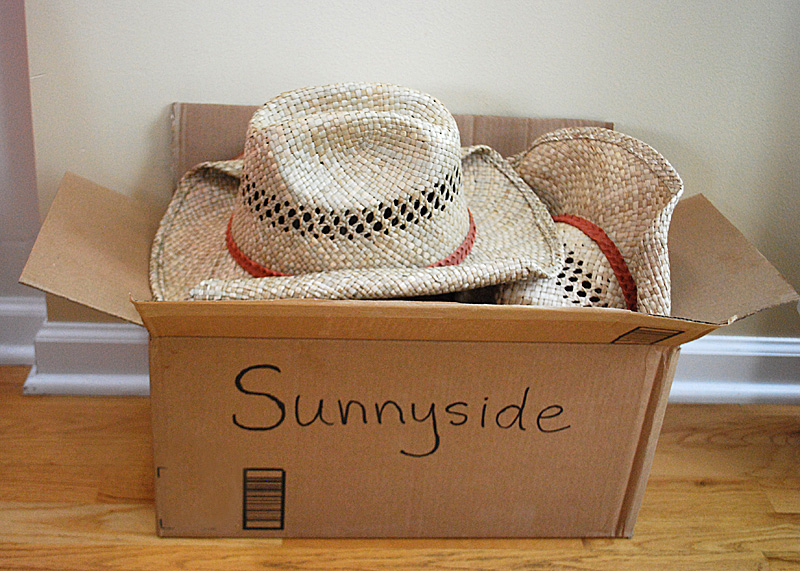 And then just let your guests go!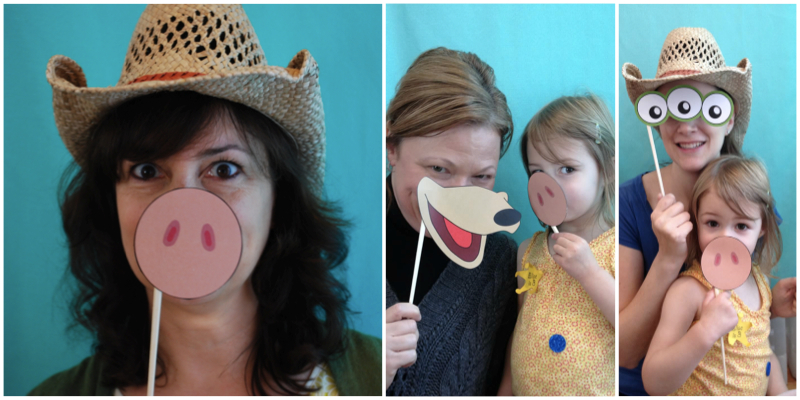 I used a some of the sayings bubbles to help decorate the shelf above the food table that displayed Elise's artwork and her green army friends.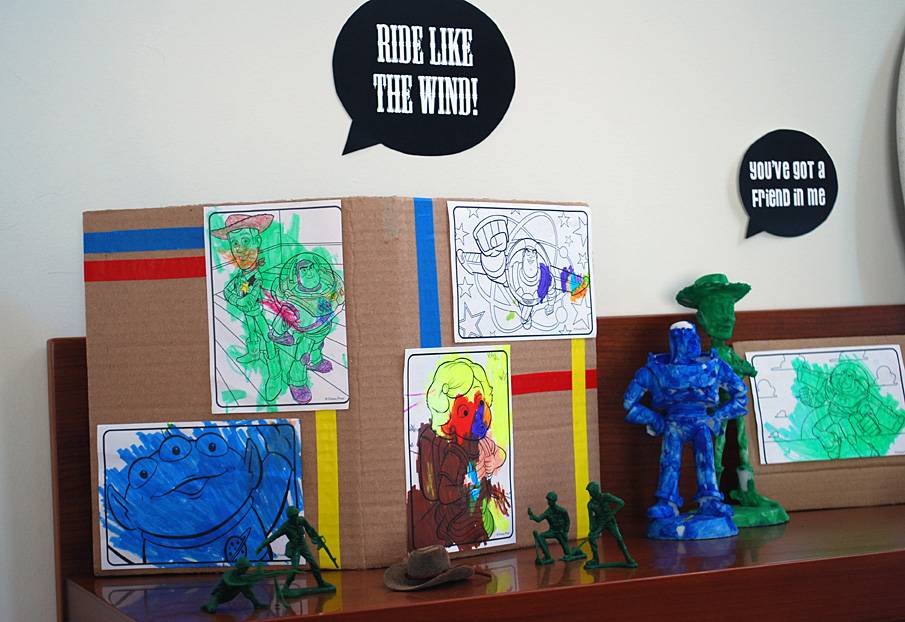 Taking photos was lots of fun. Even Elise's beloved Pink Monkey got into the act (and in retro-Western sepia tone to boot).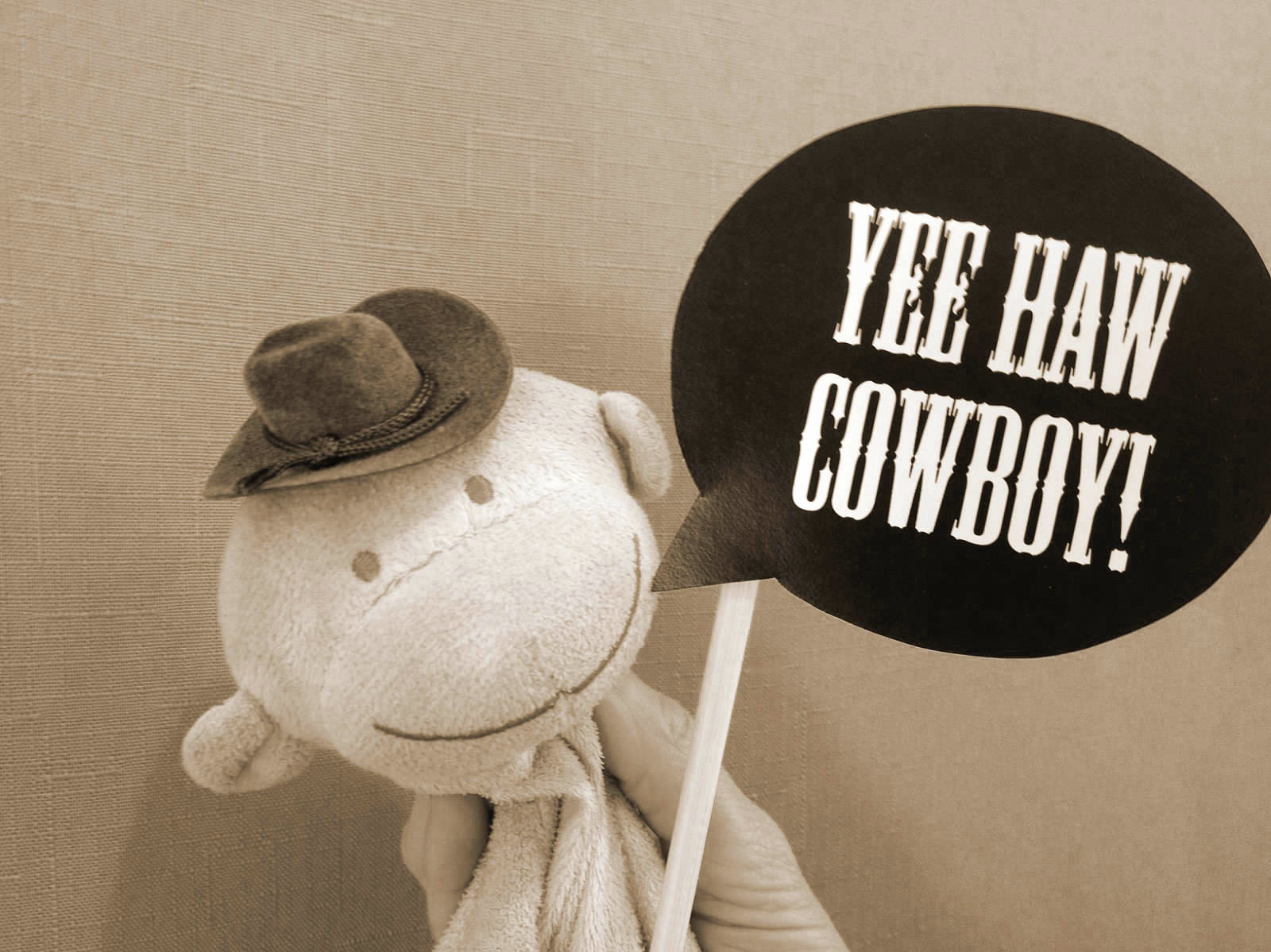 We even re-used the sayings bubbles as part of our Halloween costumes. Tiny Woody is not impressed.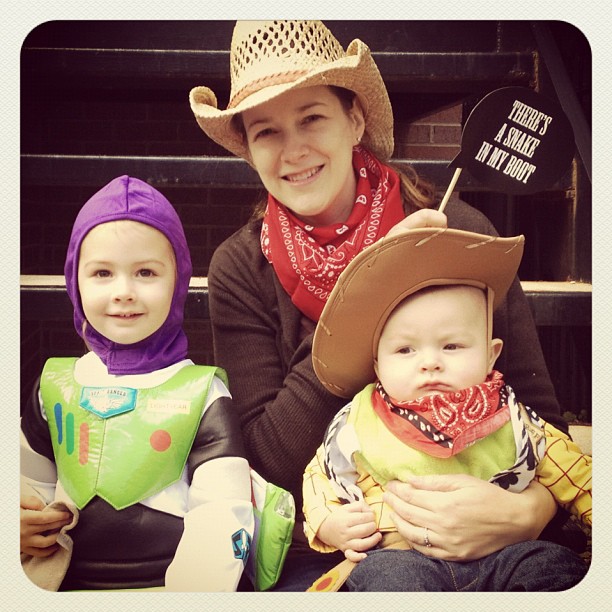 WANNA MAKE IT? Free printable, step-by-step tutorial and supply list for making Toy Story photo booth props –>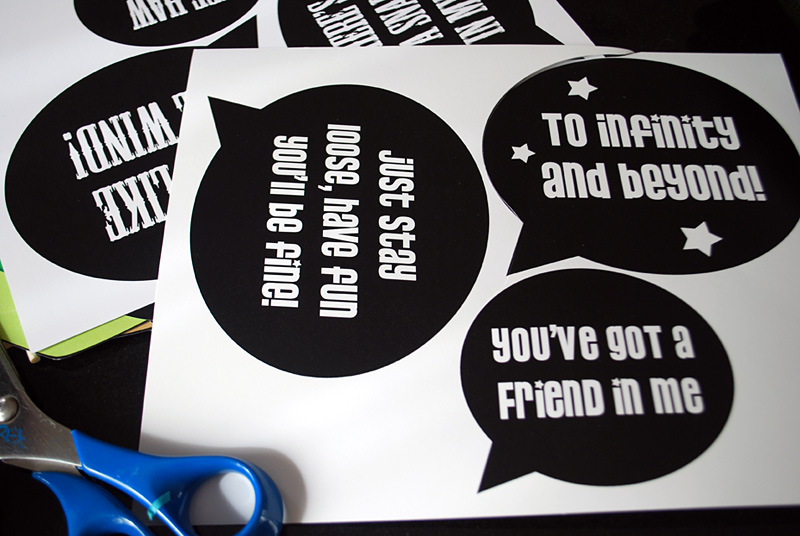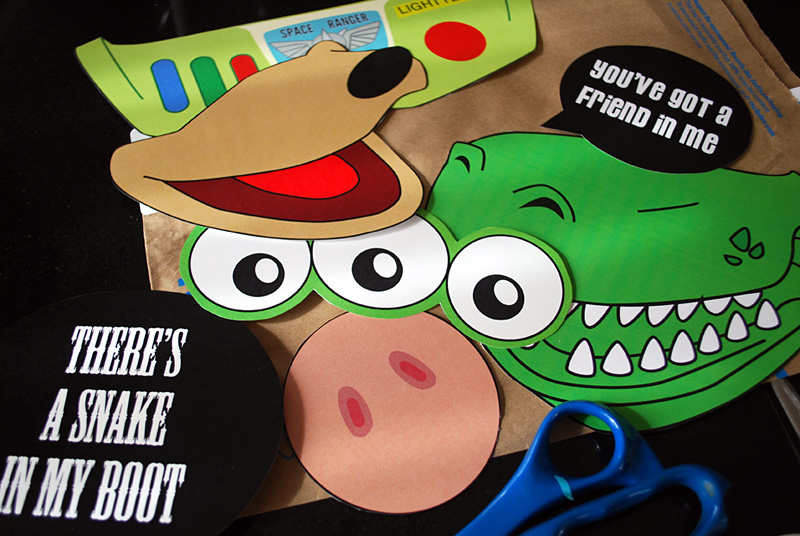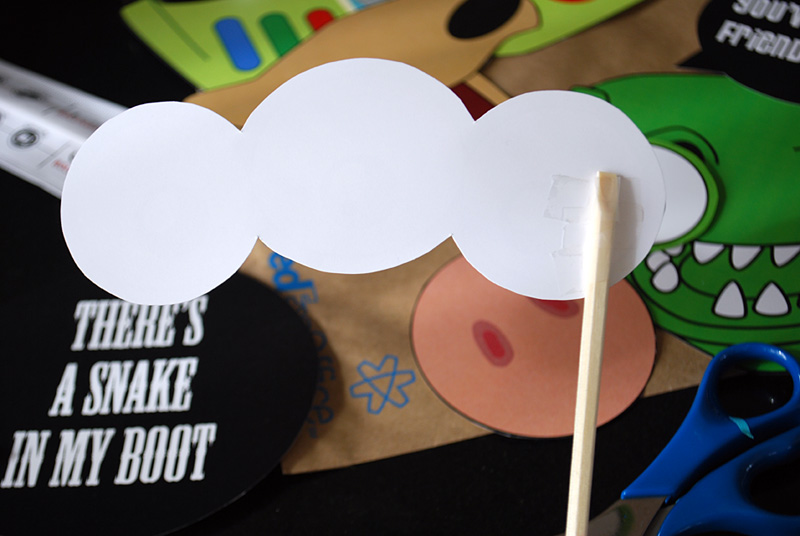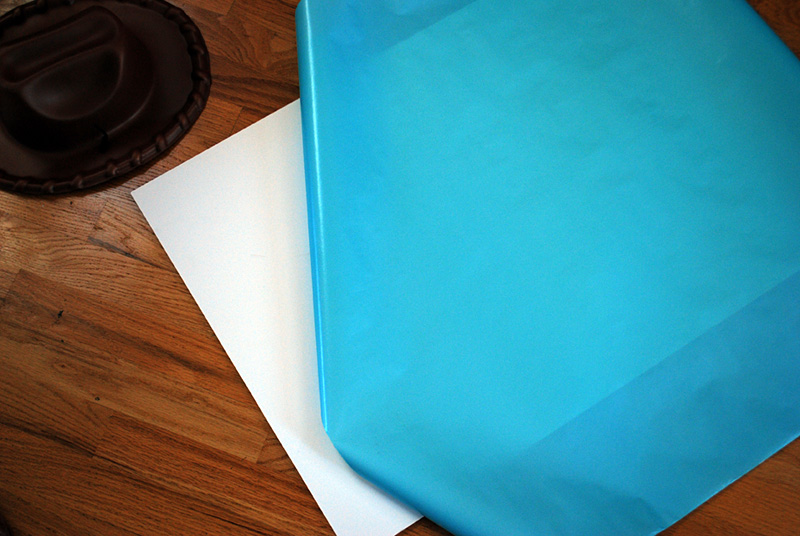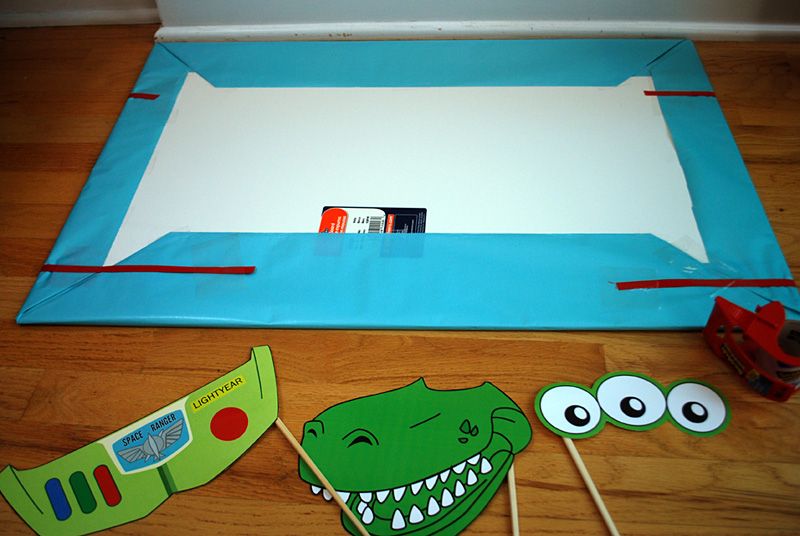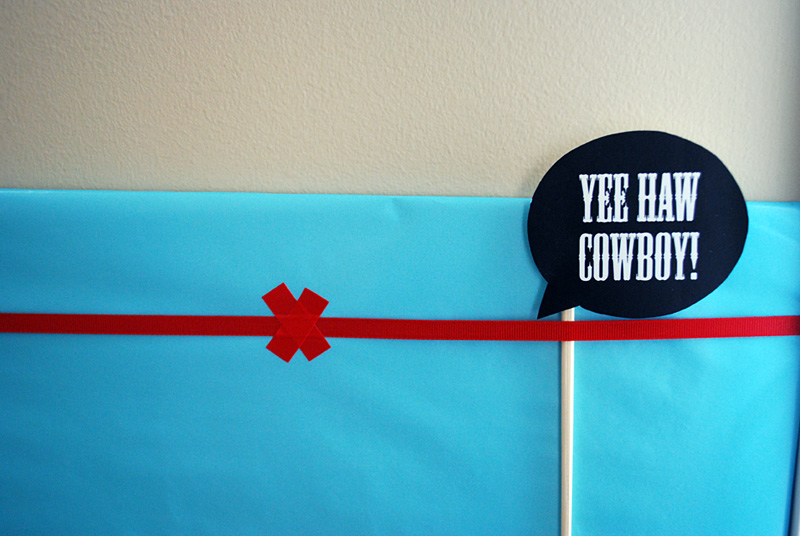 Supplies for making Toy Story photo booth props for a Toy Story birthday party:
I'm sharing free printable Toy Story photo booth props with the request that anyone using it, please pin this project on pinterest, share MerrimentDesign.com with your friends, or follow me on Facebook or twitter. Thanks!
For the Toy Story photo booth props:
For the photo booth props display board:
Light blue wrapping paper (I got mine at Party City)
Red electrical tape
How to make a Toy Story photo booth props for a Toy Story birthday party:
Print out my free Toy Story photo booth props onto white cardstock — print the Toy Story sayings in black and white and print the Toy Story character faces in color.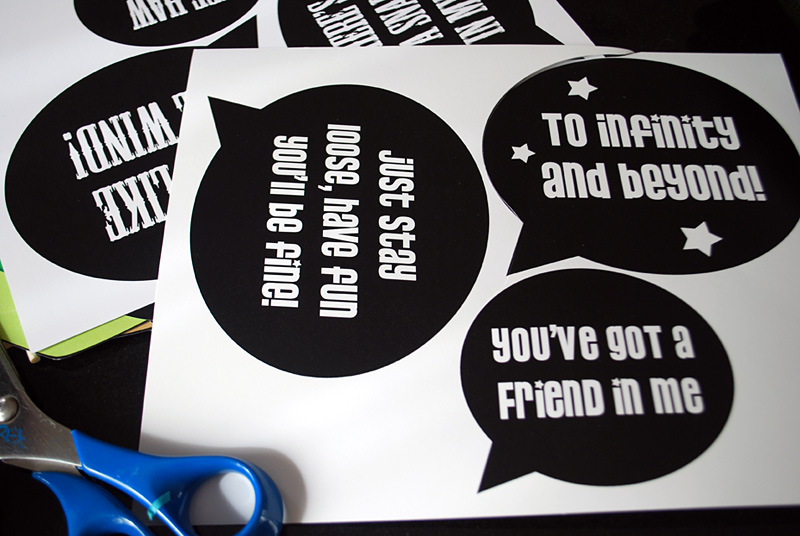 Carefully cut out the sayings and character faces using good paper scissors.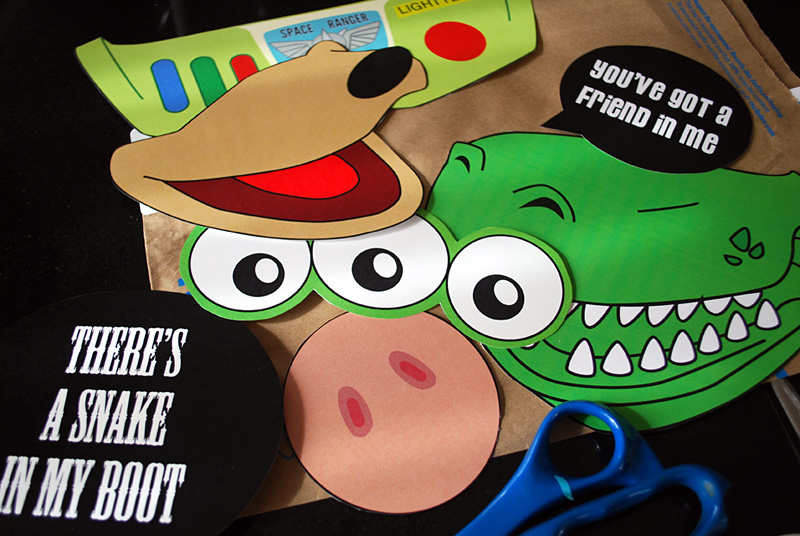 Open some unused chopsticks and separate them.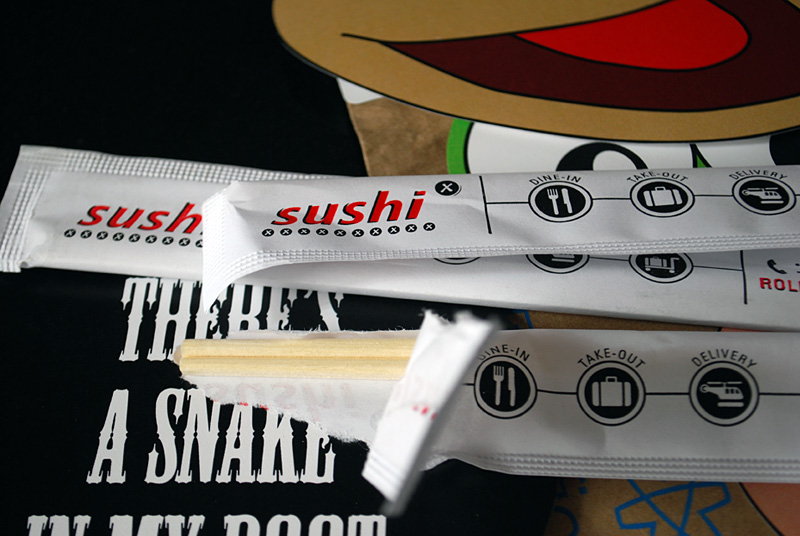 Tape a chopstick on the back of the cut out Toy Story saying or character faces.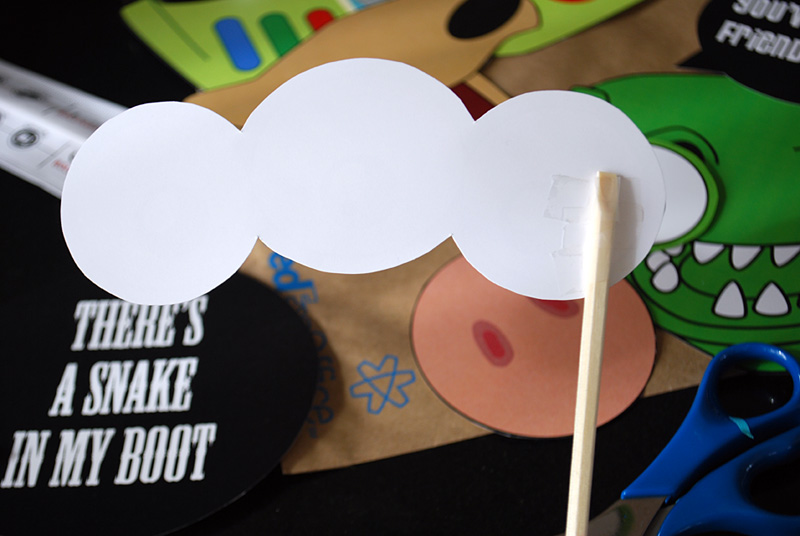 You can put the chopsticks on the left side or the right side, or mix them up.
To make a hanging display board unroll light blue wrapping paper (I got mine at Party City).
Cover a piece of white foam core board with the wrapping paper…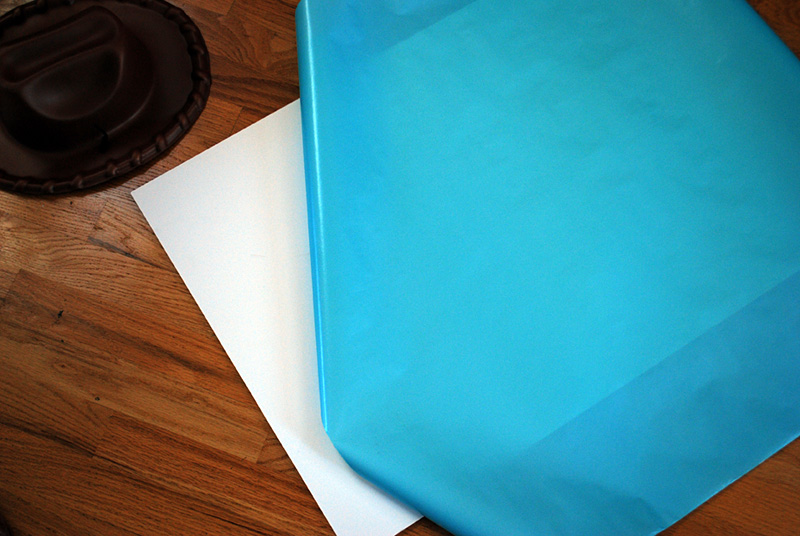 …and tape it on the back.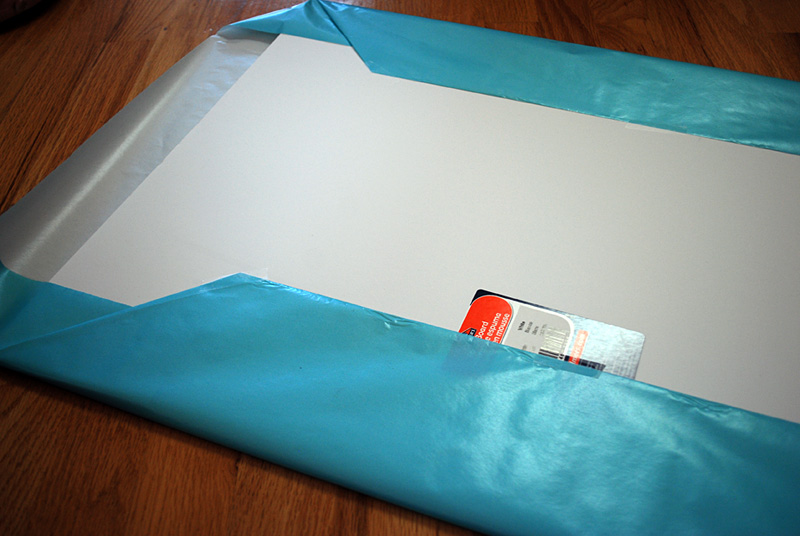 Gather some red grosgrain ribbon. I tried tacks first which are in this photo but they pulled out too easily so I ended up using electrical tape instead in a few steps here.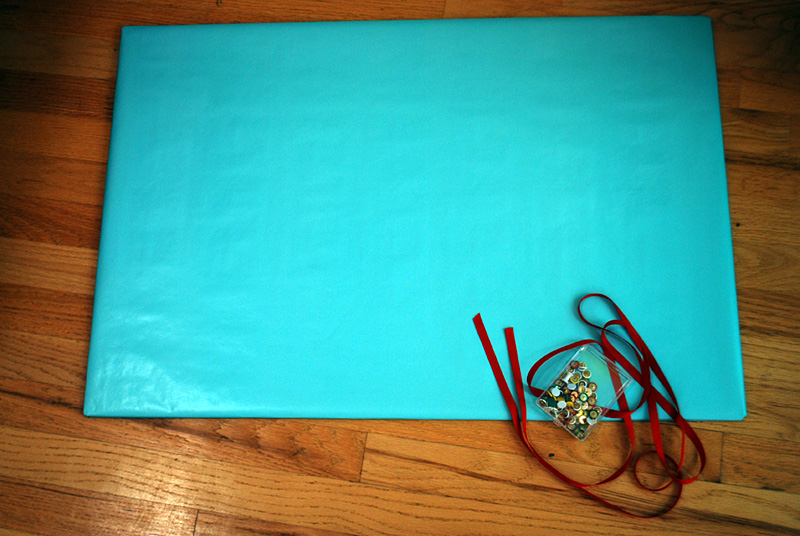 Anyway, tape the red grosgrain ribbon to the back of the foam core board.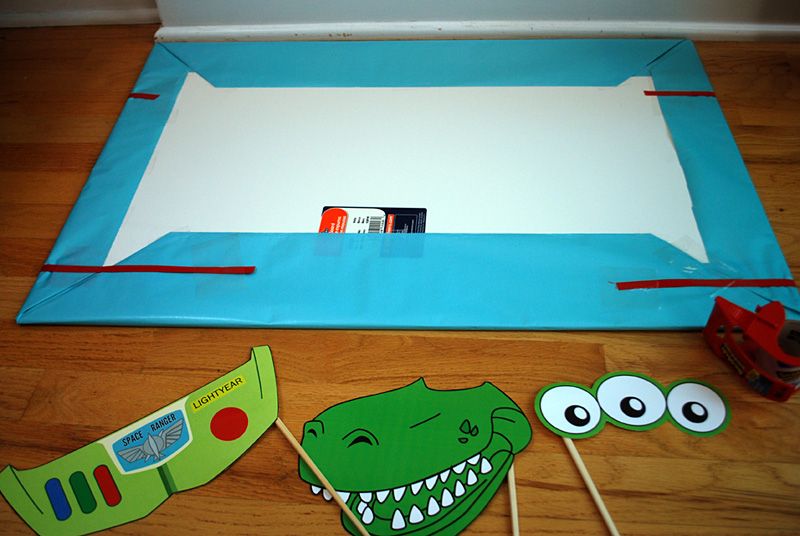 Here's my favorite way to cheaply put decorations up that come down crazy easy. First put a piece of painter's tape onto the wall and then use VELCRO Sticky Back strips, squares or coins. It's waaay cheaper and faster than buying a bunch of removable adhesive strips. You're welcome.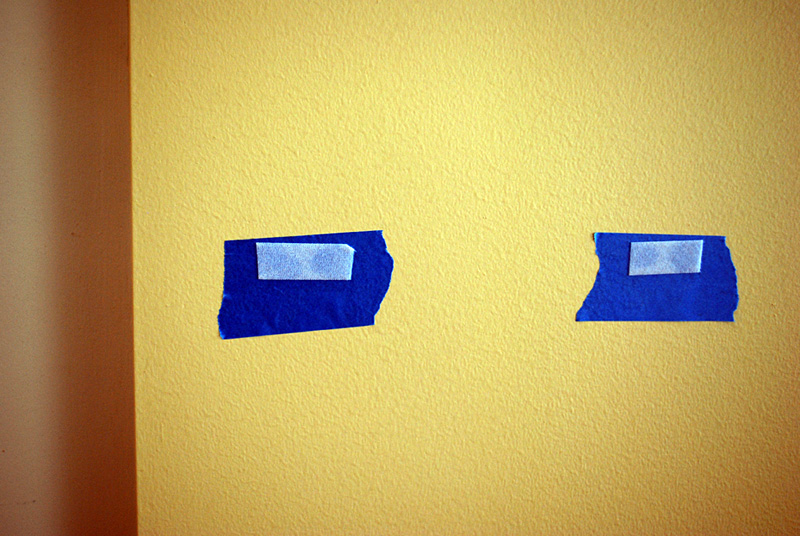 Start tucking in your photo booth props. Now this is where I realized that the tacks weren't working so well so I did a switcheroo for one of my favorite craft supplies, electrical tape.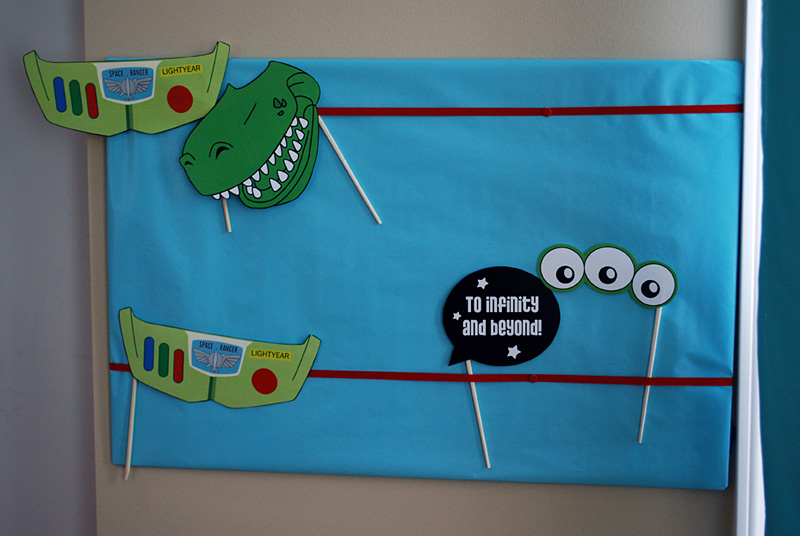 I made cute crosses on top of the red grosgrain ribbon. Yee Haw!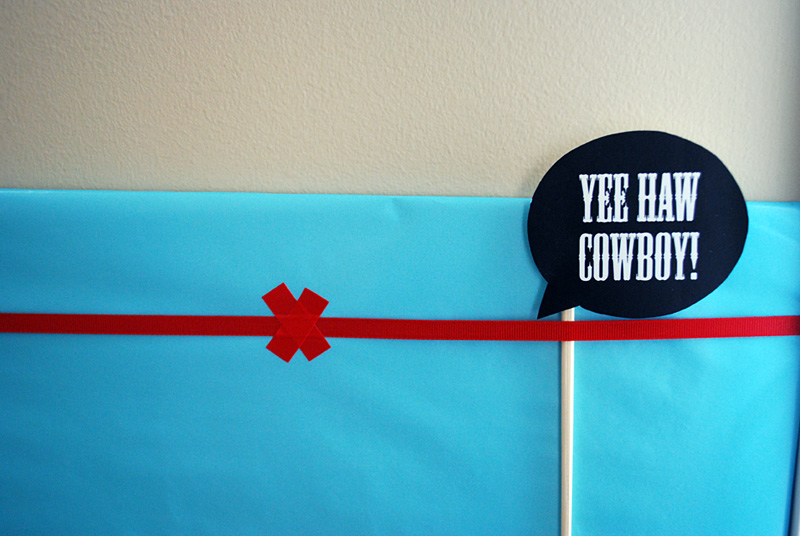 Did you make it? Please post a comment and let me know how this craft idea works for you. And share your own photos at the MerrimentDesign.com Facebook page, "I made it!" flickr photo gallery or tweet a picture to @merrimentdesign.
COPYRIGHT NOTE: You're more than welcome to use free pattern and how to step-by-step tutorial for your own personal use. Contact me for any commercial use – this includes etsy sellers.