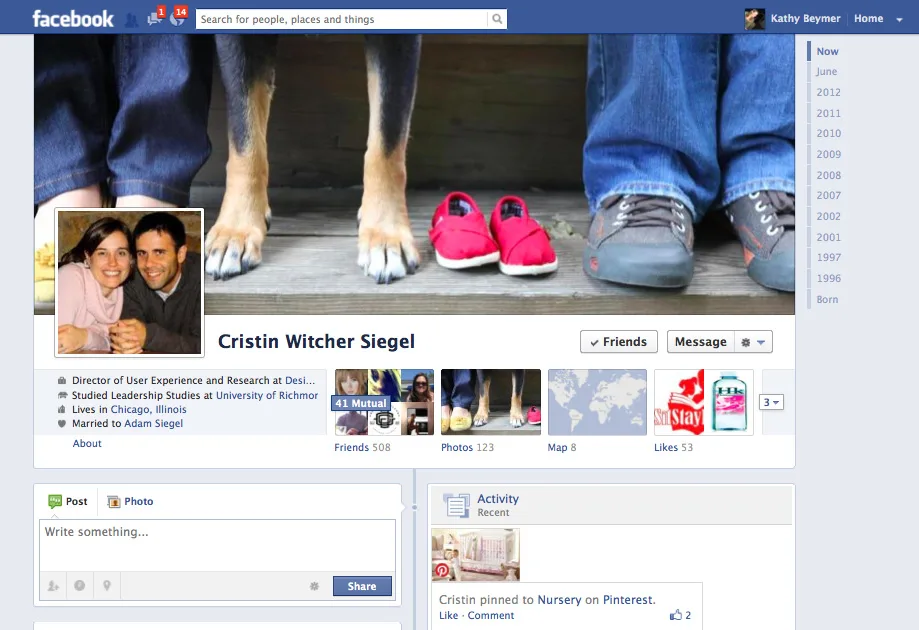 Here's a really cute and creative pregnancy announcement idea for Facebook or traditional snail mail. Once again I'd like to thank Cristin Siegel for today's guest post while I'm on maternity leave. Take it away, Cristin!
My husband, Adam, and I recently announced that we're expecting a little one in December. We wanted to do something fun and special to commemorate our news.
I had seen a photo on Pinterest where the new mom and dad-to-be took a picture of their feet next to a pair of tiny baby shoes. I was inspired by the idea and decided to borrow it for the announcement email and Facebook post that went out to all of our friends and family at the end of my first trimester.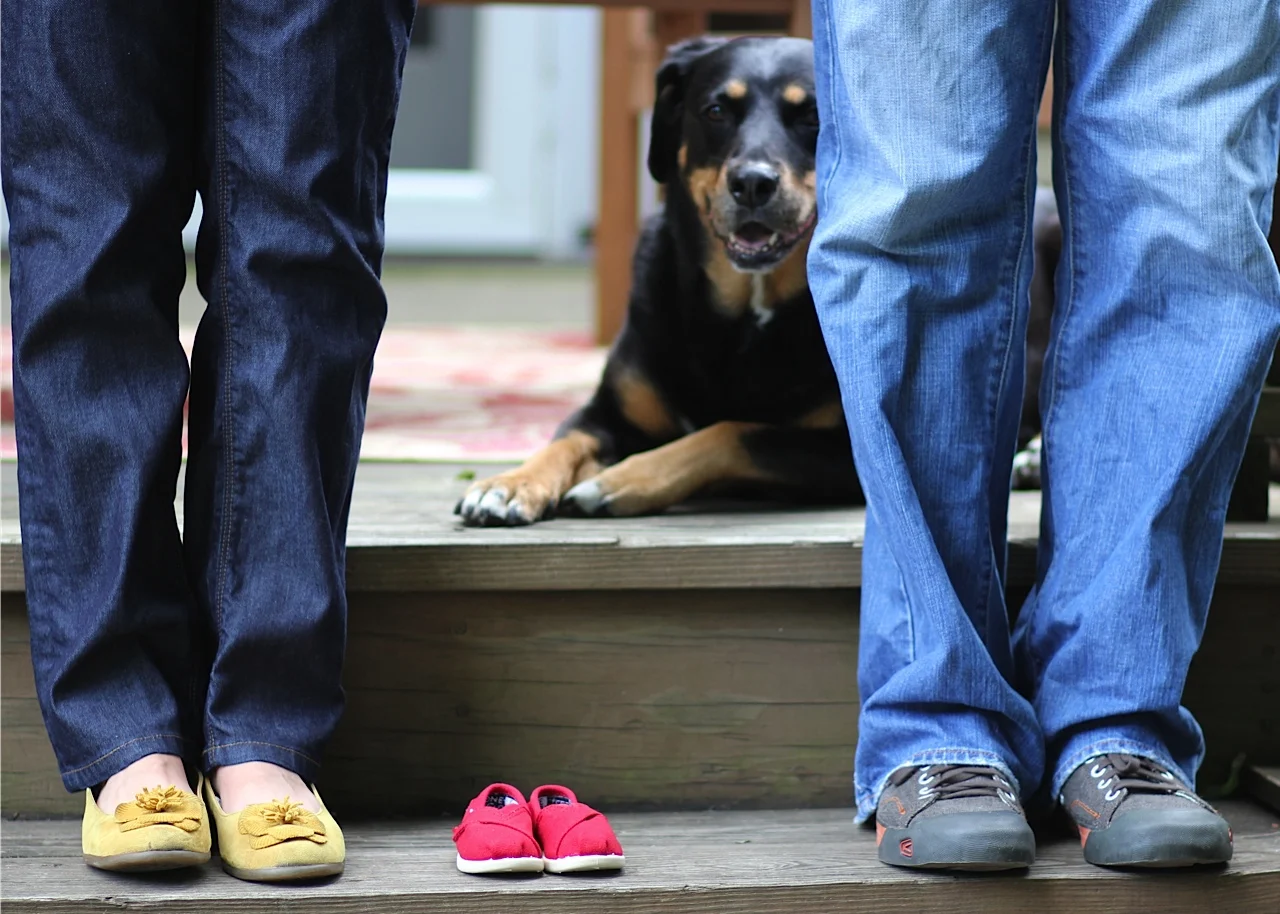 Our photo had one important twist on the original. Anyone who knows me knows that Kaya, our Lab / Rottie mix, is very much a member of our household. You might remember Kaya from her red and black doggy bone blanket sewing tutorial. Admittedly she's spoiled rotten, but she's a love and I wouldn't have it any other way. A Siegel family announcement photo definitely wouldn't be complete without at least two of Kaya's four furry paws.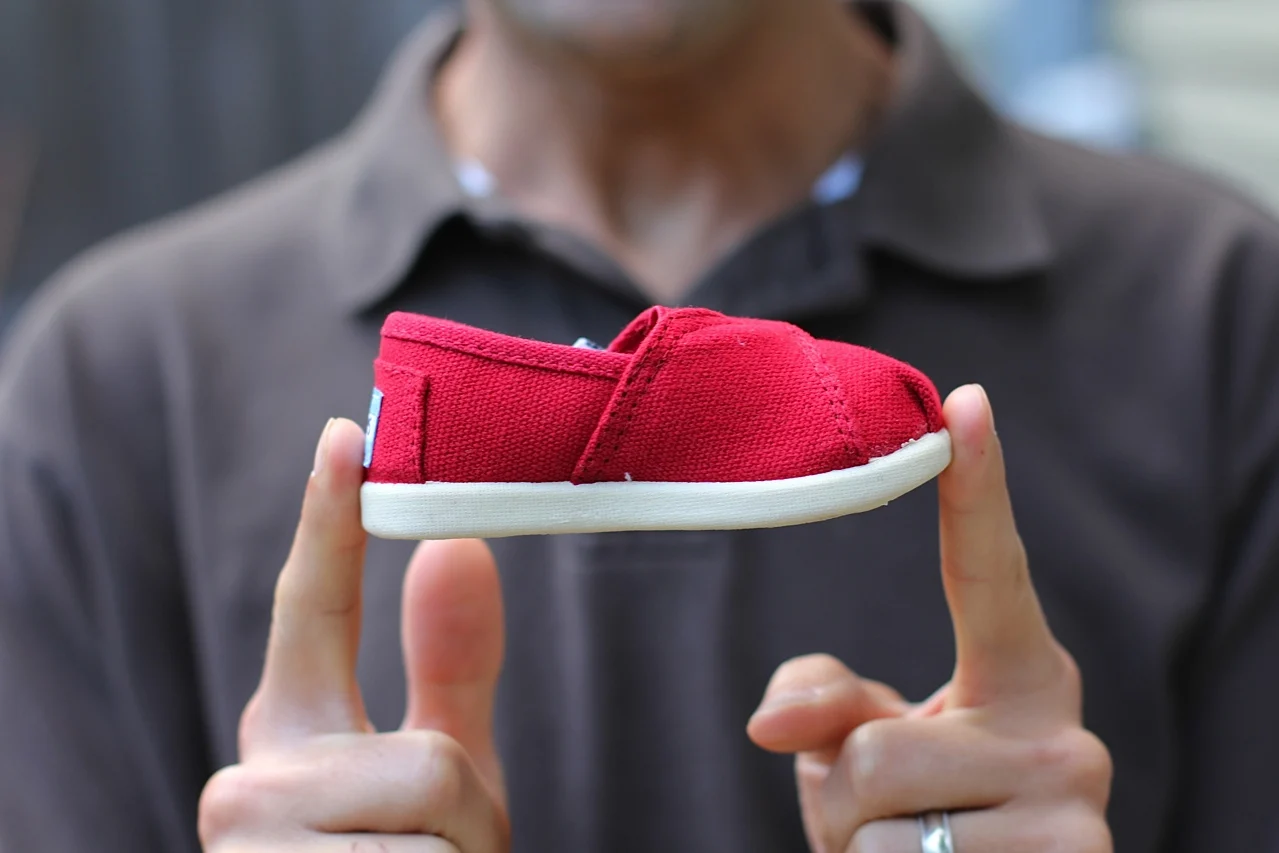 I ordered Tiny Toms in a gender neutral red since we won't find out whether we're having a boy or a girl for another few weeks. (Patience is not my strong suit I suppose, but this wait is killing me!)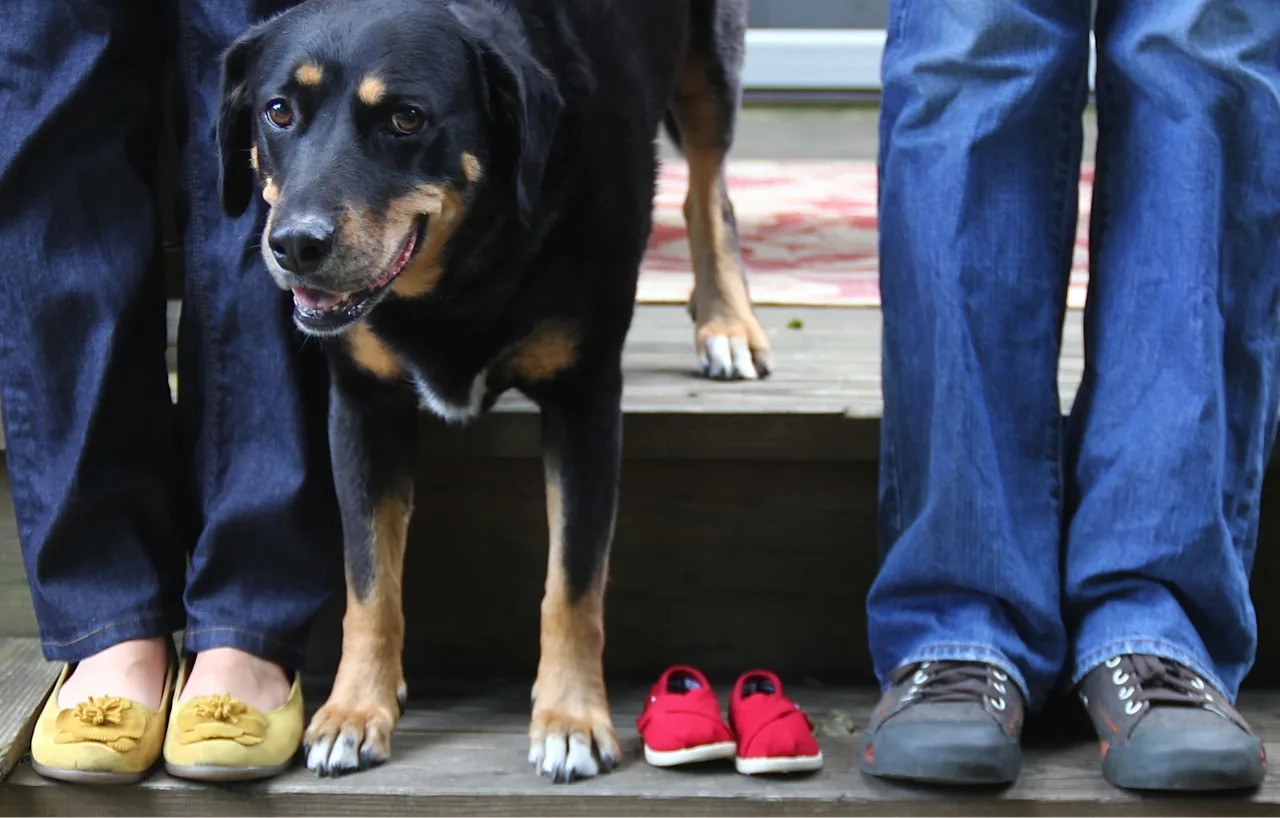 I enlisted my sister-in-law, Mara, to be our photographer. We waited until the light was right (Mara's orders) and had a small photo shoot in our backyard. Kaya tried to be cooperative but it took several attempts, and ultimately a good bit of cropping, to get a set of photos we were happy with. To get Kaya situated properly we had her two front feet on the same step as our feet and our tiny shoes. Kaya's two back feet were one step up and out of the way of the photo frame.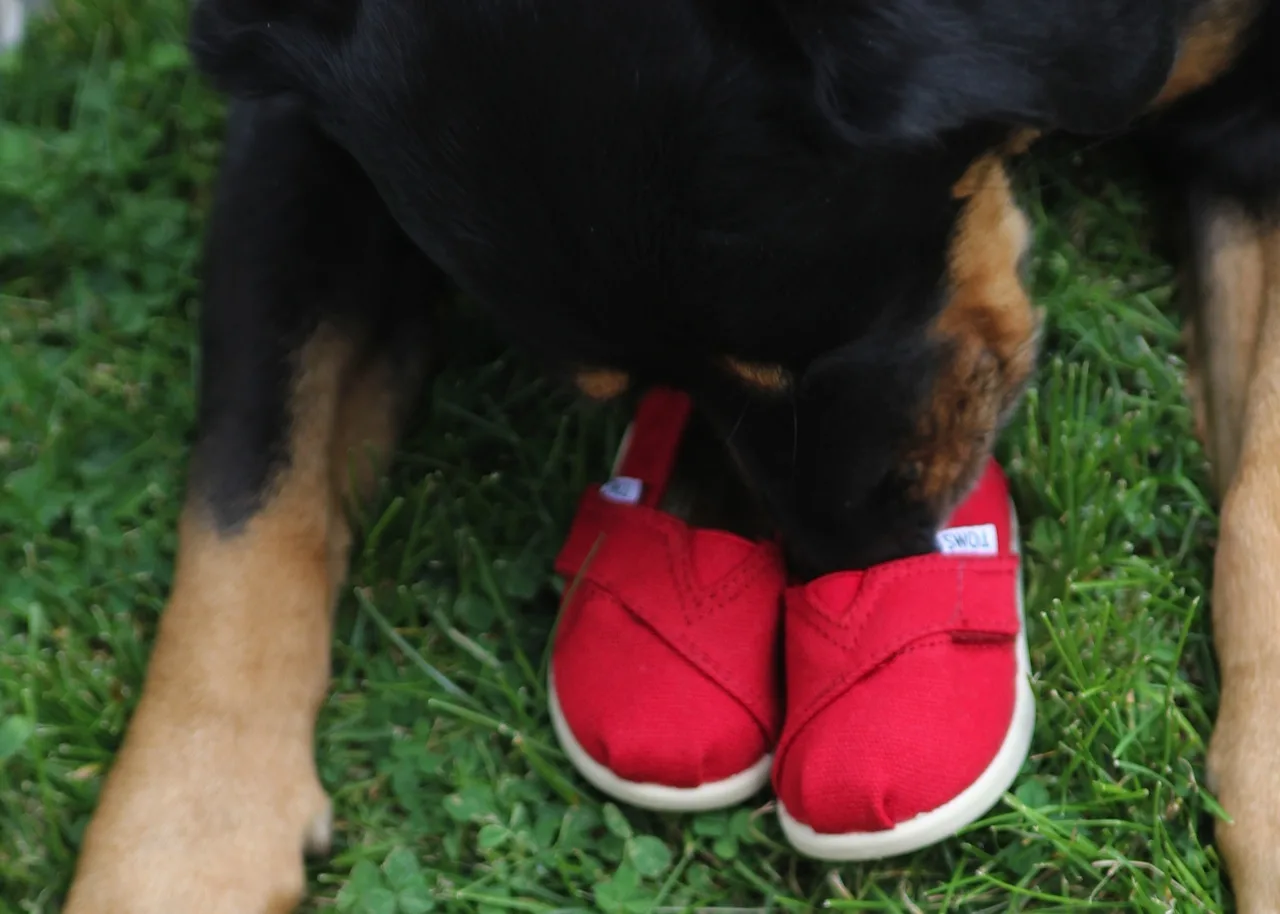 I'm still not entirely sure how Kaya feels about those tiny shoes!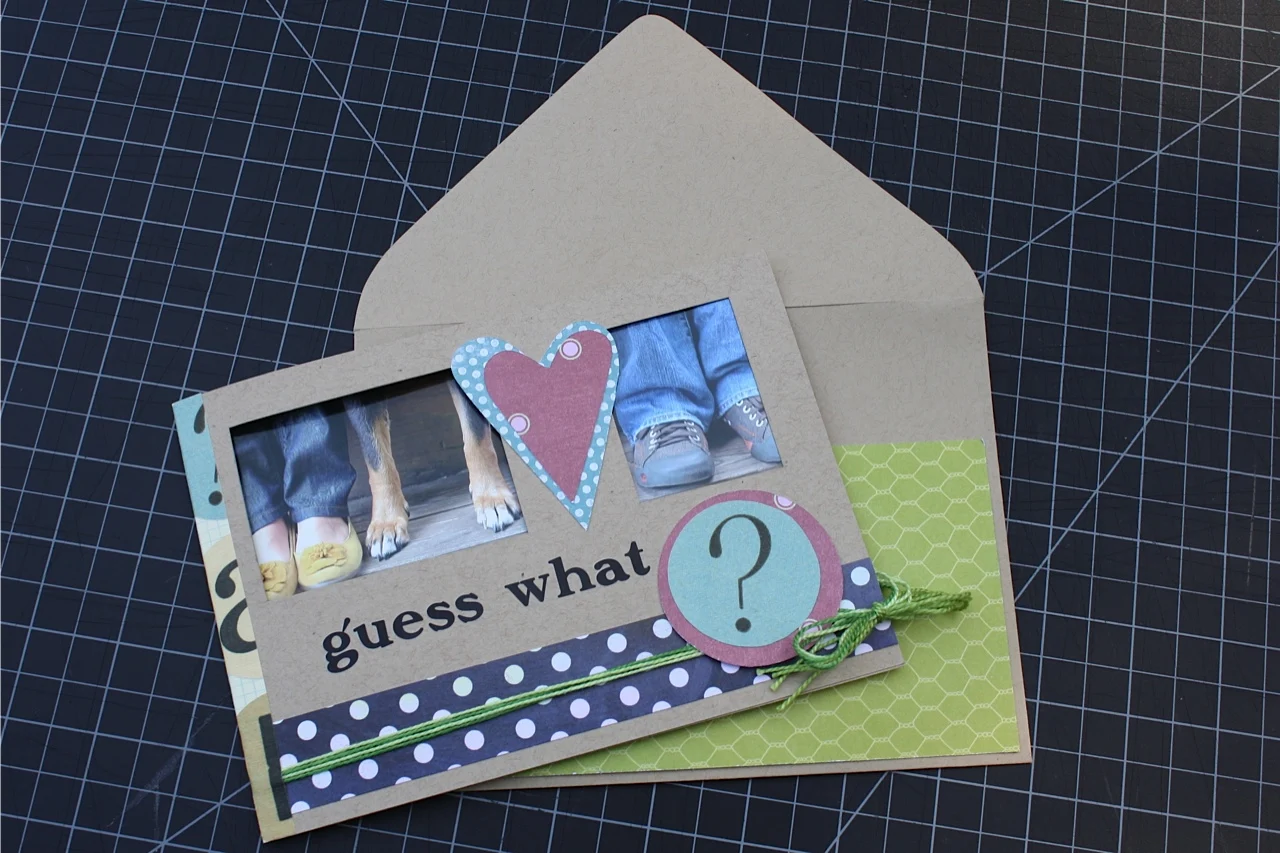 We told our parents and closest buddies our good news in person of course, but right around week 12 we sent an email to a BCC'ed distro list with one of our favorite photos from the bunch. After we sent the email we realized there are a small handful of people that would like to see our formal announcement that aren't regular emailers – mainly my grandmother who lives in Southern California, far from our Chicago home. So I used the Kodak picture maker machine at Target (one of my favorite places and favorite contraptions) to print out our foot picture and turn it into an announcement card.
WANNA MAKE IT? Free step-by-step tutorial instructions and supply list for making a fun and creative pregnancy announcement –>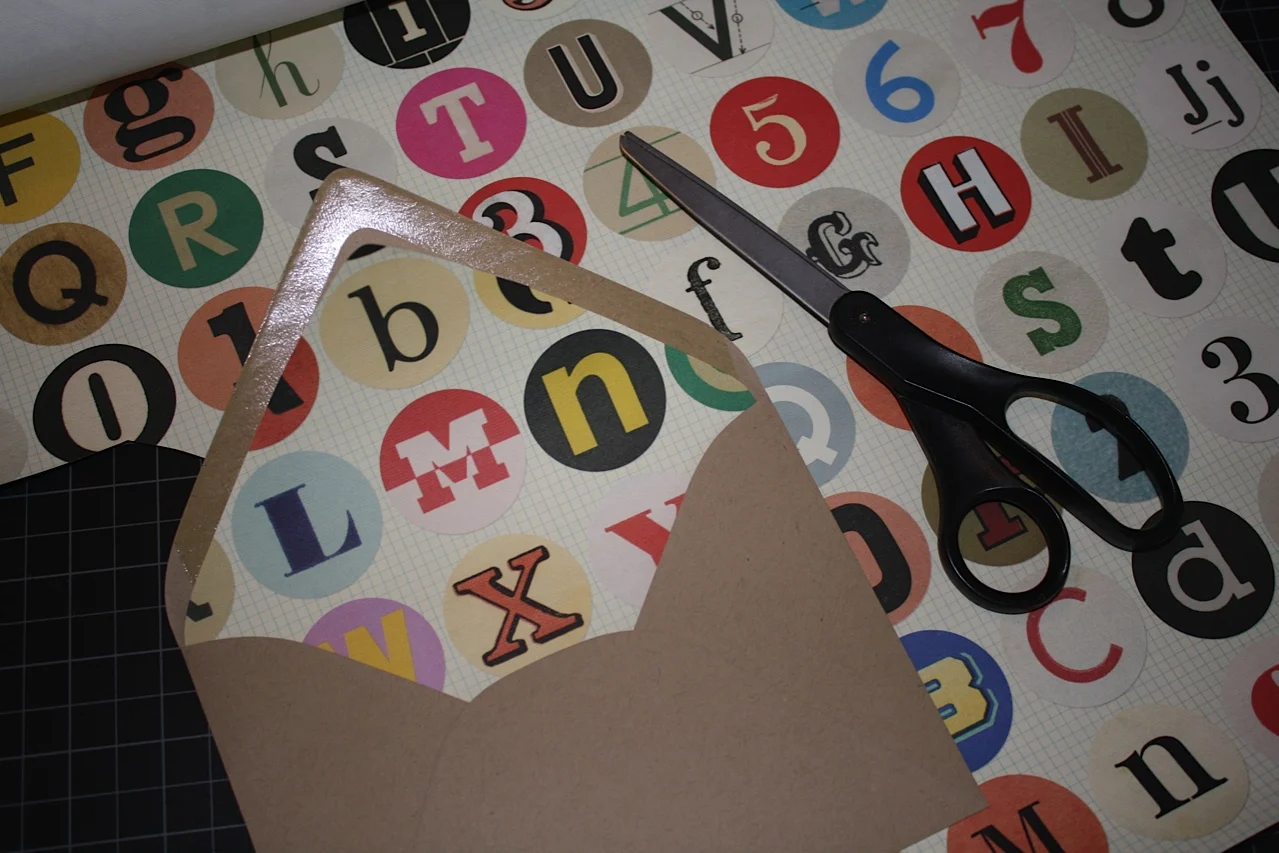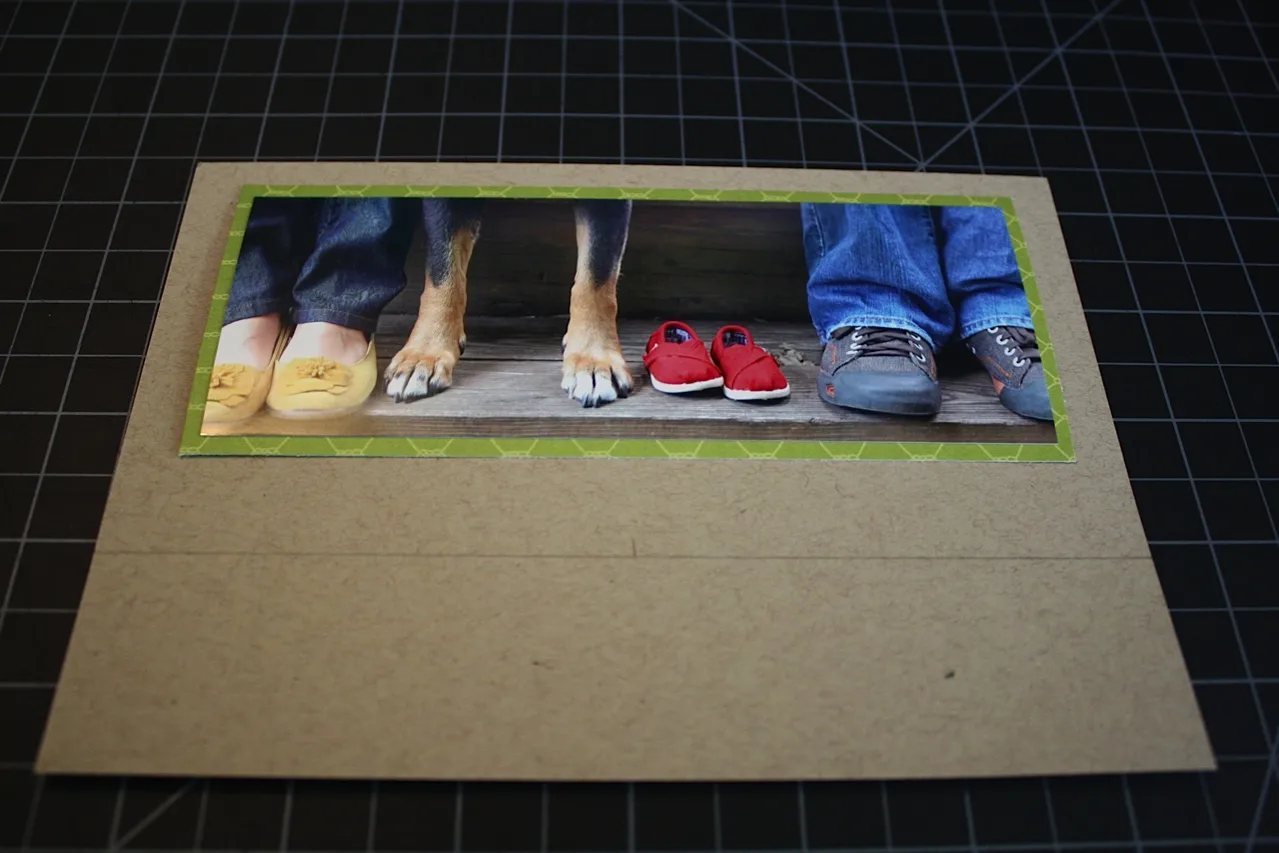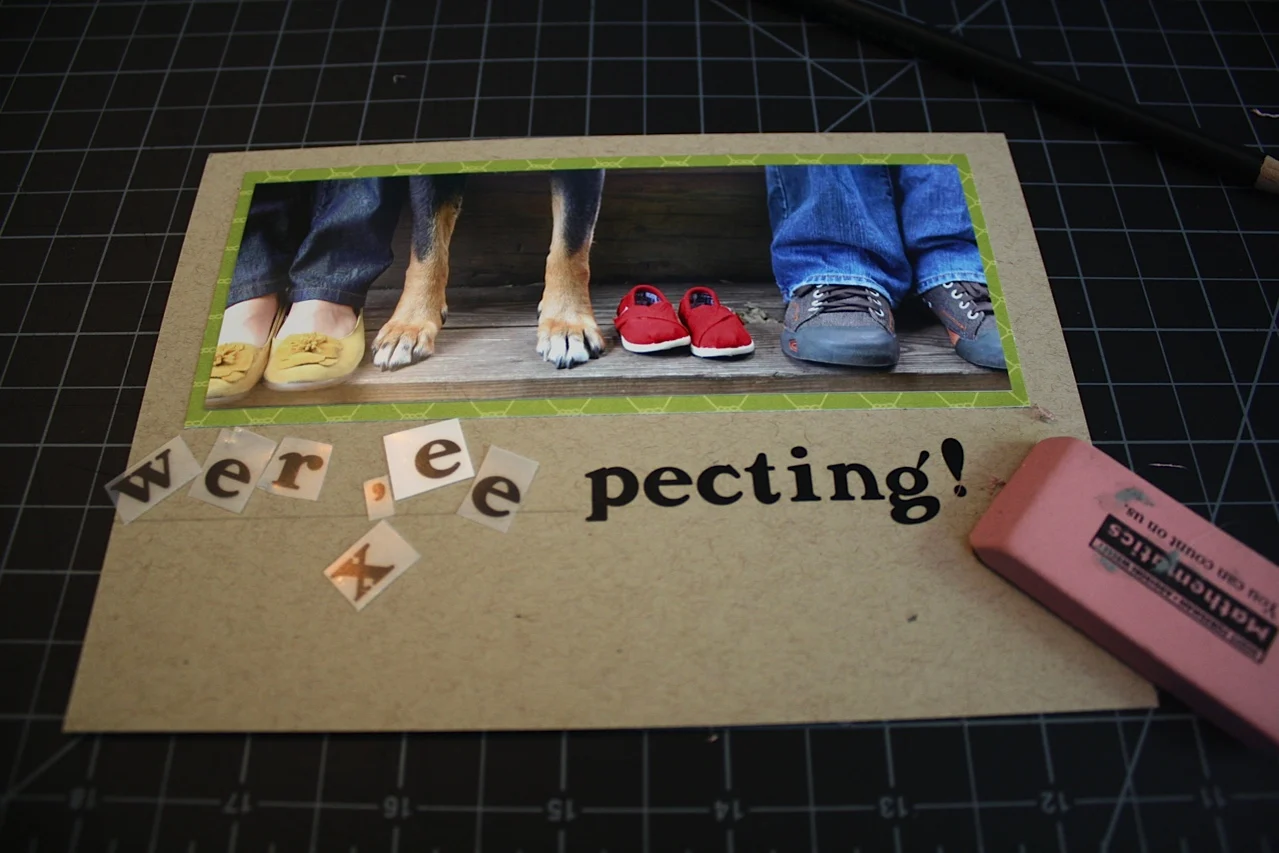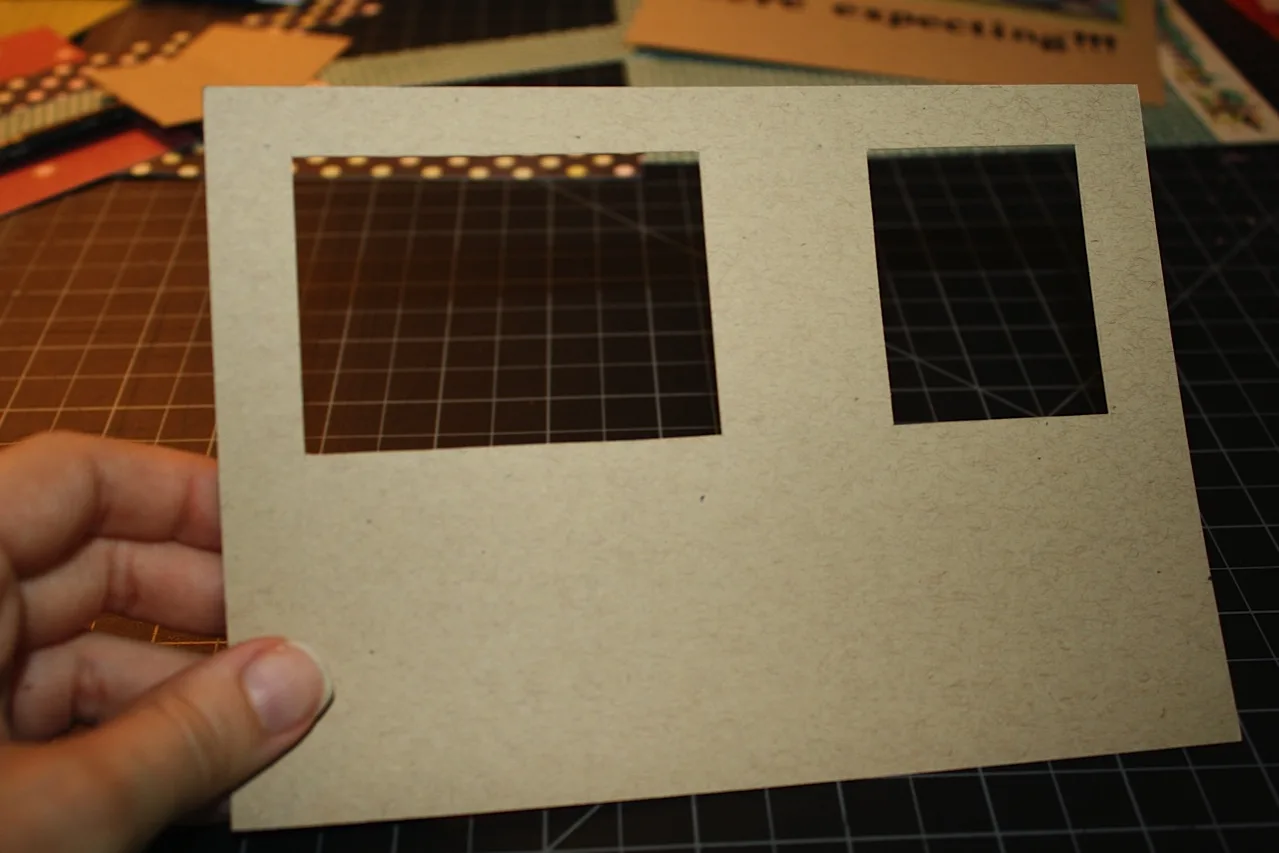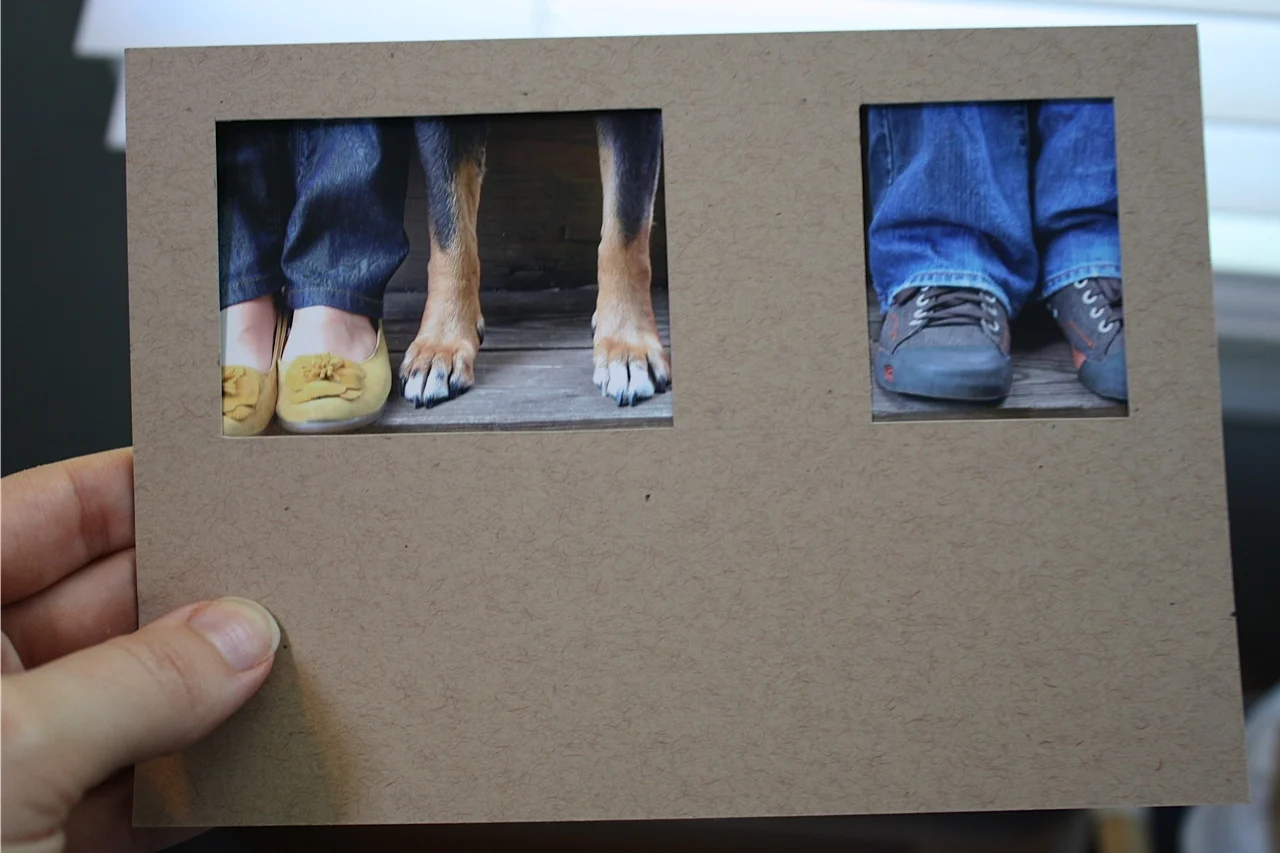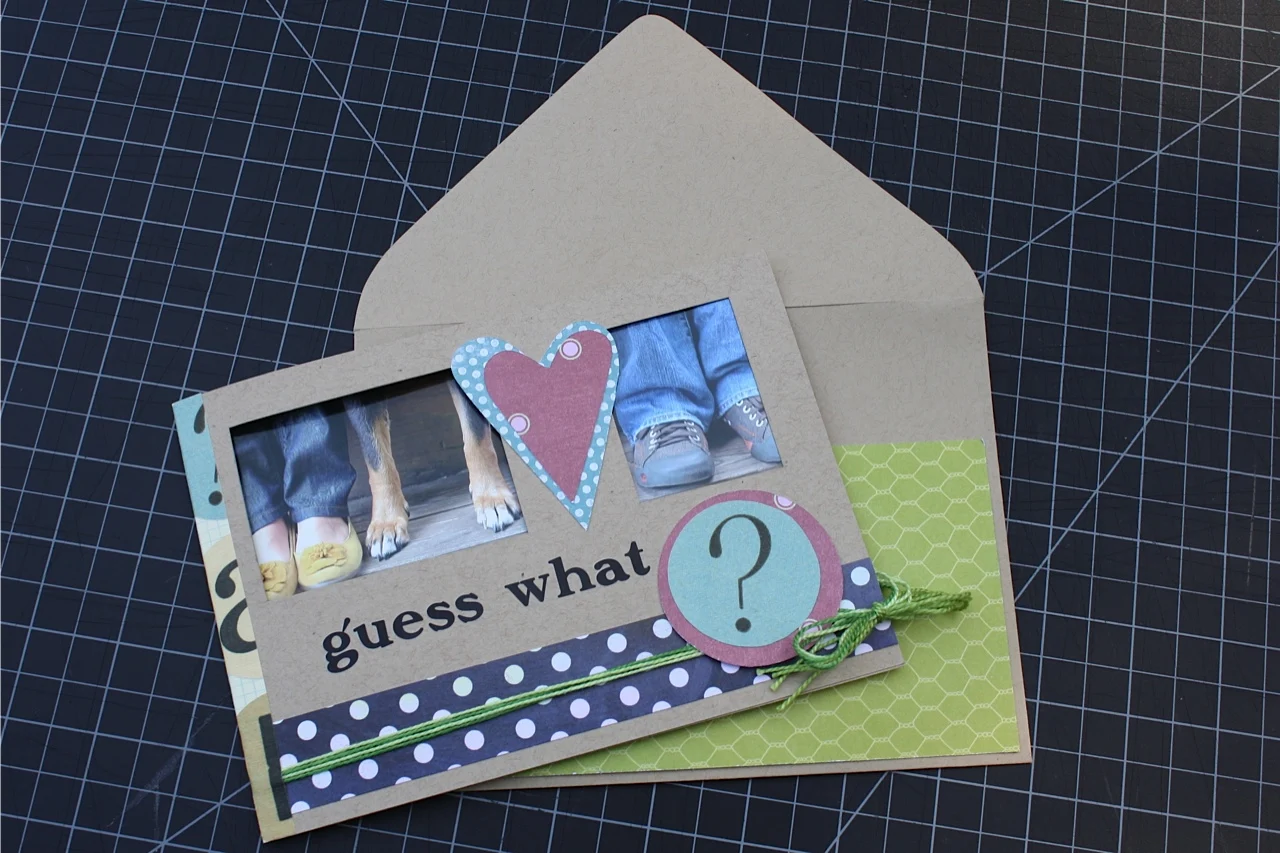 Supplies for making a 'We're Expecting' fun and creative pregnancy announcement:
Art paper – I used mostly scraps from other projects
Bone folder – mine is from Paper Source and I use it regularly
Metal ruler – for measuring and edging
Pencil and eraser
—
Like it? Share it!
The nicest way to say you like it is to pin it on pinterest, post a comment, follow Merriment Design on Facebook, twitter, pinterest, Google+ or sign up for monthly emails. Enjoy! 🙂
—
How to make a 'We're Expecting' fun and creative pregnancy announcement: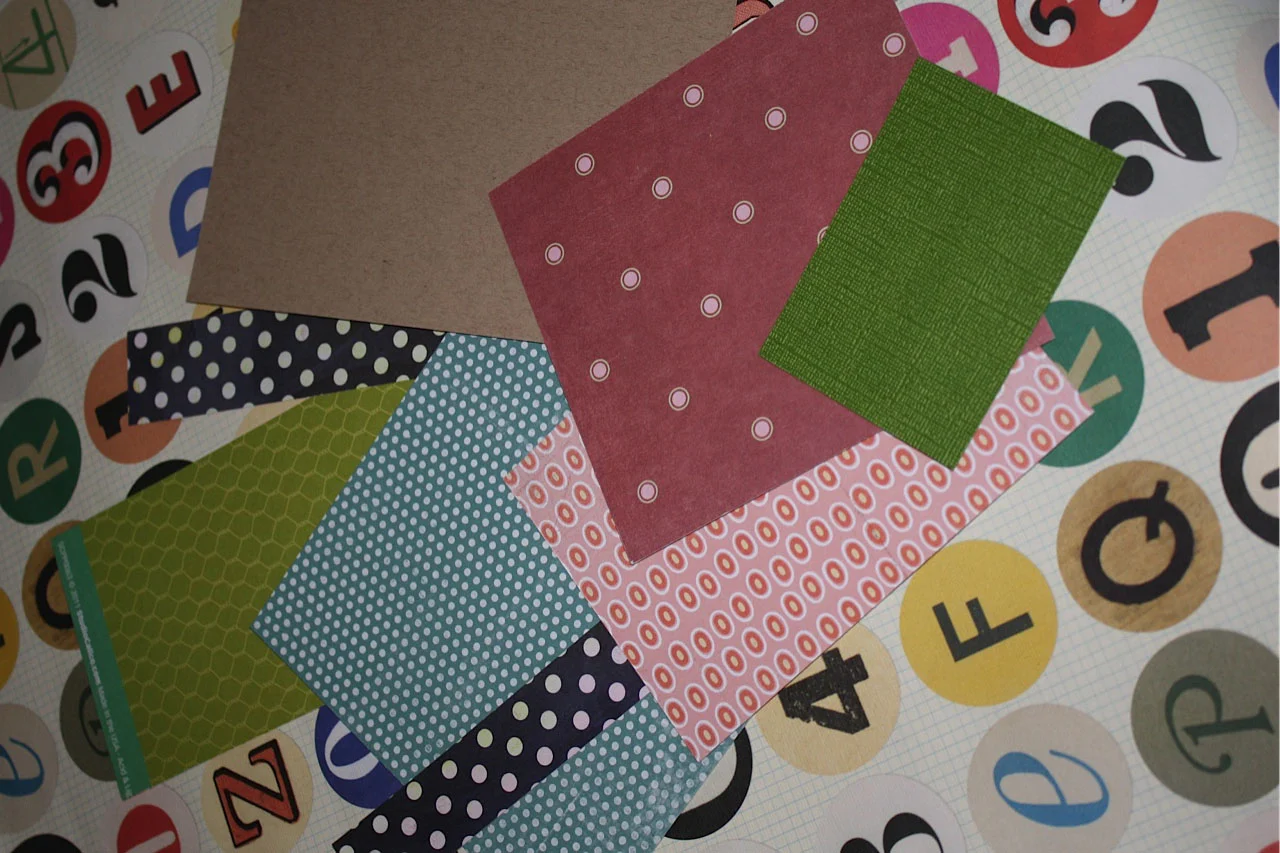 I started off by pulling together coordinating scrap paper left over from other projects. I was trying to keep a fairly gender neutral color palette going, hence the reds and greens and blues. By chance, most of the paper I ended up using also featured various circle patterns. Because the circles and dots were all sized and spaced differently they worked together without being overly busy. Serendipity.
You will need two flat 5X7 cards for this project. One will become the front flap of the announcement card and the other will become the back. Eventually you'll bind them together with some decorative paper but for now you should leave the two pieces separate. We'll start working with the back portion first.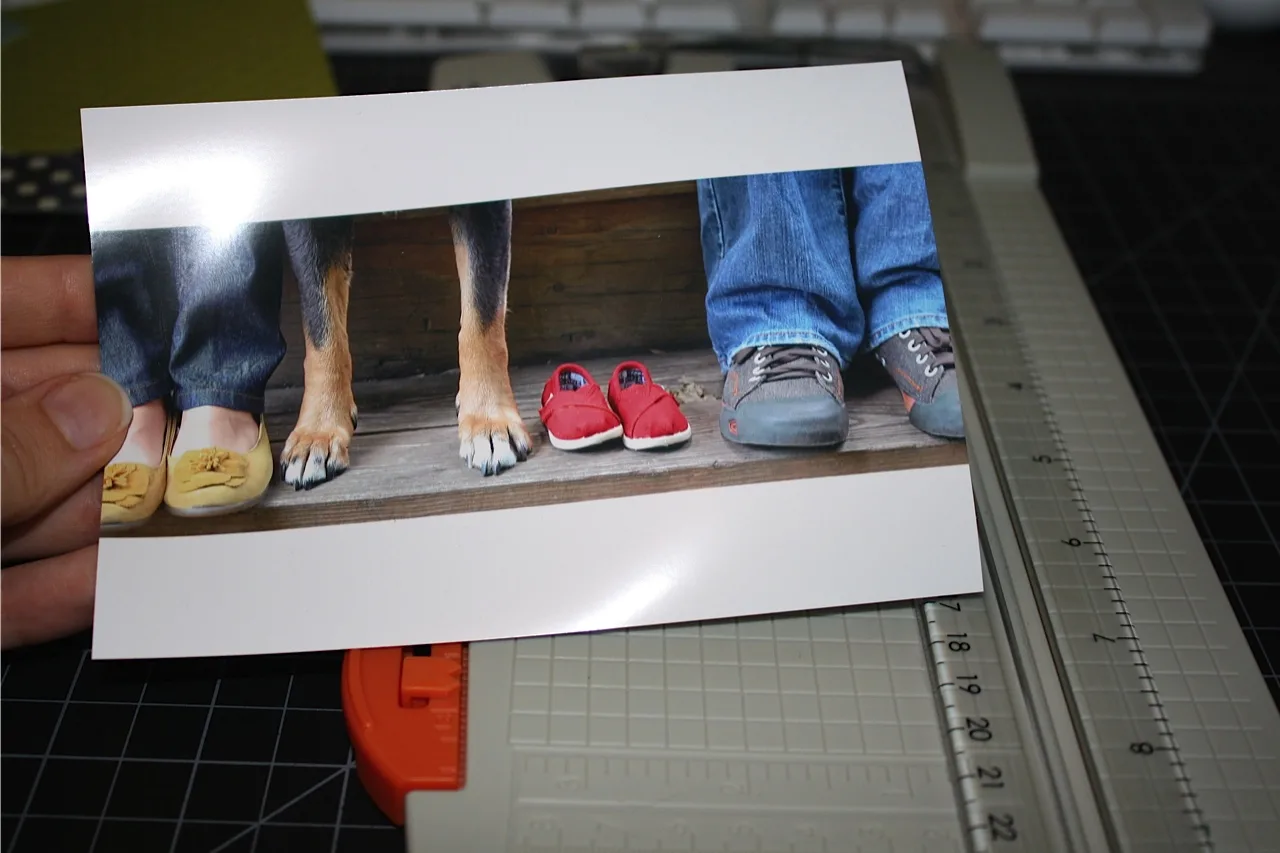 I knew I wanted the foot photo itself to be featured on the inside flap of this announcement card. After I printed the photo at Target I used my Fiskar's trimmer to crop the photo to size. You could use regular scissors for this task, but I love the nice straight lines that I get with the trimmer. It's a good investment if you find yourself crafting with paper regularly.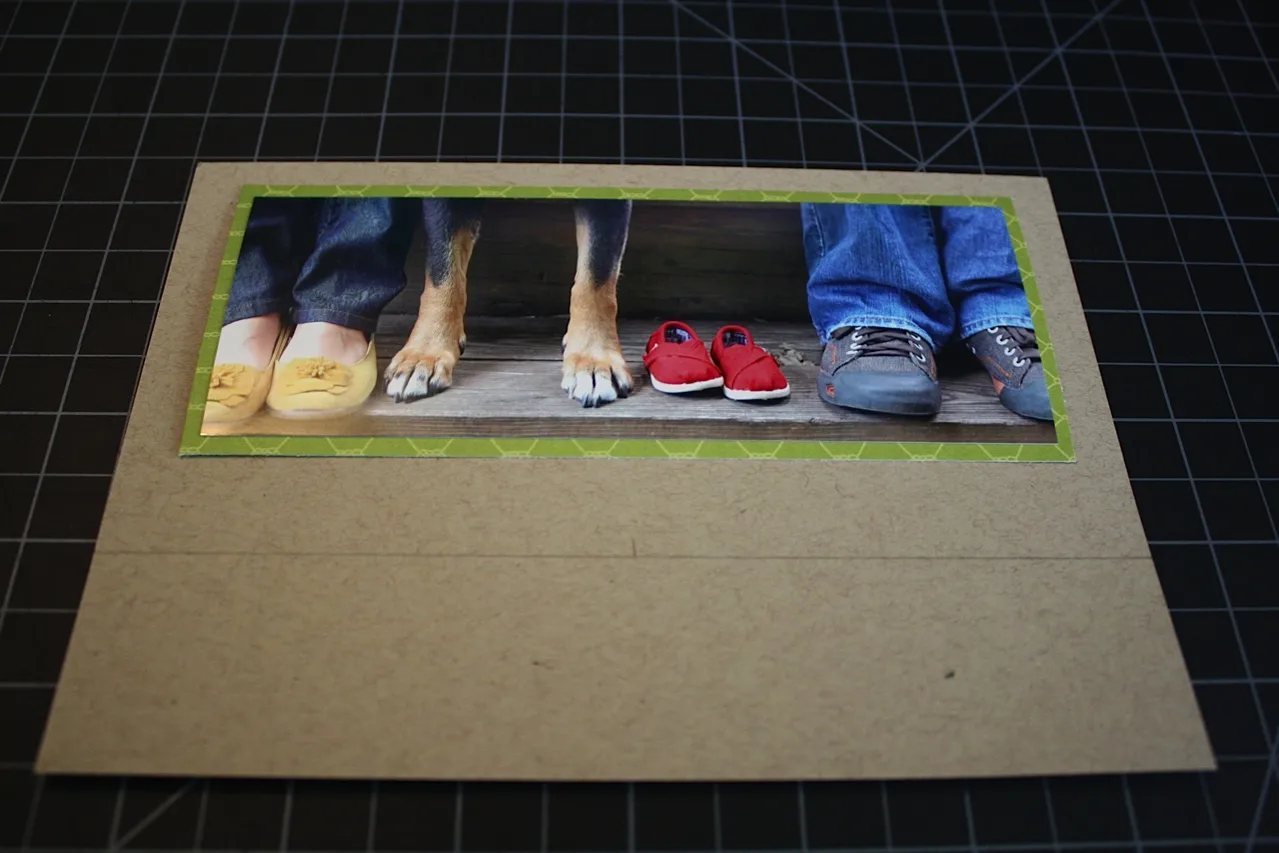 After the picture was trimmed I dipped into my self-taught scrapbooking skills to glue and fit pieces together. There's no right or wrong way to tackle this step. Just remember your arrangement should leave ample space at the bottom of the card for any kind of message you may wish to write.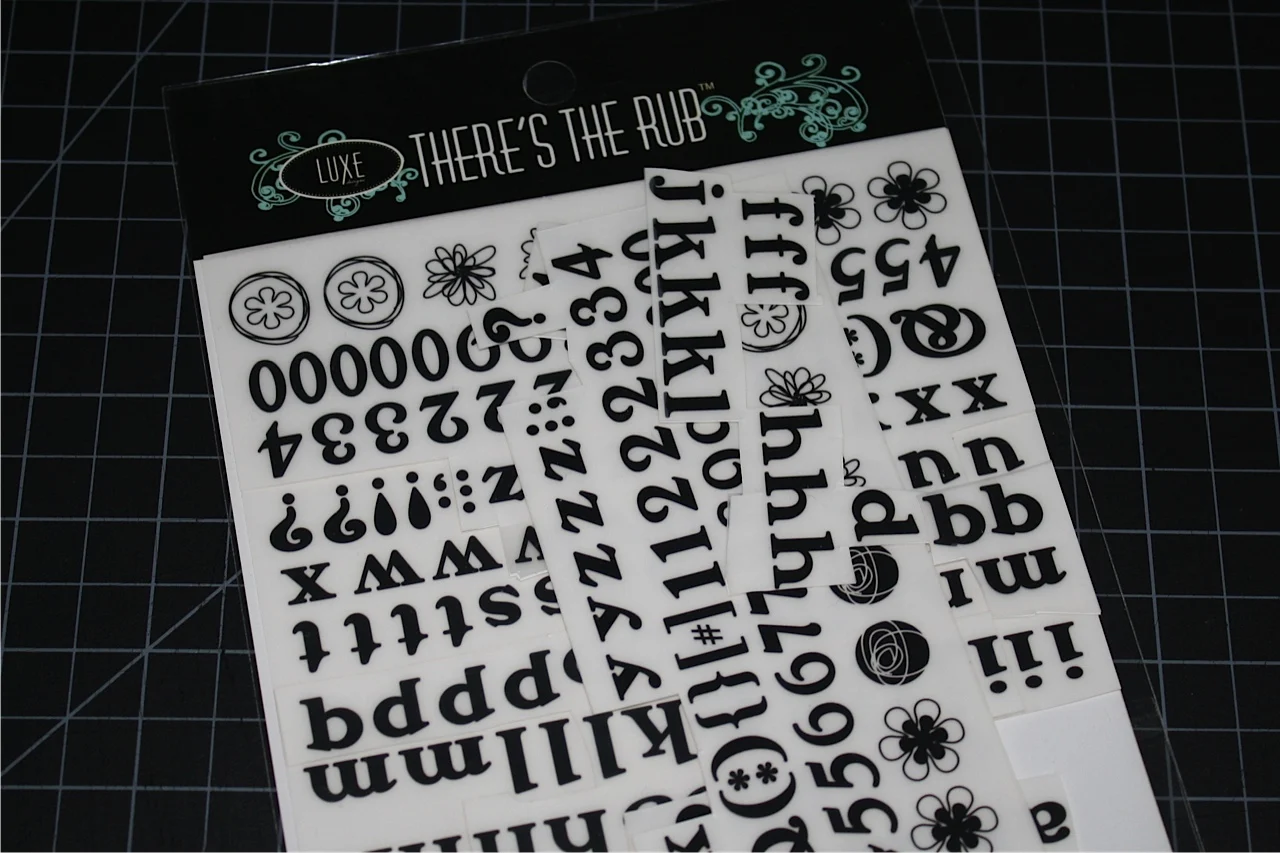 Next I used rub-on letters to spell out "We're Expecting!" on the inside flap of the card. Again remember, we'll be joining this back piece with a front piece in subsequent steps. Everything that you do to design or decorate this first card will appear on the inside.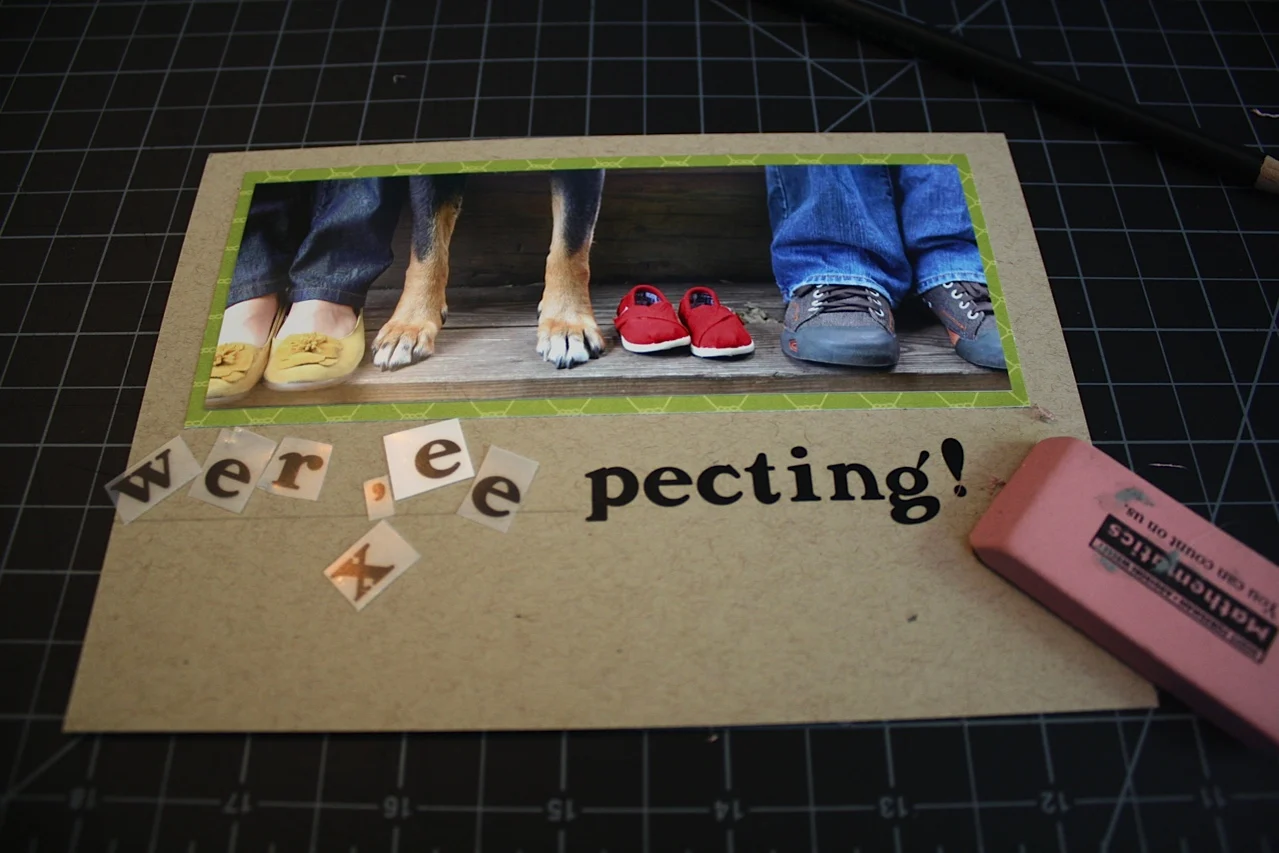 I used my straight edge to make a light guide line for my "We're Expecting!" message. Then I found the exact center of the card, and started sticking letters from that center point working outward. This technique ensures that your text will be roughly centered on the card and that you won't run out of room in one direction of the other. Lastly, after the letters were stuck down, I went back with a gentle eraser to remove my guide line.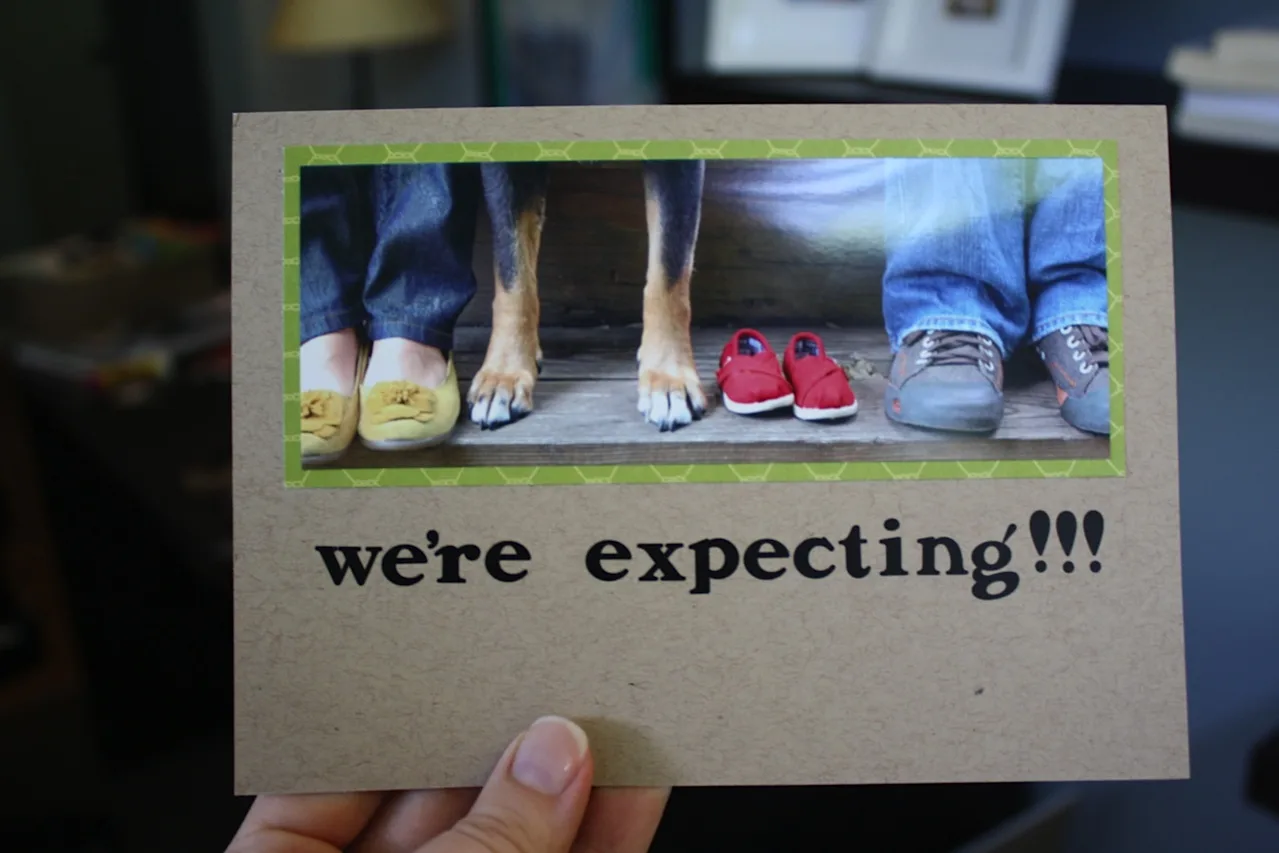 These rub-on letters were a bit tricky to use and required a good deal of patience and precision. First, I cut out and arranged the letters that I needed. Then I used my bone folder to press my message into place. I'm sure with practice this process would be easier but in the future I might look for another solution. I used these letters once before for my bouquet mason jars. I forgot how annoying they can be!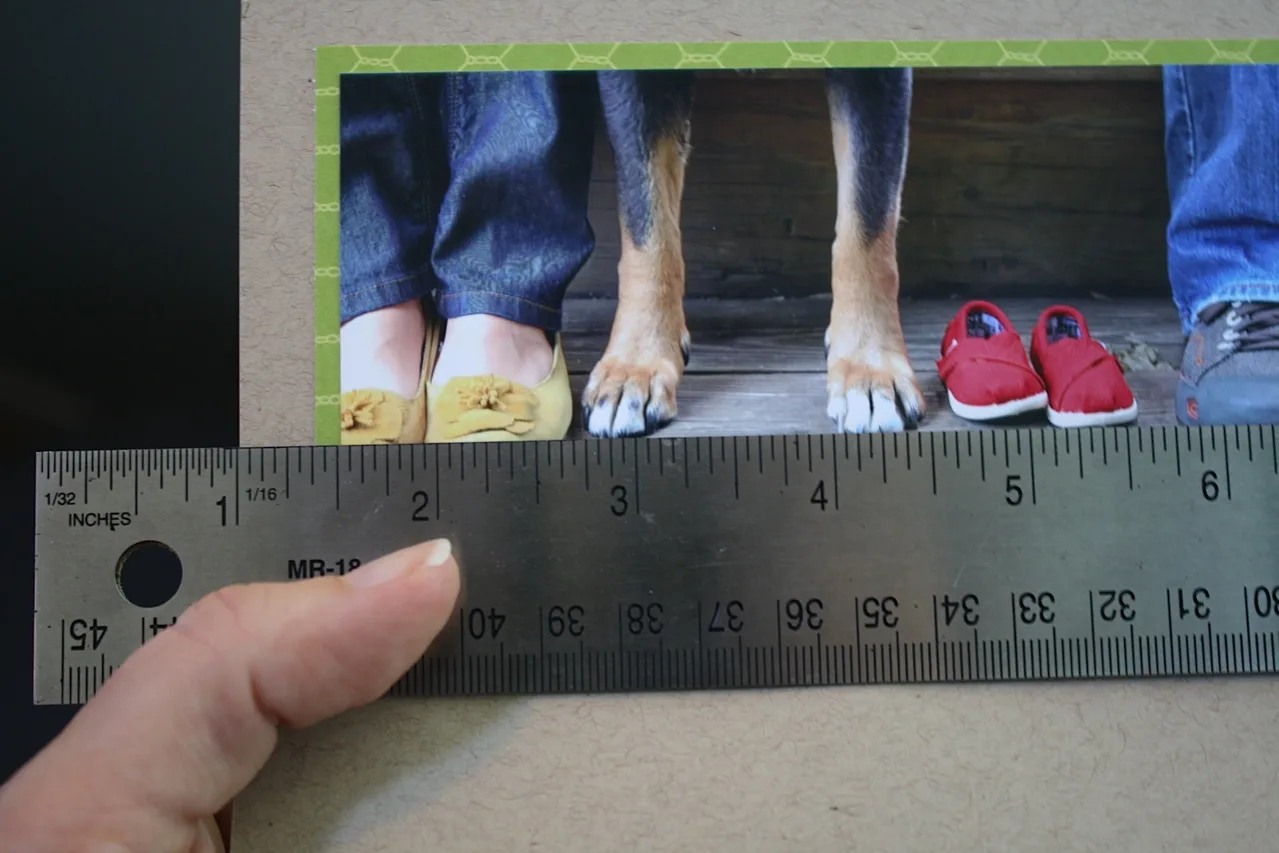 Let's leave the inside portion of the card for now and move to the front flap. My idea with this card was that from the front my grandmother would only be able to see my feet, Kaya's feet and Adam's feet. I wanted the baby shoes to remain hidden until she opened the card to the inside. That means I had to strategically cut windows on the front part of the card to reveal only select portions of the photo behind it. To make sure I was cutting correctly first I measured the space from the edge of the card to just inside the edge of the photo. I did this on all four sides. I also measured where the baby shoes were positioned so that I could make sure to cut around that part, making the reveal possible.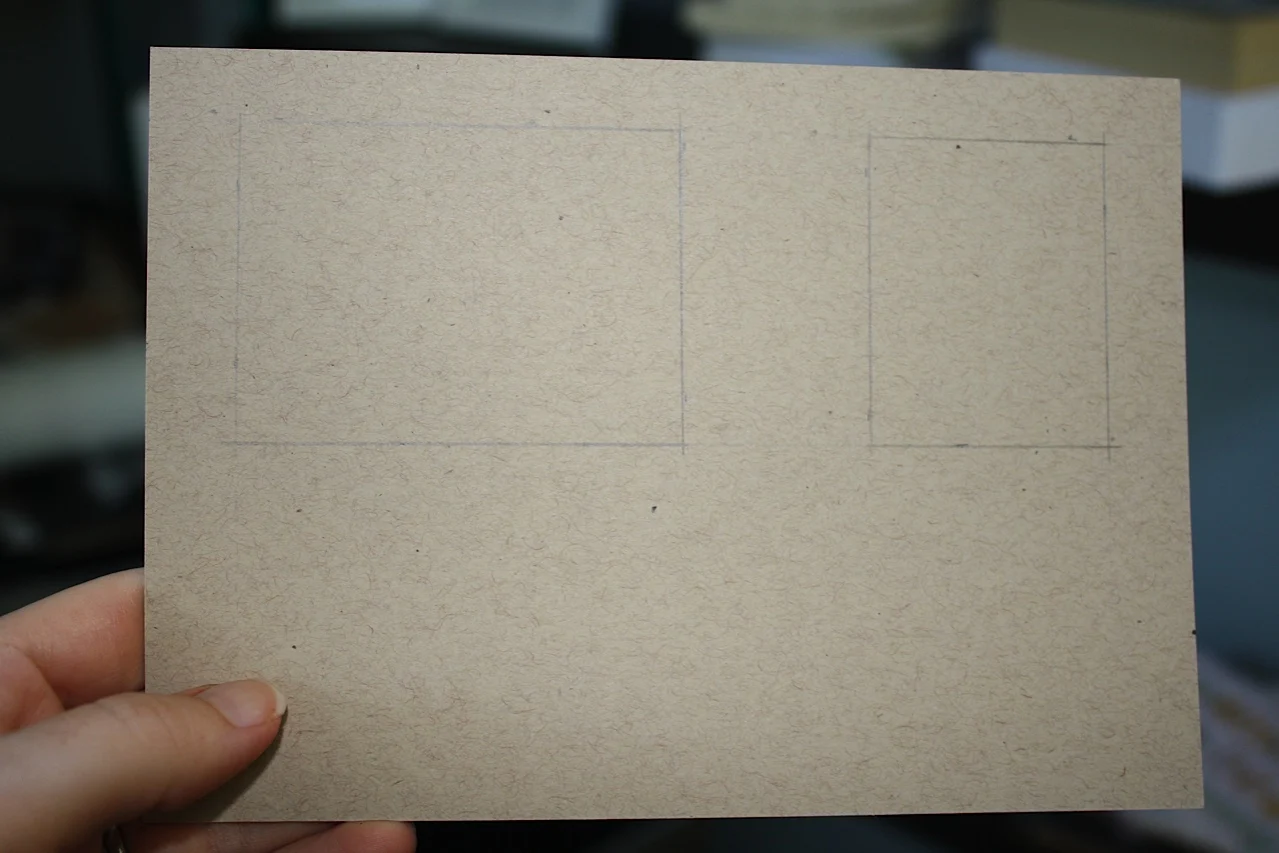 Then I transferred those measurements to the front flap of my card and using a pencil and my straight edge drew out my cut lines.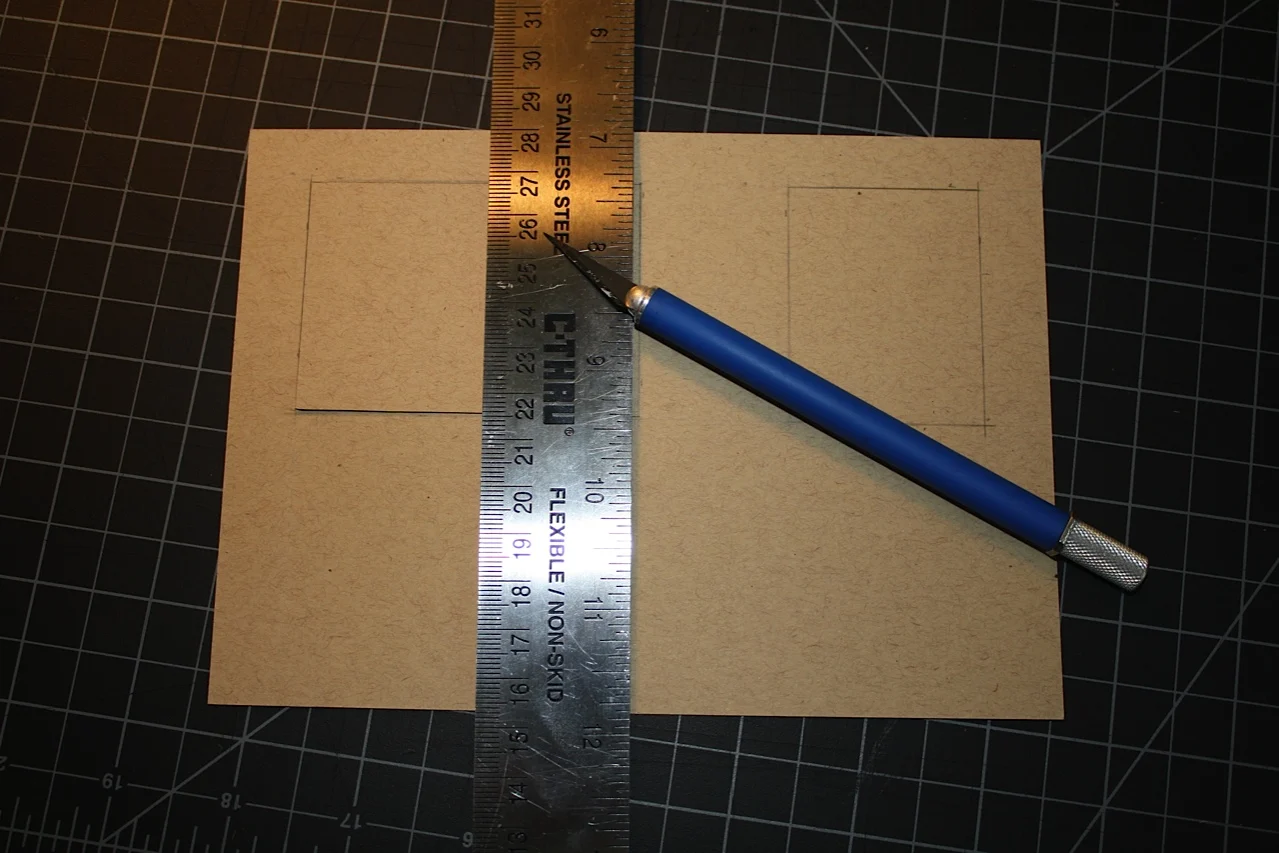 Using an Xacto knife, my cutting mat, and a straight edge I sliced along my pencil lines making neat cuts.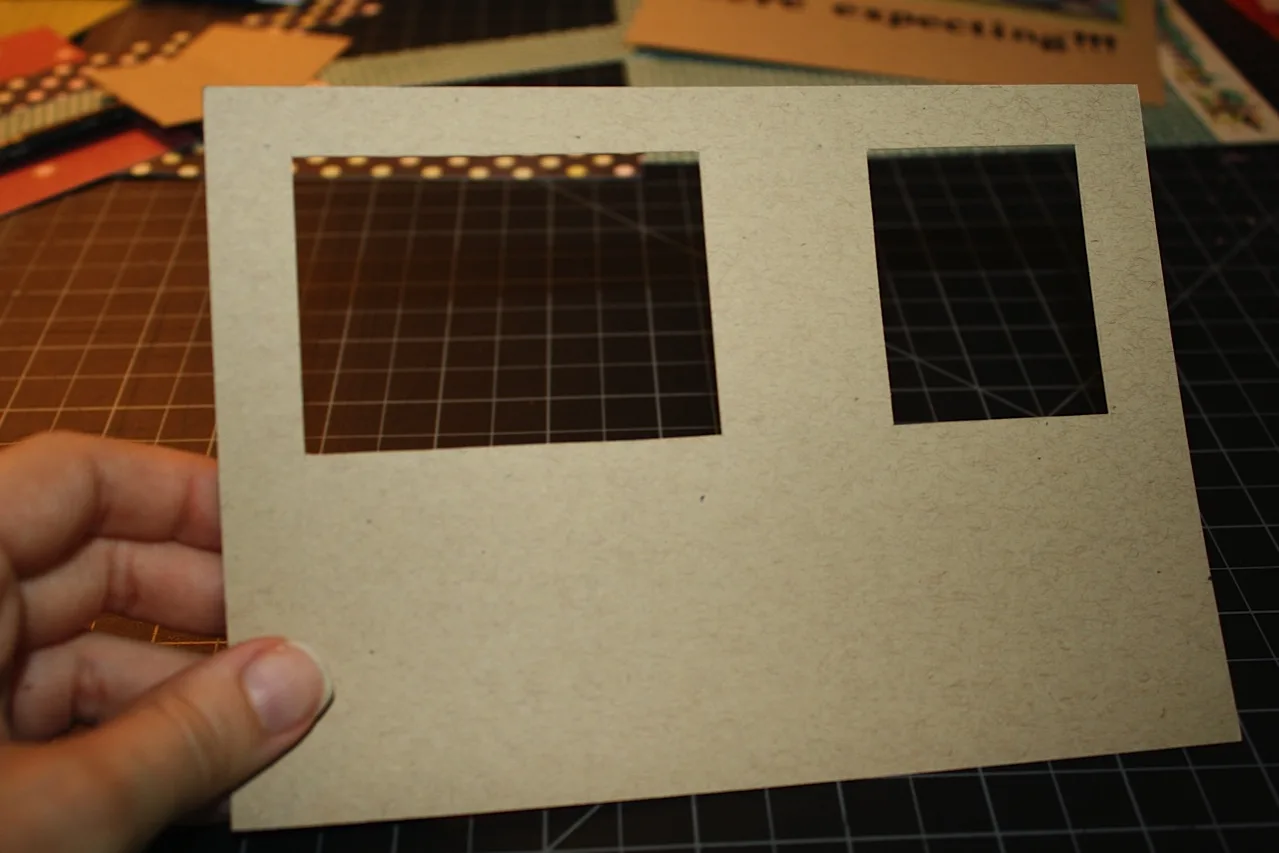 The card windows popped out perfectly, and because of my measuring were well aligned.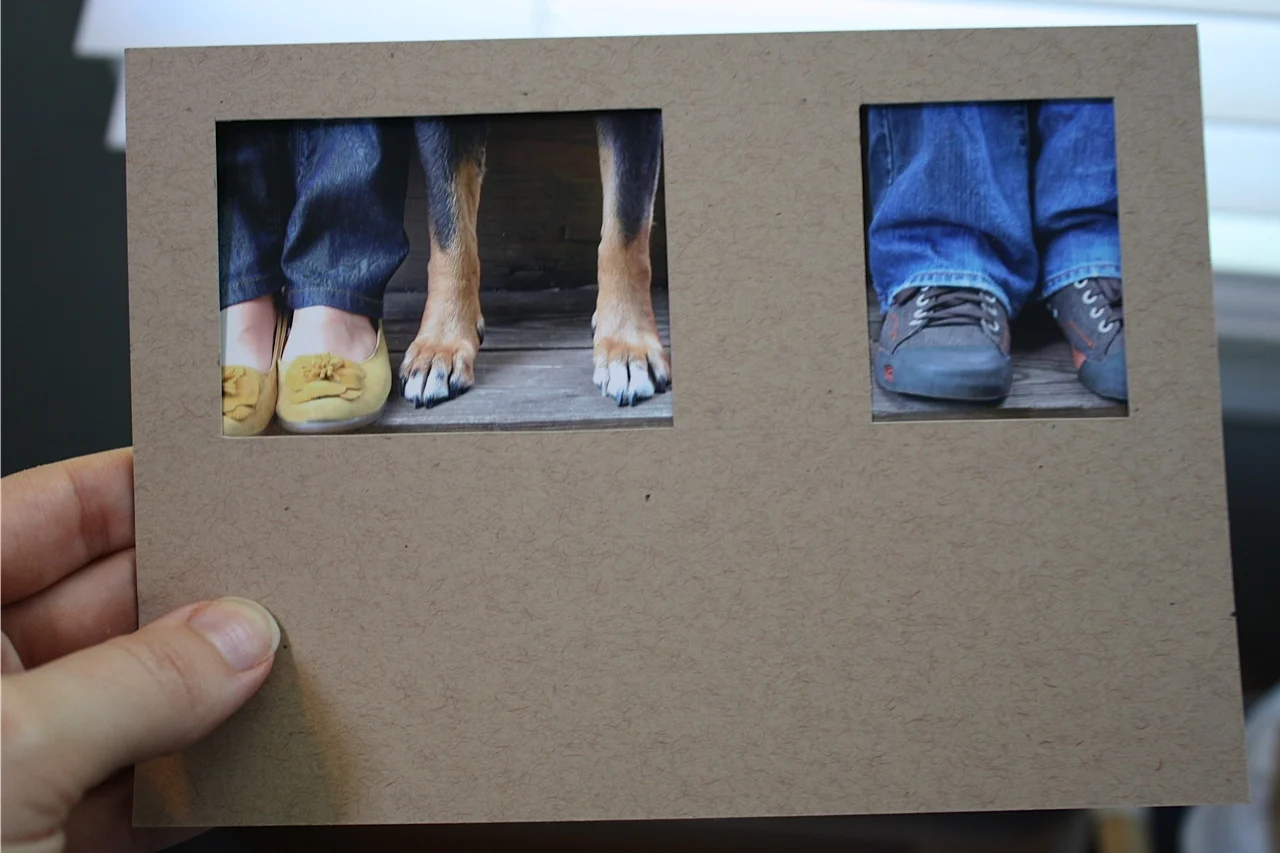 You can get an idea for how the front and back parts of the card will fit together once it's finished. Only the baby shoes are covered.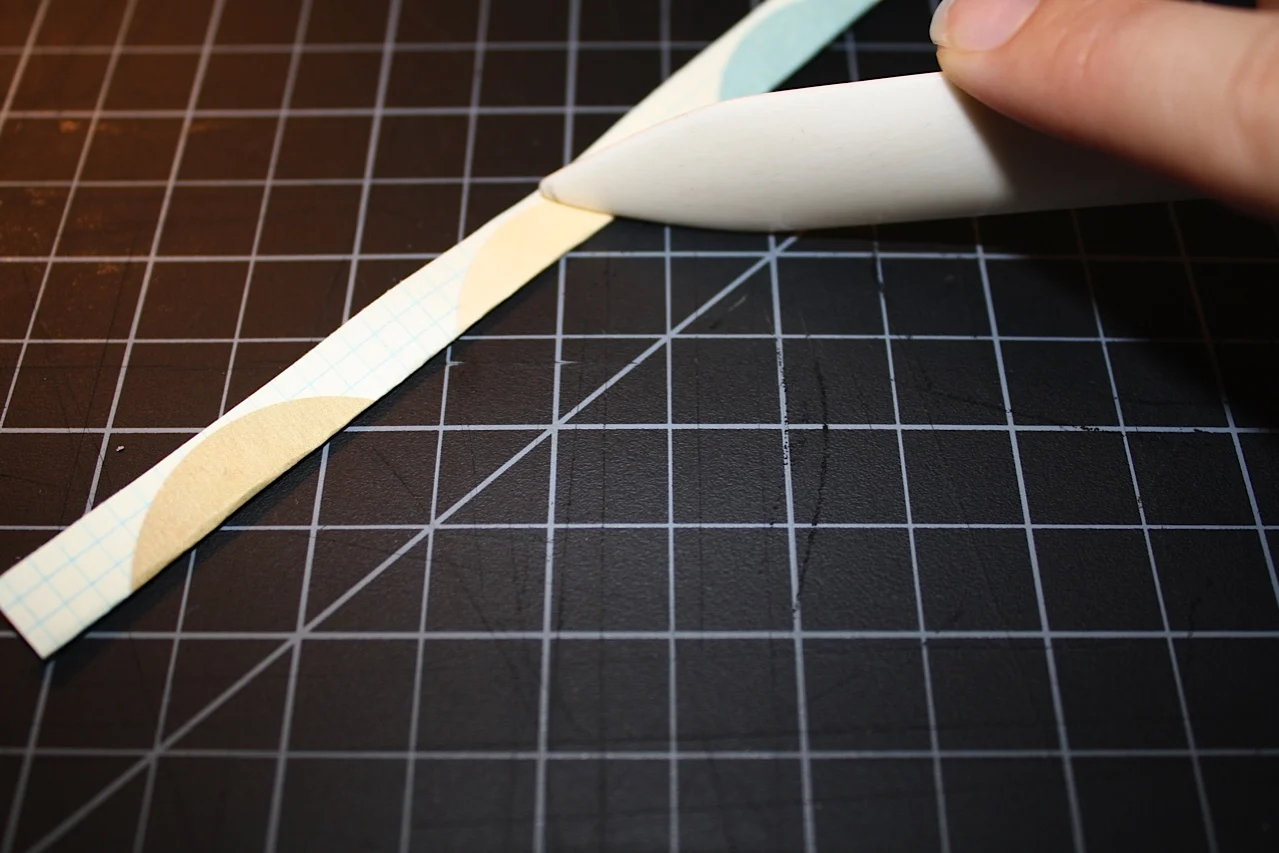 Next I used some of my scrap paper, cut into a strip, and folded in half length-wise, to bind the front of the card to the back. I used a bone folder to make the crease in the strip of paper. Again, if you craft with paper often you need one of these things. A butter knife also works well.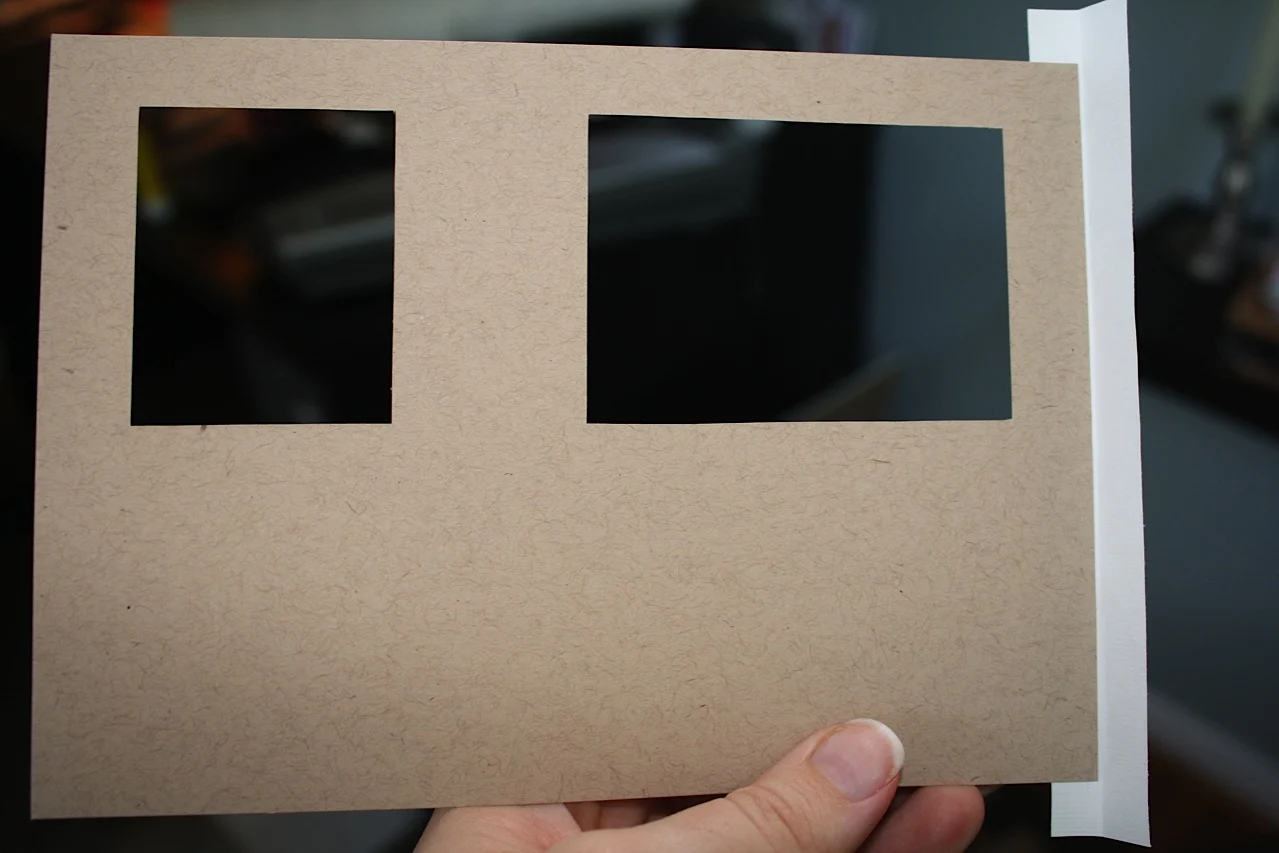 Then I used a glue stick to attach my strip of paper to the outsides of the front and back card flaps. You can use your Xacto knife or scissors to trim the extra. Do the same exact thing on the inside of the card so that the fold looks finished.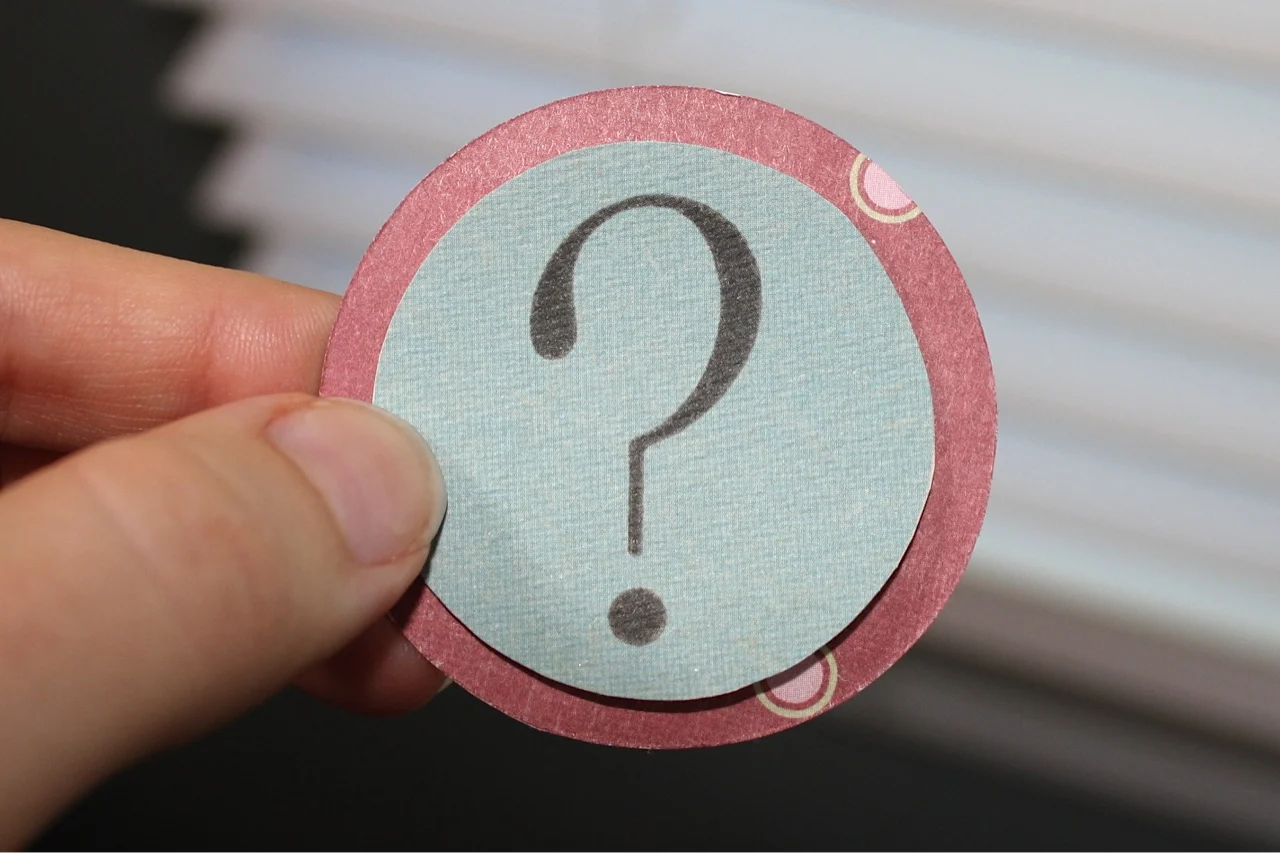 After the two pieces of the card are attached you can use your scrap paper to finish off your embellishments on the front.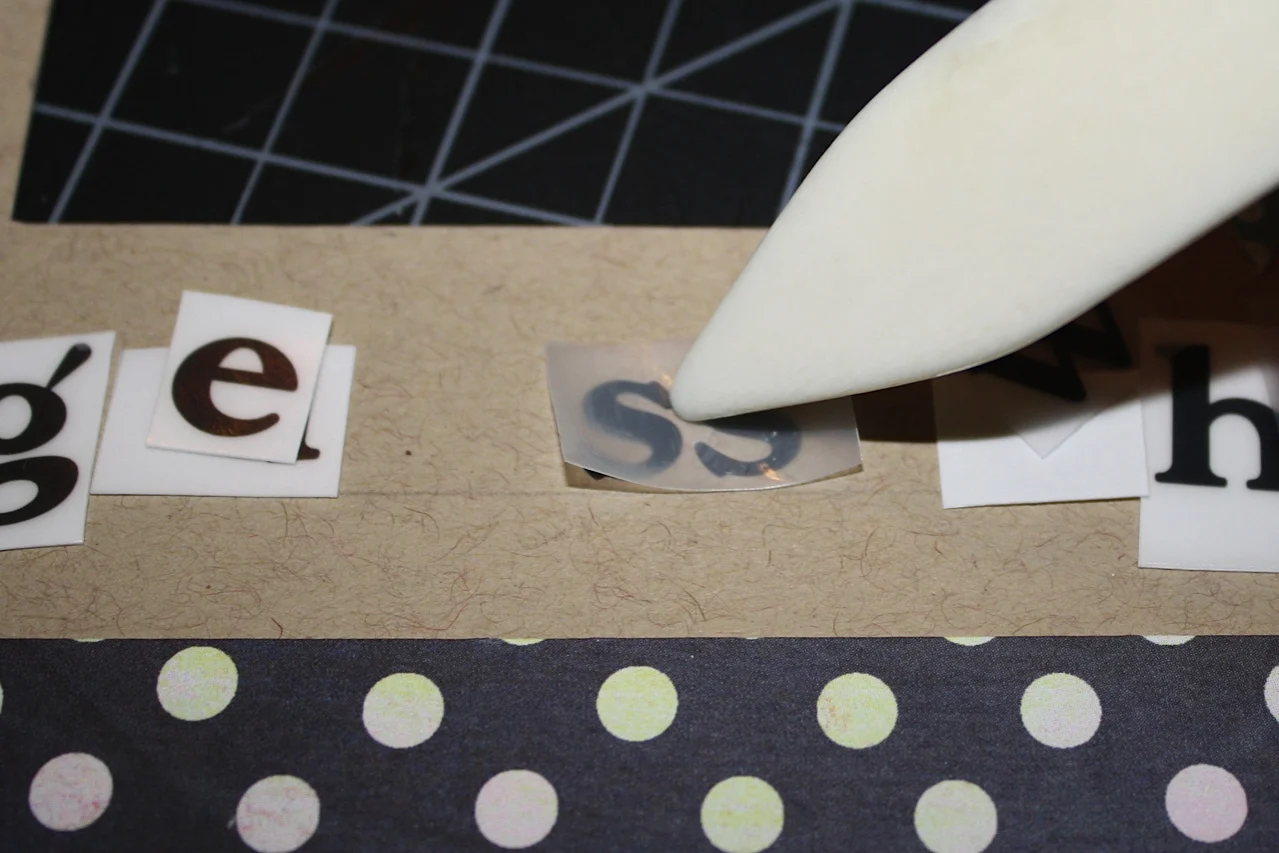 Again, I used the bone folder to adhere the rub on letters, this time spelling the message "Guess What?"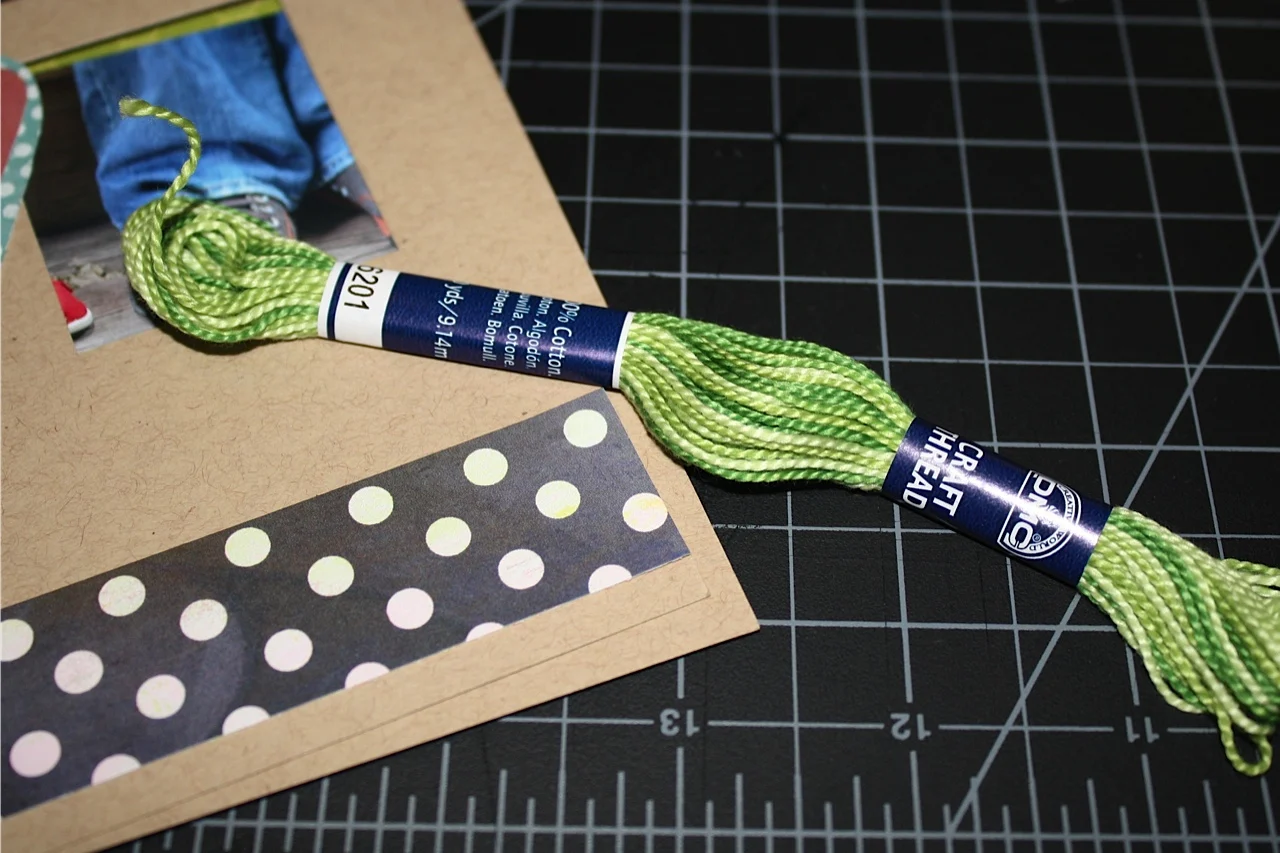 I wanted to be able to tie the front and back portions of the card closed so that my grandmother would have to untie them to open the card. I used embroidery floss as a closure this time, though a thin width ribbon would work just as well. I bought this particular thread a million years ago when I was teaching my school-aged sister how to make friendship bracelets. (Much to my mom's dismay I always safety pinned one end of my in-progress bracelet to a couch cushion so that I could keep my masterpiece nice and tight while I was knotting. I'm sure she was thrilled when I passed along that handy tip!) Anyway, back then (and still now) I liked how the color of the thread goes from light to dark and back again.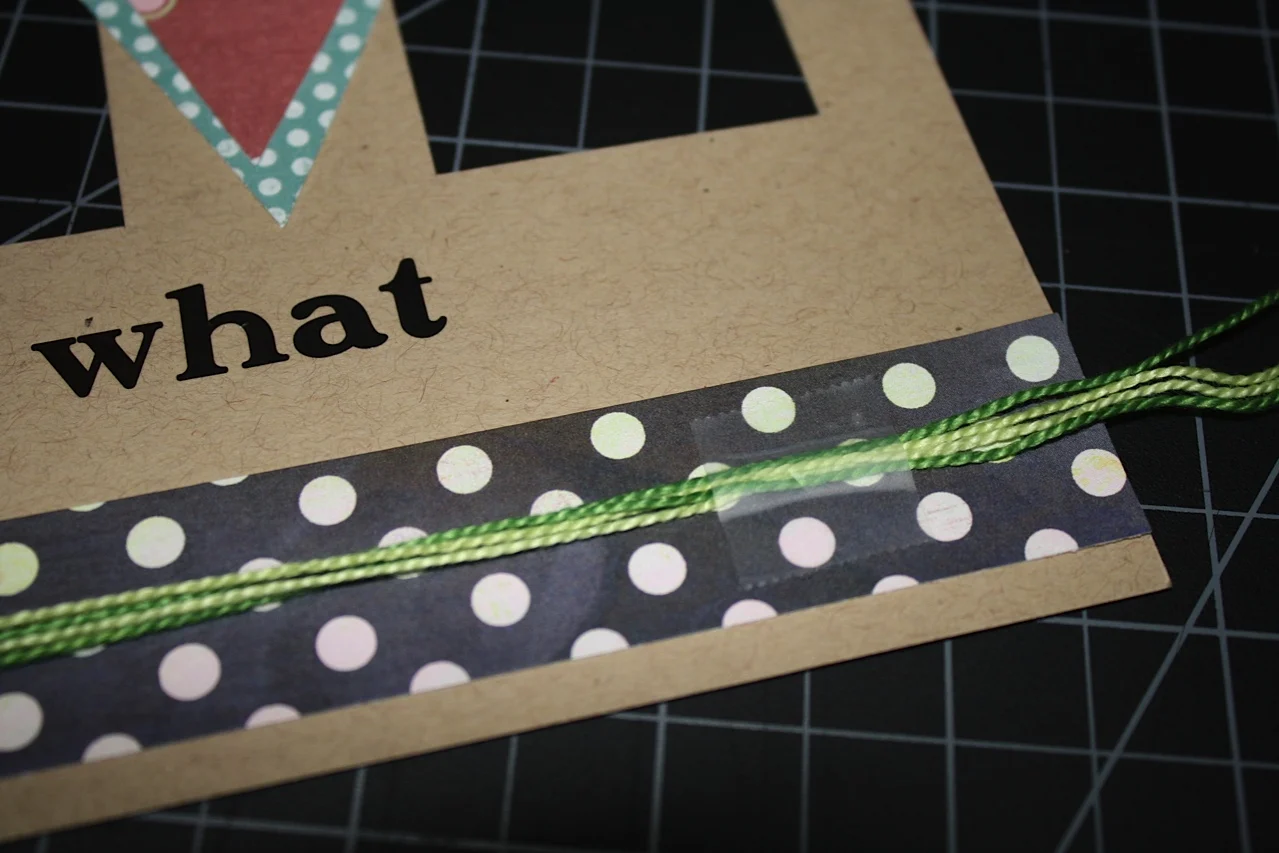 I measured out four lengths of thread, 18 inches long each. 18 inches is long enough to wrap the front and back of the card, with enough left over for a small bow. I held the thread in place on the front of my card with a small piece of tape.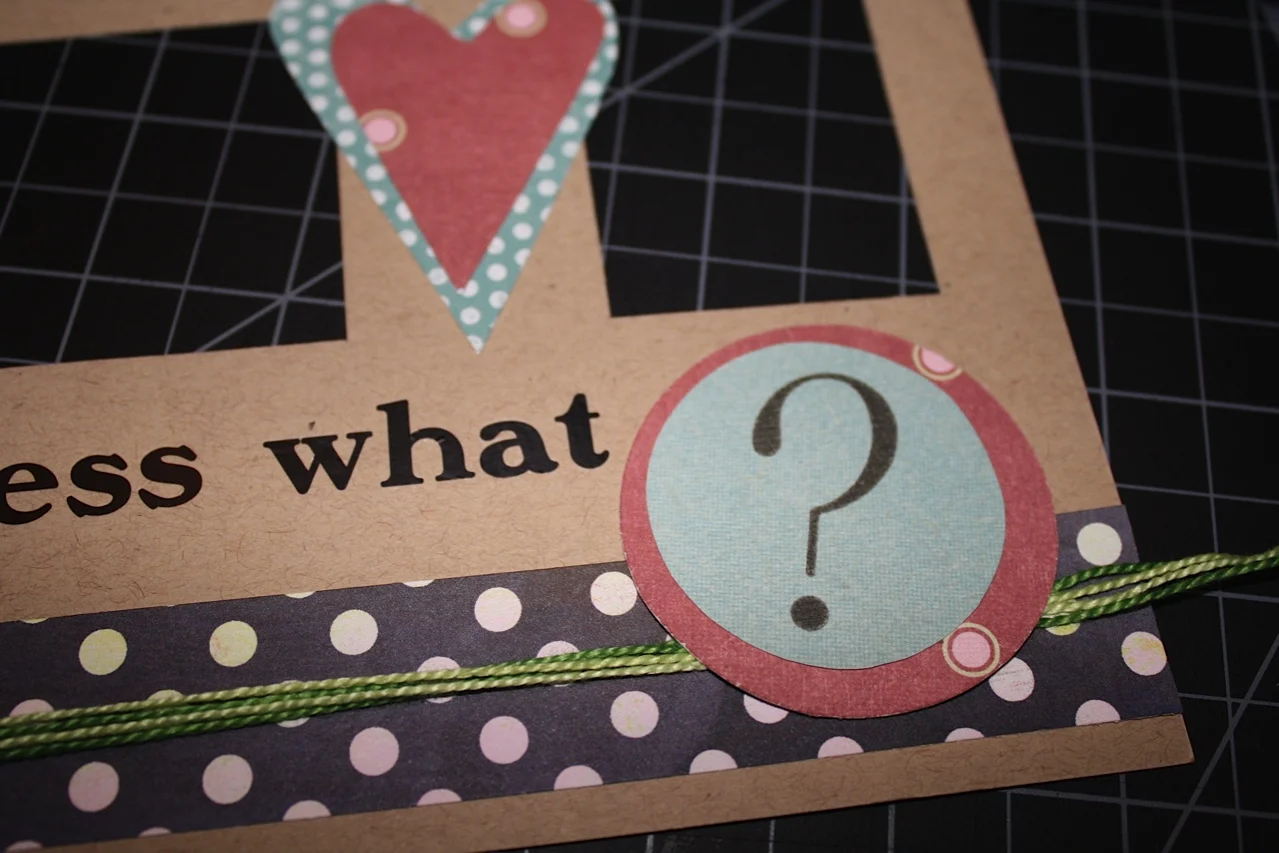 This tape then got covered over with some of my card embellishments.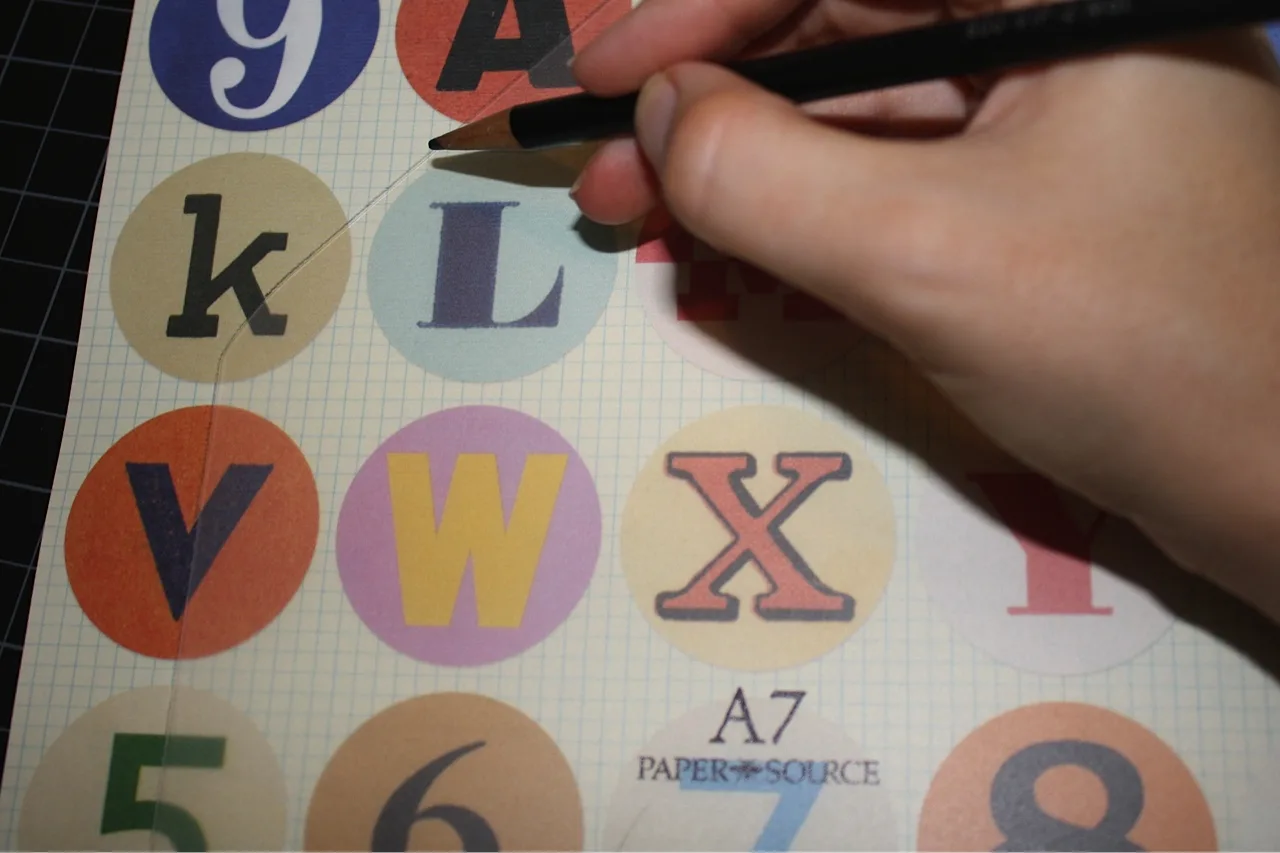 That wraps up the card itself, now we can move on to the envelope. Though I've made envelopes in the past, this time I purchased the envelopes that matched my 5X7 brown paper bag cards at Blick. I used my envelope liner template to cut an easy coordinating liner.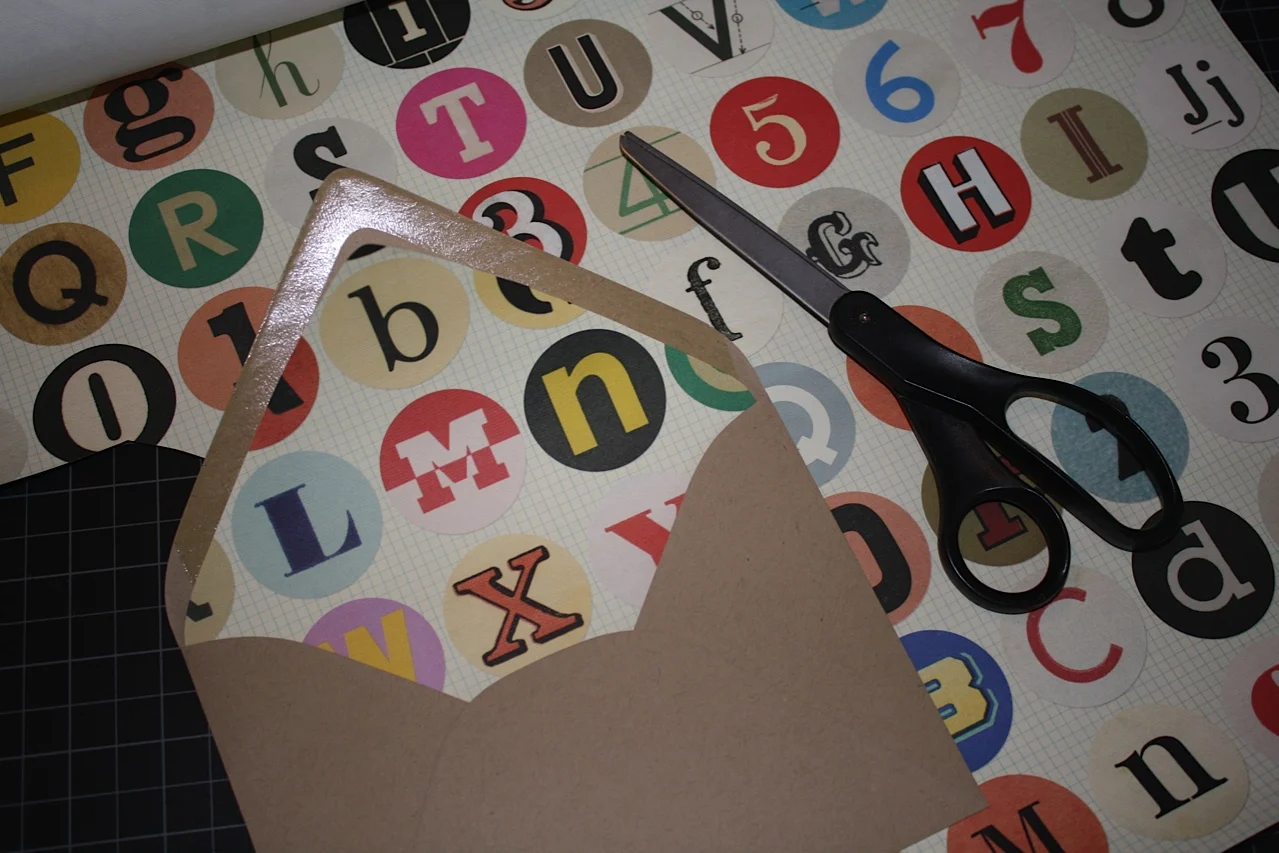 You can just trace around the template with pencil. Then cut just inside the pencil line for a perfect fit.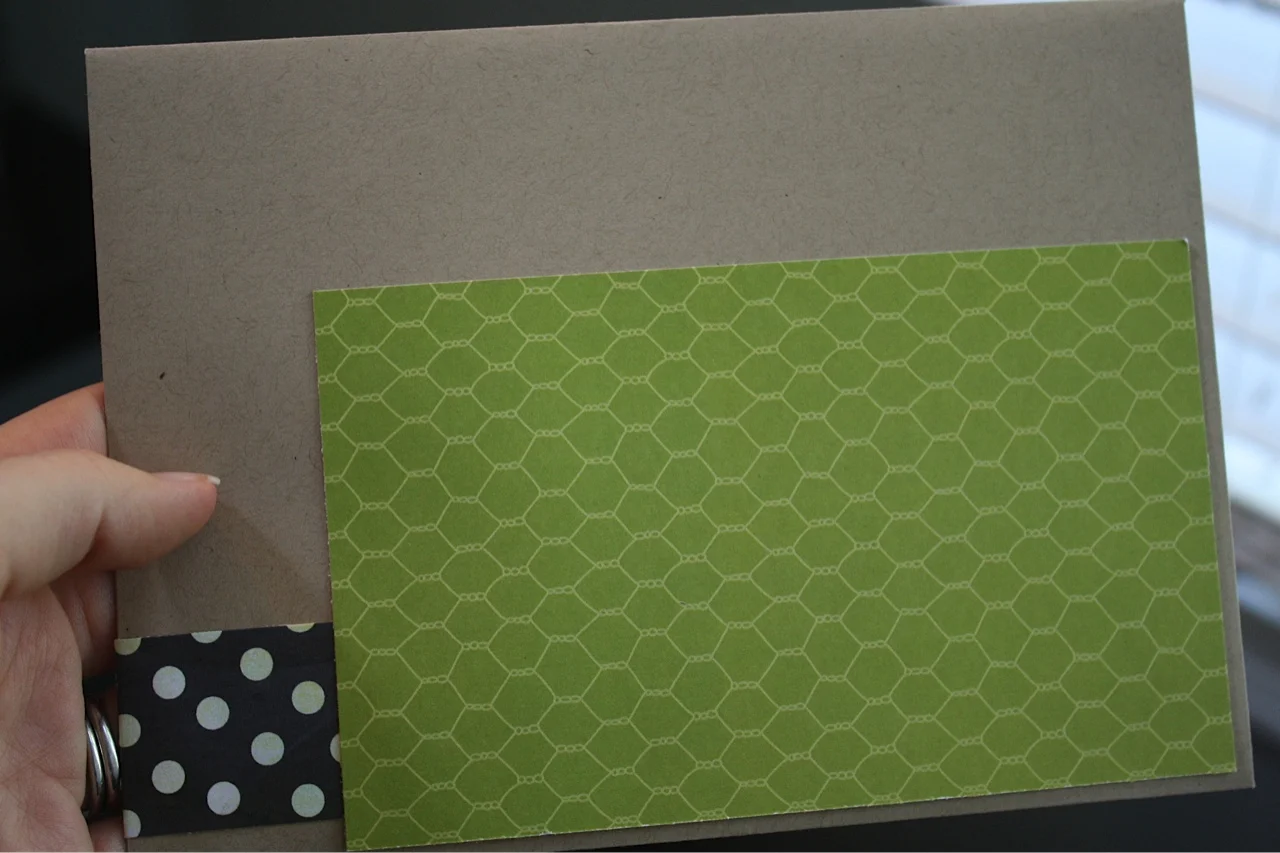 I used some of my remaining scrap paper to finish off the envelope.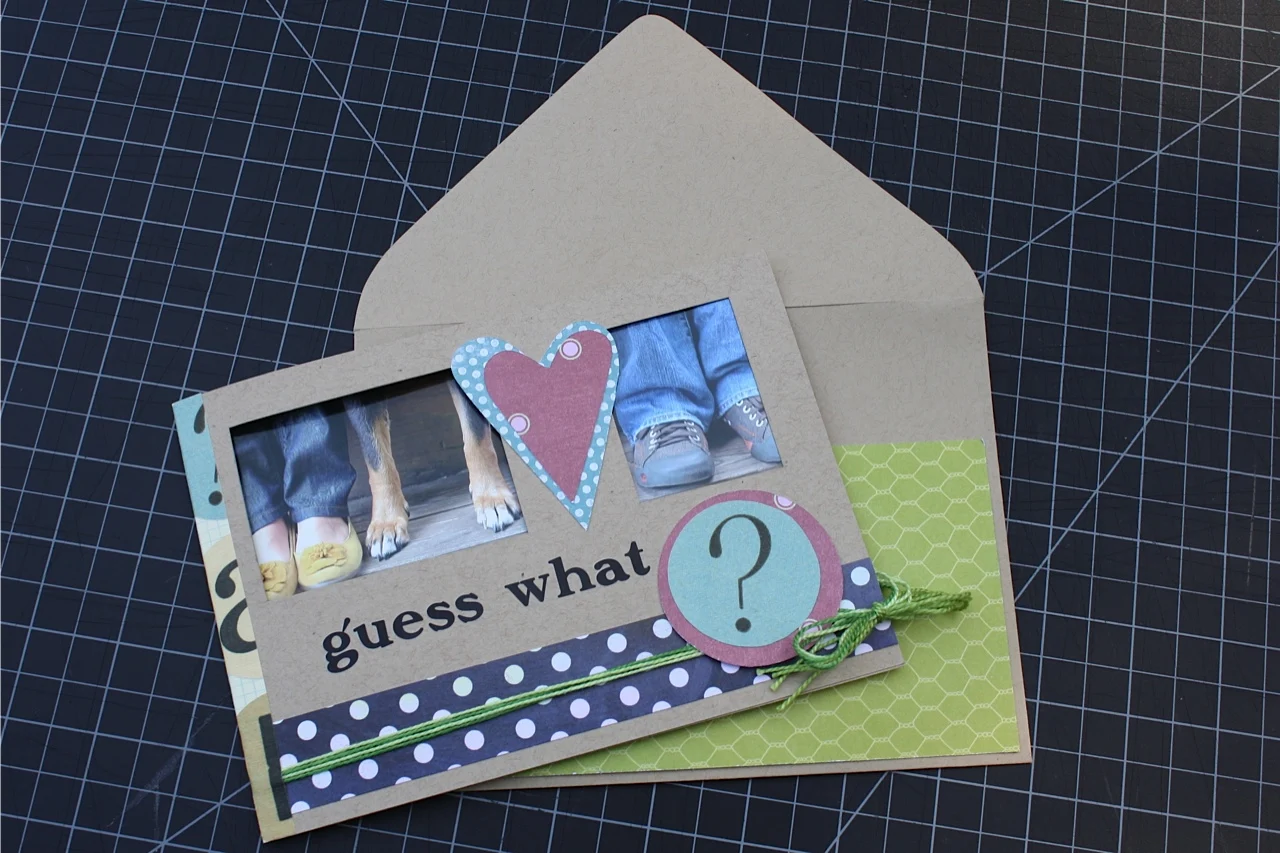 Ta-da! Check out the front of our announcement card, as well as the inside with those tiny little shoes. I had plenty of space to write a quick message and I stuck the whole thing in the mail today.
I'll be sure to leave a comment here in a few weeks when we find out whether we're having a boy or a girl!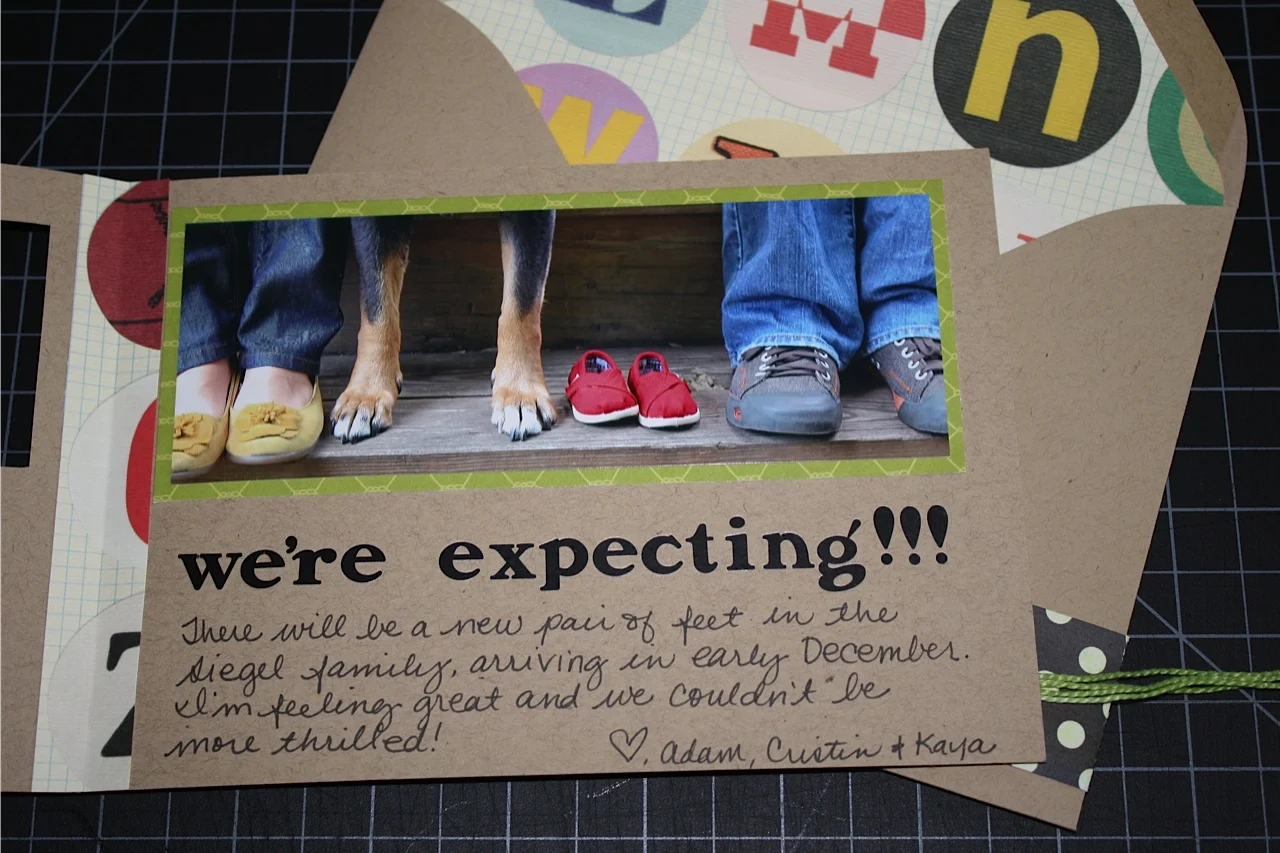 Did you make it? Please post a comment and let me know how this craft idea works for you. And share your own photos at the MerrimentDesign.com Facebook page, "I made it!" flickr photo gallery or tweet a picture to @merrimentdesign.
COPYRIGHT NOTE: You're more than welcome to use free pattern and how to step-by-step tutorial for your own personal use. Contact me for any commercial use – this includes etsy sellers.