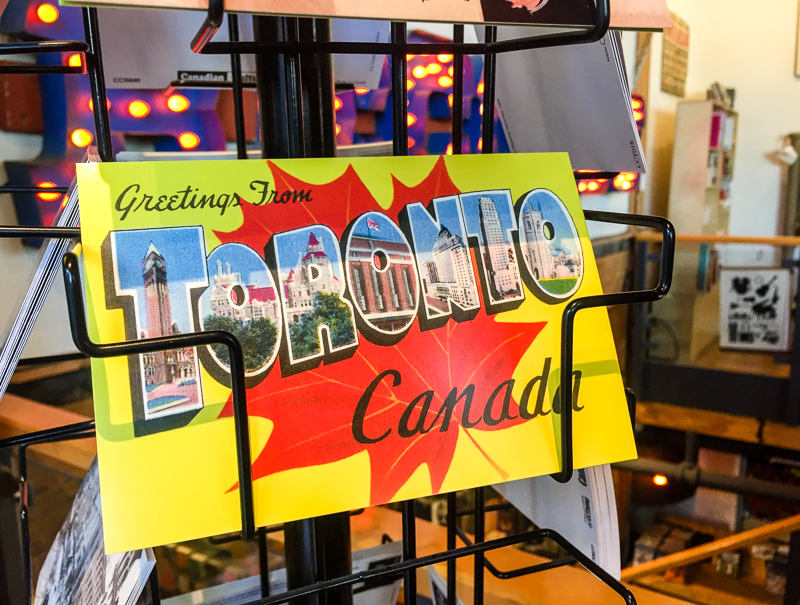 Today I'm sharing a Toronto city guide for people who (let's say this gently) are not in their 20s anymore. When Shane and I travel nowadays, we try to experience a city like the locals do. You know, like eating at neighborhood restaurants with great food and drinks, exploring streets where people live and shop, and meeting local people. And Shane loves craft beer so we usually seek out a local brewery or two. Does this sound like you too? Then keep reading for our recommendations for the best things to do and eat in Toronto in a weekend.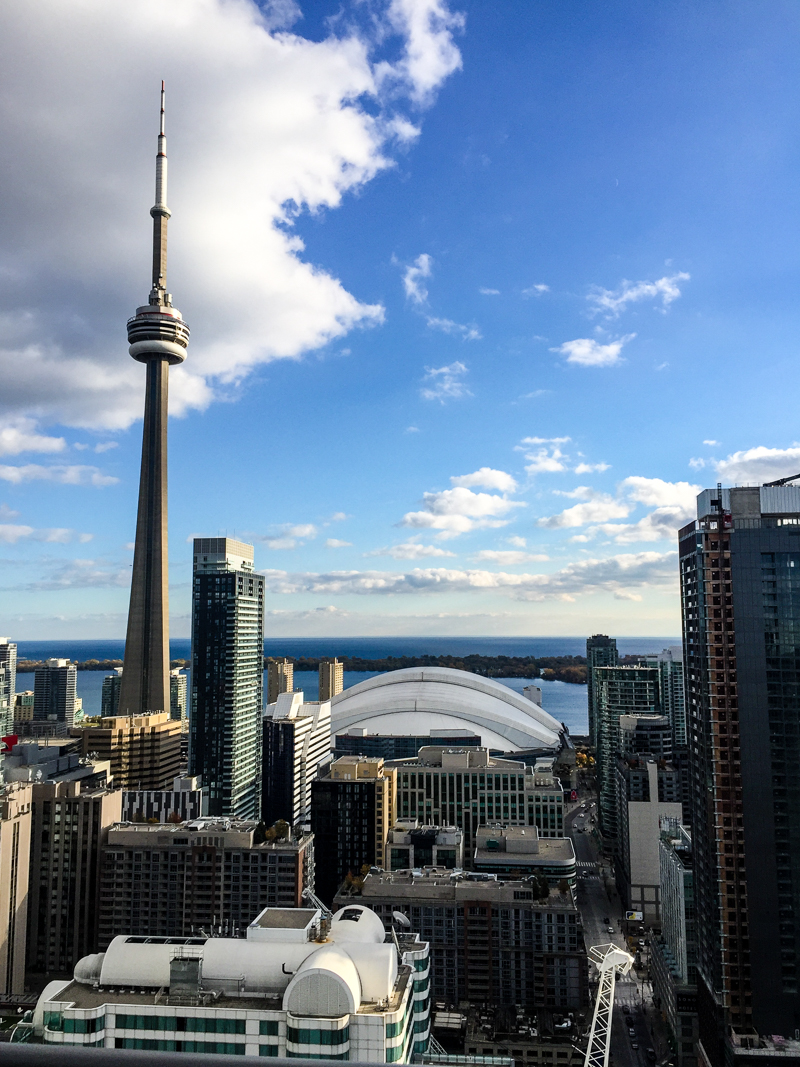 We went to Toronto to celebrate our 10th wedding anniversary. Toronto has a special place in our relationship because it was one of our first dates back in our 20s when we first met. I dug up this ancient old photo at the CNA Tower from our last Toronto visit 17 years ago…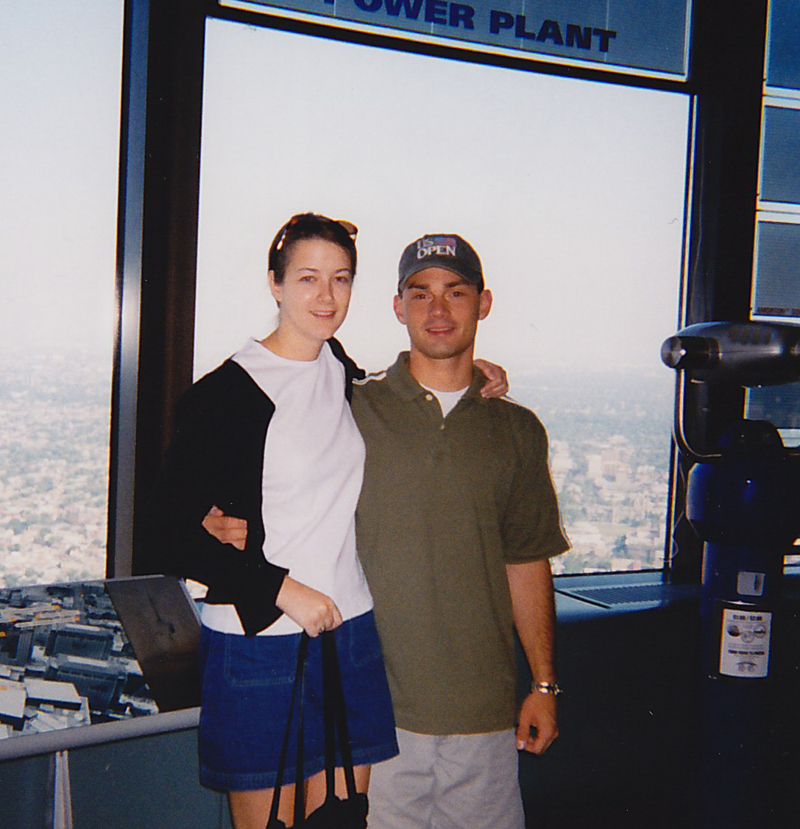 17 years ago!! Don't we look so young?!? This time Toronto felt like a blend of a bunch of cities, like take a little bit of San Francisco, London, New York and Chicago and mix it up. It's a big city but also feels small too. Everyone seemed to be wearing black which makes for easy packing, yes?
Anyway, here are the best things to do and eat in Toronto if you're no longer in your 20s, and in no particular order. Spoiler: much of it is eating and drinking ?
(also Shane gets full credit for this Toronto itinerary because he did all of the up-front research for this trip, like booking all of the restaurants and everything. Yay for Shane! Nice job.)
1. Have brunch at Peter Pan Bistro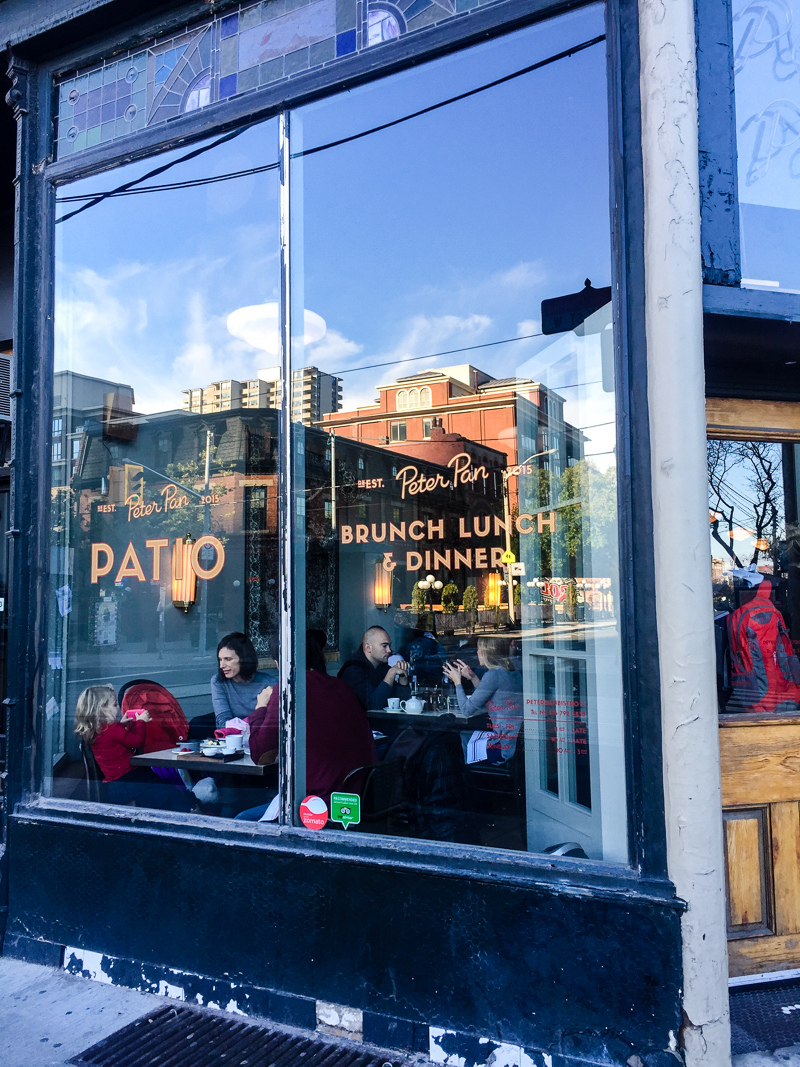 Peter Pan Bistro is a super cute corner restaurant with the nicest waitstaff and an amazing brunch. Check out the menu.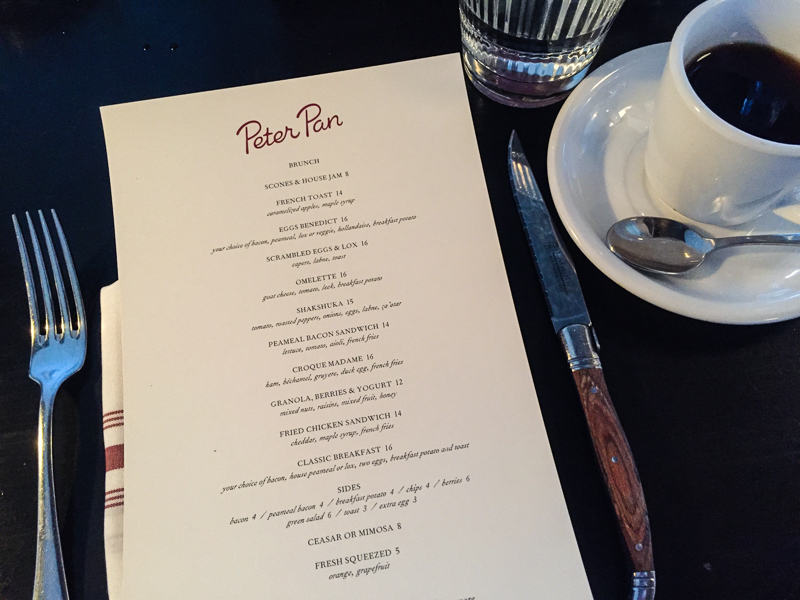 I was fascinated by the wall decorations: three large Oriental rugs with animal heads covered in the same rug pattern. My photo here's not great but I couldn't stop looking at them and trying to figure out how I could make one for myself.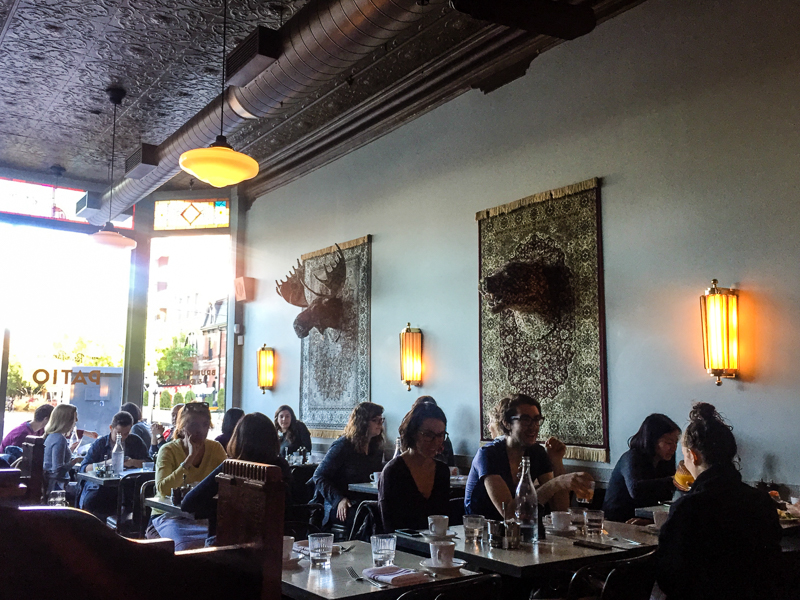 2. Explore Kensington Market and Chinatown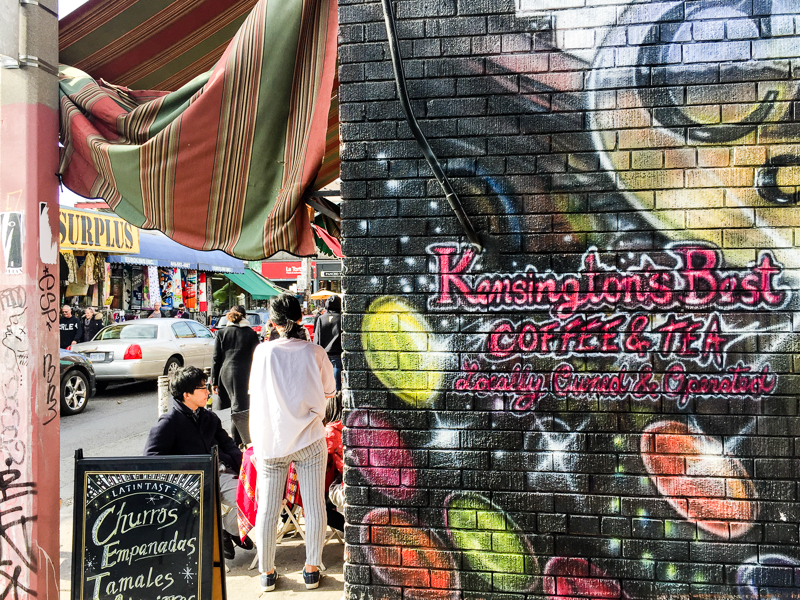 These areas are right next to each other. You can see all of the outdoor groceries in Chinatown and then wander around Kensington Market which filled with ethnic shops and cafes. My favorite place in Kensington Market was Blackbird Bakery. Amazing scones and baked goods! Yum yum yum. We went back two days in a row.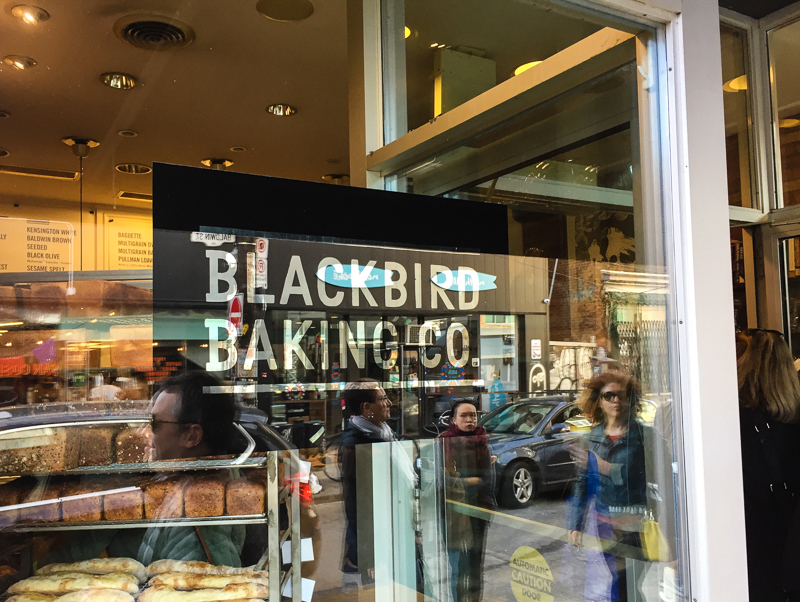 We also shopped in Kensington at print-shop Kid Icarus and stopped at Eative Film Cafe for smoothies and coffee, how cute is this?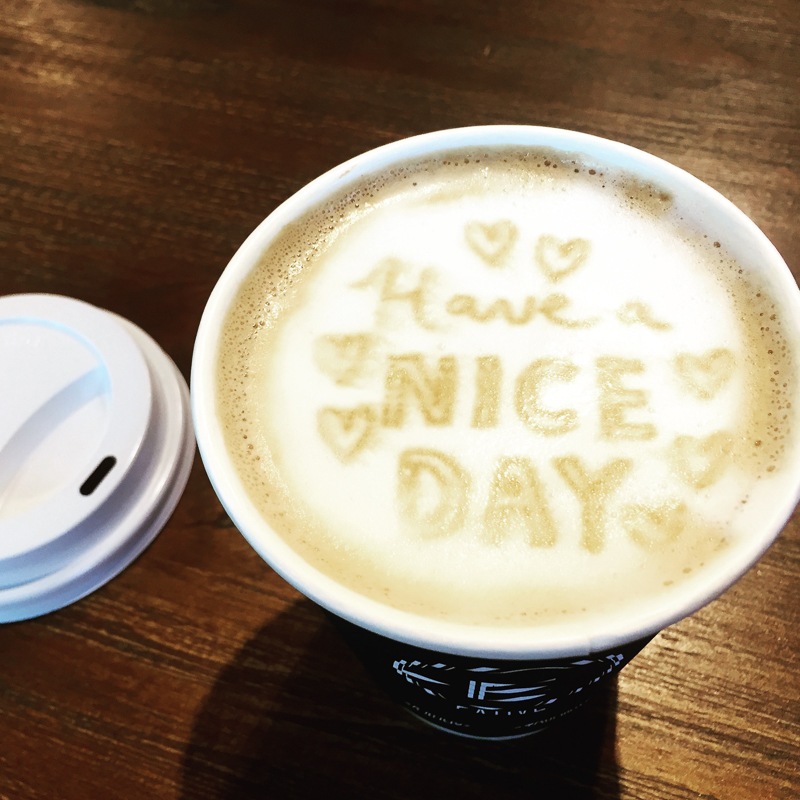 And we stopped into Sonic Boom Records near Chinatown which is a super cute store with gifts, electronics, t-shirts, and of course lots of records.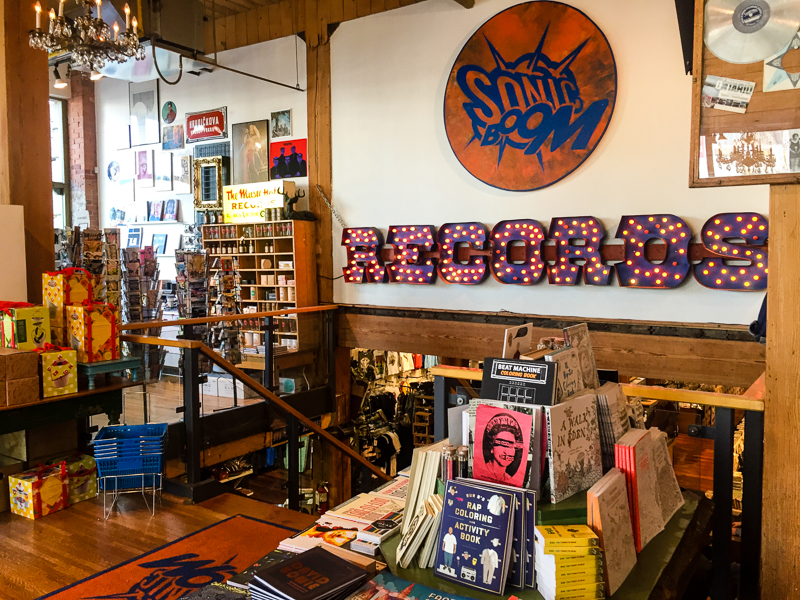 3. Eat tacos and drink cocktails at Campechano Taqueria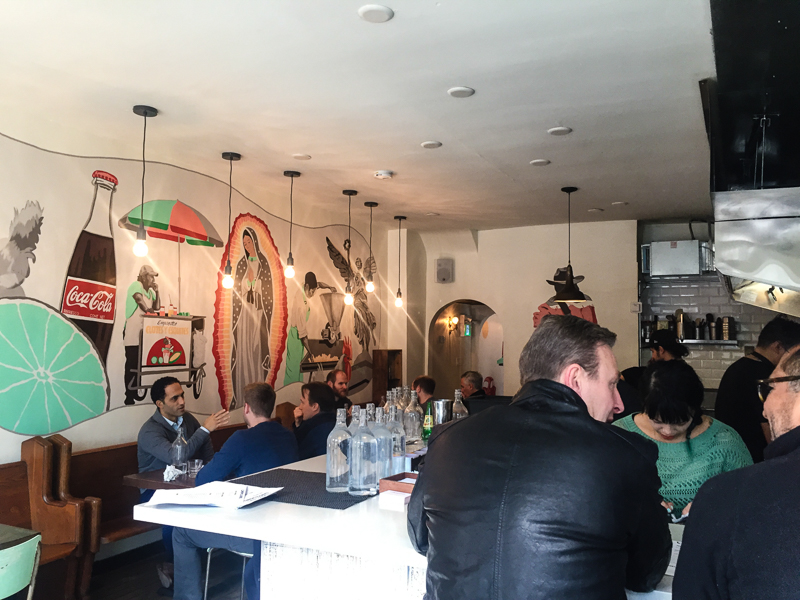 I'm a taco junky and Campechano Taqueria had absolutely delicious tacos and cocktails. The restaurant has a cool, kitchy diner feel and fun to watch them make corn tortillas by hand. My shrimp taco was so good, and I loved how they put the guacamole on the bottom to show off the shrimp. Genius.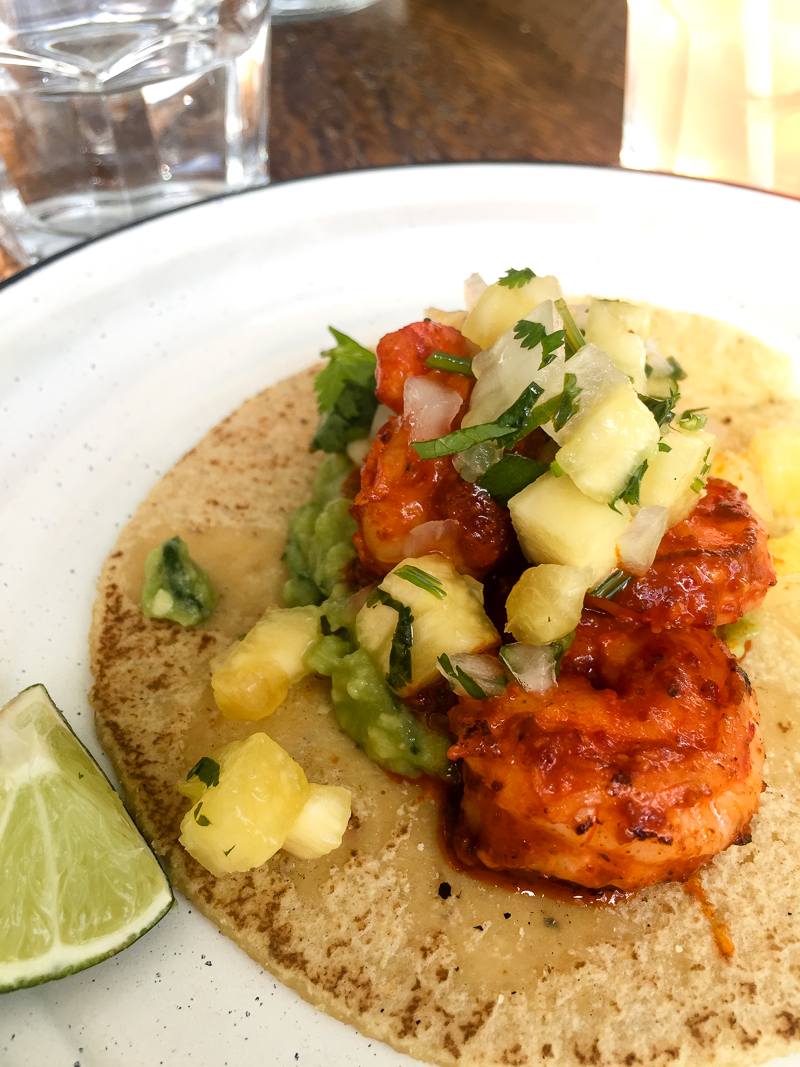 We had to wait a bit for a table at Campechano so we popped next door into Forget Me Not home goods and cafe which was also very cute and recommended.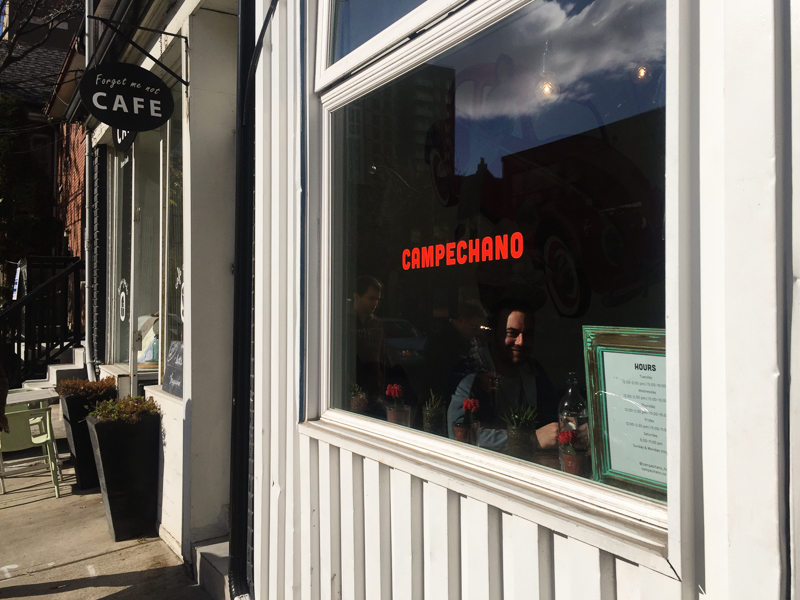 4. Stay in a high rise
I've never lived in a high rise so it was fun to stay in one in Toronto for the weekend. We booked an airbnb in a high rise downtown and had great weather for great views. Aren't nighttime lights so pretty?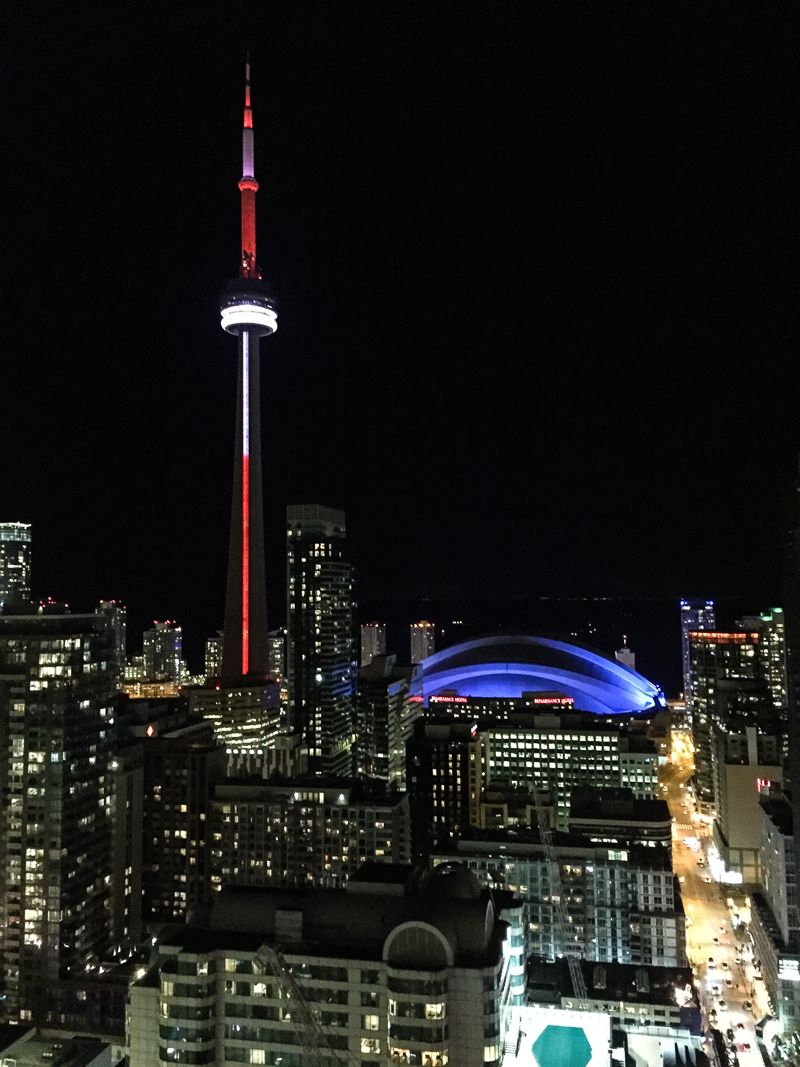 5. Sample the local beer at Bellwoods Brewery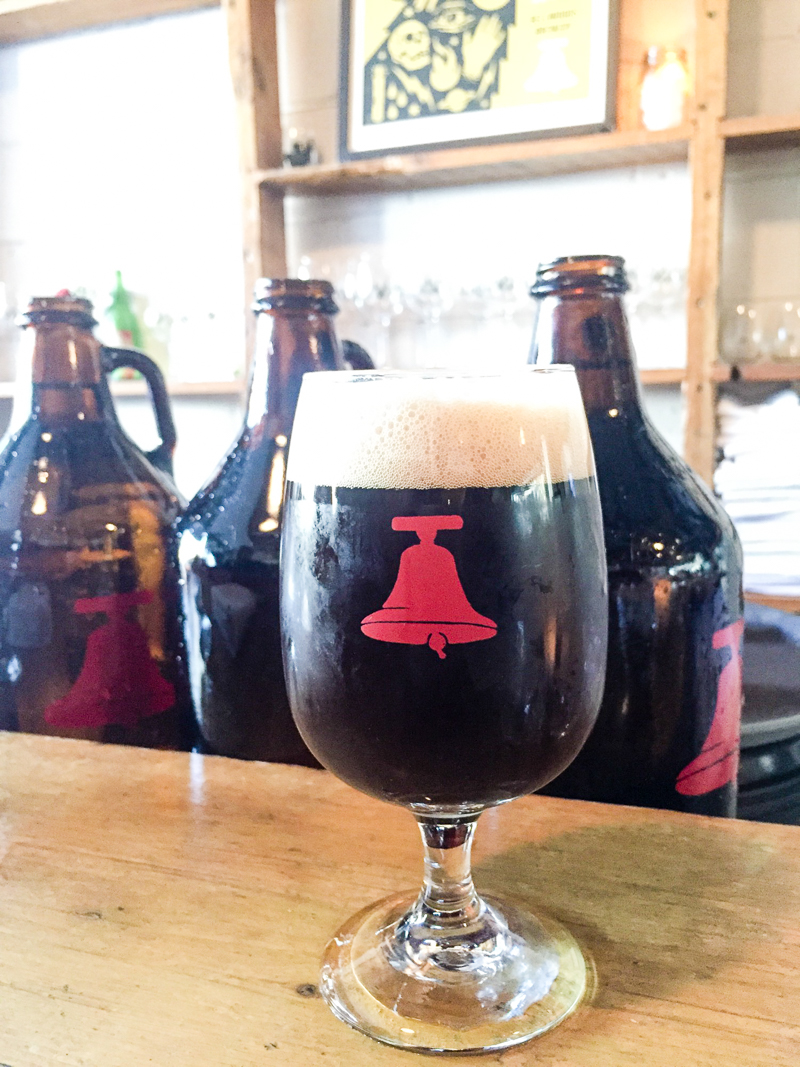 Shane loves craft beer so we tend to stop at local breweries wherever we go. Bellwood's Brewery was amazing! It has an outdoor space with picnic tables and graphic, nicely-designed beer labels.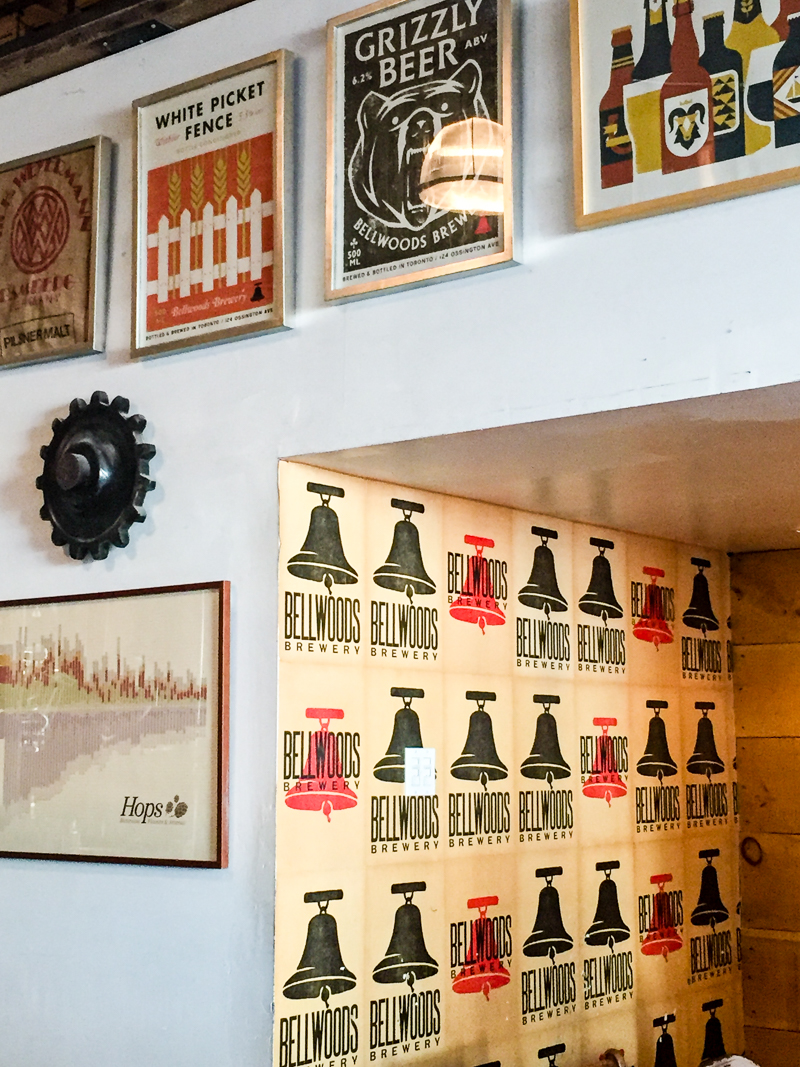 This was my favorite afternoon just hanging out together, eating snacks, listening to music and enjoying the nice weather. Get to Bellwoods early. The day we were there it opened at 2PM and there was a healthy queue well before then.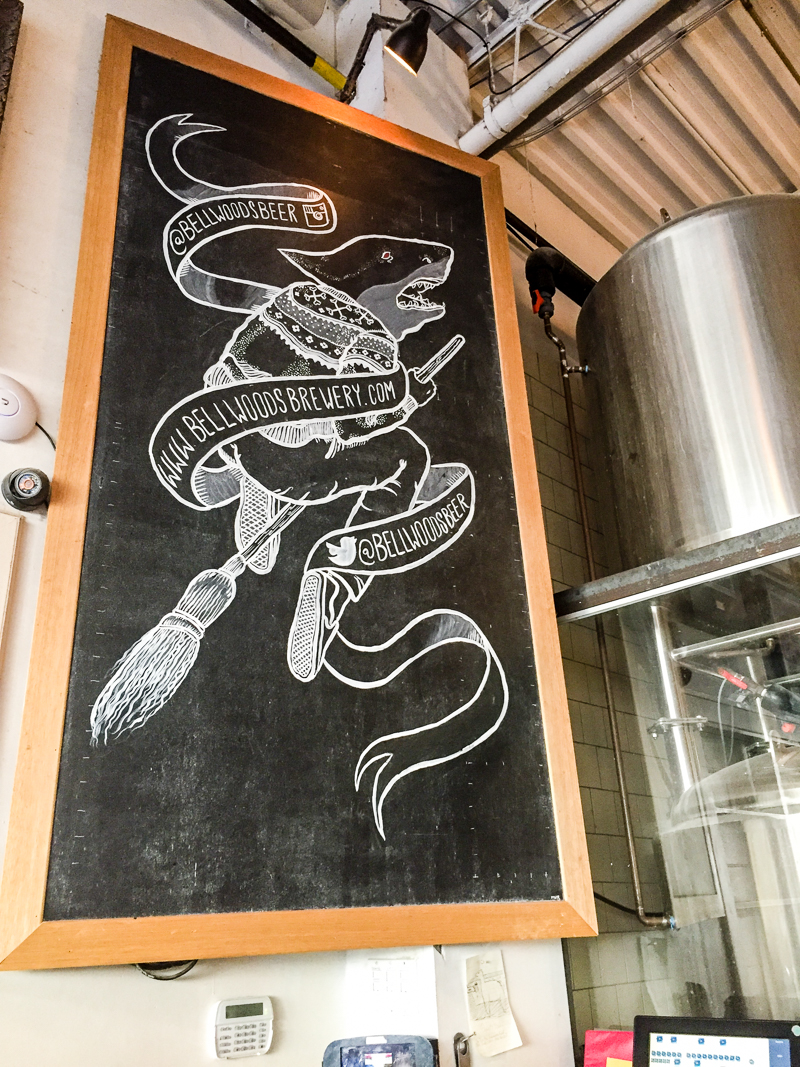 6. Wander around Ossington Avenue, Dundas Street West and College Avenue
We really liked exploring Ossington Avenue in the Trinity-Bellwoods neighborhood from West Queen West to College. Locals said that it's the "hipster" area of town but to me it felt local and there's a nice park nearby. I liked window shopping at VdeV at 120 Ossington Avenue for home decor, handbags, and gifts, and Crywolf at 91 Ossington Avenue for cute kid t-shirts and gifts.
Antler Kitchen and Bar at 1454 Dundas Street West served a mean brunch using local seasonal ingredients and wild foods. I loved my smoked salmon eggs benedict.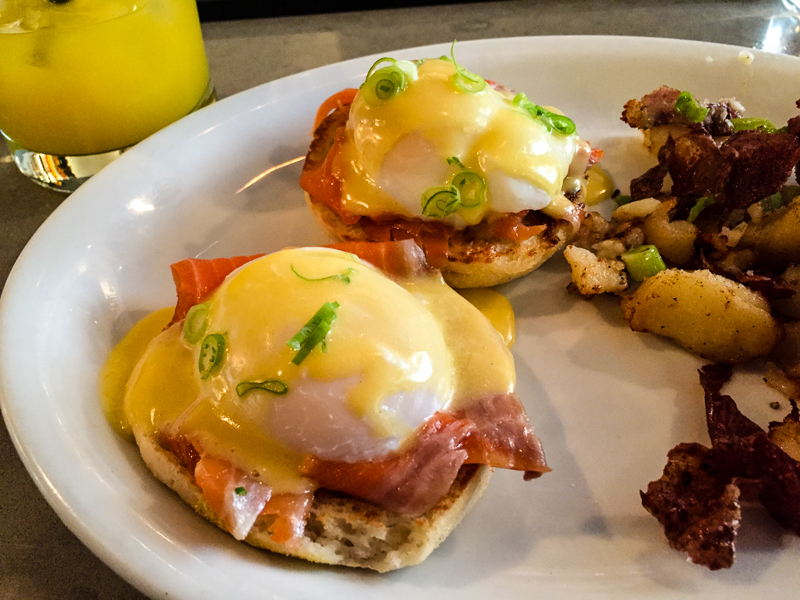 Other restaurant options near Antler include The Federal and Mid Field Wine and Bar Tavern. And we walked by Auntie's and Uncles on our way to Antler and there was a super long line out the door for brunch. If you try it, leave me a comment to let me know how it was.
7. Linger over a coffee
There are a ton of local coffee shops in Toronto and it reminded me of being in Madrid. I don't usually drink a ton of coffee but when it tastes this good I'll gladly sit down and enjoy a cup every day. I liked Balzac's Coffee Roasters which is a Canadian chain. Grab a cup, sit down, and have a real conversation without kids 😀
8. See some live music
We saw Band of Horses with Wild Belle opening at the Sound Academy (now called Rebel) and it was super fun to be in a warehouse-y space and look back at the Toronto city skyline at night, kind of like how it feels to be in Hoboken, NJ looking over the river at Manhattan. The venue itself is like a cheesy nightclub but despite that it's worth the trip across the bridge to see a good band.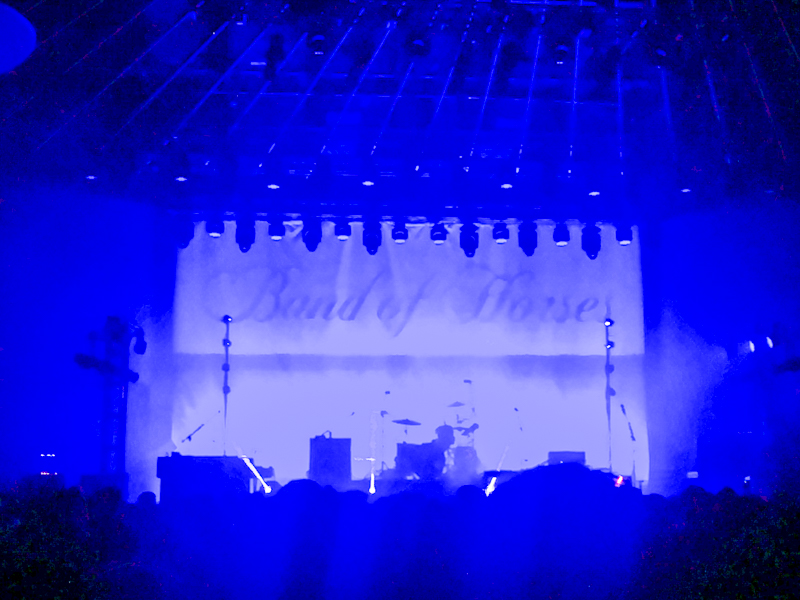 9. Walk along (West) Queen Street West
There's a point where Queen Street West is called the Art and Design District. I thought this western section of Queen Street West was nicer than the eastern part, more my relevant to my age and personal style, and it also had a nice park nearby to sit and relax. I love stores that sell cards, paper, gifts and handmade goods so I liked browsing through Outer Layer.
We stopped at Trinity-Bellwoods park to people watch and take a break.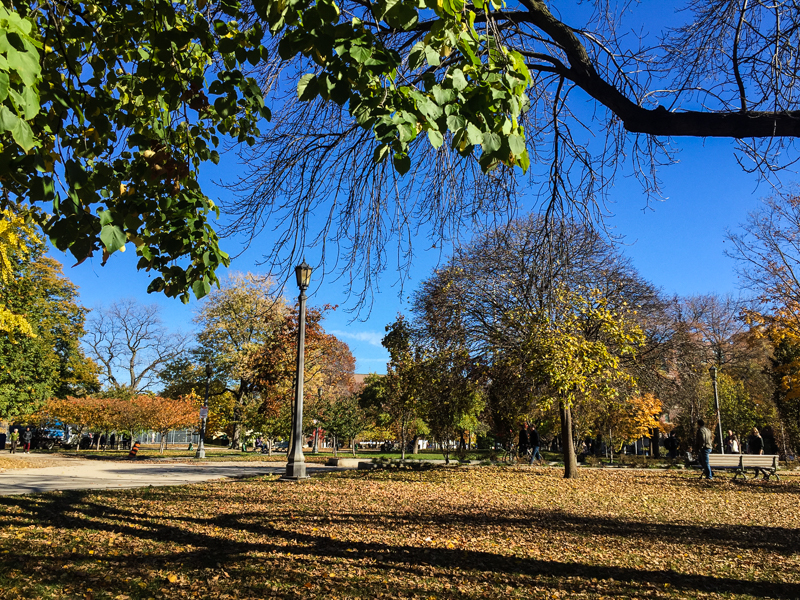 And we spotted an albino squirrel. I considered it good luck.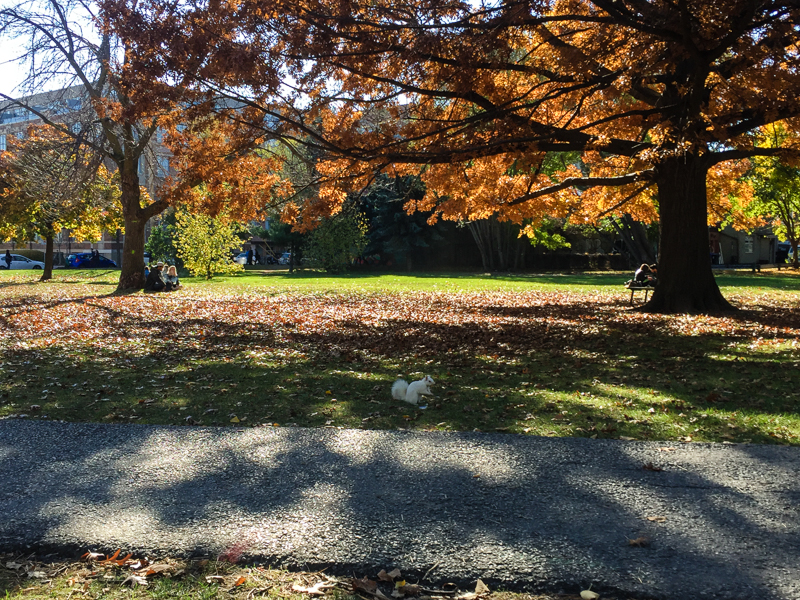 10. Have happy hour at Bar Hop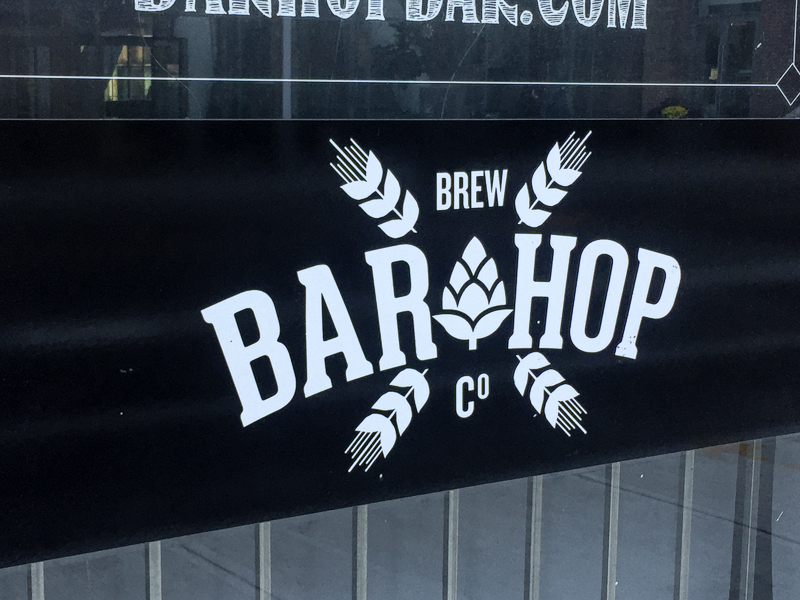 Bar Hop is a two-level brew house with local beers on tap and good oysters. We sat at the bar during happy hour and chatted with other customers. It was definitely a fun place yet I would pick Bellwoods Brewery over Bar Hop if I could choose only one beer-themed stop.
11. Celebrate at Buca Osteria & Enoteca on King Street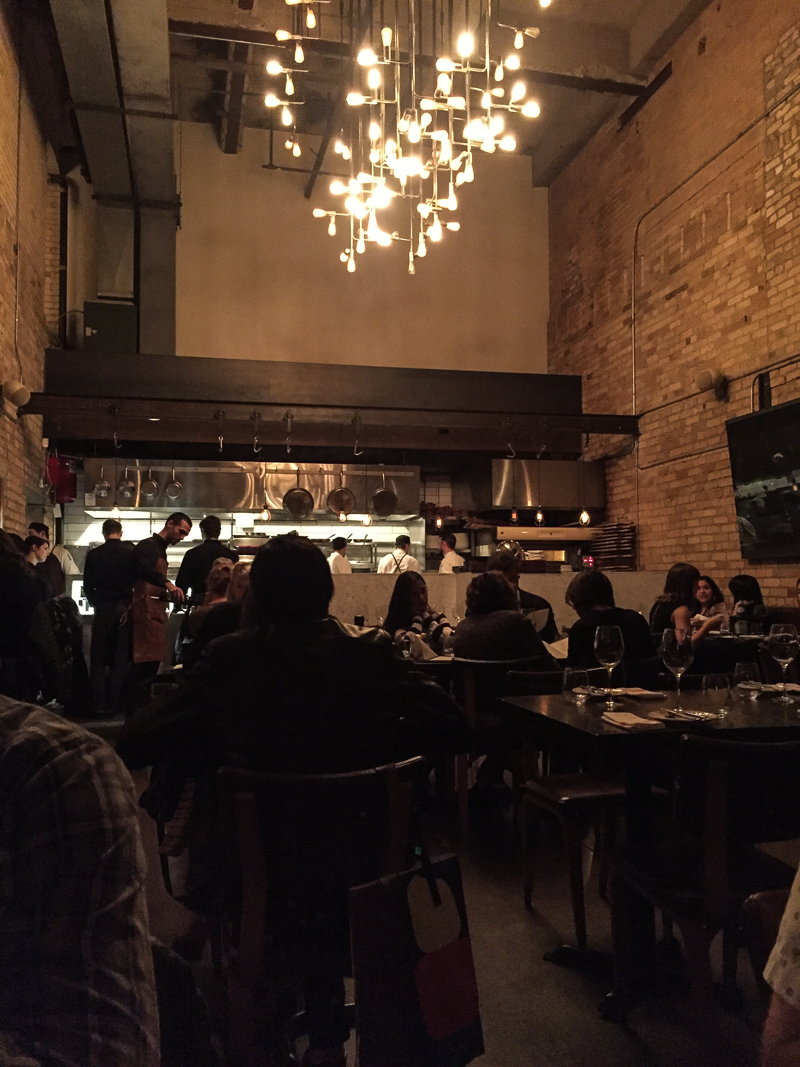 This was our fancy 10th anniversary spot. Buca Osteria & Enoteca on King Street is located a bricked basement space and features locally sourced menu. We had great service here and it was a good restaurant choice for celebrating.
12. Stroll through food stalls at the St. Lawrence Market
The St. Lawrence Market is filled with hundreds of food stands with fresh meat, seafood, bread, cheese, wine, chocolate, and on and on. If I lived in Toronto, I would come here all of the time to grocery shop. Sadly, we couldn't buy much because we weren't cooking, but we had a nice seafood lunch at the Busters Sea Cove stall.
13. Declare your love at the Distillery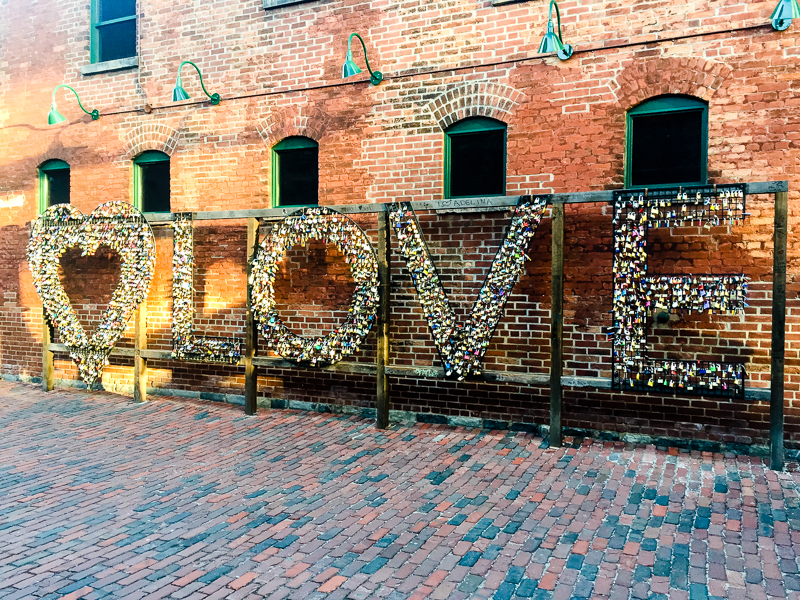 Generally, I felt like the Distillery was a bit touristy for my tastes (kind of like the Navy Pier of Toronto) but there were still a few worthwhile activities. You can buy a lock and put it on their LOVE sculpture which reminded me of being in Italy and it makes a cute photo.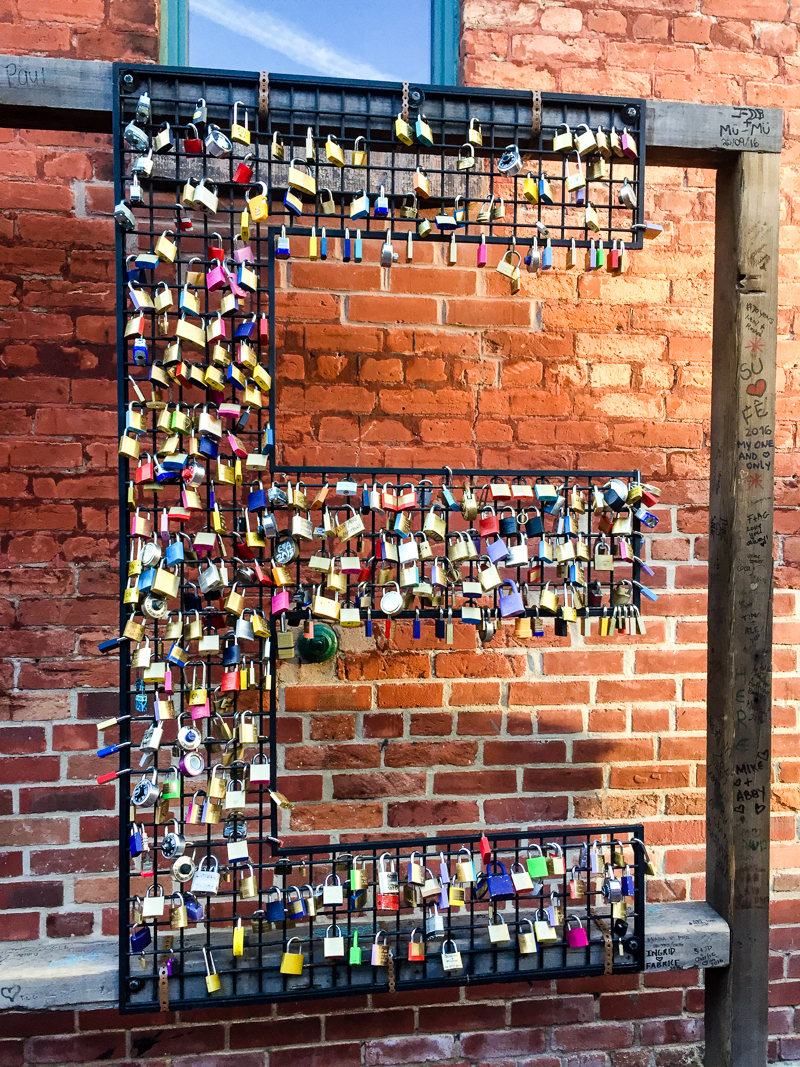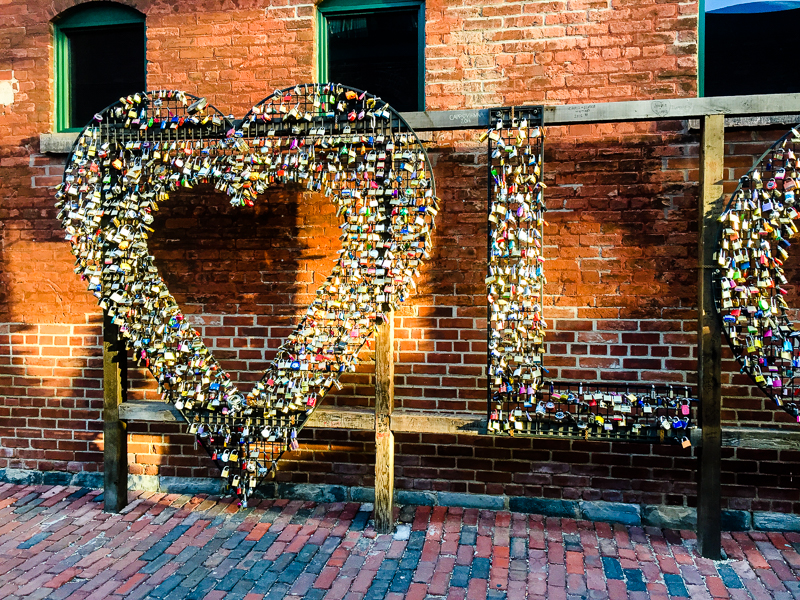 The Distillery is also a good place to pick up gifts and souvenirs, and they host special events like outdoor Christmas shopping. It's a pretty area with historic brick-lined streets and it reminded me a bit of The Rocks in Sydney back in the days.
14. See spray paint in Graffiti Alley
Graffiti Alley is a the only place in Toronto where graffiti is legal. While I wouldn't recommend making a special trip to see it (there's plenty of illegal graffiti in Toronto and personally I already see so much in Chicago), it's a good backdrop for some fun photos if you're already close. We came here after we ate tacos at nearby Campechano Taqueria.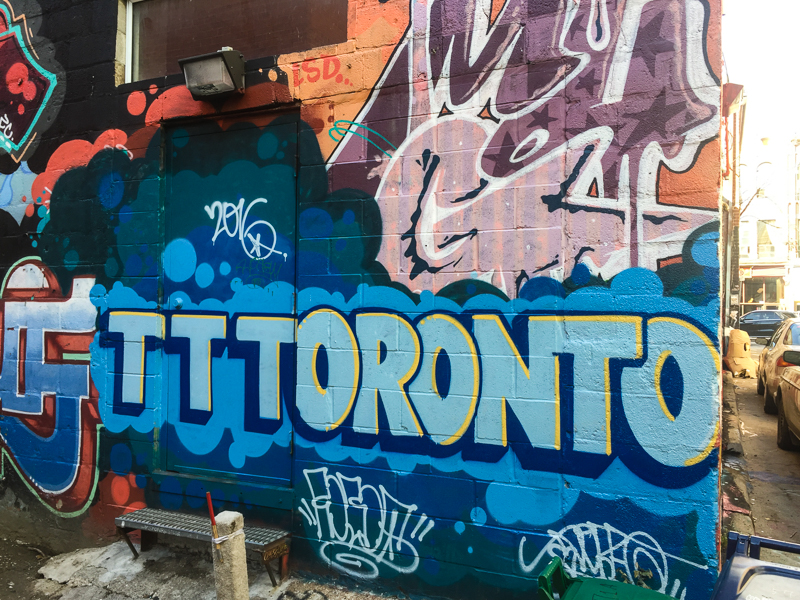 And that's what you do to have an amazing weekend in TTTORONTO!
==========
Tell me in the comments: What looks best about Toronto to you on the list? Anything you disagree with, anything that I missed?
—
Like it? Share it!
The nicest way to say you like it is to pin it on pinterest, post a comment, follow Merriment Design on Facebook, twitter, pinterest, Google+, instagram or sign up for monthly emails. Enjoy! 🙂