BBC in the UK featured my headboard slipcover with storage pocket on their popular morning television segment called Morning Live, which is a daily, live magazine show that covers a range of subjects from health and current news to style and celebrity items.
On the 25 January 2022 show, Morning Live talked with an upholsterer Sonnaz Nooranvary about a popular UK TV show she stars on called The Repair Shop. After they chatted to her about her show, Sonnaz gave for tips about how we can refresh our interiors. Sonnaz suggested that people could refresh their bedrooms by making a slip cover for their headboards. A Morning Live producer found my kids bed project and said that "it's so lovely we would love your permission to show the pictures."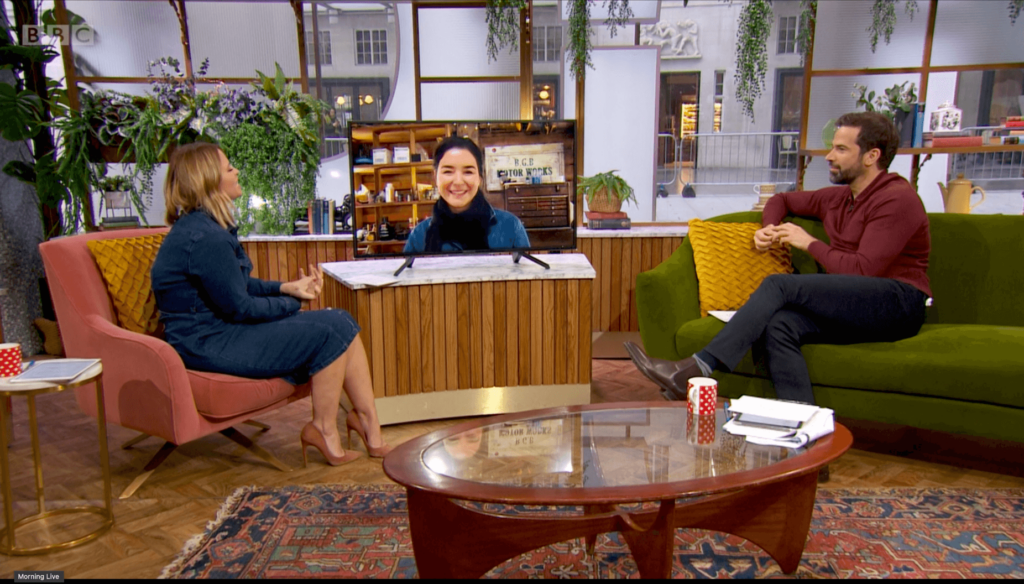 Morning Live showed my IKEA MALM bed before and then after with my fabric headboard slipcover with storage pocket. While showing my 'before' photo, presenter Gethin Jones said "…you might be able to see the difference you can make…" and then switched to my 'after photo' and said "Well. There you go. Yeah." And then presenter Kimberley Walsh said, "Yeah, nice!"
Sonnaz said, "I like that. I LOVE that pocket especially for a child's bedroom. It's SO inventive and creative."
Kimberly said, "Quick turnaround, isn't that?"
Gethin said, "Simple zhuzh that, isn't it?"
Then Sonnaz said, "it's a lovely zhuzh."
It so was fun to watch my work included in this UK TV segment!
Watch the full Morning Live segment with Sonnaz Nooranvary on the BBC.