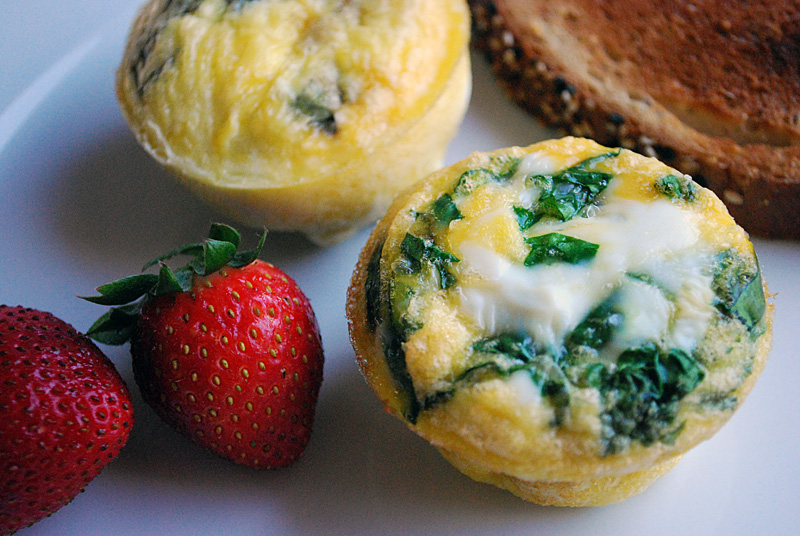 This mini frittatas recipe makes two different kinds: mini spinach and feta frittatas or tomato and basil frittatas. Or really you can use the technique to add any fixings, like cooked bacon, mushroom or caramelized onion. And because you make these mini frittatas using muffin tins you can customize each individual mini frittata as much or as little as you'd like.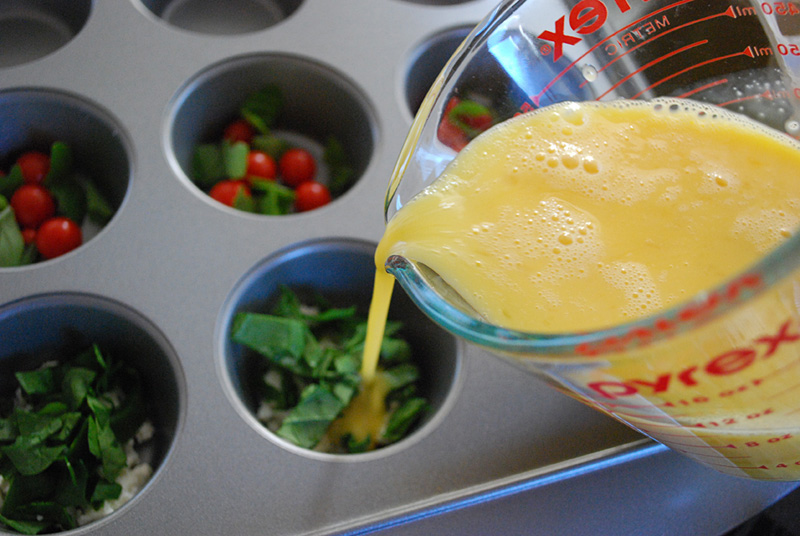 My neighbor Susan gets the holy trinity of magazine subscriptions: Us, People and In Touch. And like a good neighbor, when she's done reading them she puts them on our stoop for me to catch up on the gossip. This week's People magazine had a mini frittatas recipe by Antonia from Top Chef who's one of my favorite former contestants and happens to have a new cookbook called The Busy Mom's Cookbook: 100 Recipes for Quick, Delicious, Home-Cooked Meals
.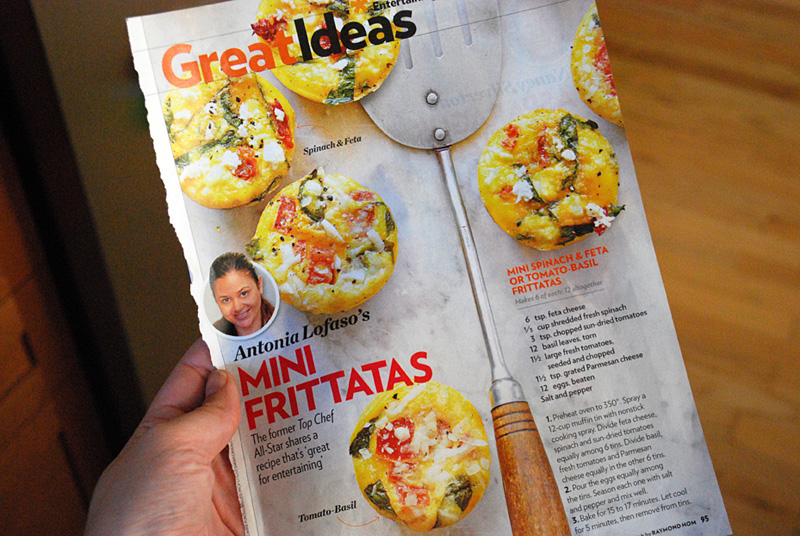 Now I've made my full-size kitchen sink frittatas recipe dozens of times before but somehow I'd never made mini frittatas. And I've seen oodles of recipes almost just like this one that are either called mini frittatas or crustless mini quiches. These muffin-tin-sized frittatas are festive …and they also gave me an excuse to gather up some basil and teeny tomatoes from our rooftop container garden.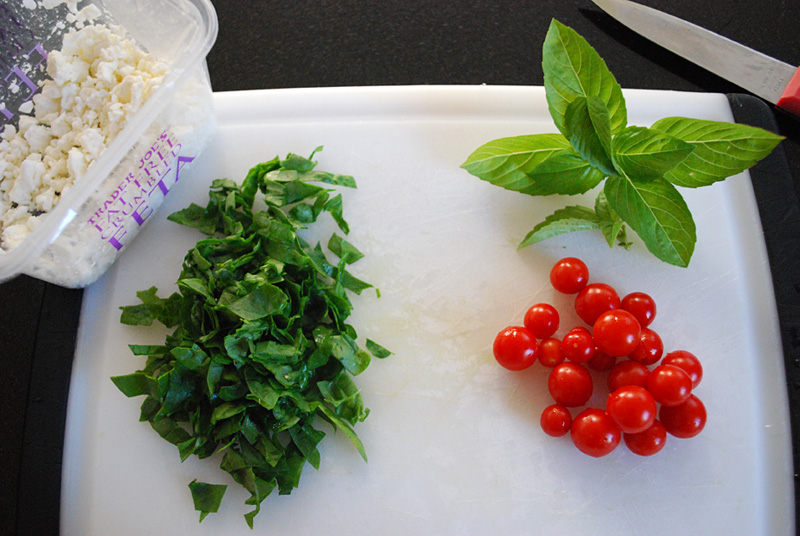 In the end a very nice little simple-yet-fancy Sunday breakfast.
WANNA MAKE IT? Mini frittatas recipe – mini spinach and feta or tomato and basil versions –>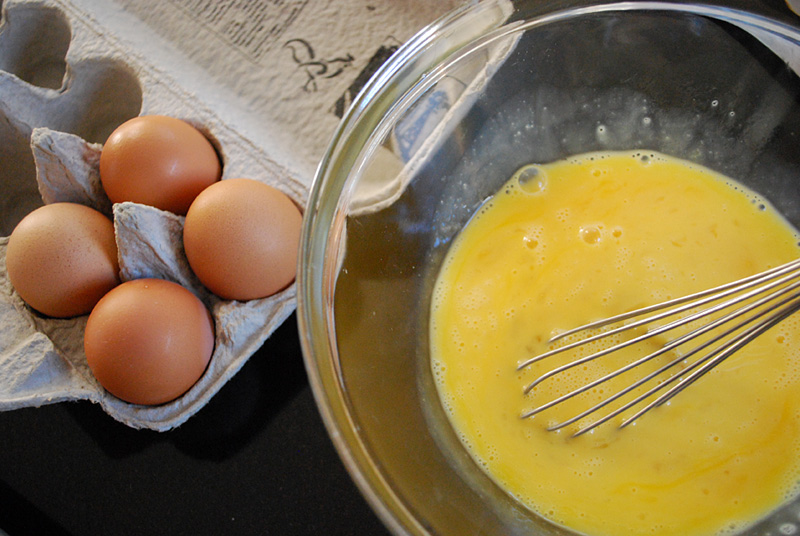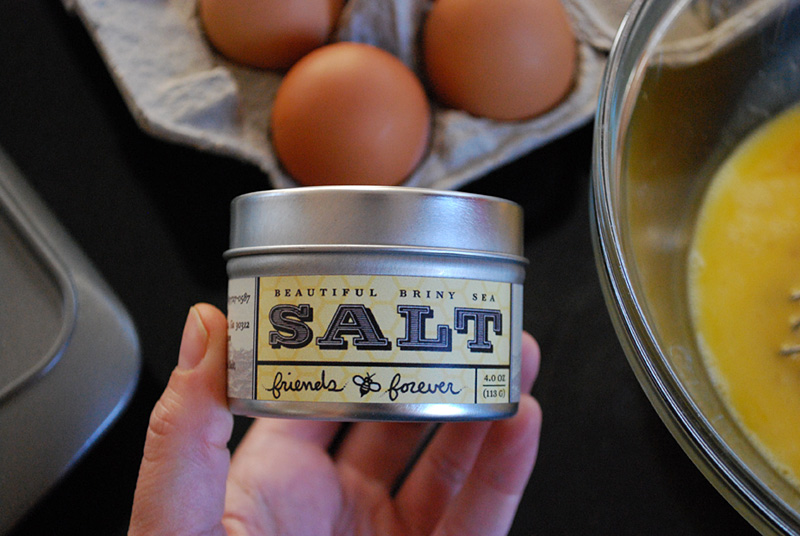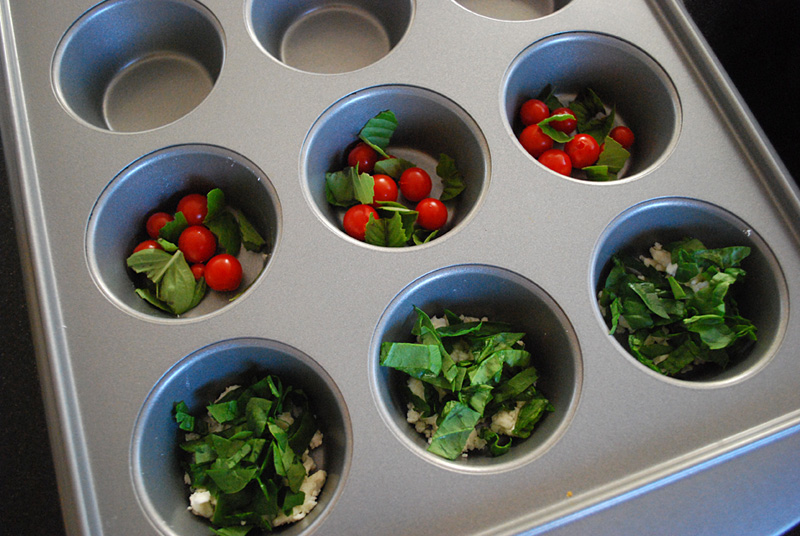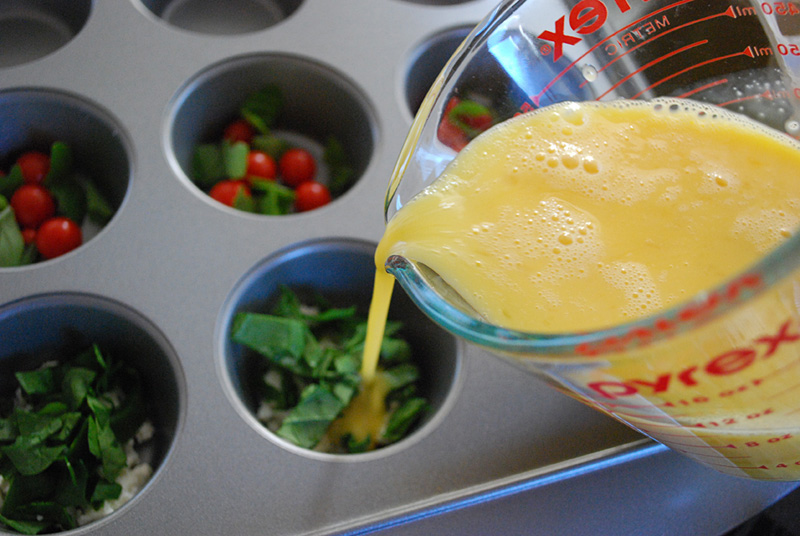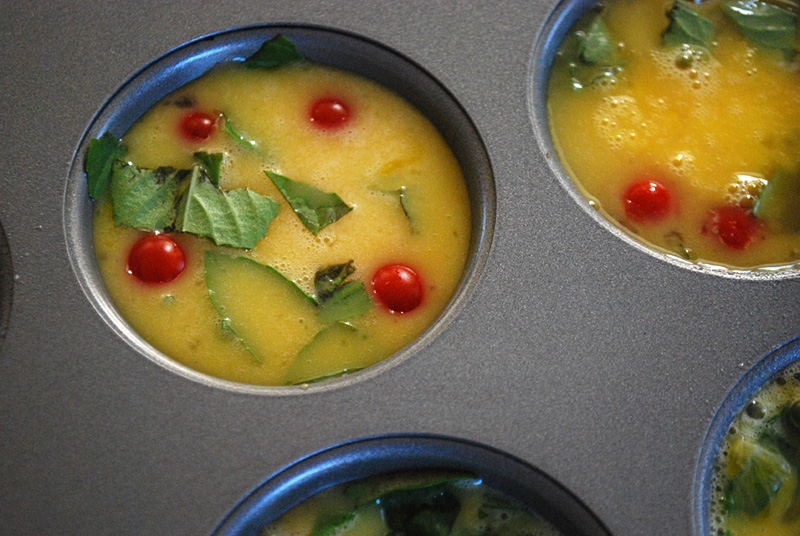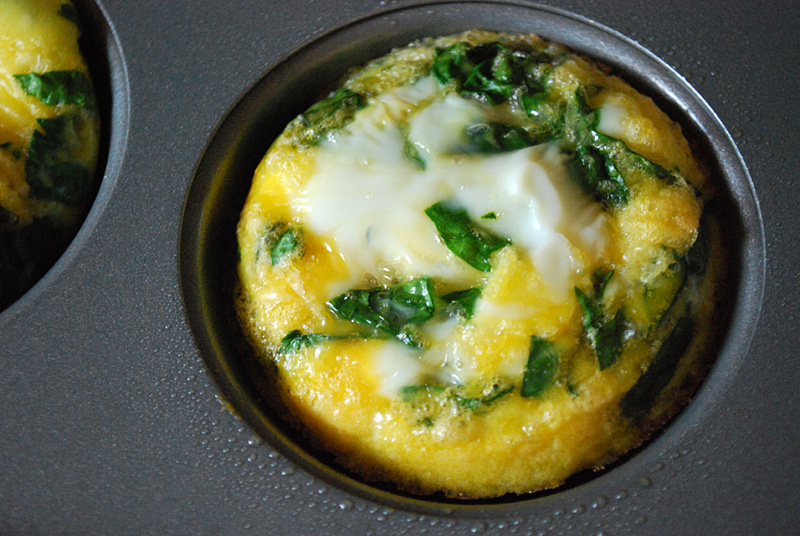 Ingredients for making the mini frittatas recipe (crustless mini quiches):
from Antonia Lofaso in People Magazine
Makes 6 of each; 12 altogether. You can also half the recipe to make 6 total which is what I did for three of us, but you could also make the whole recipe and freeze them.
12 eggs
6 spoonfuls of feta cheese
3 tsp chopped sun-dried tomatoes (I skipped these because Elise doesn't like them)
6 spoonfuls of shredded spinach (about 1/3 cup)
12 basil leaves, torn
1-1/2 large fresh tomatoes, seeded and chopped (I used our teeny tomatoes)
Hunk of Parmesan cheese to grate on top
Salt and pepper
How to make mini frittatas using muffin tins:
Instructions slightly adapted from the original recipe.
Preheat oven to 350 degrees. Crack and beat the eggs – Elise helped me with this step.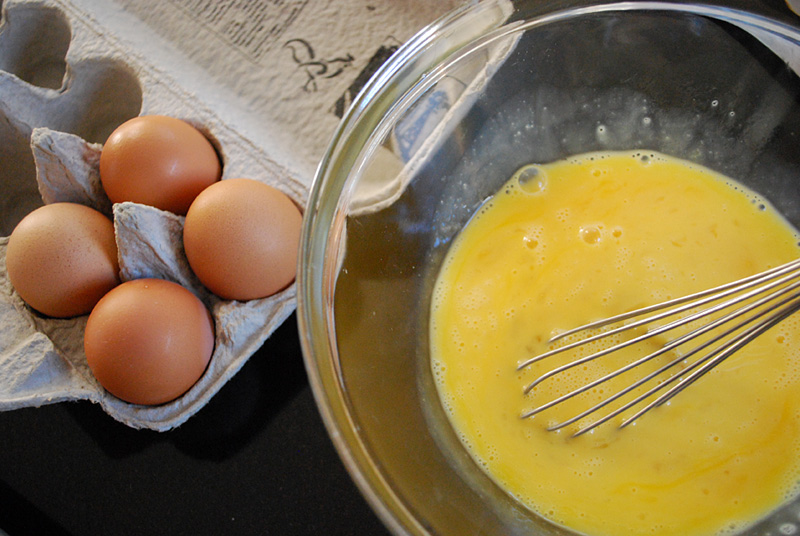 Spray muffin tins with cooking spray (which I forgot to do, mommy brain, so I kind of sprayed them before I poured in the eggs and they still popped out OK).
Put one scoop of feta cheese and shredded spinach and a bit of sun-dried tomatoes (again, skipped because of Elise) into 6 of the muffin tins. Divide basil and fresh tomatoes equally in the other 6 muffin tins.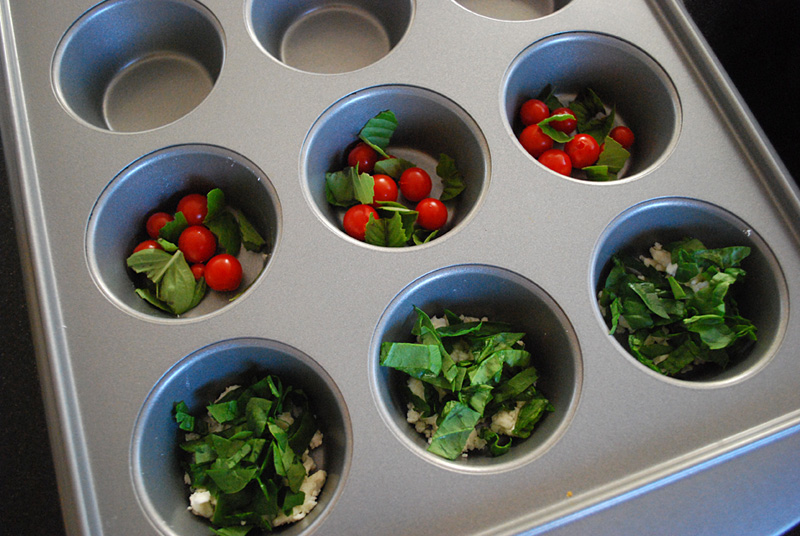 Now the recipe says to pour the eggs equally among the tins, then season each one with salt and pepper and mix well. I didn't do it like this because I'm lazy. I seasoned the beaten eggs in the big bowl …and then realized it would be hard to pour from the bowl so I transferred the beaten eggs into a pourable Pyrex…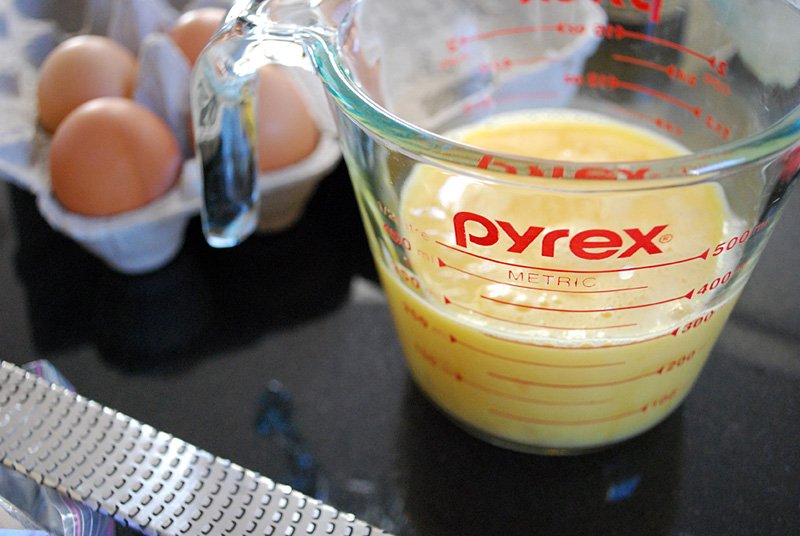 …and then poured them in the tins.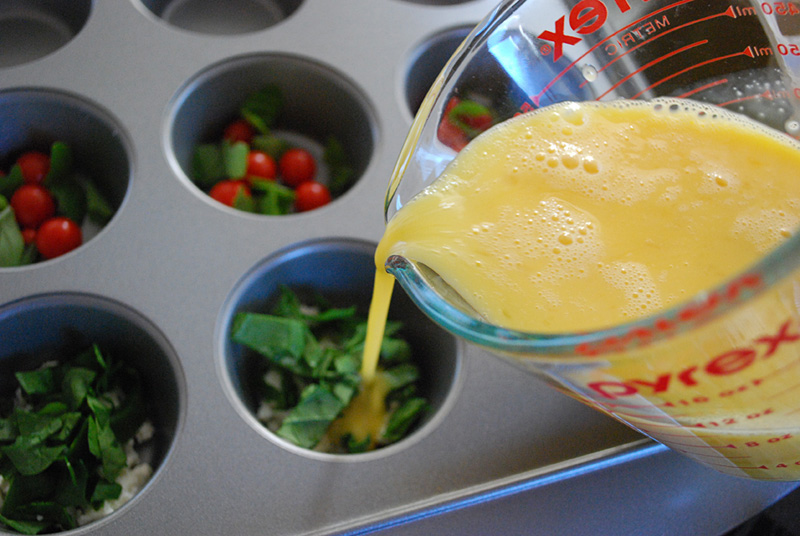 But I did use my new fancy salt from Beautiful Briny Sea that I bought at Renegade Craft Fair Chicago.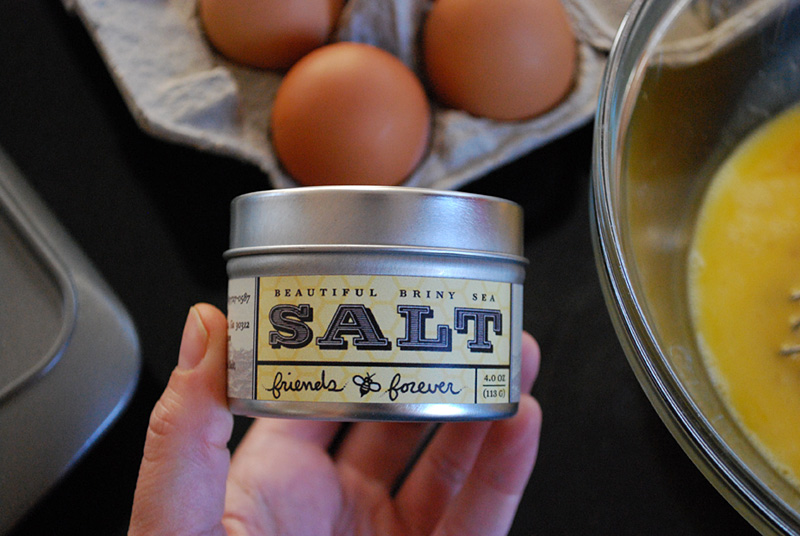 As far as mixing, I didn't really do this either. It looked OK to me so I grated some Parmesan cheese on top of the tomato basil versions and went with it.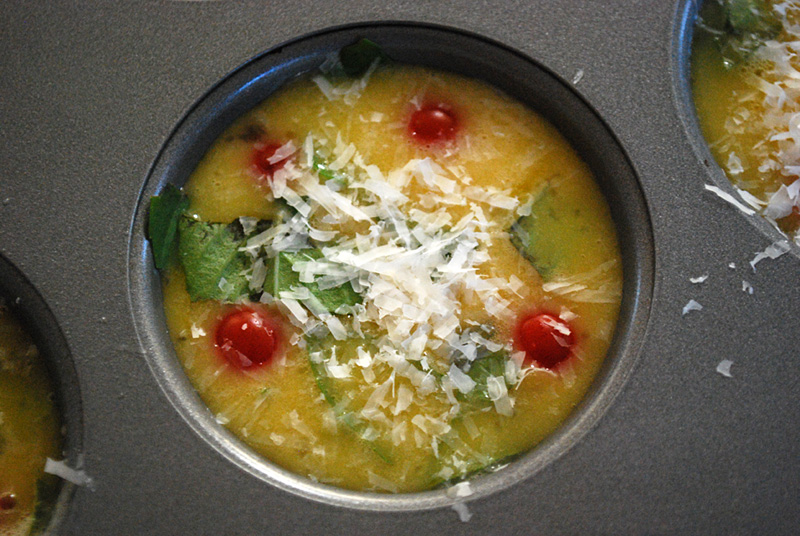 Bake for 15-17 minutes. Let cool for 5 minutes then remove from tins.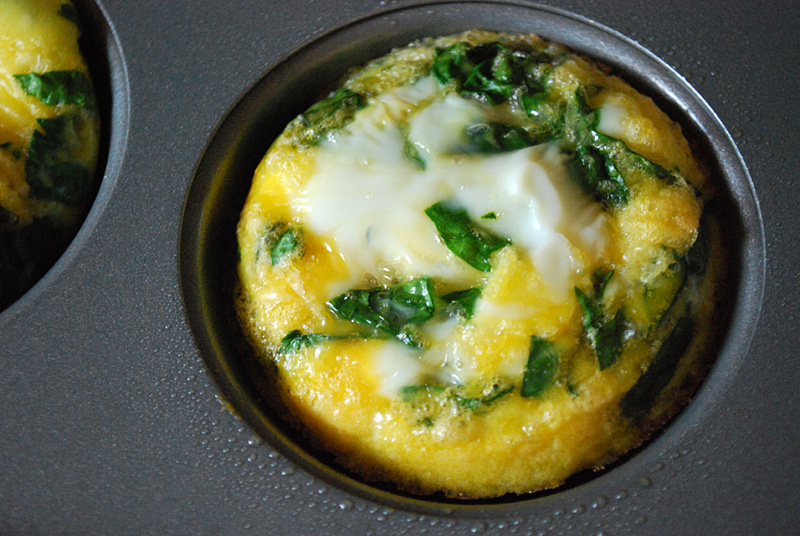 Did you make it? Please post a comment and let me know how this recipe idea works for you. And share your own photos at the MerrimentDesign.com Facebook page, "I made it!" flickr photo gallery or tweet a picture to @merrimentdesign.