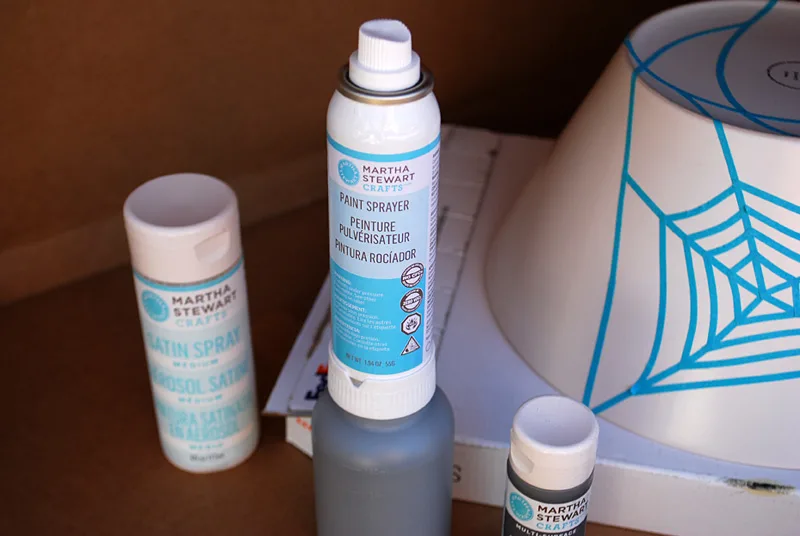 The Martha Stewart Spray Kit is basically a genius way of turning almost any Martha Stewart Crafts paint into spray paint.
Let's process this. You can turn almost ANY COLOR into spray paint which comes in super handy in Chicago where it's illegal to purchase spray paint within city limits 🙂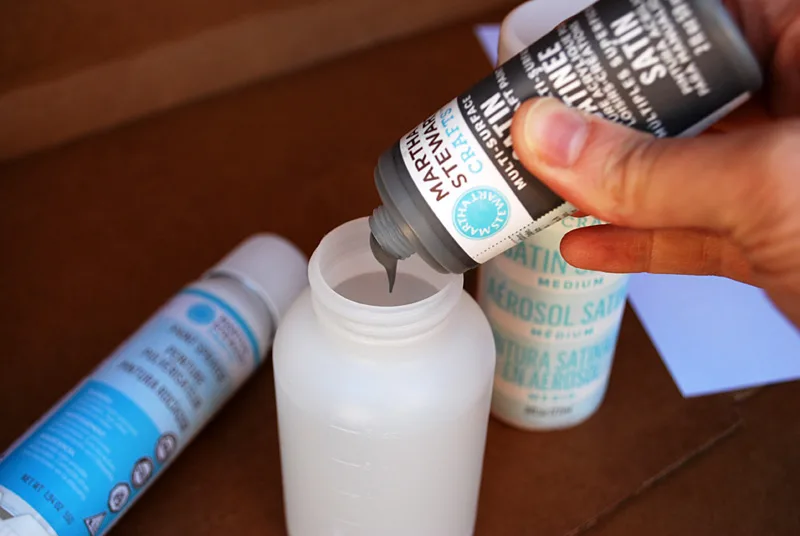 To get you in the mood here are some fall inspired colors that Martha Stewart Crafts sent to me along with the spray paint kit (…except for the glitter paints, the sprayer won't work with glitter which is kind of a bummer but I can see how those bits would clog it up).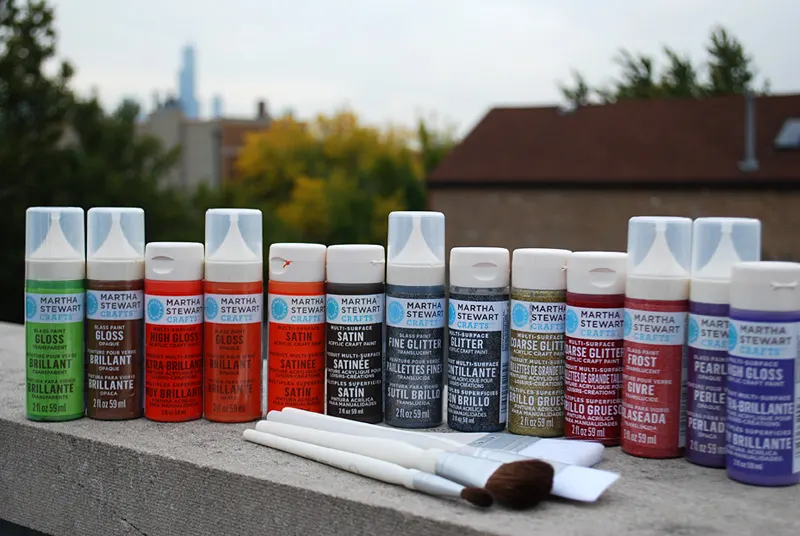 There are two versions of the Martha Stewart Crafts spray paint kit: one for satin finish paints and one for gloss finish paints so be sure you're matching the right paint finish to the right kit. Each spray paint kit contains a 1.9 fl oz sprayer, 6 fl oz spray medium, and 2 mixing bottles with caps.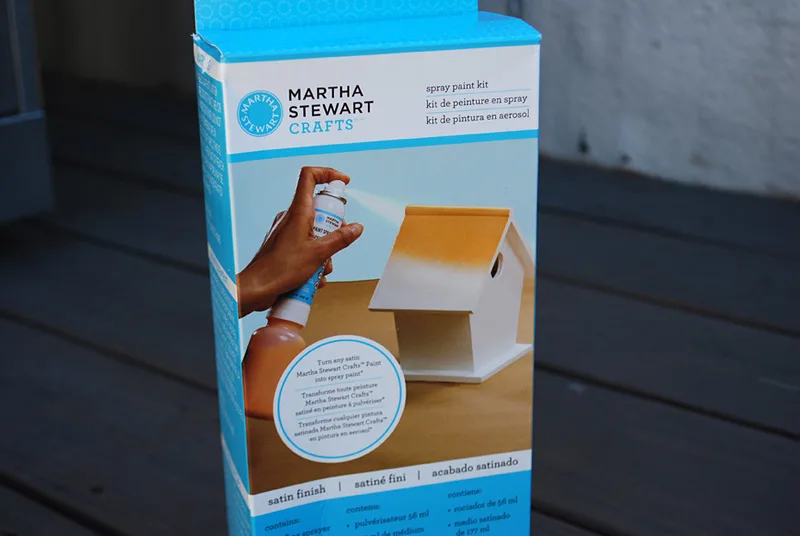 I tried it out using the Martha Stewart Crafts paint color Arrowhead on my painted Halloween spiderweb candy bowl. Smooth, yes? I spray painted the bowl and then peeled away the glass patterning tape to make webs.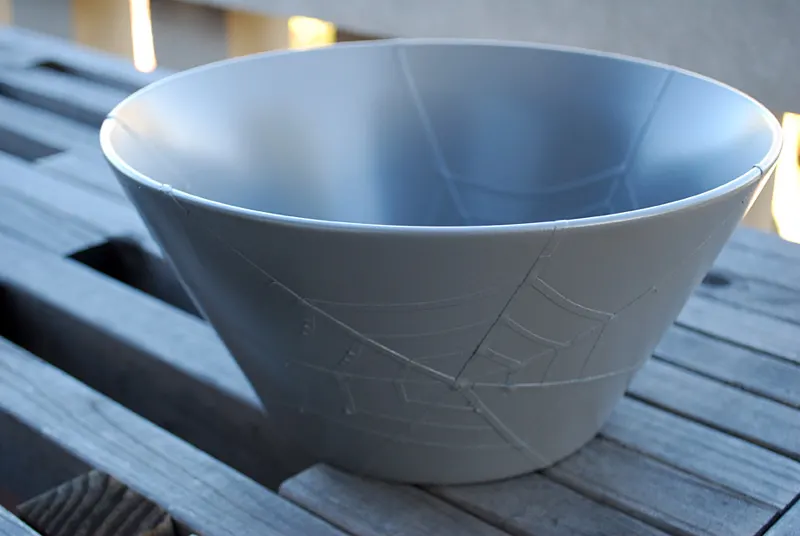 The biggest downside? The Martha Stewart Spray Paint Kit is pricey, about $17-20 for the kit which can be used for up to 12 fl oz of paint so it's best for smaller jobs and 40% off coupons 😉
WANNA TRY IT? Keep reading to learn how to use the Martha Stewart Spray Kit –>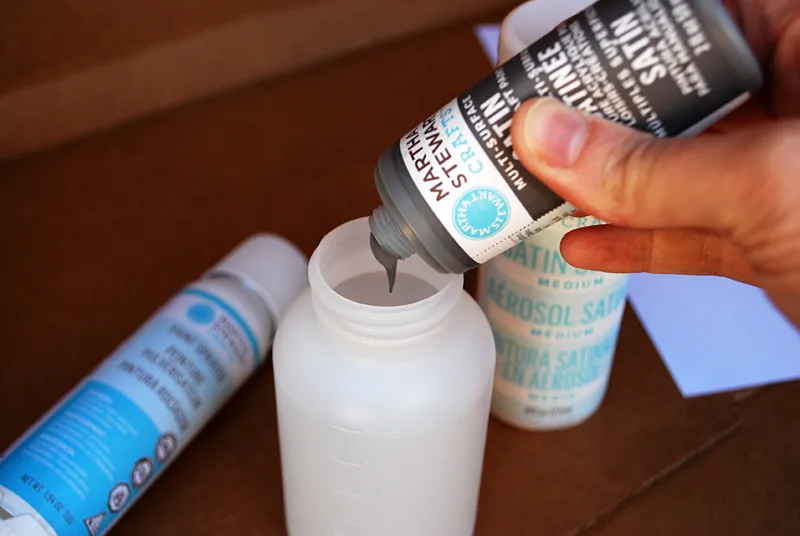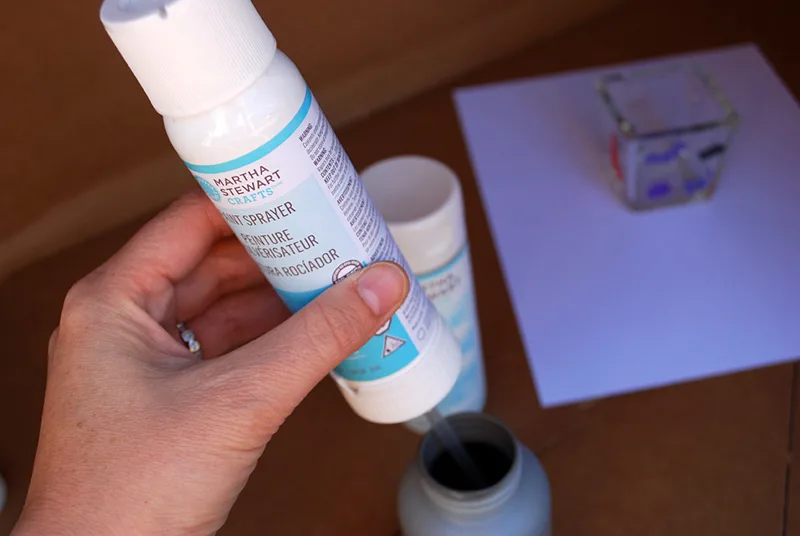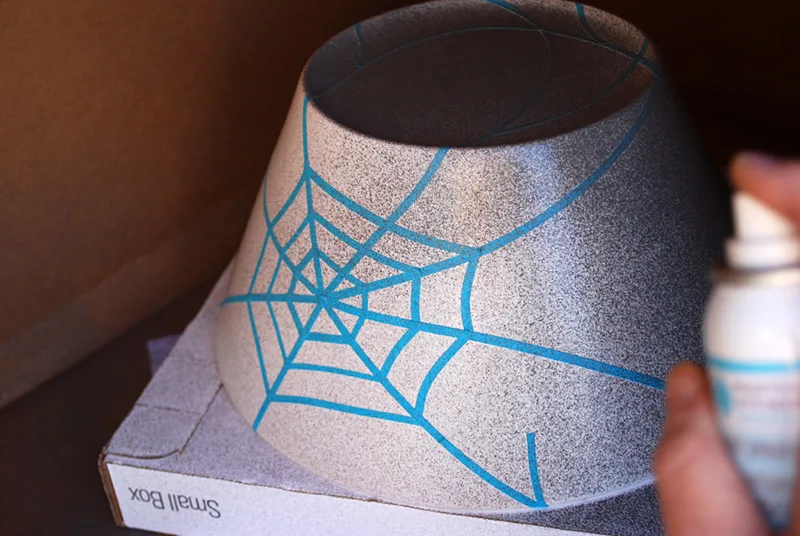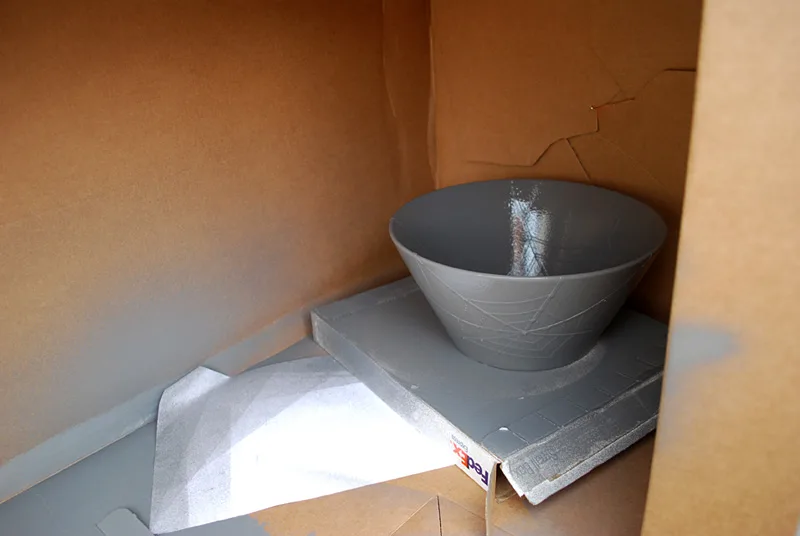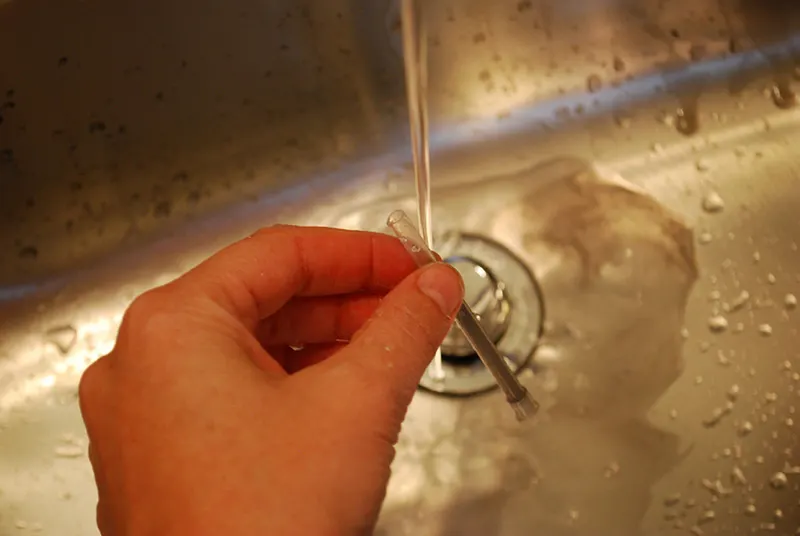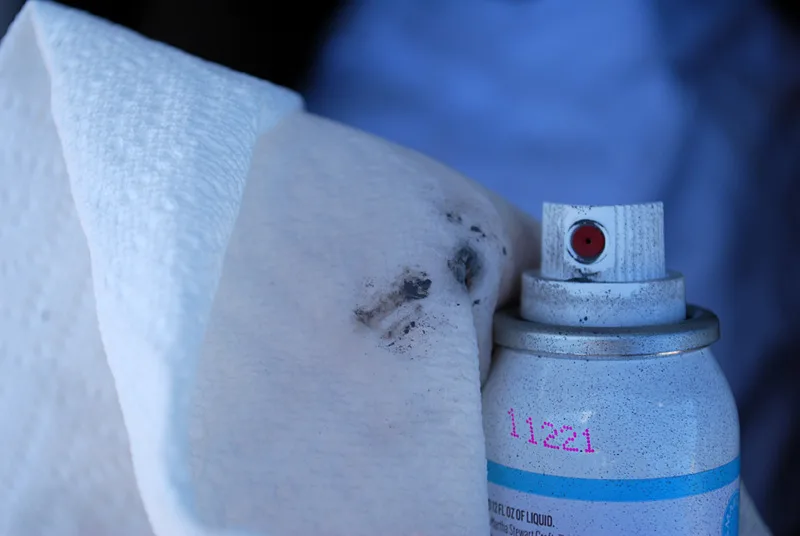 Supplies for using the Martha Stewart Spray Kit:
2 fl oz Martha Stewart Crafts paint (satin or gloss)
1 box Martha Stewart Spray Kit – buy either the Martha Stewart Satin Spray Kit or the Martha Stewart Gloss Spray Kit depending on the type of paint
Box to spray inside (and possibly something to weigh it down if it's windy like on our deck)
Box or paper to make into a turntable (mine was an old FedEx box)
Something to practice on (I used an old candle holder, the package suggests a piece of paper)
Water
Rag or baby wipes
How to use the Martha Stewart Satin Spray Kit:
Gather your supplies. There's the paint sprayer, the satin (or gloss) spray medium, and one of the two enclosed bottles, plus satin (or gloss) paint in your color of choice, something to practice on, and a box to paint in.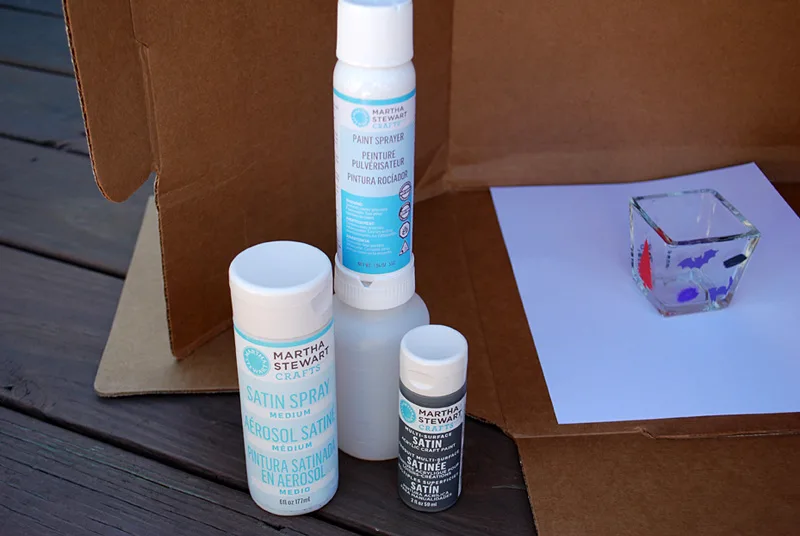 Thin the paint at a 1:1 ratio with the enclosed medium into one of the bottles. So how much medium and paint to use? Well, Martha Stewart Crafts paints come in 2 fl oz bottles. I used 1 fl oz of paint and 1 fl oz of the satin medium to paint my large spiderweb Halloween candy bowl and had plenty left over for touch ups. Add the spray medium first for easier mixing.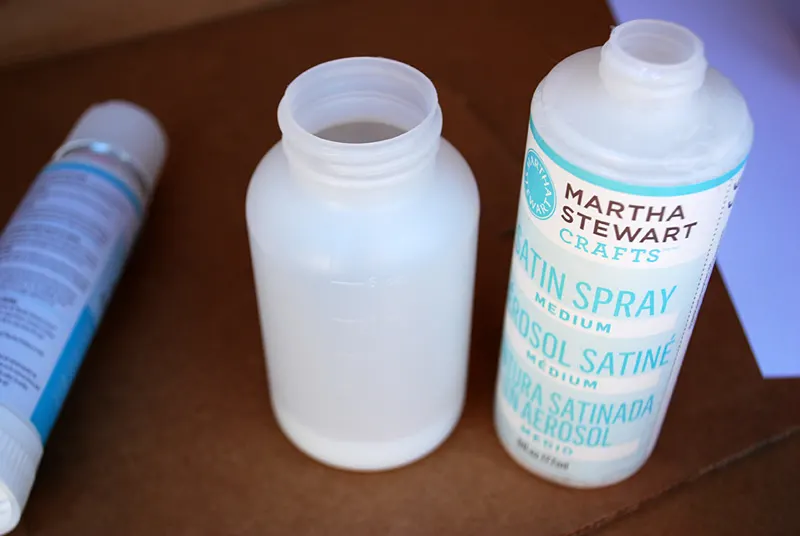 Then plop in the paint. There are lines on the bottle side to help you measure.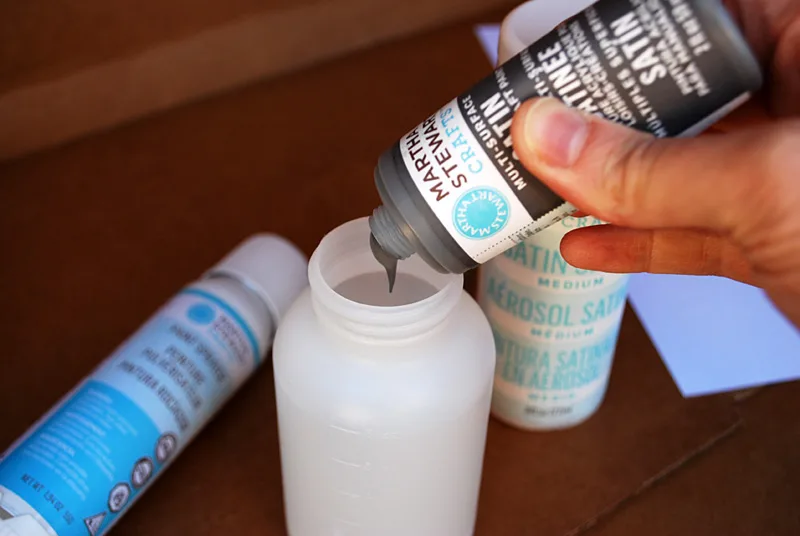 Put the lid on tightly and mix equal parts paint and medium.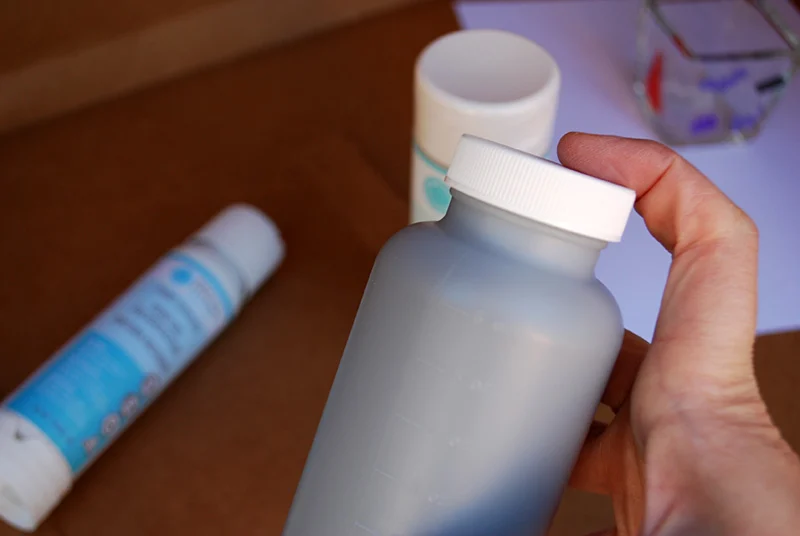 Take the lid off and attach the sprayer to the bottle. Don't shake the bottle once the sprayer is attached — the instructions tell you that in bold letters so I believed it.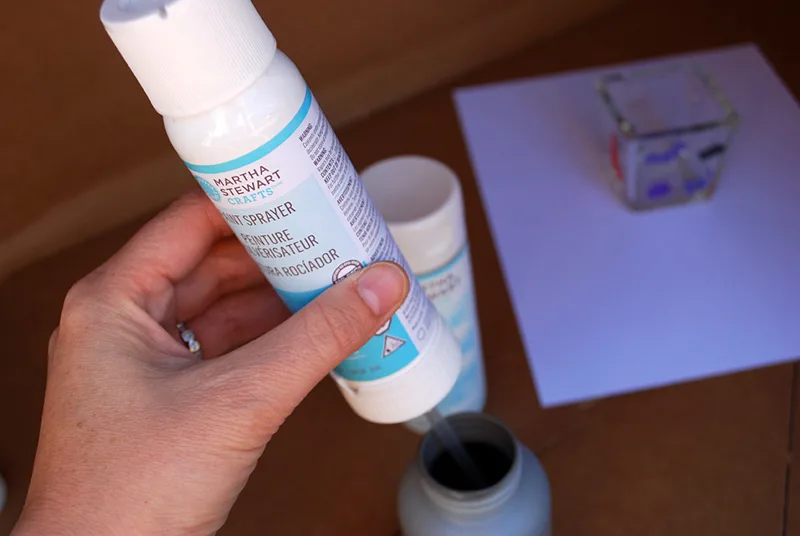 Align the red dot on spray button with V-shaped notch on the base of the sprayer. Practice first – I used an old glass votive holder but the instructions suggest a piece of paper. Hold the bottle upright 6-10 inches from the surface. Never tilt the bottle more than 45 degrees. I actually forgot and did this later and no paint comes out if you do this and it kind of wastes the sprayer spray.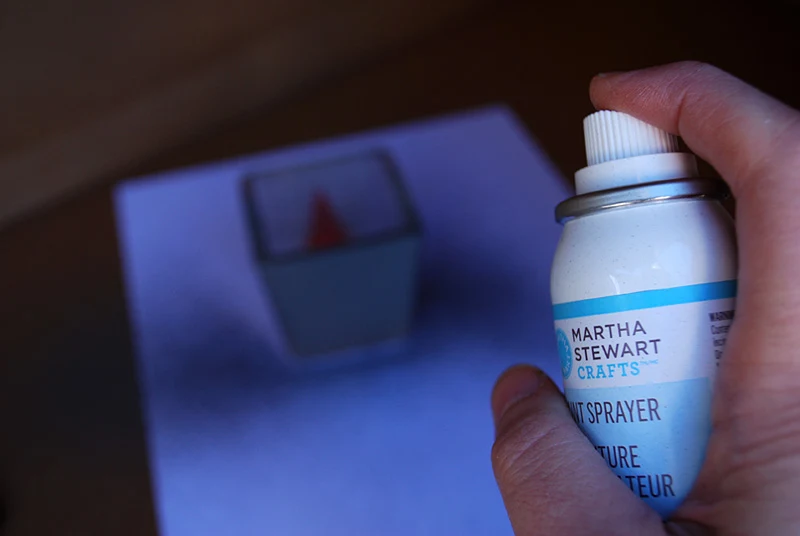 Once you've got the hang of it put what you'd like to spray onto your lazy susan — I used a FedEx box — and slide it inside your sprayer box.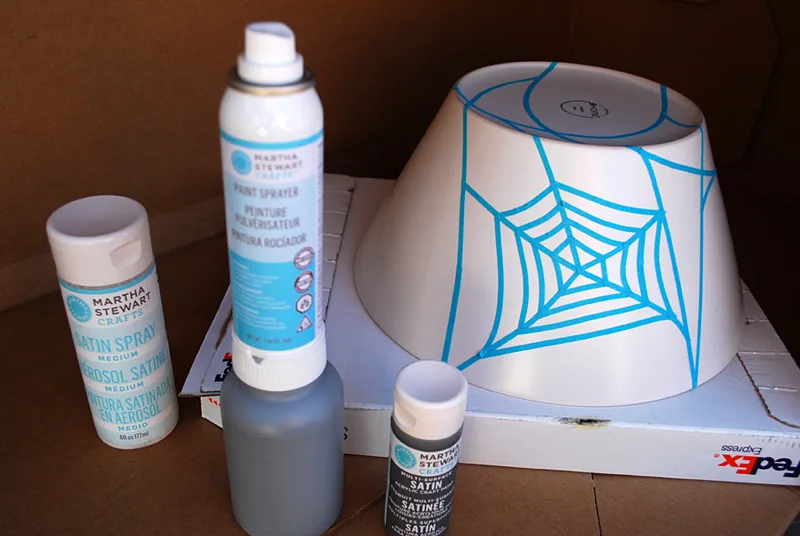 The instructions say to begin at the top and gently spray back and forth overlapping each stroke for even coverage. Here's what mine looked like at with a few sprays. Kind of spotty but it gets better. It says to avoid runs, start spraying while in motion and release the button while still in motion. I did that for a bit but then just stopped releasing and just kept spraying back and forth.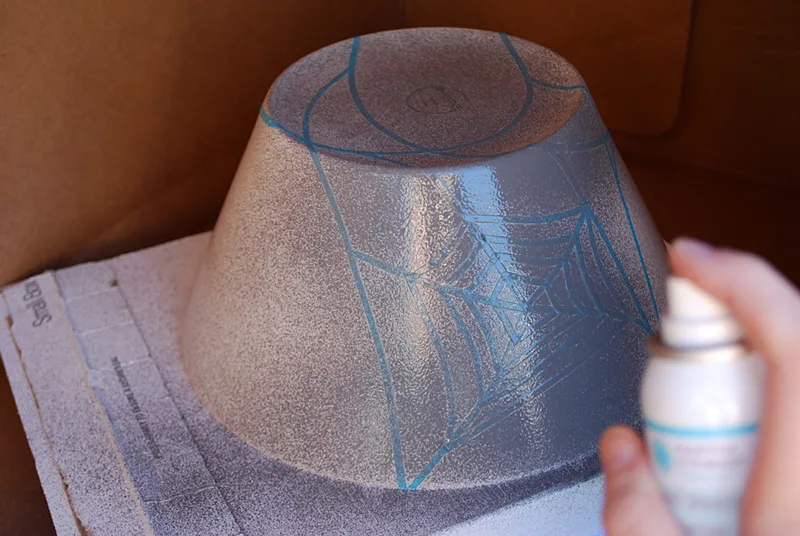 Turn your lazy susan FedEx box to reach the other side of whatever you're spraying.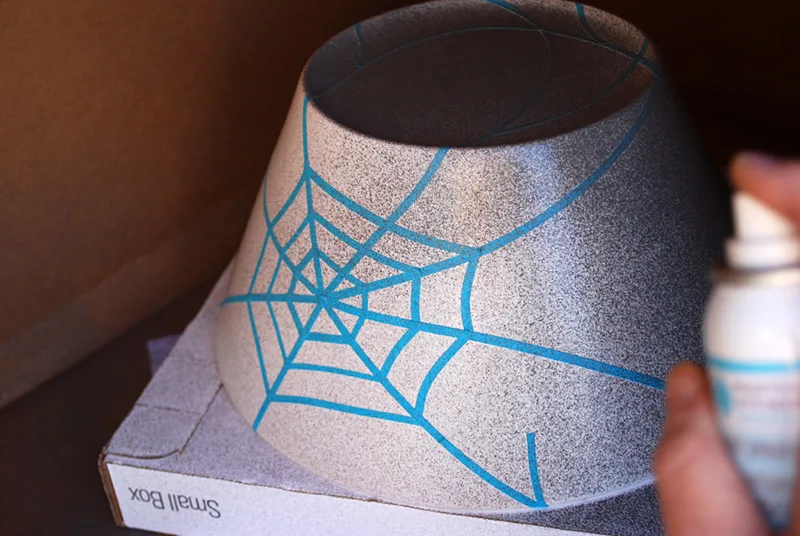 Keep spraying light coats until you get the coverage that you'd like. This was a bit of a snag for me because I didn't want to have to clean the sprayer (lazy) so I didn't wait very long between coats so it got pretty wet but it didn't drip. Let it dry completely.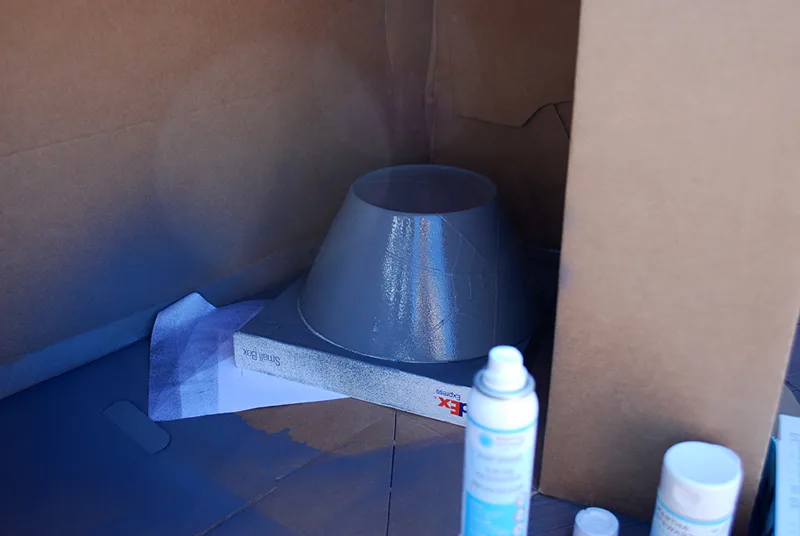 Here it is dry. Nice and smooth! No brush strokes!!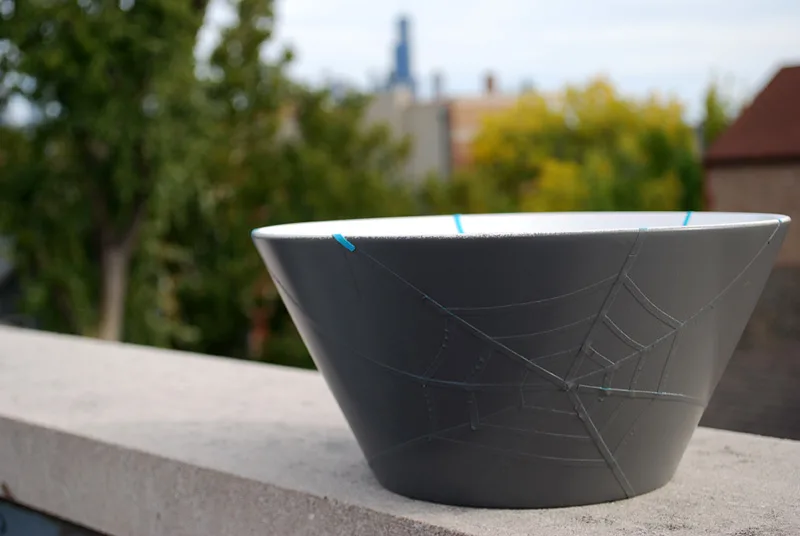 Now for the inside…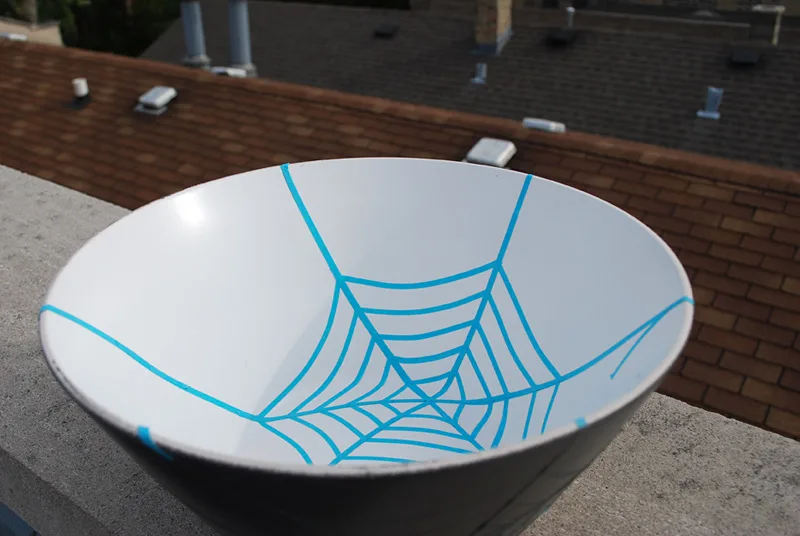 Tuck it back inside your sprayer box to avoid the wind and keep your sprays from spraying all over the place.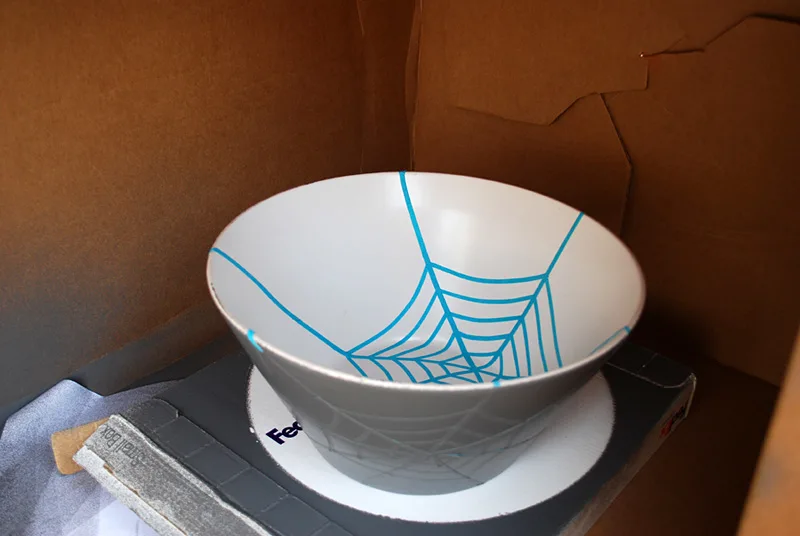 I used Elise's new Britax car seat box and it was a little windy so I put a bucket of sand on top to weigh it down.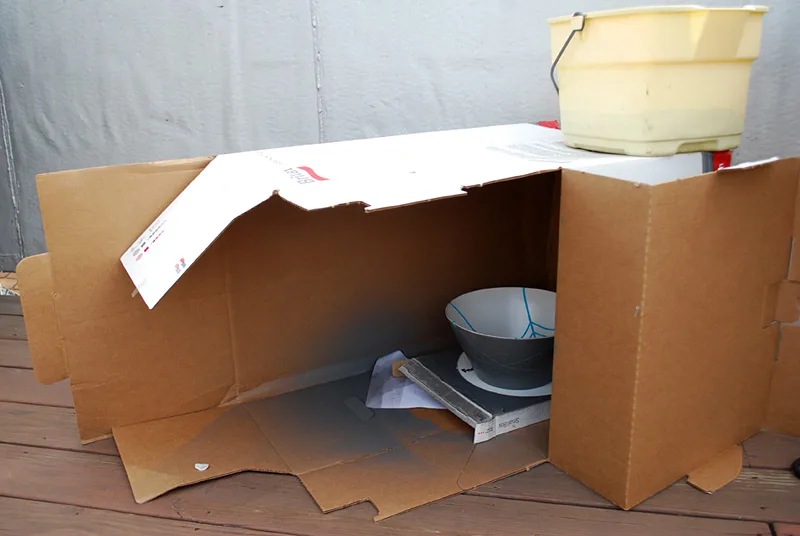 Now spray the inside again 6-10 inches from the surface without tipping the sprayer more than 45 degrees. This was tricky for the inside of the bowl so turning it on the lazy susan helped a lot.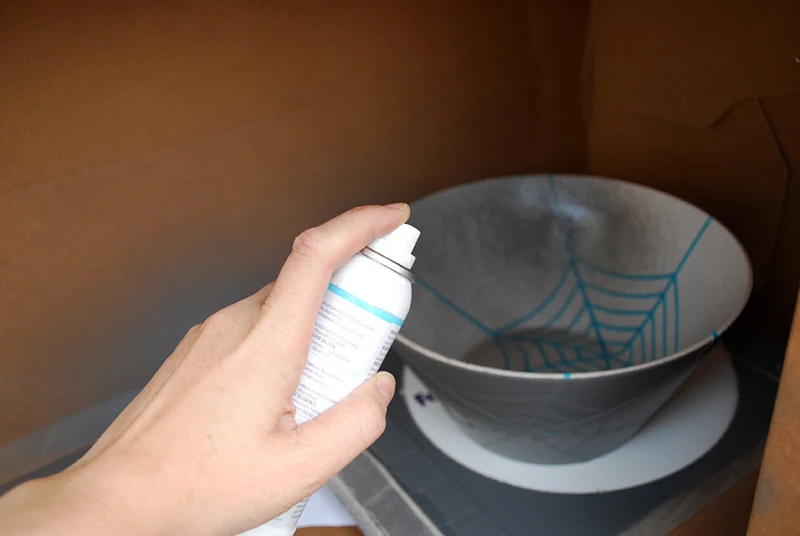 Spray two or more coats until you have the coverage that you want, ideally letting it dry between coats but again, I didn't really do this because I didn't want to have to clean the sprayer yet again.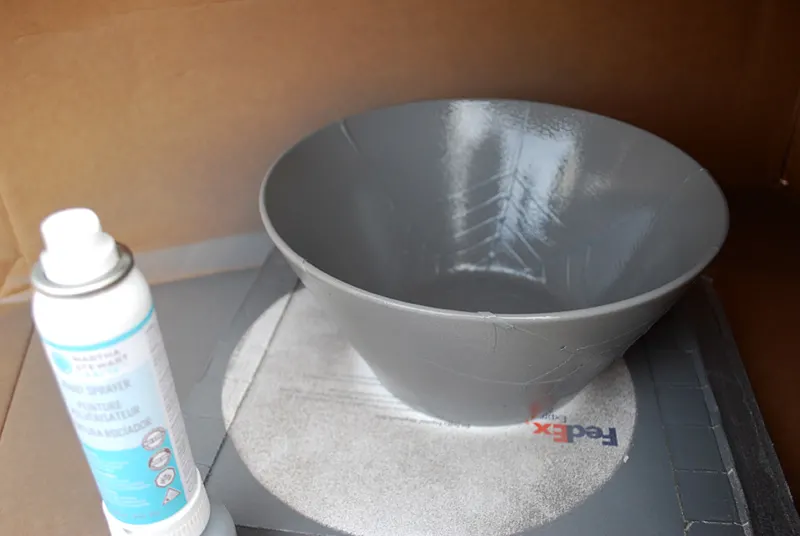 Leave your project inside the box to let it dry to keep little dust bits and icky things from sticking to the wet paint.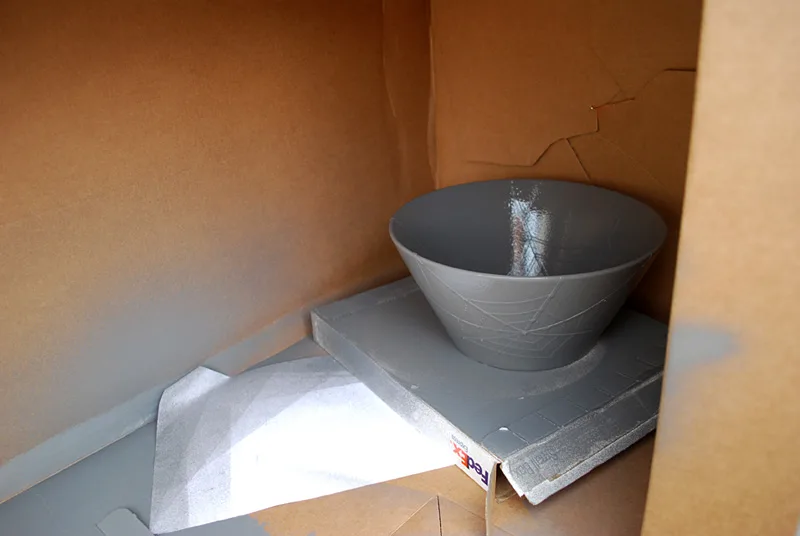 Now clean up! Remove the sprayer from the bottle. You can see that I had some paint left over.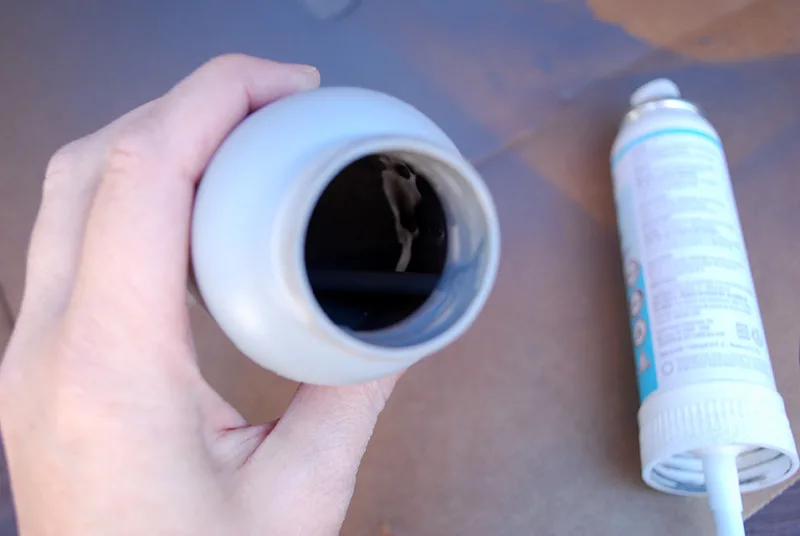 Handy tip: use baby wipes to help clean up the paint.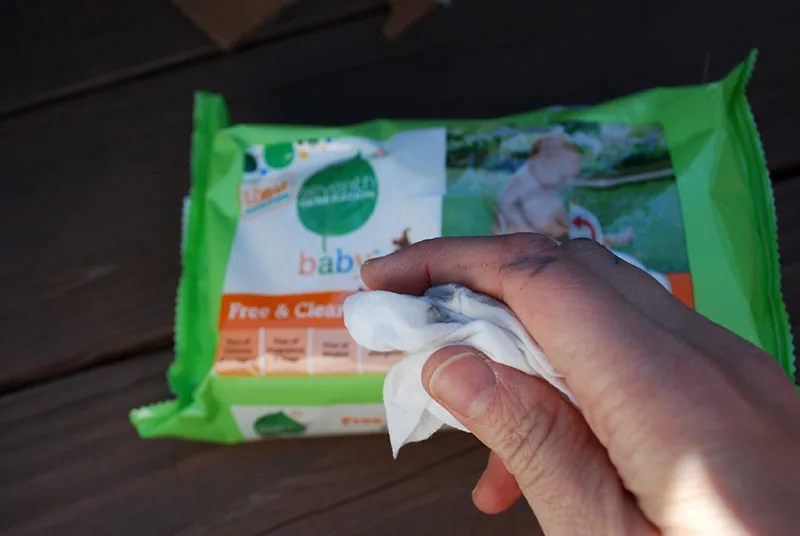 Cap the paint and store for later use.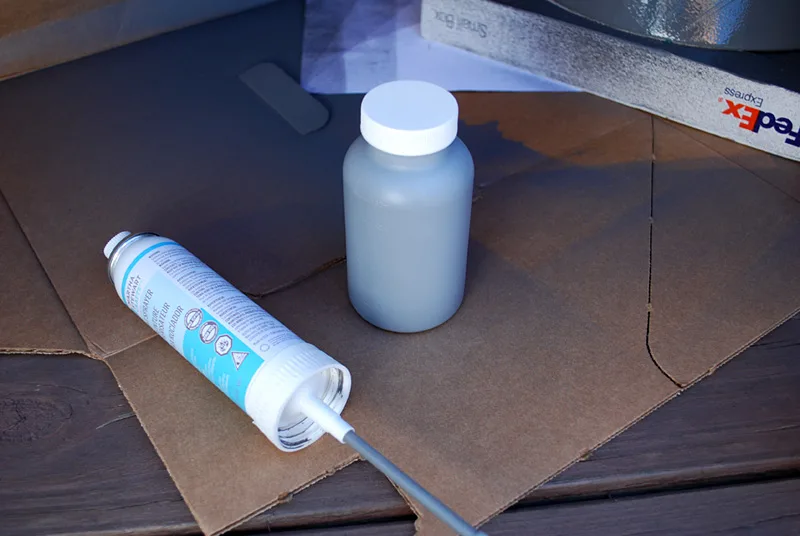 See the paint in the sprayer tube? You've gotta get that out.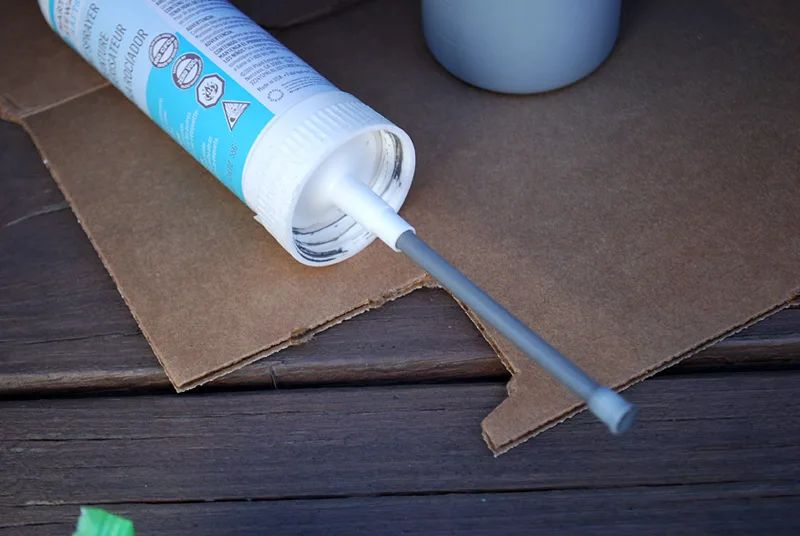 Detach it and put under running water.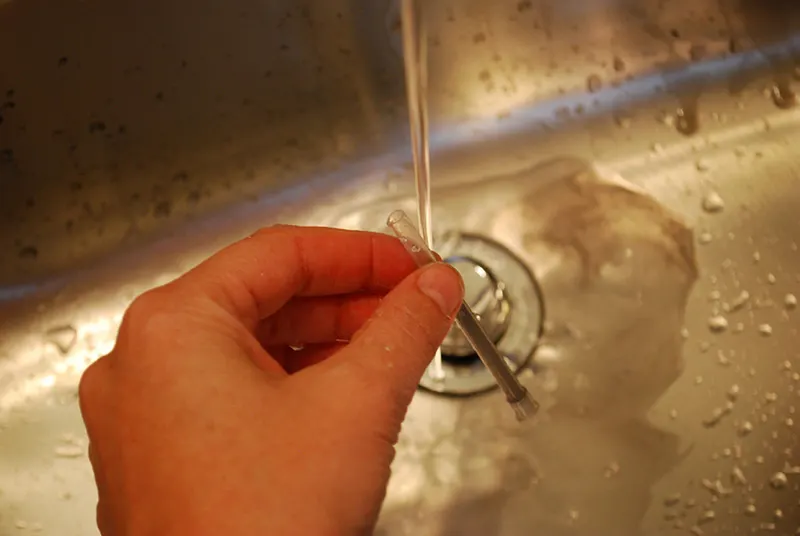 Fill the second bottle with water, or if both bottles are full then fill a cup with water.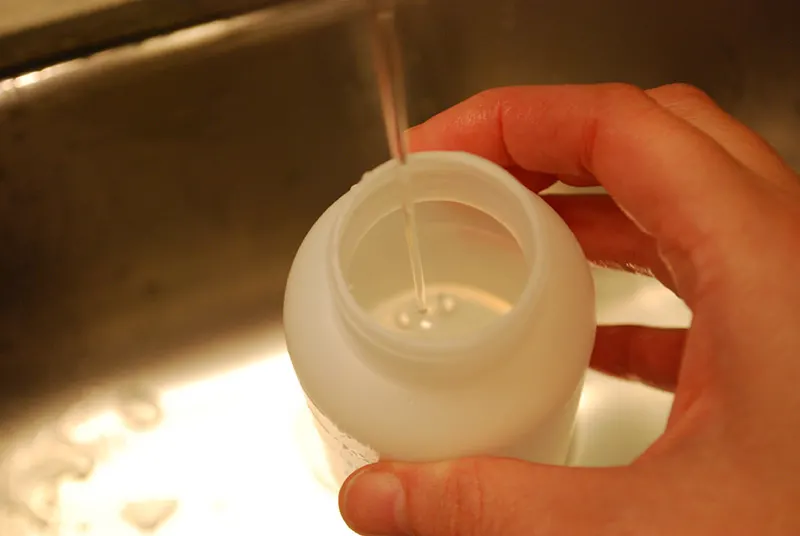 Put the sprayer tube back on the sprayer.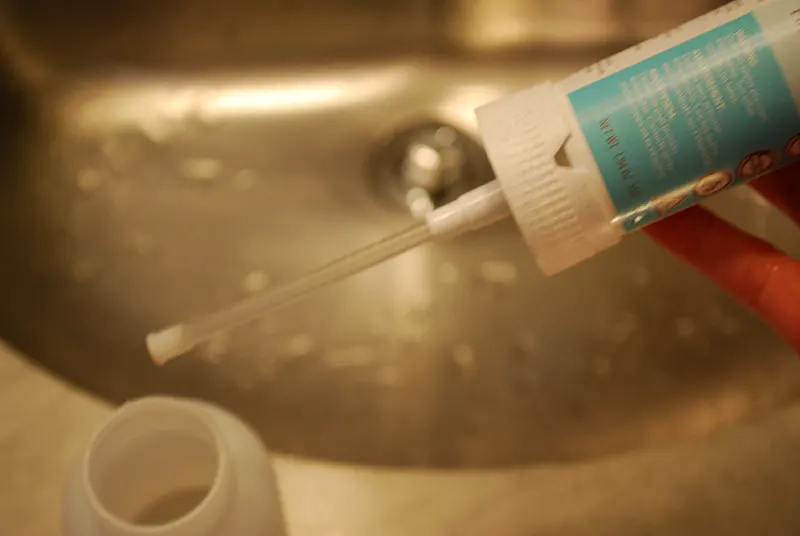 Attach the bottle of water to the sprayer (or if both of your bottles are full of paint then just use a cup of water) and spray until the water runs clear. I sprayed onto a paper towel into a trash can.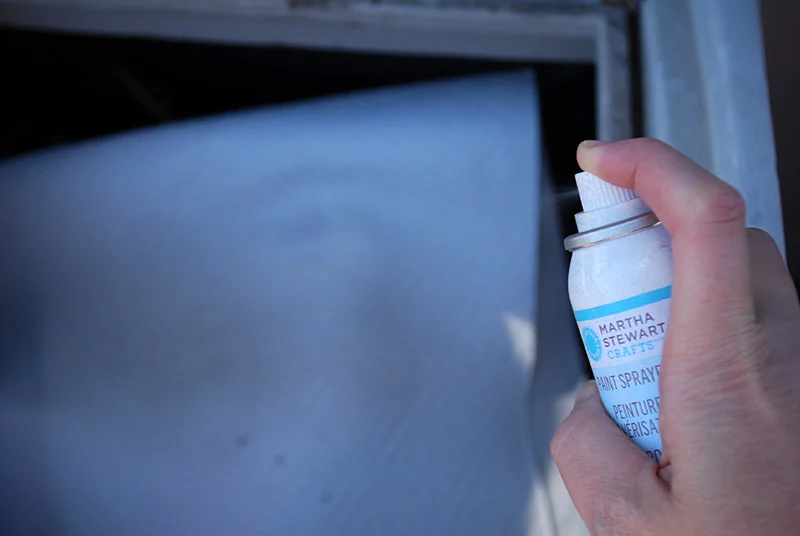 Be sure to clean the red sprayer area too.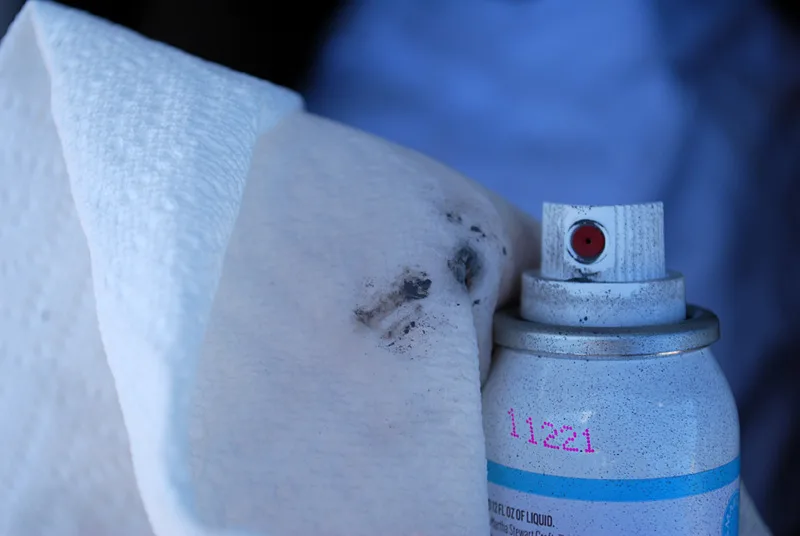 Use paper towels or baby wipes to clean as much paint off as you can. Now the sprayer is ready for your next custom spray paint color!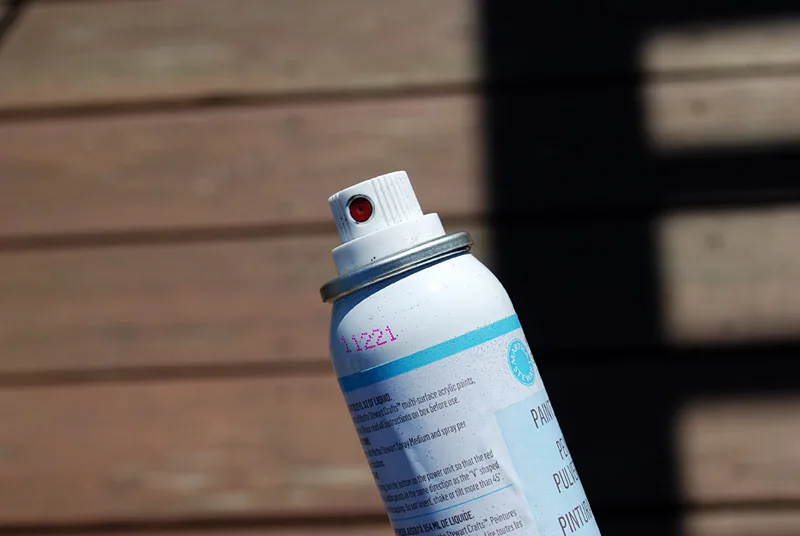 Martha Stewart Crafts and Plaid gave me the Satin Finish Spray Paint Kit, paints and assorted other goodies but all opinions here are mine. Happy spray painting!