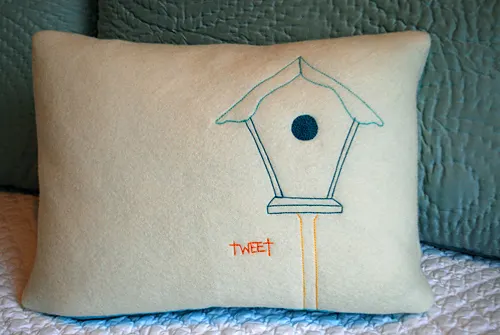 My friend K.C. MacQueen asked me to be an artist for the second annual Pritzker School Community Art Project: "Birdhouses." Artists create a birdhouse for display in local Wicker Park stores. Home Tweet Home graced the front store window at Stitch boutique in Bucktown for two weeks before being auctioned off.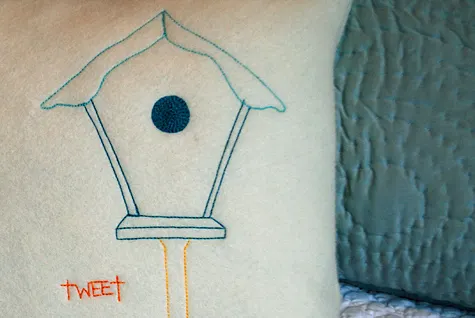 I'm more of a fabric than a hammer type of girl so decided to make a pillow. And you're going to flip when you see my tissue paper tracing sewing machine embroidery technique. It opens up so many possibilities!
The birdhouse pillow was inspired by a wrinkly 1969 vintage linen calendar from my extensive collection (I'm a junkie).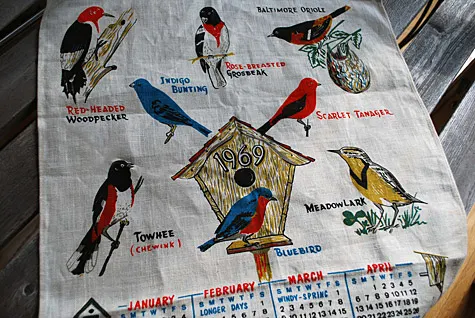 I traced the birdhouse onto tissue paper, lengthened the pole and pinned it to the front of 100% wool felt.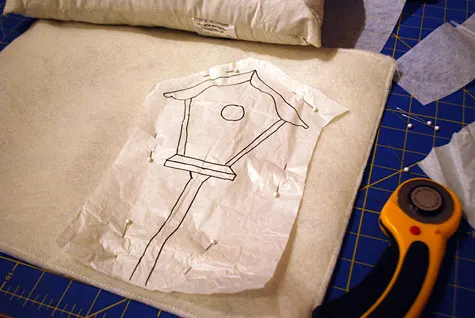 Then I sewed through the tissue paper onto the wool using colorful teal, light blue and yellow thread …and tore away the tissue paper to reveal the sewn image.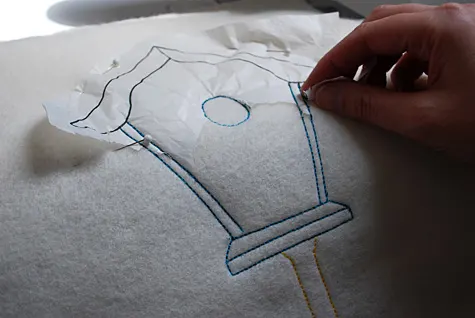 I added a handwritten "tweet" detail in orange using the same technique.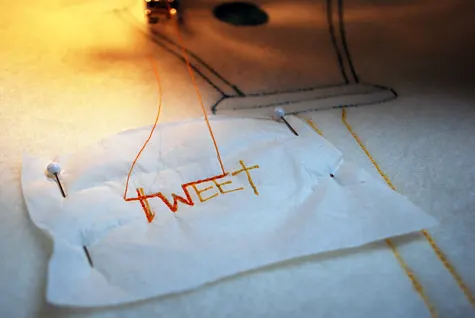 I'm excited about devising this tissue paper technique on my own – even though others may have already uncovered it. I dislike fabric ink pens especially on nice fabric because it never really full disappears. And you have to freehand draw right the first time.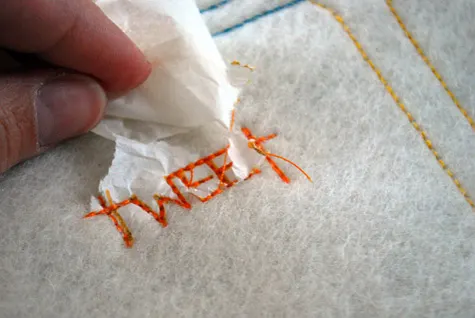 In contrast my tisssue paper method makes it much easier to keep drawing on paper until you get it right …or trace a reference piece like I did for this project …and sew your embroidery just right.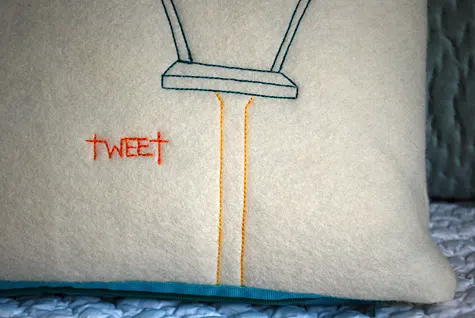 I closed the pillow with turquoise grosgrain ribbon zipper detailing that became a happy accident that I love.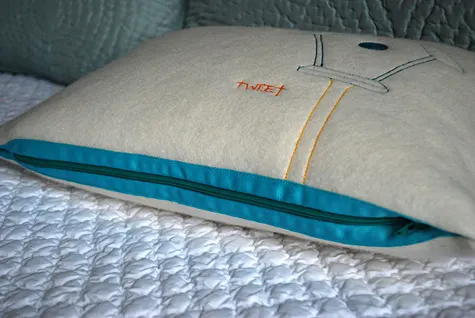 Here it is close up. The pillow insert contains down feathers, naturally 🙂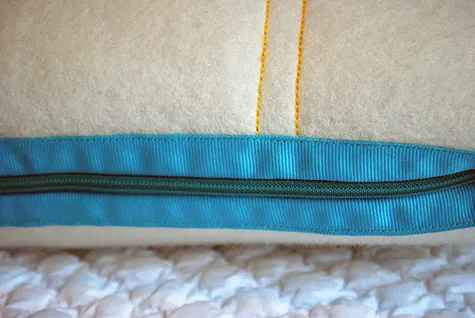 Using tissue paper and your sewing machine is a super fun way to adorn pillows, aprons, totes, dresses …you name it. So get out your Sharpies and sewing machines and get to it!
WANNA MAKE IT? Free template, supply list and DIY step-by-step instructions for creating my embroidered birdhouse pillow using tissue paper and sewing machine after the jump –>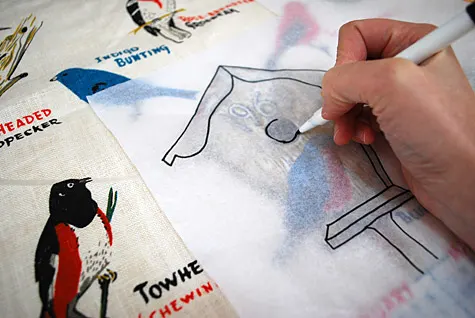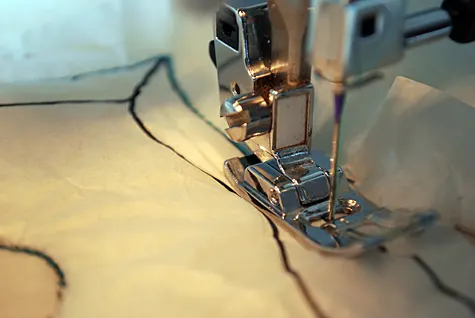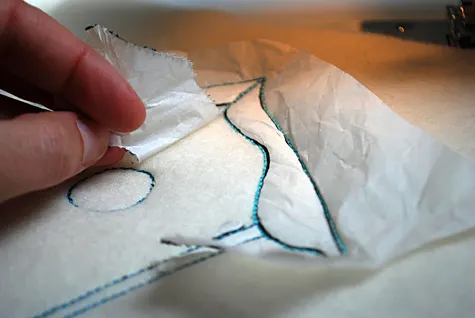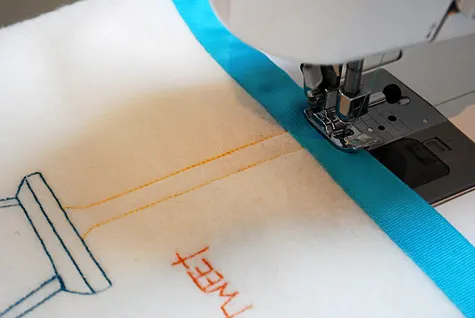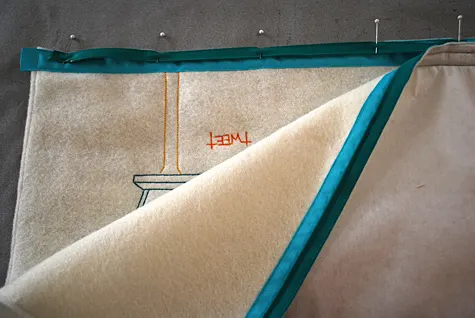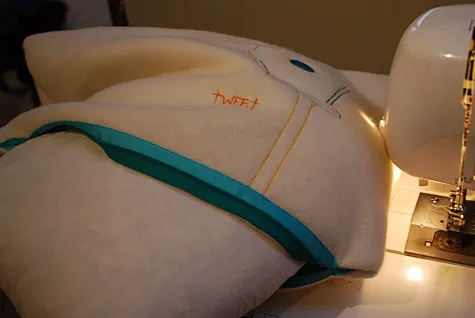 Supplies:
Please post a comment below if you use this project so I can smile when I see that it's being used. Craft and pass it on!
Cut fabric pattern pieces and embroider birdhouse
Cut two wool rectangles 13″ x 17″ each. Also cut two rectangles from the sew-in interfacing 13″ x 17″ each. Sew interfacing onto the wrong side of the wool sewing close to the edges.
Print my free birdhouse pattern template. Remember not to "fit to page" when you print. Place a piece of tissue paper on top of your printout and trace with a colored Sharpie pen that matches the color you'll be sewing (I didn't do this; I used black at first. Keep reading below to see how the "tweet" was much easier when I used a colored Sharpie). Test it first to make sure that the pressure you're using will not bleed onto what you're tracing.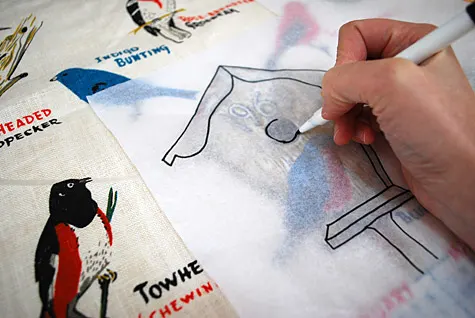 Pin the tissue paper tracing in place. Remember to leave 1/2″ for your seams when positioning your pattern.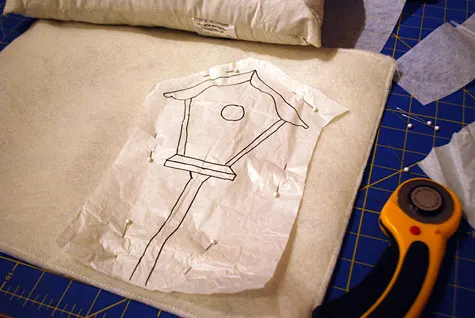 Sew using colored thread using the double stitch setting on your sewing machine. Or if you don't have a double stitch setting you can stitch once and then stitch again on top of it if you'd like the stitching to be more prominent.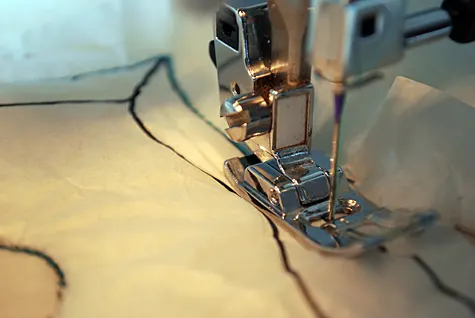 Carefully peel away the tissue paper to reveal the stitching.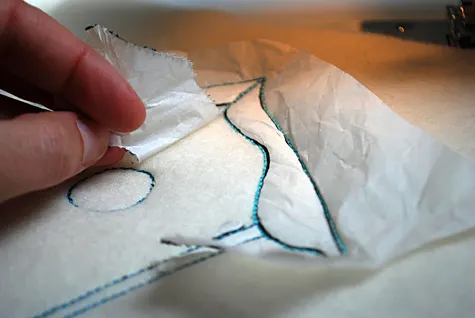 Clean up any stubborn tissue bits using a needle. Use a bit of water for stuck pieces. Here's where in hindsight I recommend using a colored Sharpie that matches the thread color you'll be using in case you miss any tiny bits.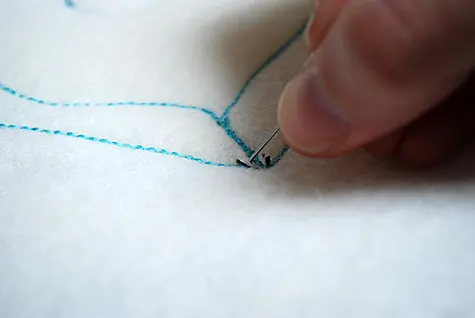 Embroider the hole in the birdhouse by sewing in a circle using a double stitch until the entire area is filled in with thread.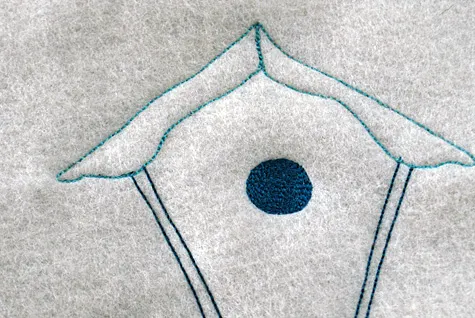 Add "Tweet"
Cut out the "tweet" template …or do what I did …just write "tweet" on a piece of paper until you like it. Then trace onto tissue paper using a Sharpie pen that's the same general color as your thread (I learned after using a black marker above that a colored Sharpie will be more forgiving).
Pin the tissue paper "tweet" onto the pillow.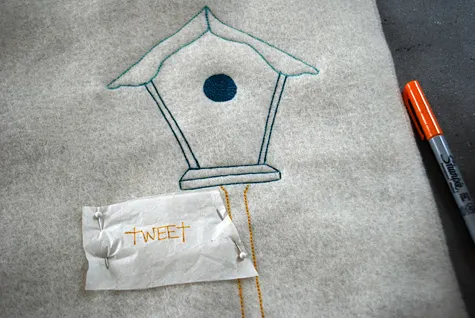 Sew using a double stitch setting on your sewing machine. Sew the longest continuous line possible at at time.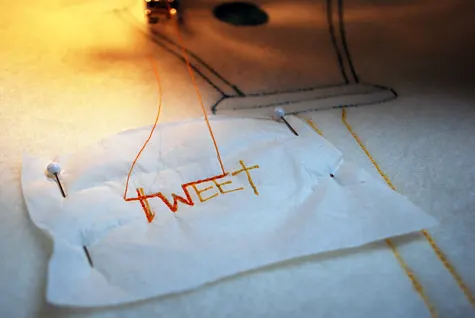 Carefully pull away the tissue paper. See how using a colored Sharpie pen makes this step even easier? And again you can always use a needle and water to get out any stubborn tissue bits.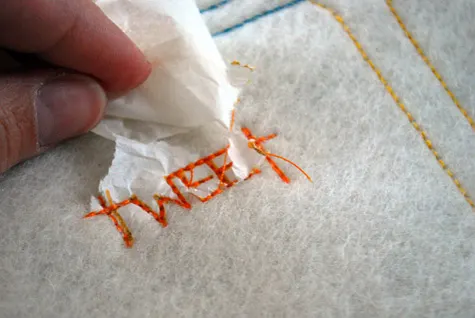 Your finished "tweet" will look like so: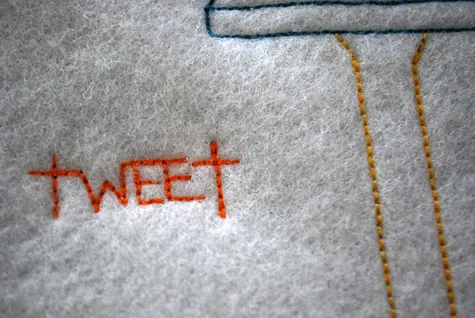 Add grosgrain ribbon zipper detailing
This started as an idea to bind the pillow with grosgrain ribbon on all four sides. It morphed into something better. Oh, happy accidents!
Cut two pieces of grosgrain ribbon to fit across the width of your pillow. Pin one to the bottom edge of your front piece.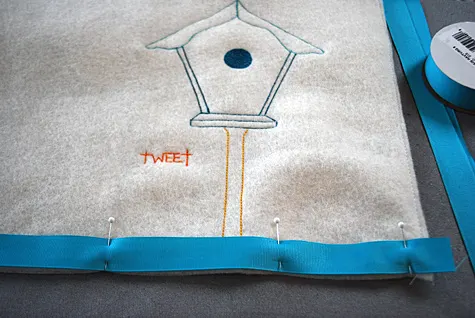 Sew very close to the edge on both sides of the ribbon.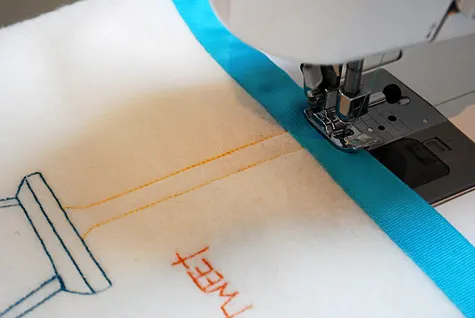 Repeat on the back side with the other cut ribbon.
Put your zipper centered face down on the right side of your pillow back. Line up the outside zipper edge with the pillow edge. Pin.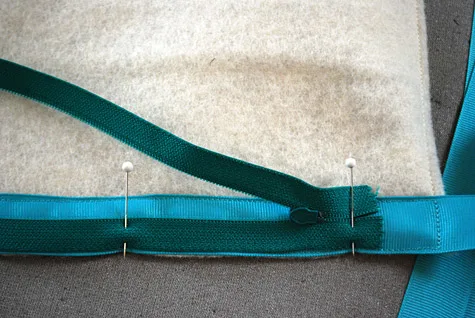 Sew using a zipper foot very close to the zipper teeth.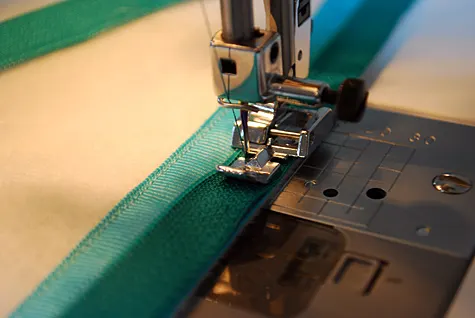 Line up and pin the other side of your zipper to the right side of your pillow front.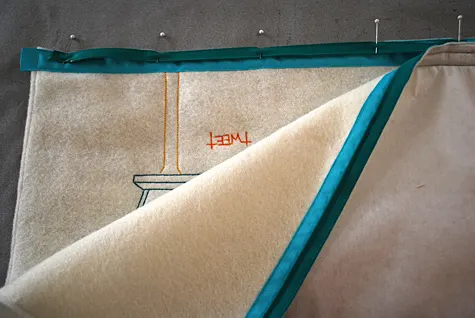 Sew using your zipper foot close to the zipper teeth.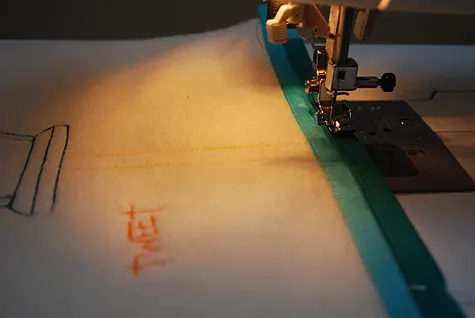 Attach the front and back
With right sides together line up your pillow front and back. Sew the right side of your grosgrain zipper detailing 2 inches and backstitch; I backstitch here back and forth a lot so the stitches won't pull when zipping/unzipping. Repeat on the left side.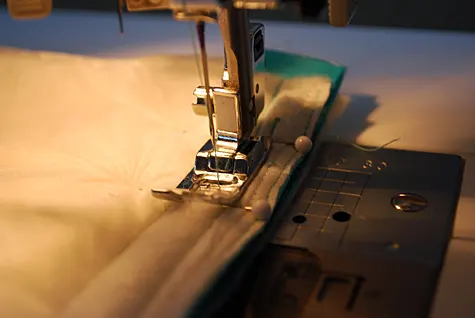 Unzip your zipper if you haven't already; otherwise you'll sew the pillow shut! Continue around the pillow, stitching the side and top seams using 1/2″ seam. Ensure your edges are even; I tend to avoid pins when I can but that's your call.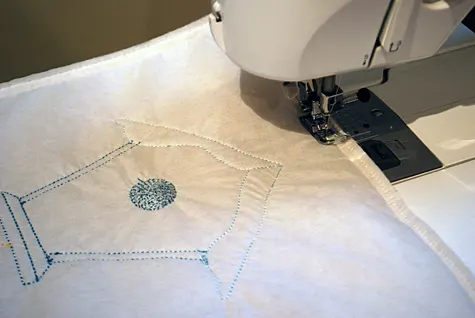 Turn the pillow right side out.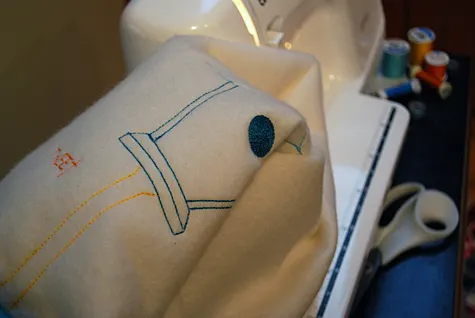 Stuff the pillow using a down pillow insert. Zip closed.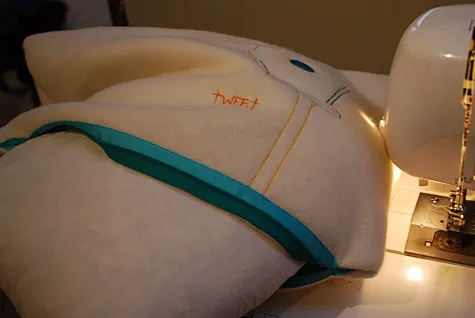 COPYRIGHT NOTE: You're more than welcome to use this idea and project instructions for personal use. Contact me for any commercial use – this includes etsy sellers.
Please post a comment below if you use this project so I can smile when I see that it's being used. Craft and pass it on!