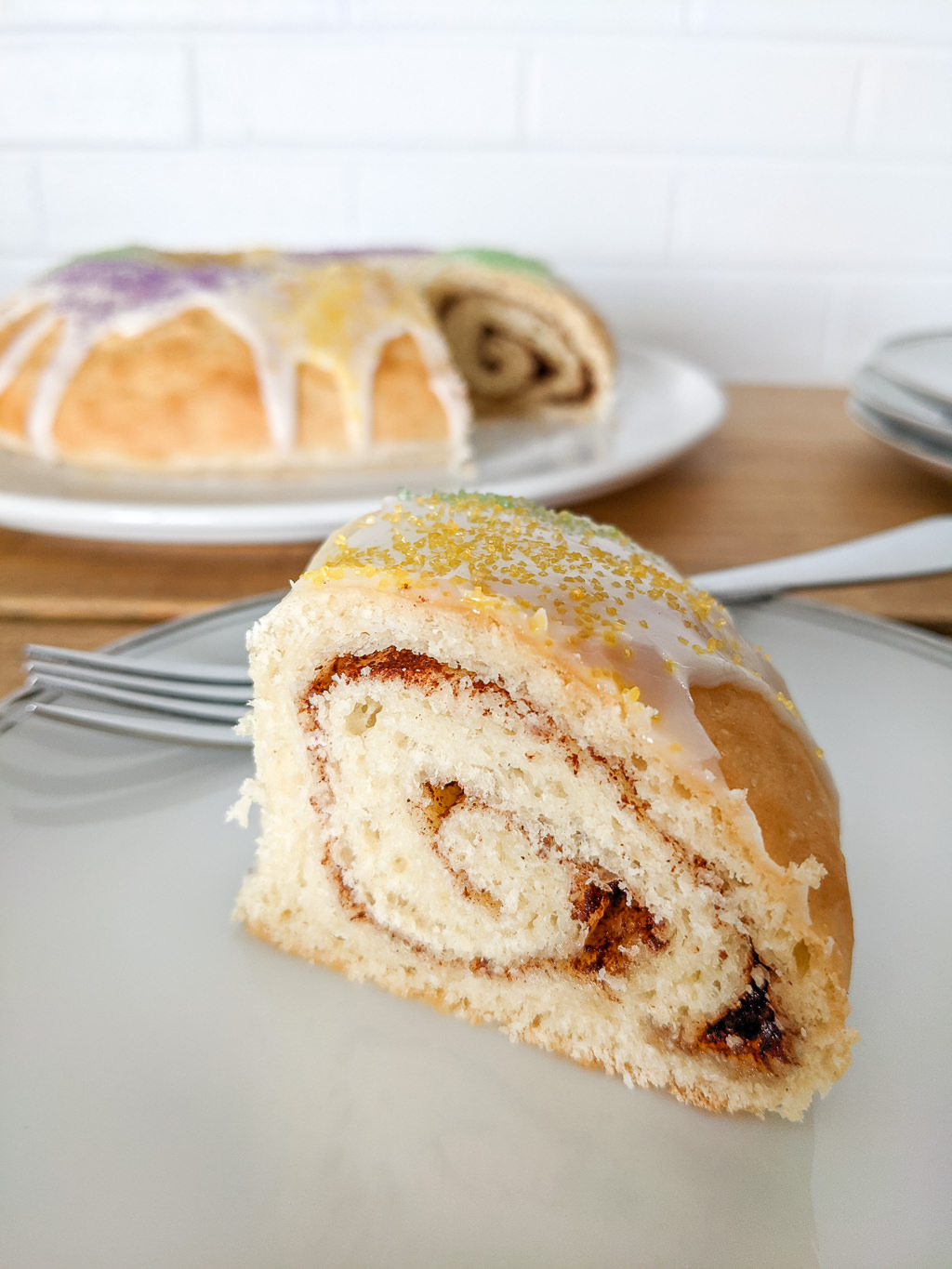 Ready to let the good times roll? Here's my take on how to make an easy King Cake for Mardi Gras for those us who can't head on down to Bourbon Street. This Louisiana-inspired dessert is a fun treat to bake for your family and friends to get into the Mardi Gras spirit at home. And yep, there's usually a plastic baby hidden inside for one lucky person to find. We'll get to that part in a bit.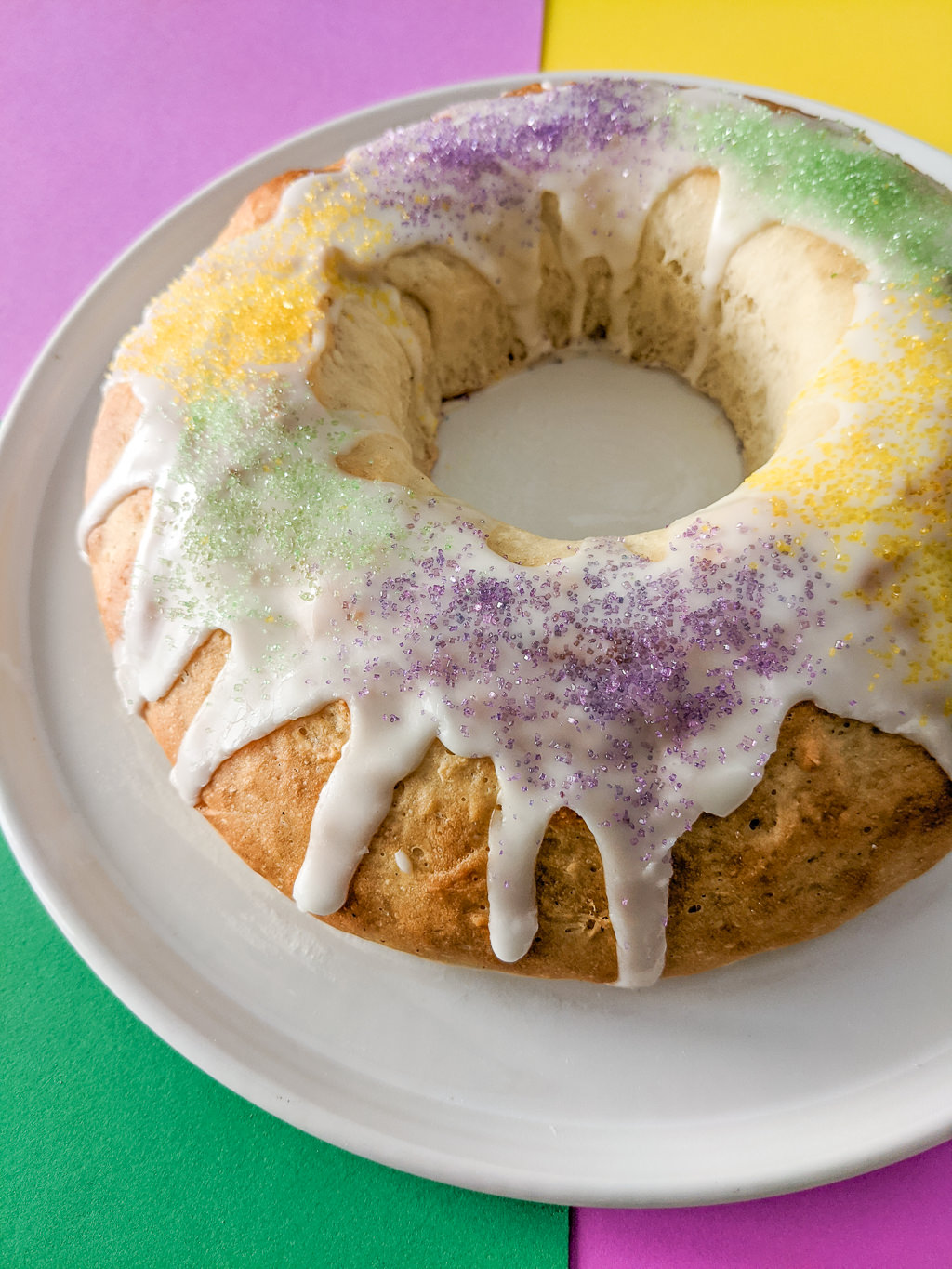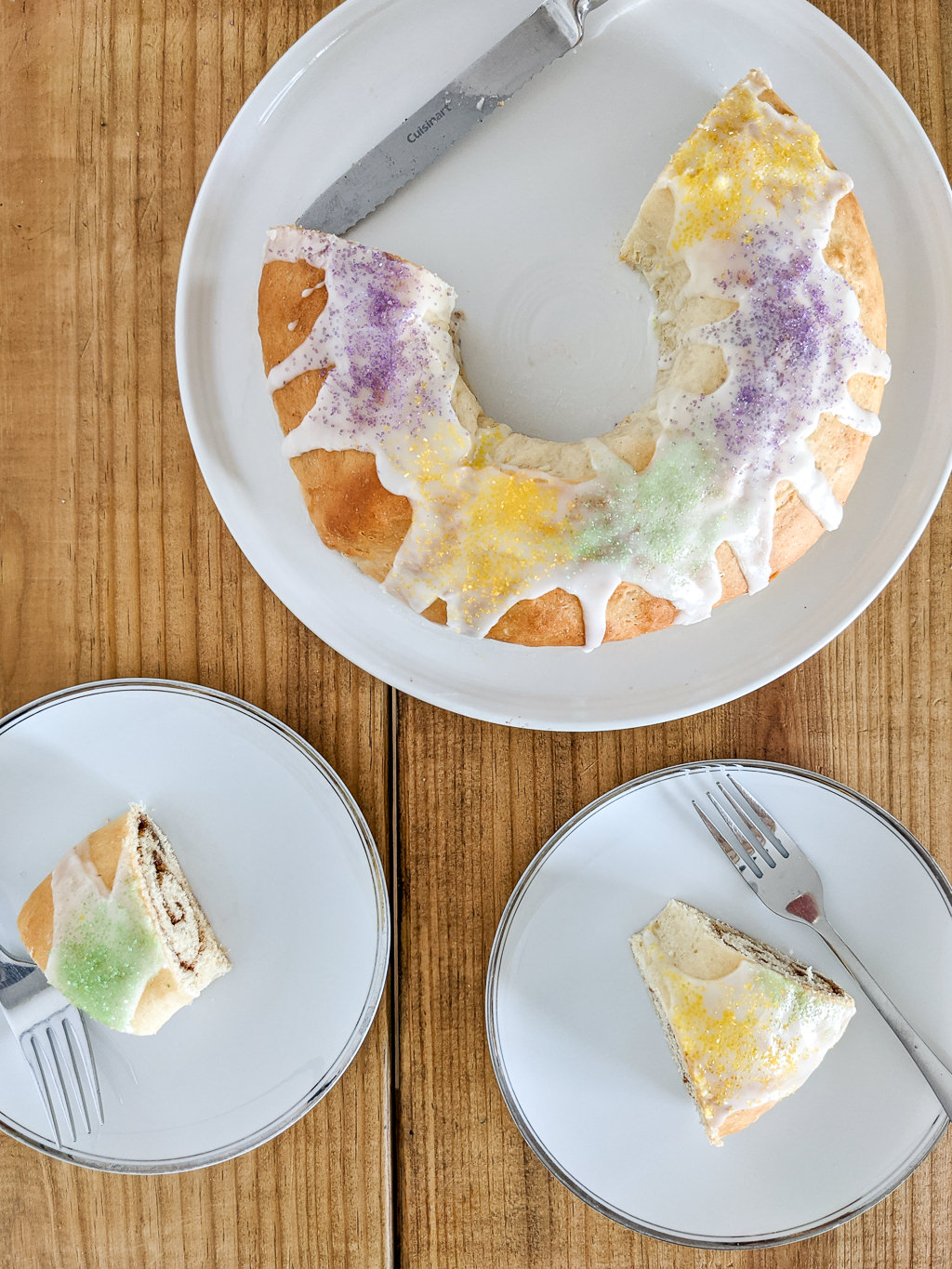 What is a King Cake?
A King Cake is a sweet yeast bread from New Orleans that people eat during the Carnival season. While you can buy it online from a New Oreleans bakery such as Haydel's Bakery (or often at your local grocery store), it's super easy to bake and decorate a fresh King Cake yourself at home.
My easy take on a traditional King Cake recipe
Traditional King Cakes are more like sweet yeasted breads than crumbly cake. Some of the New Orleans bakeries add yummy fillings like mascarpone whipped cream, blueberries, cheesecake, lemon, crunchy pecan praline caramel, and more creative fillings. My take on the king cake keeps things simple with a cinnamon sugar filling in an easy, round circle shape. I actually made a half recipe of my mom's famous Swedish Tea Ring cinnamon roll wreath and used a neat trick with a Ball jar to make sure this smaller size keeps its shape while proofing.
See also: "Snow Day Scones" easy berry scone recipe >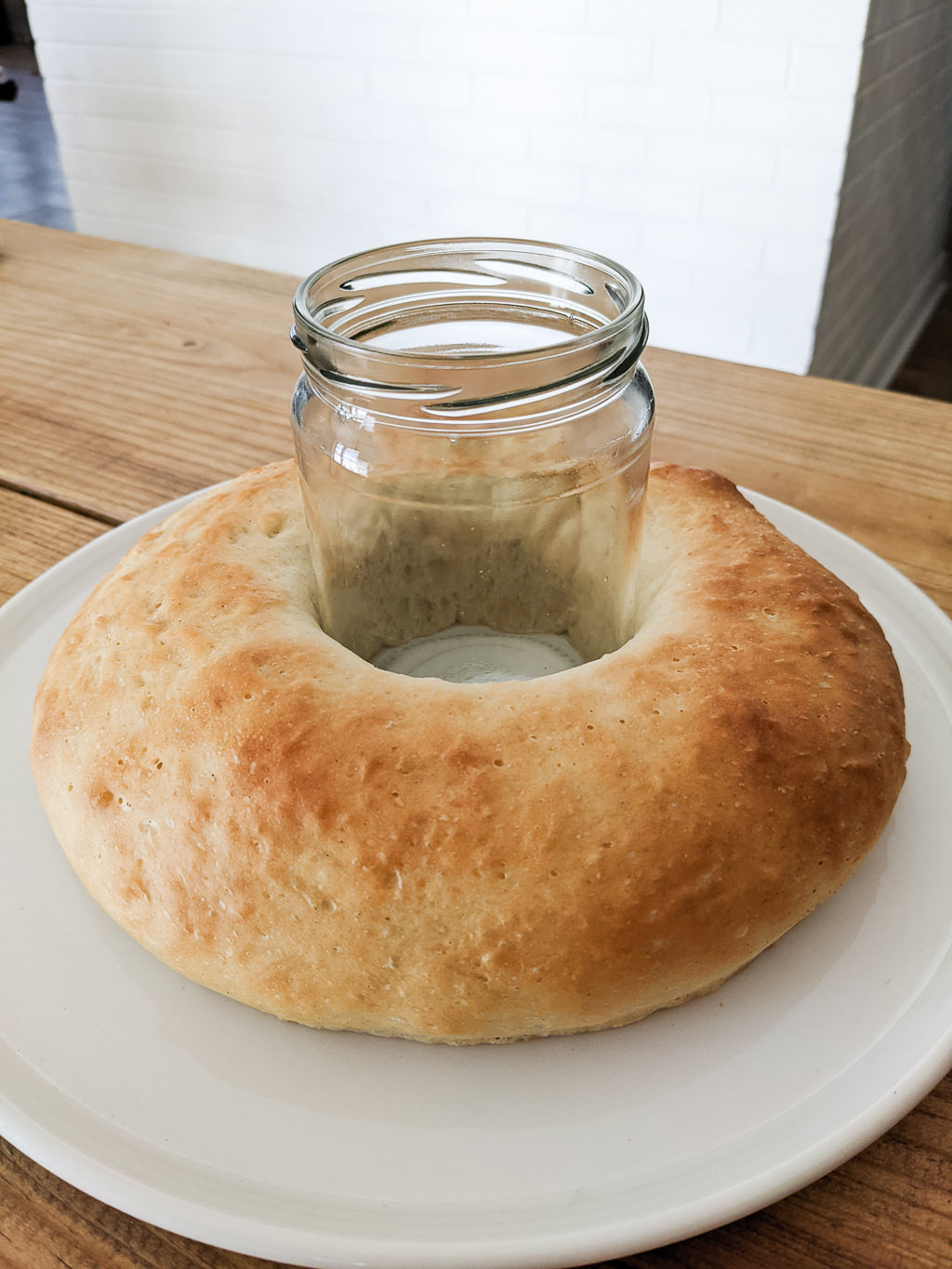 When should I make and eat a King Cake?
You can make and eat King Cake during the Carnival season which begins on January 6 (the feast of the Epiphany) and ends on Mardi Gras Day, which is the day before Ash Wednesday.
How do you hide a baby in a King Cake?
Apparently, the baby used to be made out of porcelain. Today, many babies are made from plastic so personally I do not bake it. Instead, I recommend putting the baby into the cake after it's baked and cooled. Simply make a slit on the bottom of the cake and tuck the baby inside so people won't know where it is when cutting.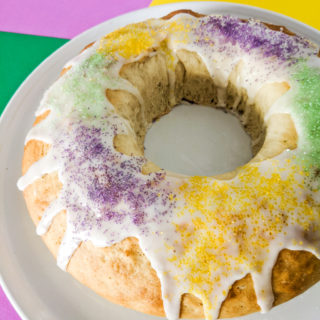 King Cake for Mardi Gras
Easy King Cake recipe for Mardi Gras with cinnamon sugar filling, icing, and optional sprinkles (and yes, you can add a plastic baby)
Ingredients
King Cake
1/2

cup

milk

1/4

cup

sugar

1

tsp

salt

1/8

cup

butter

1/4

cup

lukewarm water

(not hot!)

1

package

yeast

2-1/4 teaspoons

1

egg

beaten

2-1/2-3

cups

flour
Filling
1

tbsp

cinnamon

1/2+1/8

cups

sugar

4

tbsp

butter
Icing
2

tsp

water

1/2

tsp

lemon juice

1/2

tsp

vanilla

1

cup

confectioner's sugar

sifted

Purple, green, and yellow food coloring

optional

Sprinkles

optional
Instructions
King Cake Dough
Scald milk (see my detailed instructions). Stir in sugar and butter until melted. Cool to lukewarm, about 110 degrees.

Put lukewarm water in a large bowl and sprinkle yeast on top.

Add milk and 2 beaten eggs and mix.

Add salt and 2 cups of flour. Beat until smooth. Stir in remaining flour one cup at a time.

When it begins to form a ball, put it onto a floured surface and knead for 10 minutes.

Place in a greased bowl. Cover with a wet towel. Rest 1-1/2 hours until doubled in size.

Punch down and roll into a 14″ x 18″ rectangle and brush with butter, leaving 1" un-buttered on all sides.

Mix sugar and cinnamon and sprinkle on top of the dough.

Place a Ball Jar or ramekin in the middle of your baking dish. Roll up from one end and bend into a circle around the jar, tucking ends together.

Cover with a damp towel and allow to double in size. See my instructions for a special tip.

Bake 25-30 minutes in a 350 degree oven until browned. Remove the jar from the center.

If you're adding a plastic baby, cut a slit on the bottom and tuck the baby inside after the king cake is baked and cooled.
Icing
Mix powdered sugar, lemon juice and 1 teaspoon of water and mix.

Continue mixing in the rest of the water until it reaches a drizzing consistency.

Drizzle on top of the king cake and decorate with sprinkles. Alternatively, you can dye the icing with food coloring before drizzling.
How to make a New Oreleans-inspired King Cake for the Carnival season
Step 1: Follow my instructions for making the dough.
This is the same process as making my mom's famous Swedish Tea ring dough so if you want more help on how to make the dough itself then go over to that recipe where my mom will walk you through it step-by-step.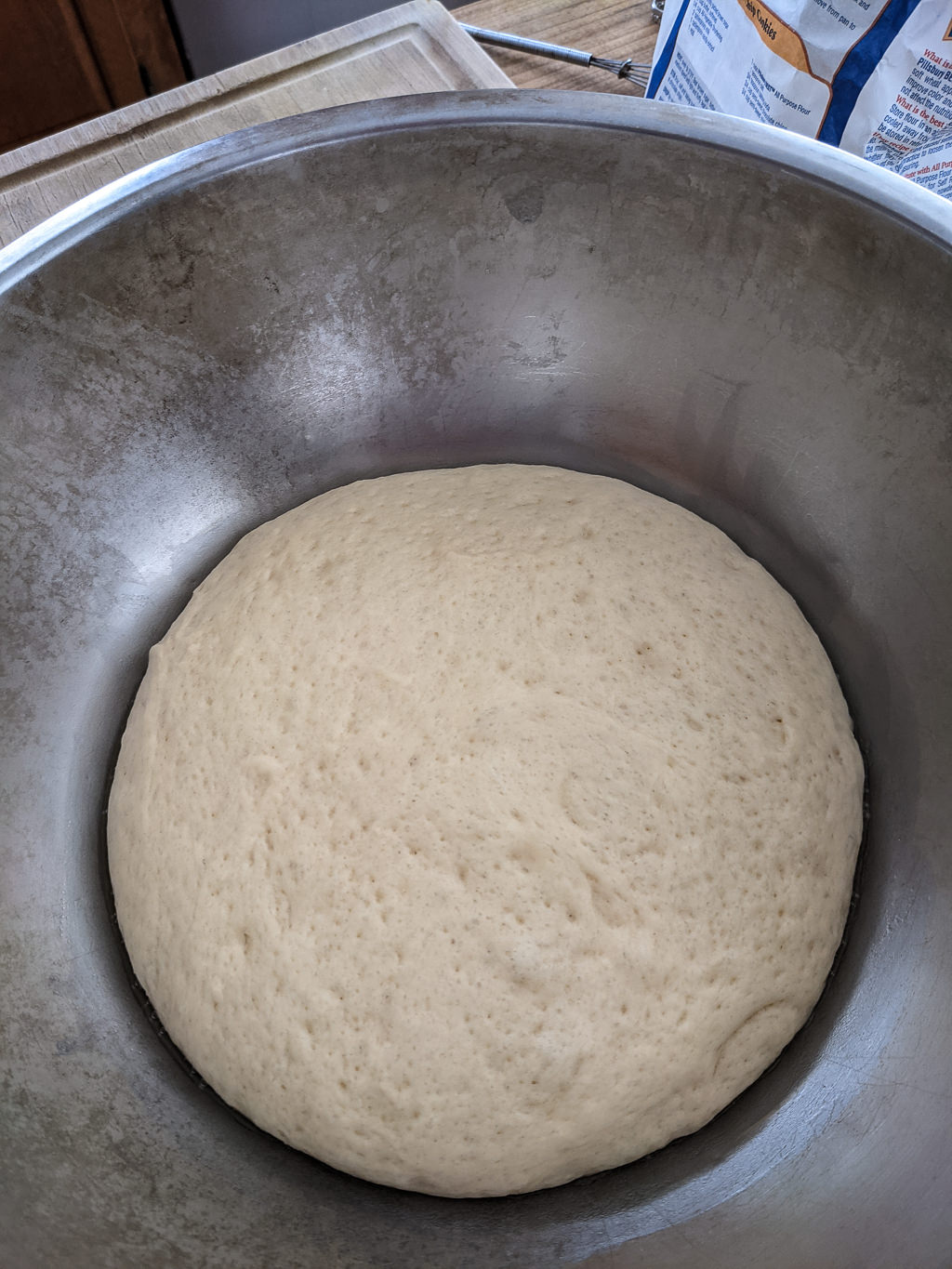 Step 2: Roll the dough into a rectangle
I rolled my dough to be about 13″ long and 9″ wide. Yep, I used a ruler but you can wing it.
Step 3: Spread softened butter onto the dough
As you can see, I should have let my butter soften a bit more before I spread it. Softened butter is easier to spread. I got a little impatient but hey, it still tasted great in the end. Spread the butter so that it's about 1″ away from all sides of the edges.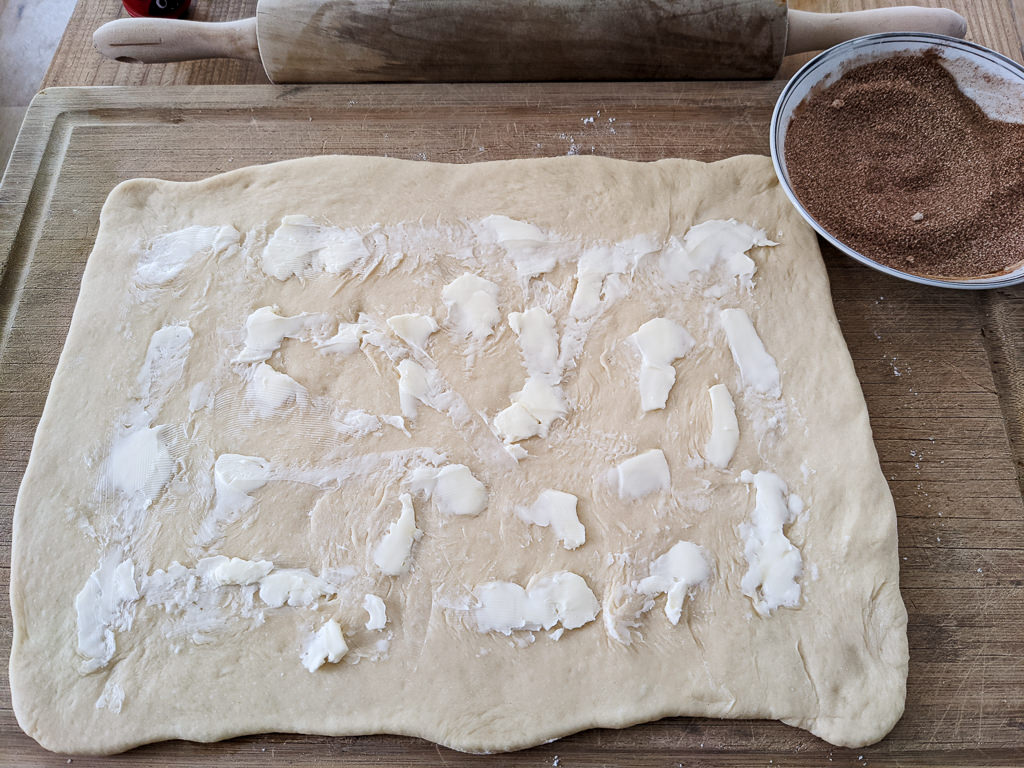 Step 4: Sprinkle cinnamon sugar onto the butter
Mix the cinnamon with the sugar in a bowl and then spoon it onto the dough leaving about 1″ on all sides without any cinnamon. Leaving a bit makes it easier for the dough to stick together when you roll it.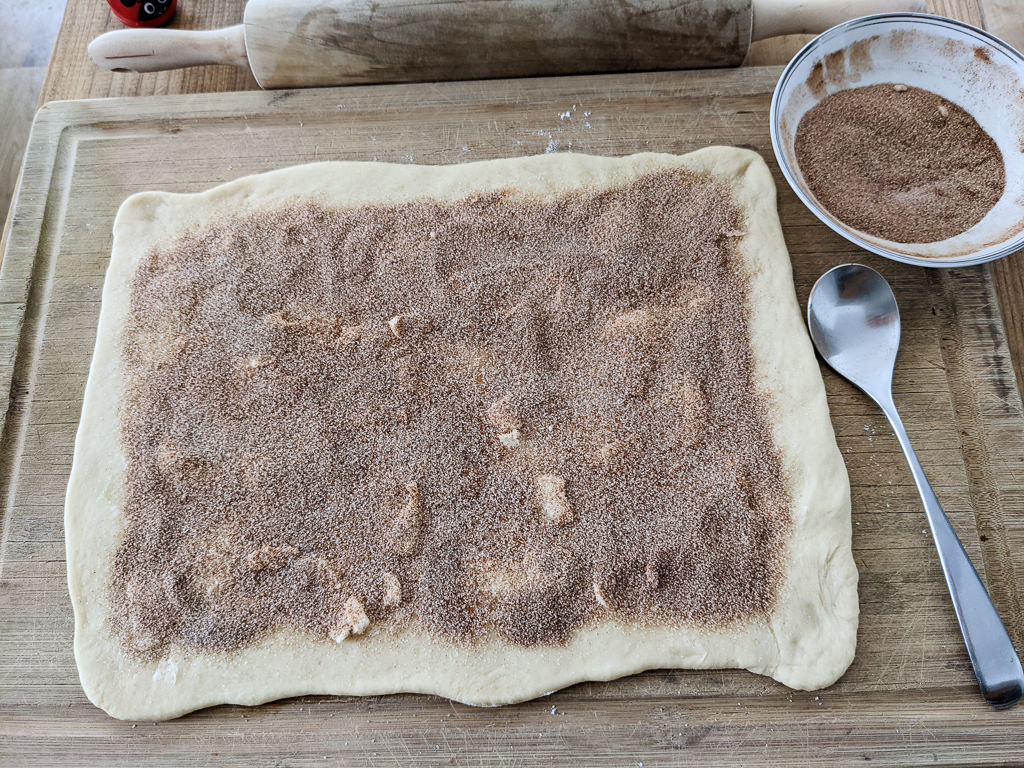 Step 5: Roll the dough into a log shape
Roll the dough up into a log shape. You can see how my edges weren't lined up perfectly but it still worked great. Some people insert the plastic baby at this point. Personally, I think it's a little sketchy to bake a plastic baby into something edible. Instead, I recommend inserting the baby after you bake and cool the King Cake. But if you really want to bake the plastic baby inside, this is the time to add it.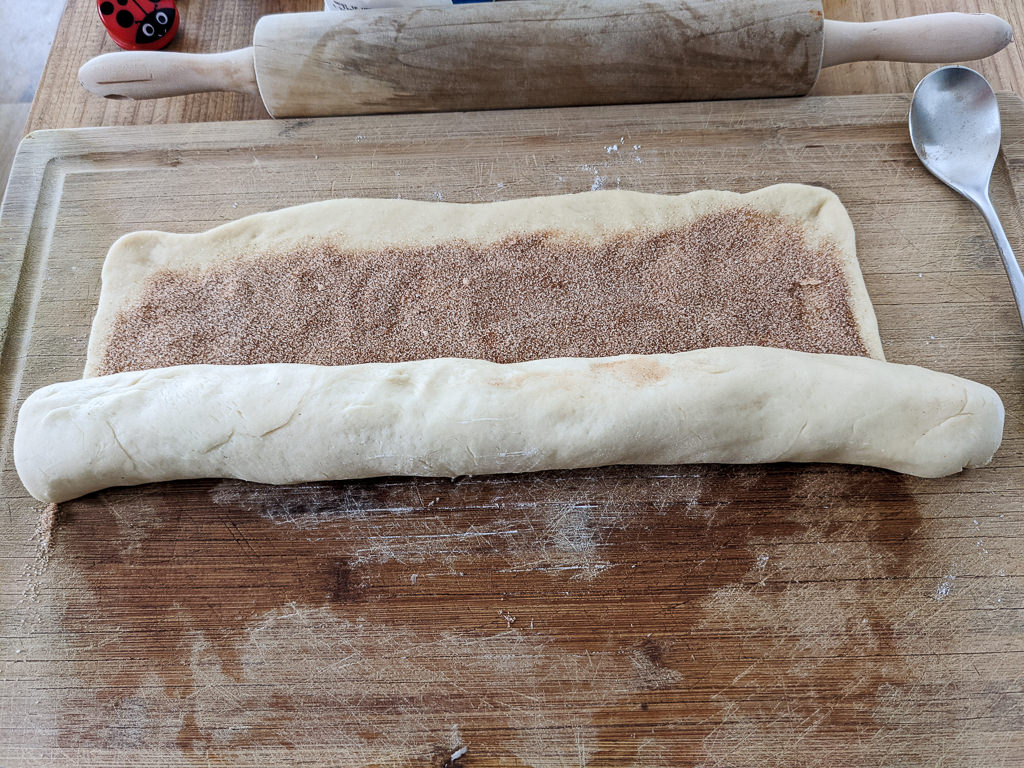 Step 6: Shape the dough log into a circle
Place an oven-safe Ball jar or round ramekin in the center of a white ceramic circle baking plate. Grease or butter the outside of the Ball jar or ramekin. Then wrap the dough log around the ball jar and seal the ends together. The Ball jar (or ramekin) will keep your circle from closing in the center when the dough rises.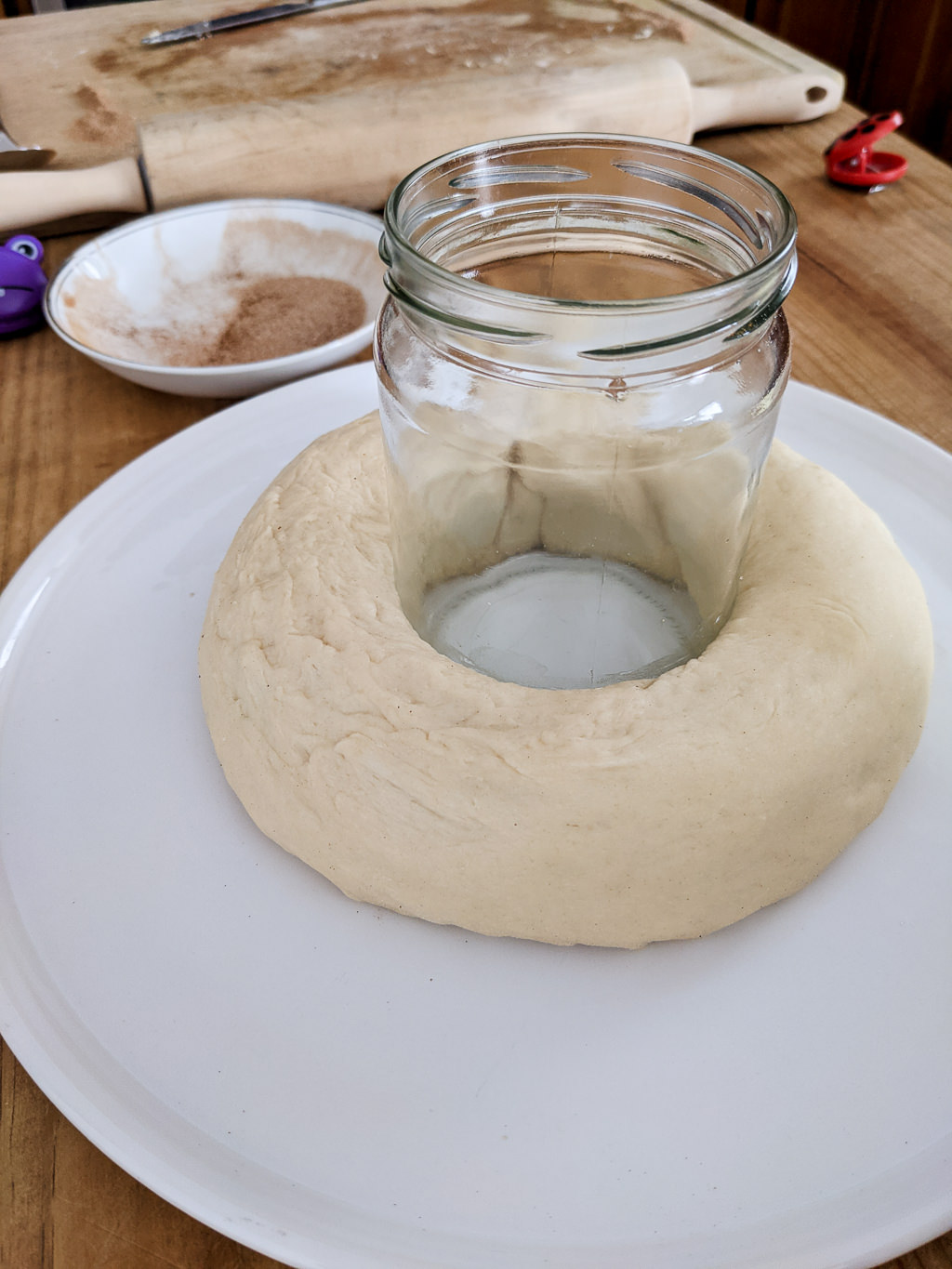 Step 7: Let the dough rise until doubled in size
Here's a neat trick for letting the dough rise: Lower your oven racks to the middle rack and bottom rack. Do not turn the oven on. Cover your king cake with slightly damp dish rag; the Ball jar will help hold it up so the rags aren't touching the dough. Now, put a Pyrex baking dish filled with boiling water from a kettle on your lower rack. Close the oven door and let the dough rise. Again, do not turn on your oven; the boiling water is all you need for warmth. Let the dough rise for 45 minutes and check on its size; you may or may not need to let it go longer until it has doubled in size. And yes, the oven at our rental is well-used, ha!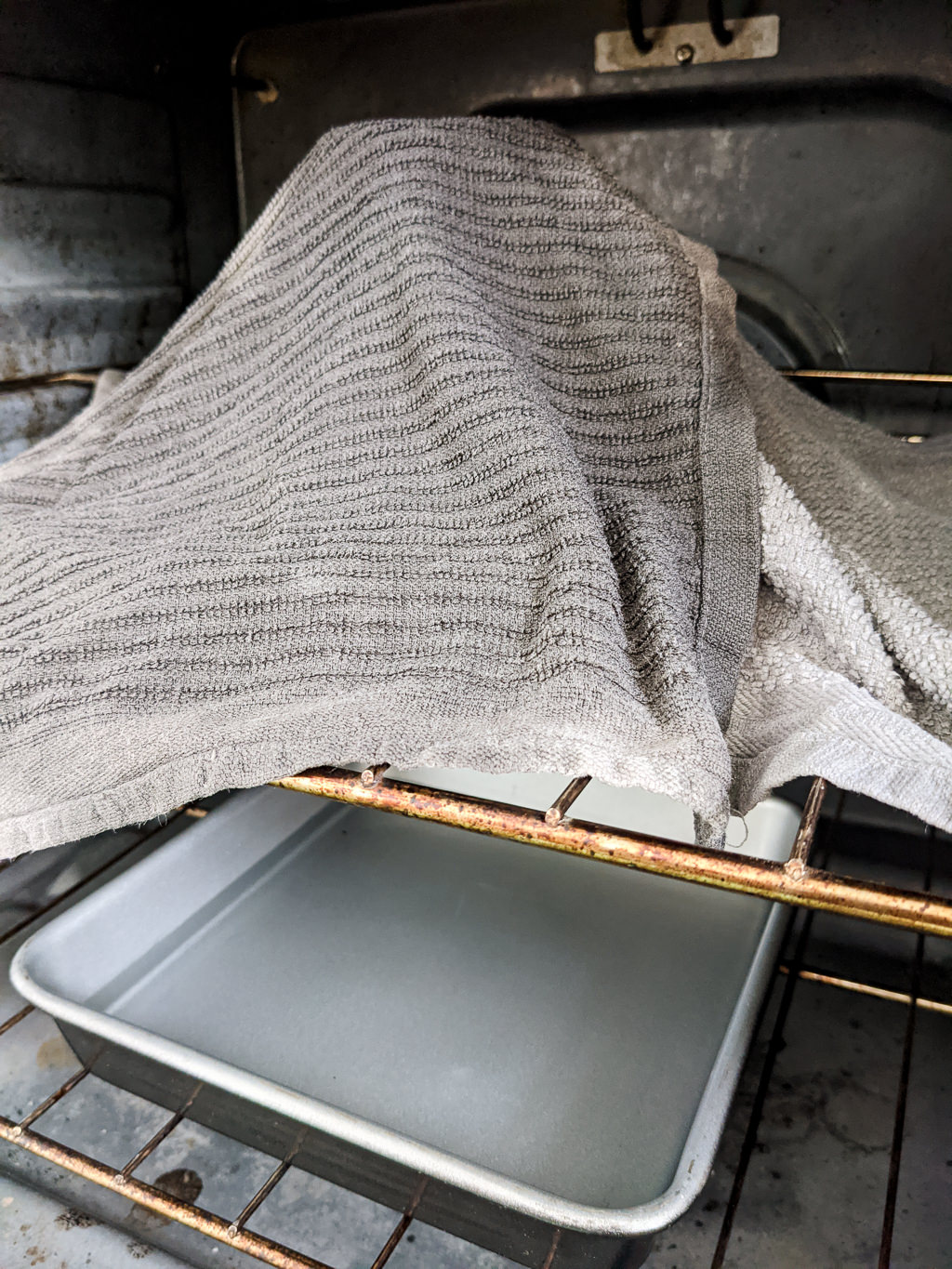 Here's what the dough looks like when it's doubled in size.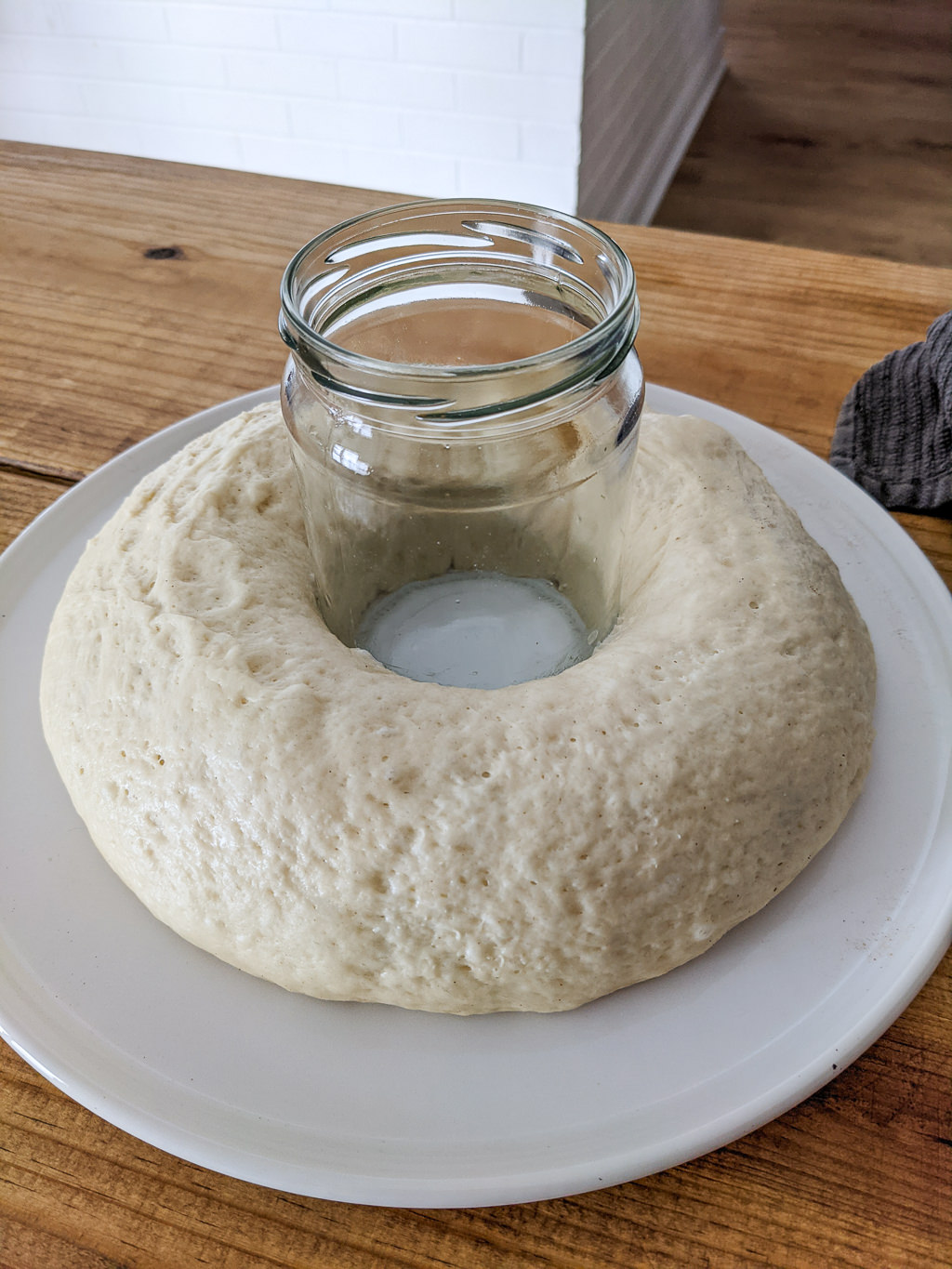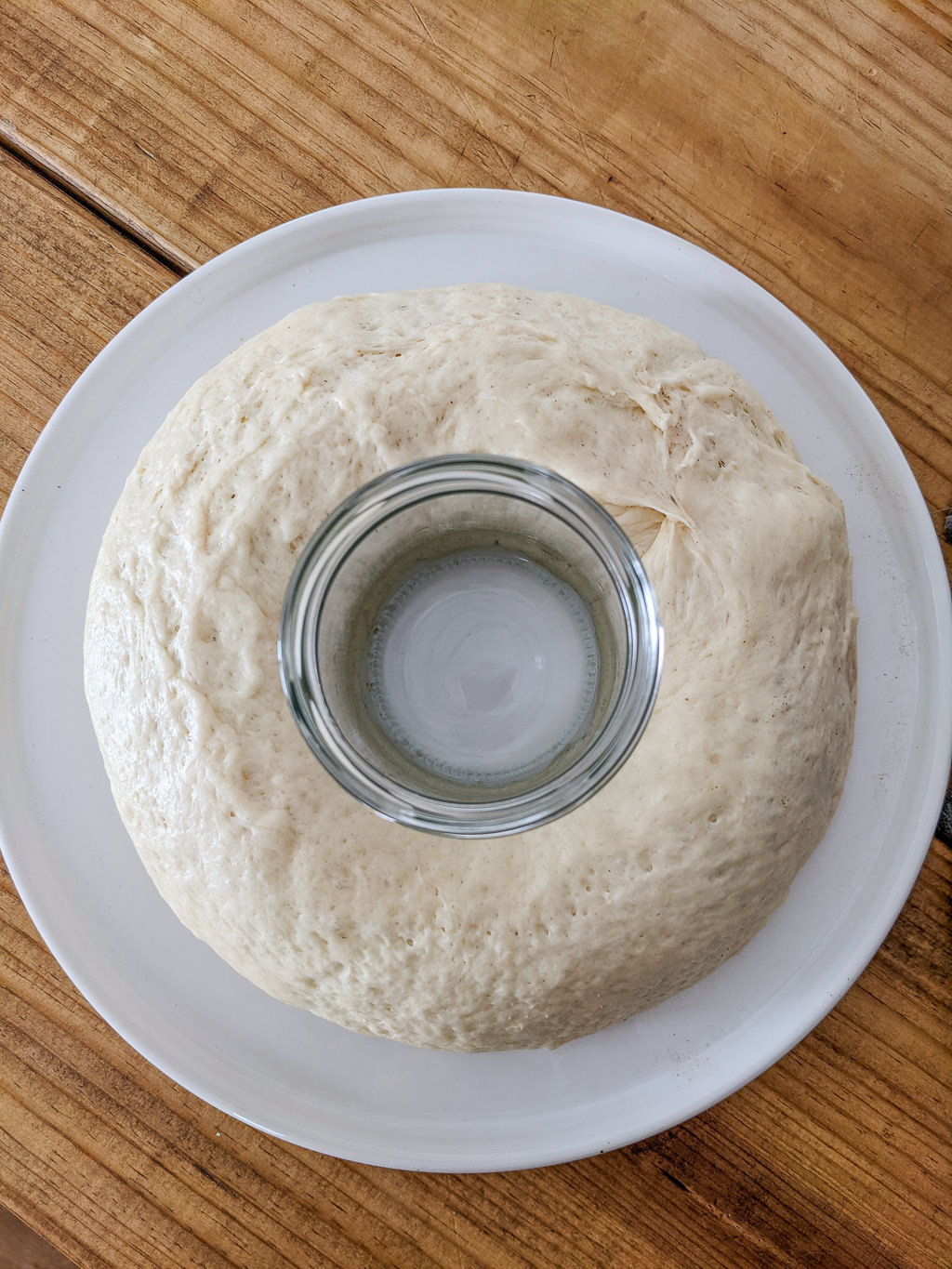 Step 8: Bake the King Cake
Preheat your oven to 350 degrees. Bake uncovered for 25-30 minutes until browned. Let cool.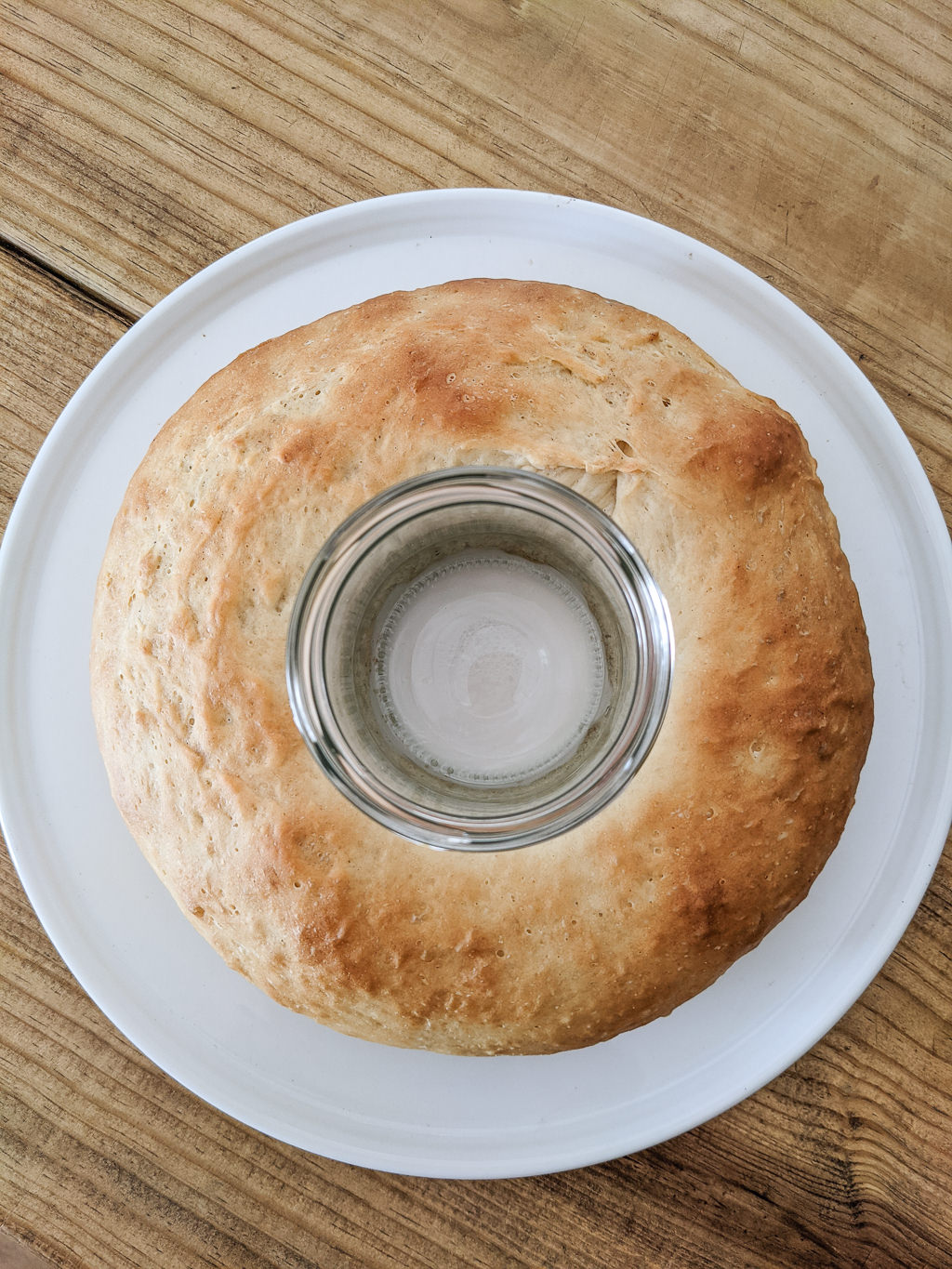 Step 9: Remove the Ball jar from the center and add the plastic baby
Carefully remove the Ball Jar or ramekin from the center of your King Cake. It should slide out easily because you greased it. Add the plastic baby by lifting the king cake, making a slit in the bottom and adding the plastic baby inside.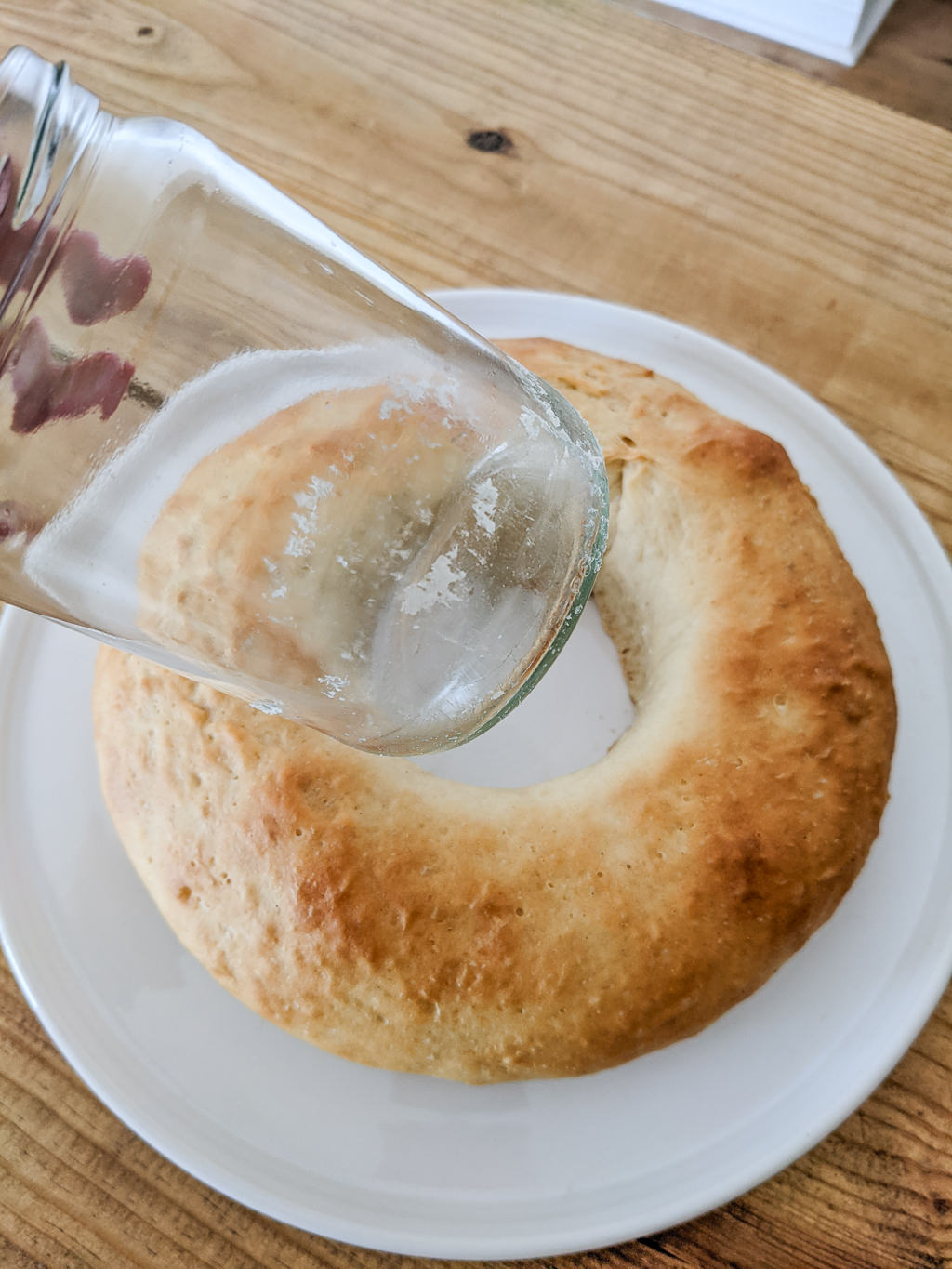 Step 10: Ice the King Cake
Mix the powdered sugar, lemon juice, vanilla, and 1 teaspoon of water. Add up to 1 teaspoon additional water until the icing reaches drizzling consistency.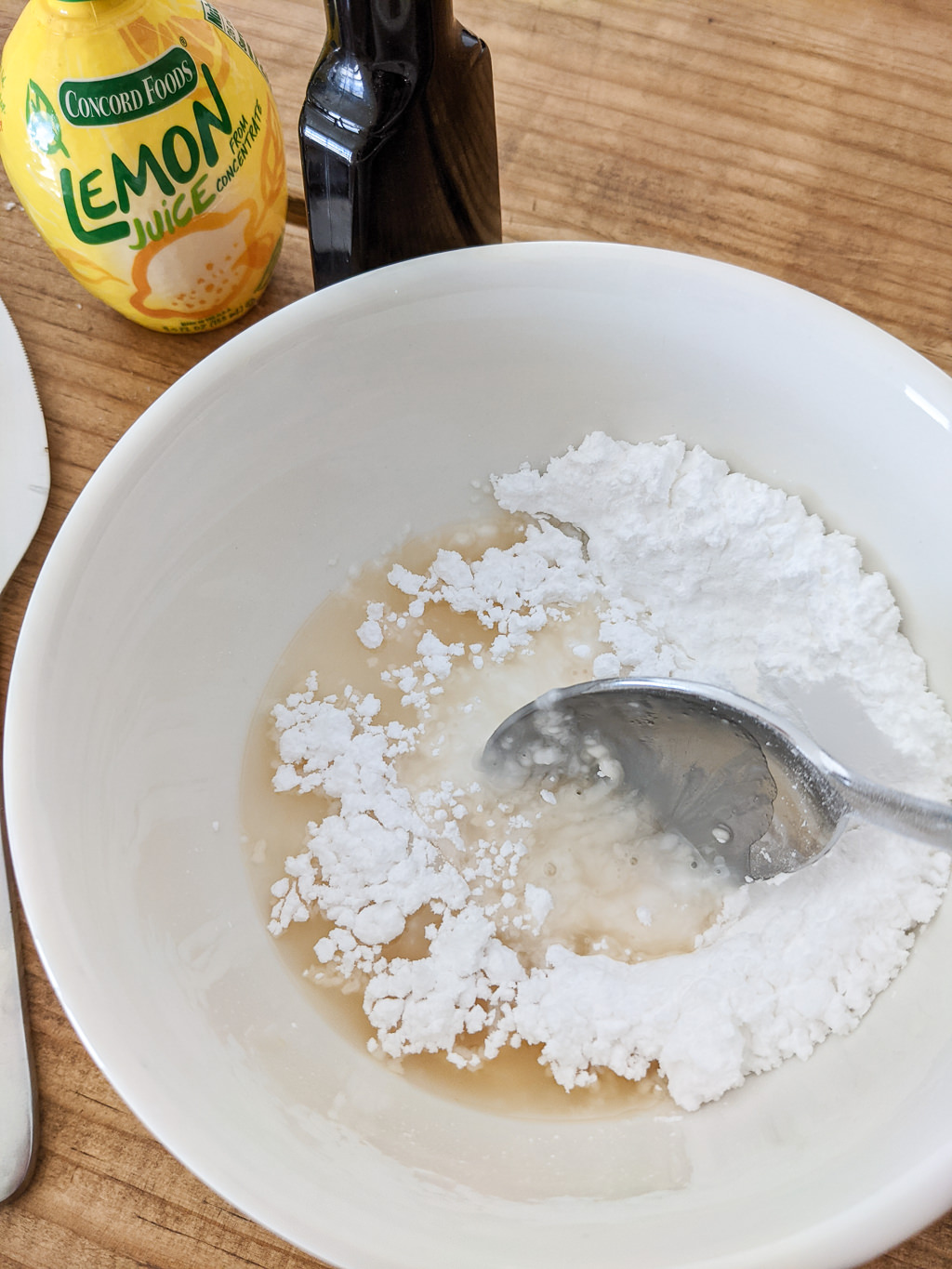 You can choose to add food coloring to your icing or decorate with sprinkles like I did. Clean up your plate using a paper towel. Let the good times roll!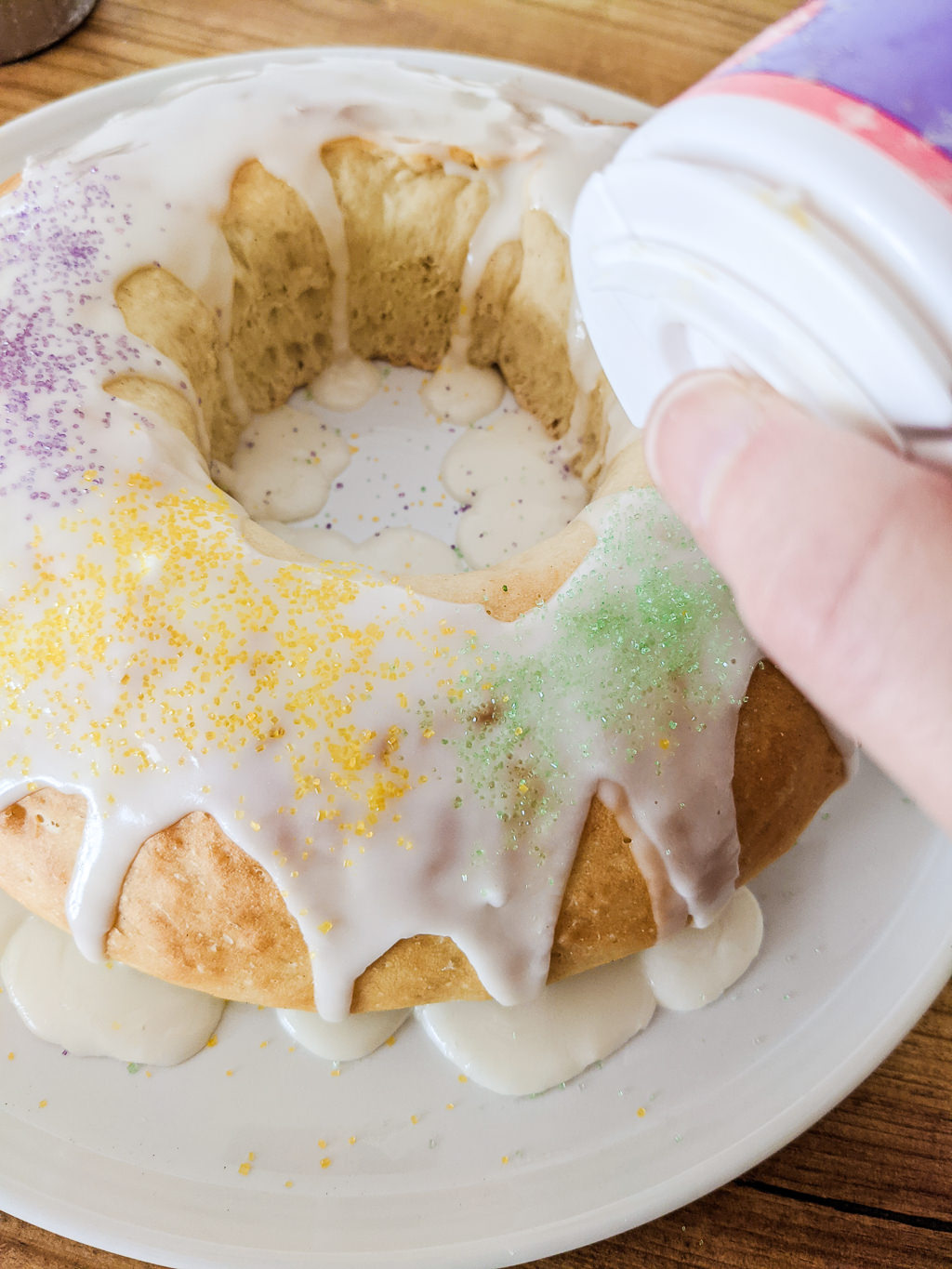 ++++++
Be sure to pin my easy King Cake recipe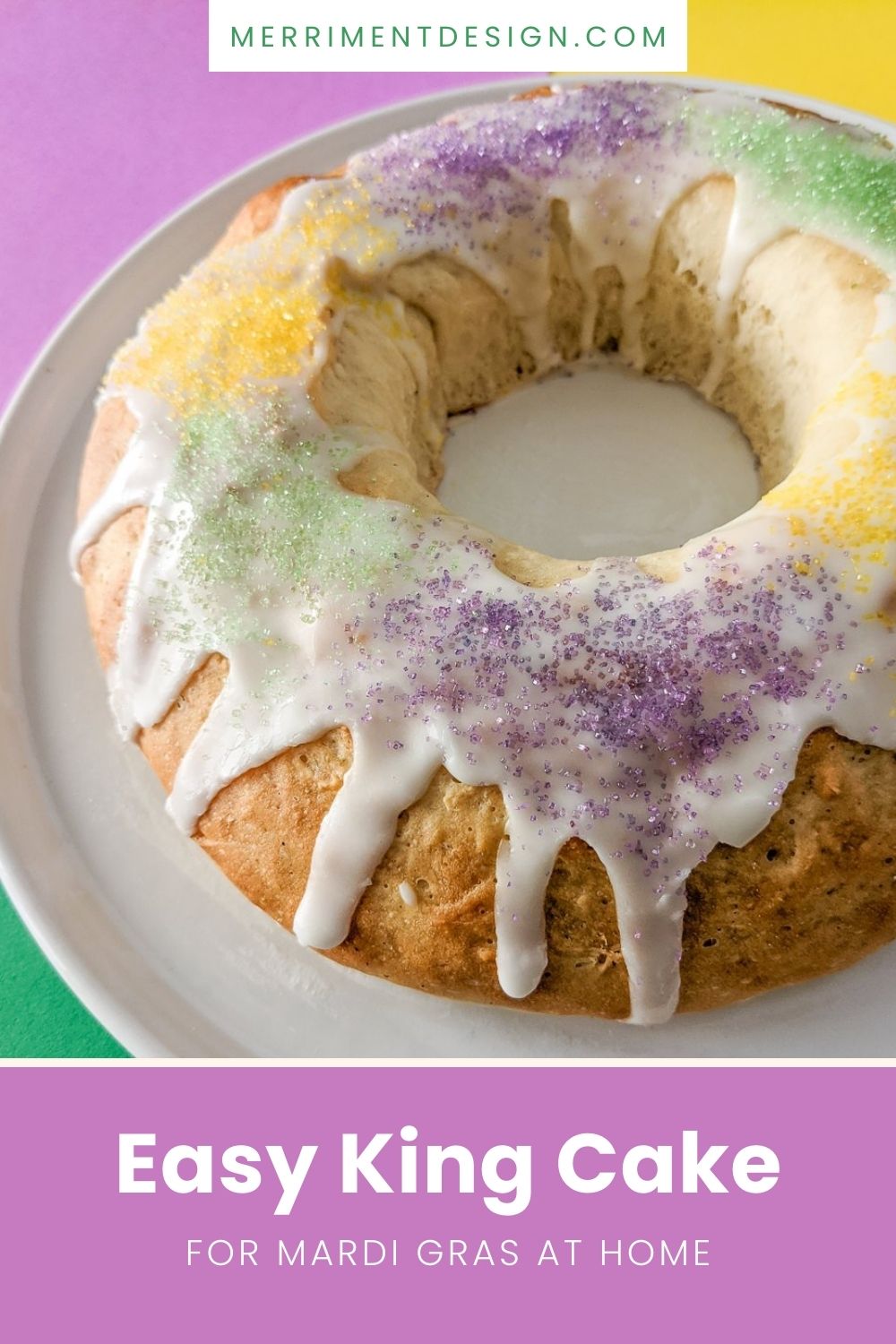 And be sure to see more of my easy cakes.
++++++
Like it? Share it!
The nicest way to say you like it is to pin it on Pinterest, post a comment, follow Merriment Design on Facebook, Pinterest, Instagram or sign up for monthly emails. Enjoy! 🙂
Copyright stuff: You're more than welcome to use my free project, printable templates, and tutorials for personal use. Contact me for commercial use and Etsy sales. Momma's gotta pay the bills.