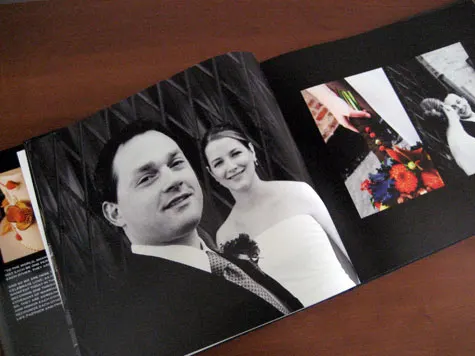 My first custom Blurb.com hardcover book arrived in the mail and I couldn't be more pleased with how it turned out.
My coworker Mandy first told me about Blurb.com's powerful, professional bookmaking software publishing service. While I've used Shutterfly's custom books in the past I was intrigued by Blurb's promise of bookstore-quality books and affordable pricing. So I decided to finally free my wedding pictures from their CD-ROM prison and give it a go.
What do you think of the finished product? Personally I'm really happy with it, especially for the price …I got a whopping 106-page 11″ x 13″ book for only $74.95! The paper quality is decent, the provided layouts give you lot of control, and the shiny custom cover is a nice touch.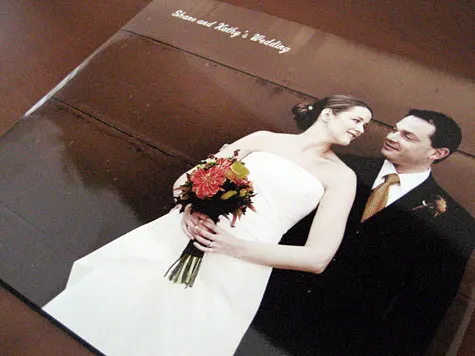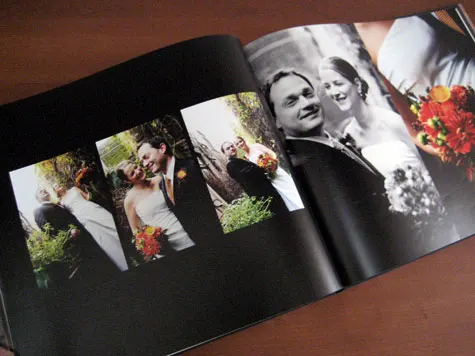 Here are some tips I learned while logging the, uh, dozens of dozens of hours using — and sometimes fumbling through — the Booksmart software to create my book:
Pick the largest photos spreads your photos can stand. It's a coffee table book, so let your photos shine.
Play with the full bleed picture layout and 'center align image (don't crop)' button to create a letterboxed look.
Collage pages look best if you use it on both the left and right pages of a two-page spread.
Avoid putting small photos on two adjoining pages. Instead, put small photos on, say, the left side and then one large full-bleed photo on the right.
Mix photos of people with photos of close-up details or landscape vistas for a professional look. Avoid too many photos of people in any one two-page spread.
Use the zoom tool to narrow in on cool details.
Mixing black & white and color photos can look really great, especially when mixed across a two-page spread.
Update: Love the idea but no time to make it yourself? Mandy Cornwell is offering her album creation services at Your White Album. Mention you read about it here at Merriment and get a $10 coupon off your custom photo album under 160 pages and a $25 coupon off 160+ page books.