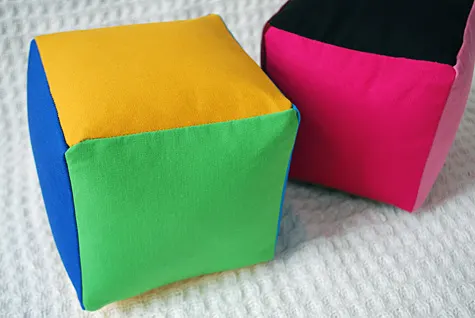 My baby Elise is four months old now. She can hold her toys in both hands and sit up assisted. I think this big girl is ready for some colorful jingly oversized 5″ x 5″ baby blocks!
I am really loving the colors that I chose …which sort of was a fluke. I just went through my fabric stash, cut squares and grouped them afterward. And well I think even my graphic designer friends would approve 🙂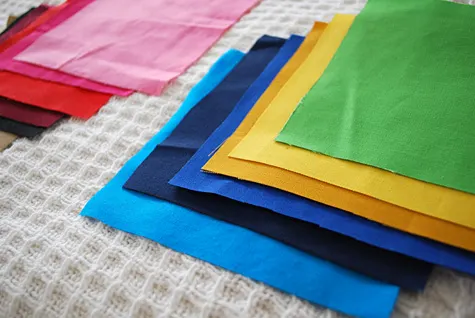 Block 1 – Fresh: Three shades of blue, one shade of green, with yellow and gold on the ends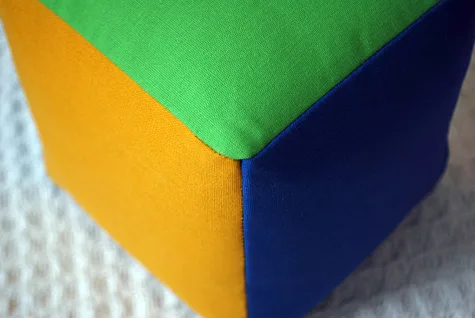 Block 2 – Warmth: Light pink, hot pink, burgundy and red with tan and black on the ends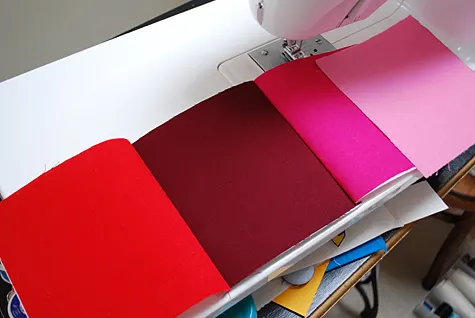 WANNA MAKE IT? Free template, supply list and DIY step-by-step instructions for creating my colorful fabric baby stacking blocks after the jump –>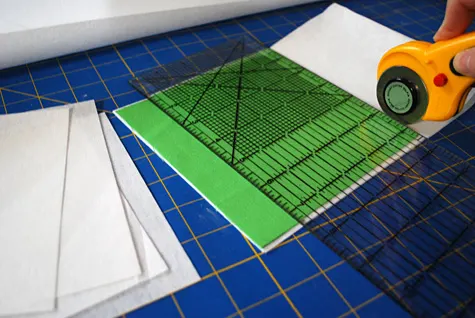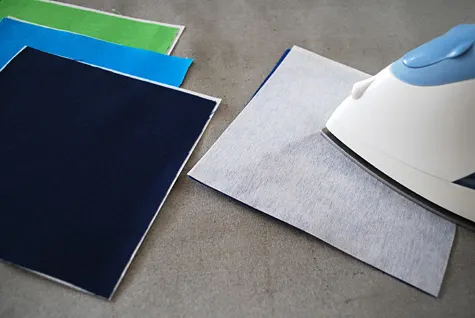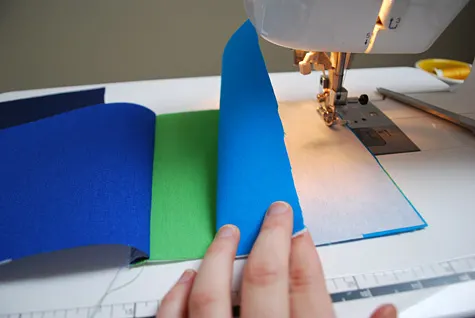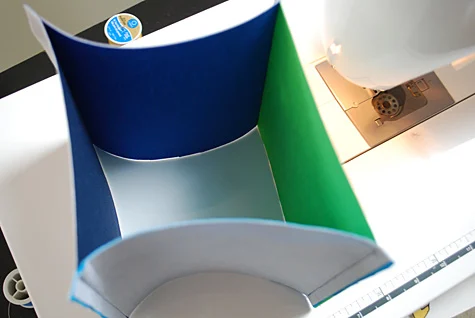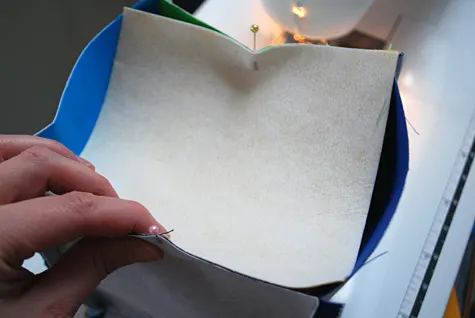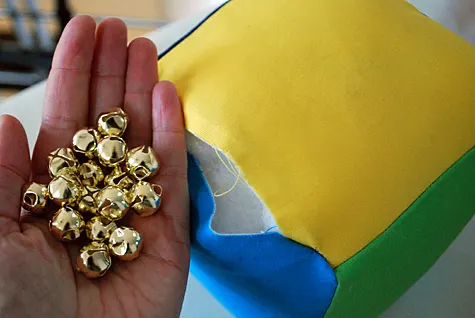 Supplies:
Please post a comment if you use this project so I can smile when I see that it's being used. Craft and pass it on!
Cut your 6″ x 6″ squares of colored fabric and iron-on interfacing using your rotary fabric rotary cutter
, self-healing gridded rotary mat
and clear fabric ruler
.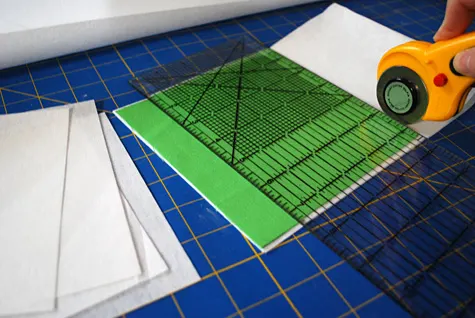 Iron your colorful squares to remove all wrinkles. Then iron the interfacing on to the wrong side of the colored fabric. Trim any extra interfacing from the edges as needed.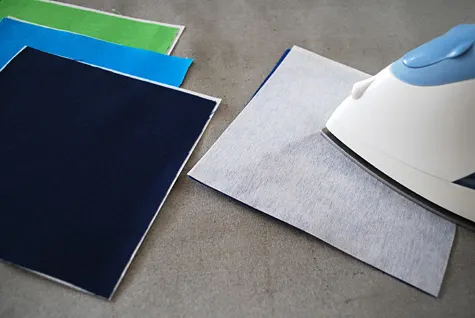 Take two pieces of colorful fabric and place them right sides together. Sew one side together using a 1/2″ seam. Repeat until you have four squares sewn together in a straight line.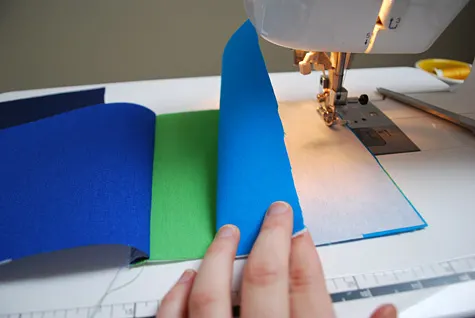 Bend the first square and the fourth square so their right sides are touching. Sew. It will look like a sewn box like this…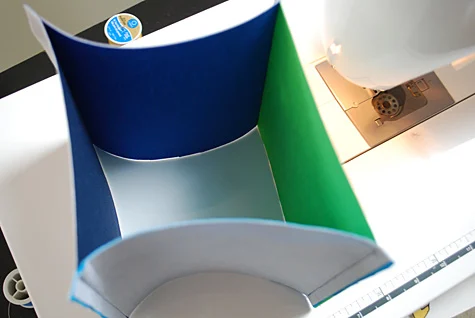 Press the seams open.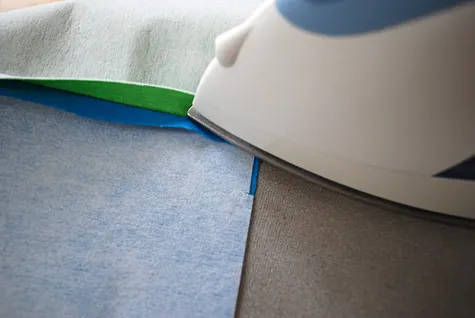 Now you're going to put on the two end pieces. Here's a trick to easily center your pieces. Fold one side of end piece in half; do the same on one side of your sewn box. Now I don't usually use a lot of pins when I sew but this is one case where you do want to put in a pin here to hold the centers together.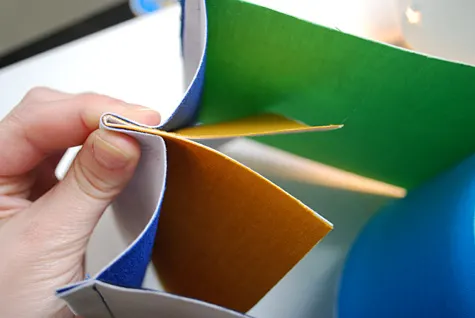 Repeat on the opposite side.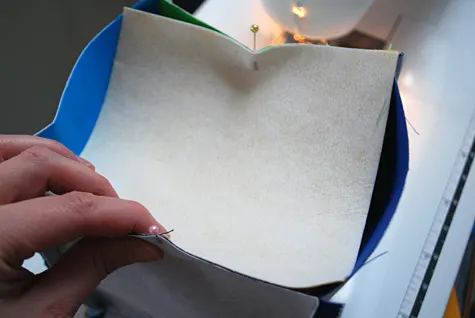 When you have all four sides pinned it will look like this. Notice that I've put the pins in from the outside; this is because you're going to sew the end piece on the bottom as you'll see shortly.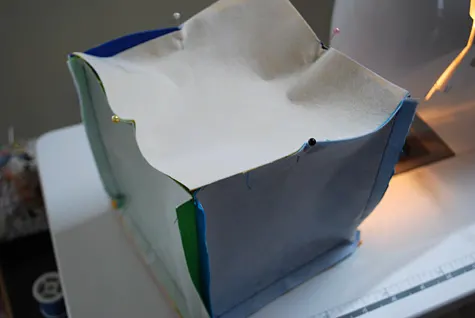 Flip your box so the end piece is on the bottom. Sew each side from corner to corner, stopping at the seams.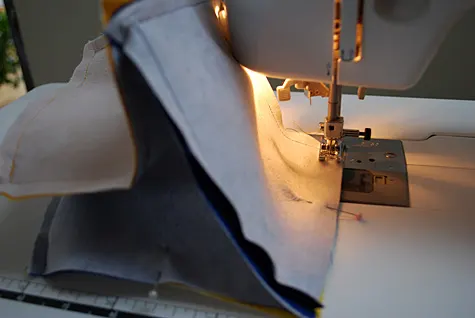 Repeat on the other end piece with one important difference: Leave about a 4″ opening on one of the sides. I mean, sew from the corners about an inch on each side, but then stop and backstitch. Turn the block right-side-out.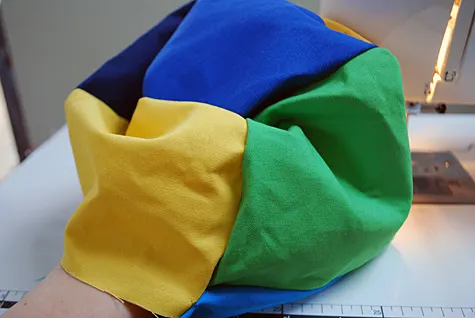 Here's what mine looked like …pay no attention to the fuzz …I rolled that off after stuffing and sewing 🙂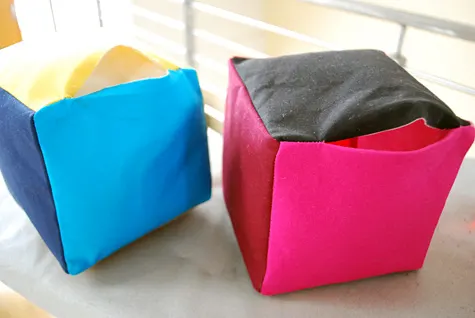 Stuff the block tightly with pillow stuffing
, making sure to really pack it in on the corners. Slip a handful of holiday jingle bells
inside …I had small ones already in the house but with the tight stuffing I would recommend buying larger bells for a louder jingle.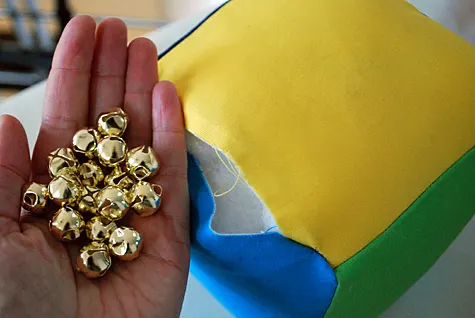 Hand sew the opening shut.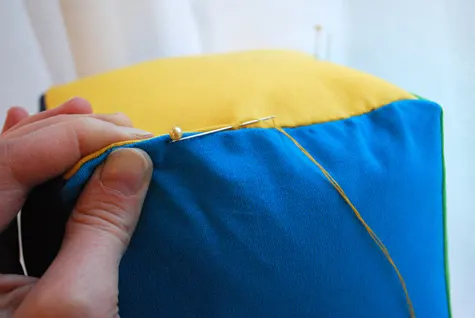 COPYRIGHT NOTE: You're more than welcome to use this idea and project instructions for personal use. Contact me for any commercial use – this includes etsy sellers.
Please post a comment below if you use this project so I can smile when I see that it's being used. Craft and pass it on!