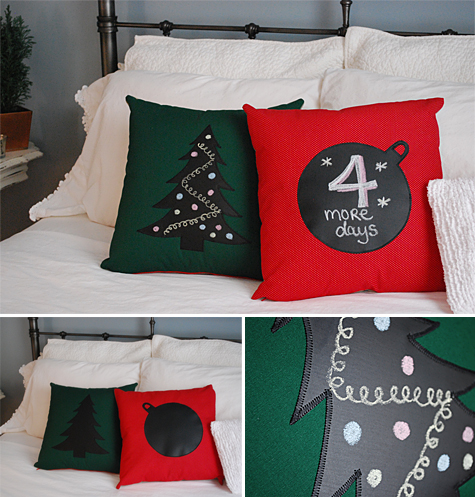 Ho! Ho! Ho! Here's a special holiday variation of chalkboard pillows complete with two new free ornament and tree templates to make your own 16″ x 16″ pillow for the season. The ornament in particular gives tons of space to write a fun daily countdown to the big day.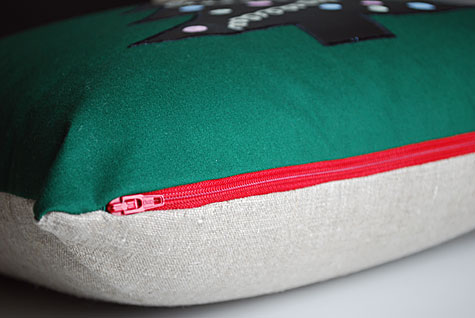 I used green cotton on the front for the tree, red polka dot fabric for the ornament, and 100% European linen in oatmeal on both backs and festive red zippers.
+++
Supplies to make (for the 16″ x 16″ pillow):
How to sew Christmas pillows with my free sewing pattern:
Step 1: Create chalkboard front

Print and cut out one of my free templates or make your own shape. Cut your 17″ x 17″ front and back pieces and two pieces of stabilizer using your rotary cutter, ruler and self-healing mat.

Place the right side of the template face down on the wrong side of the chalkboard cloth fabric. Trace it using a black pen. Cut using good fabric scissors, using the Xacto knife on any tight corners.

Put one of your stabilizer interfacing pieces of underneath the front fabric square (it helps you sew a smoother applique). Center your cut chalkboard shape on the front fabric square, placing straight pins on the sides to mark placement. Zigzag stitch the shape onto the front fabric square. Remember to backstitch.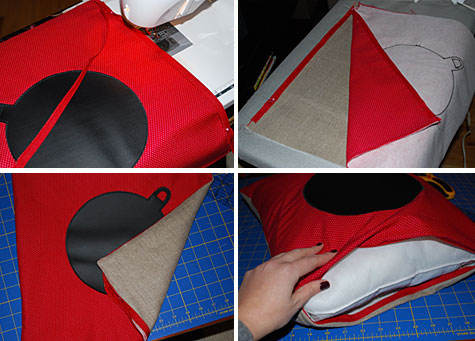 For the rest of the steps, just follow the free instructions in my original chalkboard pillow post. Special thanks to Susan Hodapp for letting me photograph them in her "bed and breakfast worthy" guest room. Let it snow!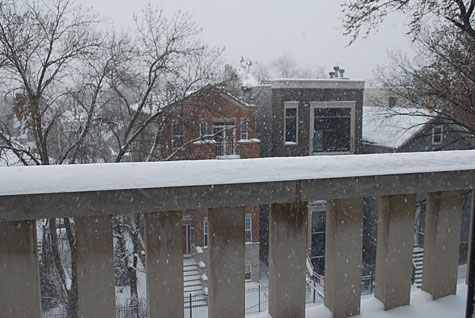 COPYRIGHT NOTE: You're more than welcome to use this project and pattern for your own personal use. Please post a comment below or email me if you use this project so I can smile when I see that it's being created. Craft and pass it on!