Elise is eating solid foods now so I've entered the Land of Frozen and Leftover Baby Food. With my brain still set on 'sleep deprived,' I put my chalkboard obsession to good use with these recycled, reusable baby food jar lids to help me track it all.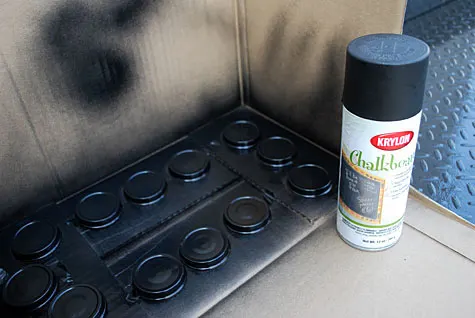 Hooray for re-writable lids and Chalk Ink food-safe non-toxic washable markers
! They not only help me remember when I opened or defrosted food like so…
…but also when I made fresh purees like these apricots.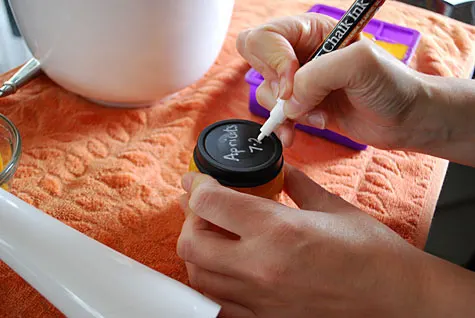 As an aspirational minimalist I feel good about recycling and reusing all those empty baby food jars. I sent a set of chalkboard lids to my friend Liz and baby Kaya, and her boyfriend Jason liked the idea so much he spray painted all the lids in his woodworking studio to keep track of nails and screws and such.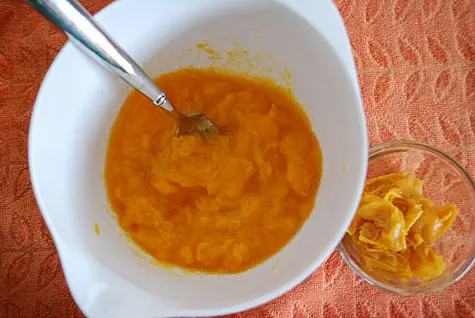 As a bonus to this free DIY craft, I'm passing along a simple, fast method for steaming and pureeing fruits in collaboration with my good friend Heather from YumUniverse – 'the' place for plant-based tasty recipes. A raw and vegan food wiz, Heather came over to make baby food with me for Elise.
And if you still have a mountain of jars and lids left, here are more ideas to reuse baby food jars and lids from DIY Guides.
Supplies for re-writable chalkboard baby food jar lids (with links from affiliates):
—
Making DIY chalkboard write-on baby food jar lids
Cut or rip one side of the box to make a three-sided spraying booth. Put double stick tape on the bottom box and place lids on top – this will keep them from blowing around while using spray paint.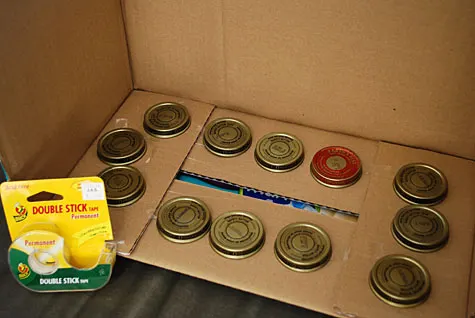 Carefully spray very fine coats of chalkboard spray paint…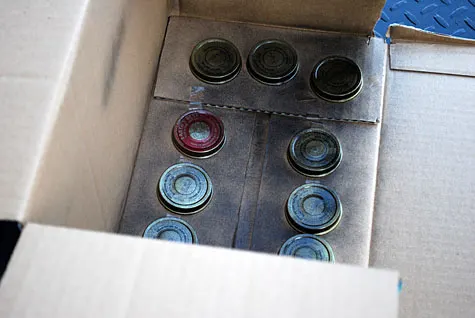 …building up layers as you go. Be sure to avoid spraying the *inside* of the lids.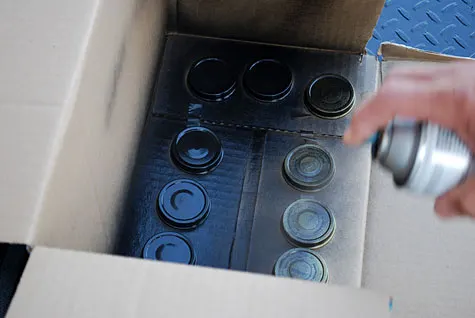 Write on the lids using Chalk Ink food-safe non-toxic washable markers. Hand wash lids using a damp cloth. Now that I've been using the lids for a few months, they do chip a bit over time. But the lids are so quick and easy to spray that you could easily add more coats as needed.
++++++
How to make Apricot Baby Food Puree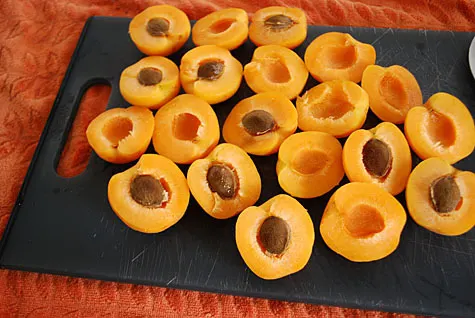 Making fresh, healthy, yummy apricot baby food puree is a breeze! Here are the supplies. Hop on over to YumUniverse.com for the full recipe tutorial.
Supplies for steamed apricot baby food puree:
Fresh, ripe organic apricots
Good knife
Ice cube trays (for freezing)
Empty baby food jars (for fresh – keep in mind that these are not canned so you need to use any fresh baby food within 1-3 days)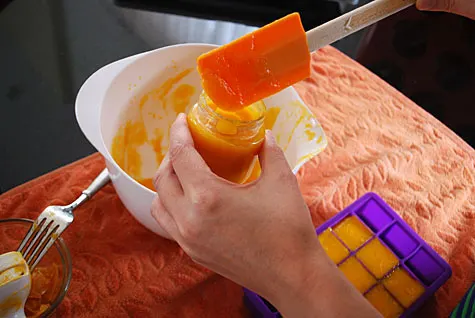 —
Like it? Share it!
The nicest way to say you like it is to pin it on pinterest, post a comment, follow Merriment Design on Facebook, twitter, pinterest, Google+, instagram or sign up for monthly emails. Enjoy! 🙂
Copyright stuff: You're more than welcome to use this free project and tutorial for personal use. Contact me for commercial use and etsy sales.