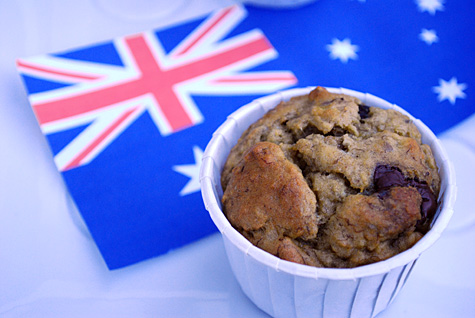 It's been 10 years now since I lived in Sydney, Australia. Recently we received a gift box (yay!) filled with heaps of Australian beer and food – including my favorite biscuits, Arnott's shortbreads – as well as a box of Weet-Bix
, self-proclaimed "Australia's favourite cereal."
Never a huge milk and Weet-Bix breakfast fan, I thought I'd try to make a recipe using Weet-Bix as a primary ingredient instead. This muffin recipe adaptation is based on an Artarmon Public School original and subsequent comments at Taste.com.au.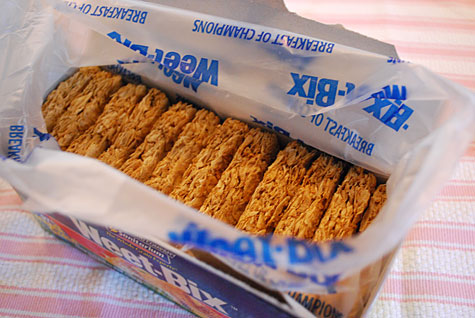 It's a rainy day in Chicago, the perfect type to spend inside messing around with recipes. One thing I liked about living in Sydney was that its climate was so nice most of the time that forecasters would simply say the weather was going to be 'fine.' Not 'sunny' but 'fine' …not 'partly cloudy' but 'mostly fine.' Always got a kick out of that.
So here's an other-side-of-the-globe toast to 'mostly fine.' Now if I can just figure out what to do with our unopened jar of Vegemite?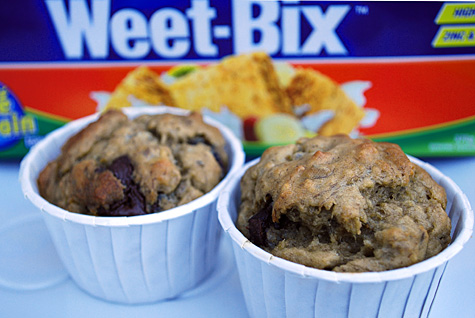 Ingredients:
3 ripe medium-sized bananas, smashed
4 Weet-Bix (aka Weetabix when sold outside Australia)
1 cup almond milk (I used soy milk because I was out of almond milk; you can also use regular milk)
2 eggs
3 tablespoons olive oil
1 1/2 cups unbleached flour
1 teaspoon baking soda
1 teaspoon salt
4 tablespoons brown sugar
1 teaspoon vanilla (optional)
2 tablespoons flax seeds (optional)
1/2 cup dark chocolate chocolate pieces (I broke up dark chocolate espresso Ghirardelli individually-wrapped chocolate that I had in the cupboard)
Other Supplies: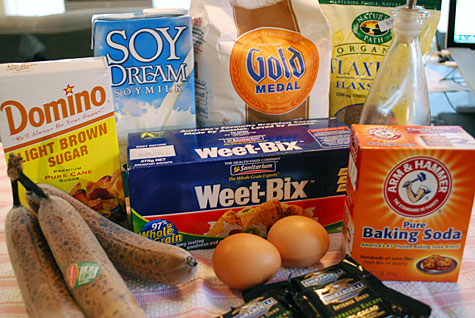 Preheat oven to 350°F. Mash bananas in a bowl and crumble in Weet-Bix. No need for an electric or stand mixer …I used a potato masher the whole time.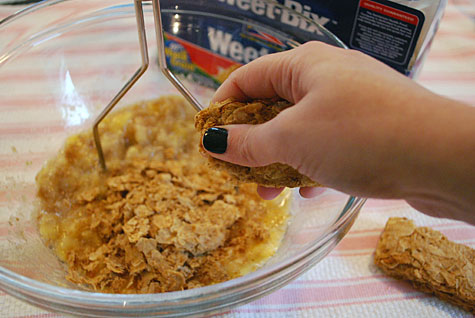 Stir in the soy milk. Set aside for 10 minutes so it soaks up the milk.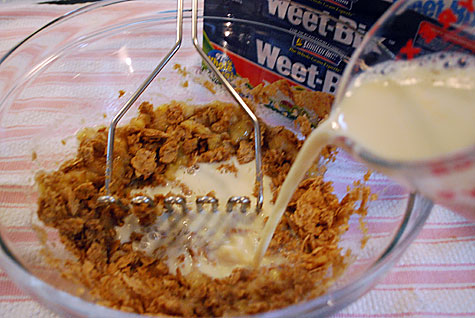 Meanwhile, break up your chocolate bar into chunks and set aside.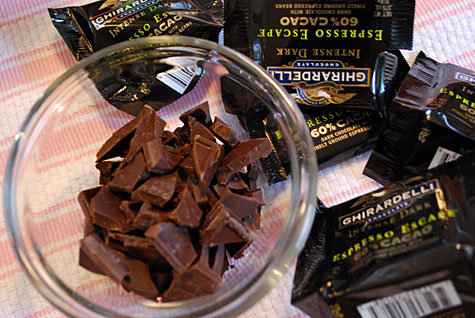 Beat together the eggs and oil in a small bowl, then pour into the Weet-Bix banana combination and stir. Sprinkle baking soda, brown sugar and salt and gently mix in. Add flax seeds and flour and stir until just combined.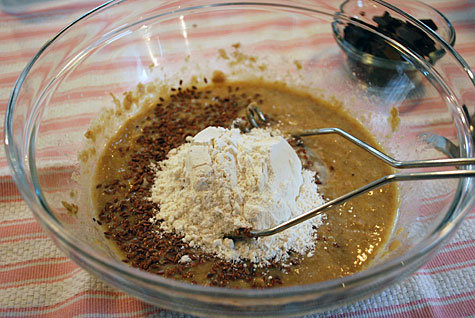 If your batter seems too thick, you can add a bit more milk; mine was OK but it could fluctuate based on the banana sizes. Gently fold in chocolate pieces.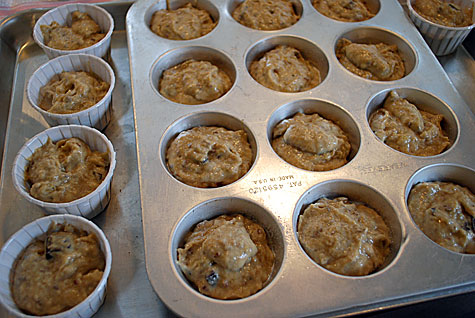 Spoon into nut cups
or a lightly greased muffin pan and bake for 20-25 minutes until a toothpick inserted into the center comes out clean. I prefer nut cups to muffin tins but only had a few left. When using muffin tins, be sure to take cooked muffins out of the pan as soon as you can to cool on a rack or dishtowel avoiding overbaking. Good on ya!