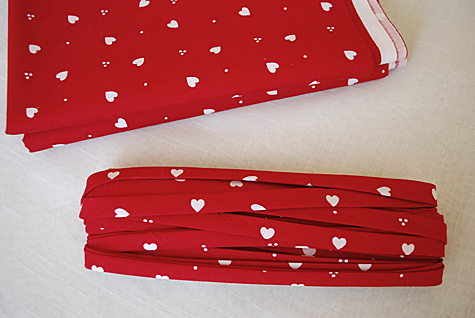 So I asked and you told me about all the creative ways you'd use 11 yards of handmade red and white heart ½'' double fold bias tape made with my trusty Simplicity Bias Tape Maker. Melissa Gerbrandt-Heath would use it on homemade bunting or candleholders. Kendyl Black would sew a terry cloth cover up, and Dawn Herman says she'd use it to edge her potholders.
One of my favorite suggestions was from Leigh Wood who'd make Valentine's Day boxers for her husband — hubba hubba. Ashley Owen Brundage, Danelle Facer, Jenn Mauermeyer and Shelley Marie Luchansky Ebinger all plan to make clothes for their daughters, and you know I'm a sucker for daughters. I love all of these great ideas and I'd love to see all of your finished projects (tweet your pics to me or post on our Facebook wall!), but we'll leave it up to the giveaway winner to decide how she'll use it.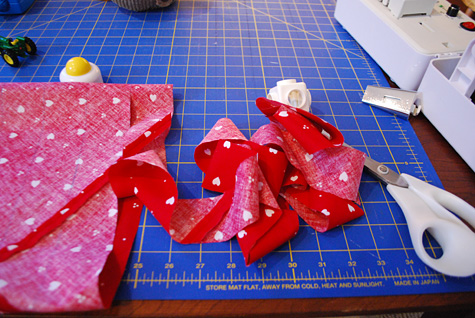 Congratulations to winner Amy McGill! Amy who was randomly selected from 168 entries by Rafflecopter plans to use the bias tape to make a Valentine's Day apron, and I can't wait to see it. Send me your address, Amy, and your 11 yards of heart-shaped bias tape goodness will arrive shortly!
Thanks to everyone who entered and be sure to check back soon for my next giveaway. It has something to do with chalkboard fabric, yeah, go figure…