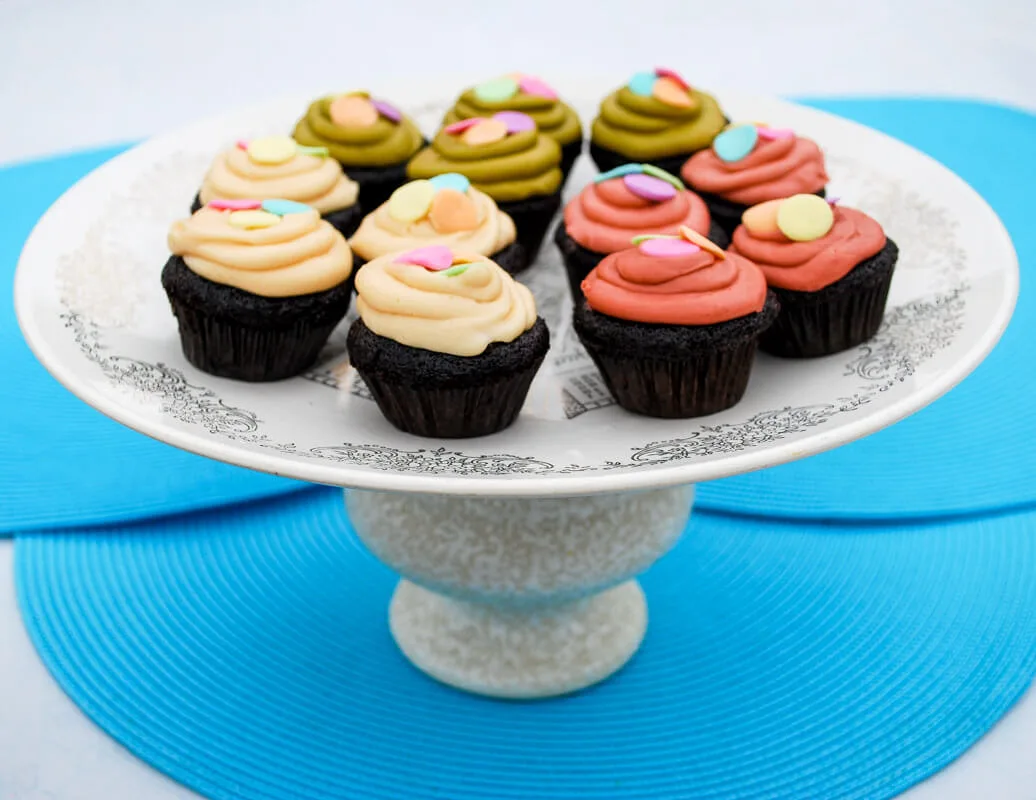 Make DIY plate cupcake stands from vintage plates and vases from thrift stores or the dollar store. It's quick and easy to make several of these cheap cupcake plate stands for birthdays, baby showers, and graduation parties.
It's fun to thrift unique china plates, vases and candlesticks to turn into cupcake stands and cake stands. You can add second or third layers to make DIY tiered cake stands. And handmade plate stands can double as quick and easy DIY birthday gifts after the cupcakes are all gone.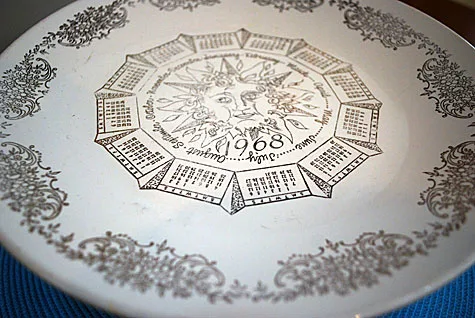 I found this creme and gold metallic 1968 calendar china dinner plate — my sister Krista's birth year — at a Wisconsin antique store during a recent fall weekend getaway and immediately snatched it up. Not am I been completely obsessed with vintage calendars (especially vintage linen calendars) but I'm also a total sucker for making new things out of leftovers. Add one super easy recycled cake stand tutorial on Design*Sponge and voila! The whole project took less than 20 minutes (!) and turned out a gem of a party accent.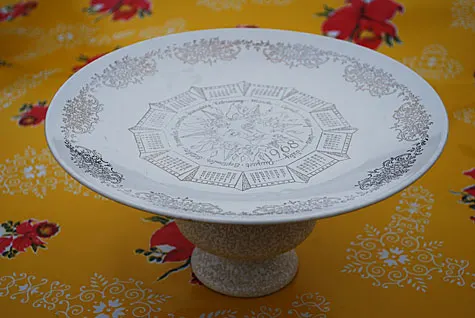 To properly celebrate my sister Krista's 40th birthday, we planned a festive cocktail party at the fabulous art deco California Clipper Lounge. Guests saddled up to the (gorgeous) art deco bar to enjoy 1940s-style (get it?) cocktails such as Tom Collins, Gimlets, Rusty Nails and Grasshoppers. Plus it's the only bar in Chicago with grape soda "on tap."
See also: 'Milestone birthday postcards for 40th birthdays, 50th birthdays, and more' »
Precious mini cupcakes baked by Rose at Simran Bakehouse added the perfect retro touch. Architect-by-day and talented baker-by-night Rose makes wonderful pies, cakes, cobblers and other yummy treats. She ran with my direction for "retro" and "non-traditional colors" and designed green, cream and mauve vanilla-almond buttercream skinny swirls and large dot sprinkles on top of mini dark chocolate cakes.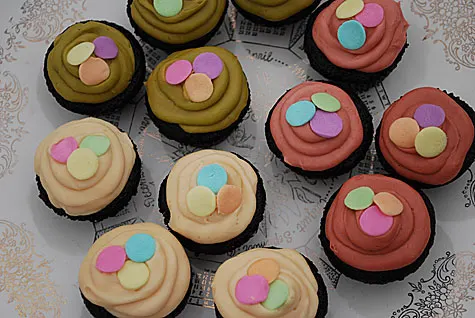 The cupcakes were a *huge* success. People raved about them and we handed them out to strangers at the bar too. Nothing makes friends faster than yummy chocolate goodness.
This post contain affiliate links which means that products I recommend may give me a nominal commission at no extra cost to you. Thanks – your clicks help me make more free DIYs!
++++++
Supplies to make DIY cupcake stands from plates and vases:
Thrifted vase, planter, or candlestick
5-minute epoxy glue
Chopstick or Popsicle stick
Old newspaper or magazine
Mini cupcakes

++++++
How to make DIY cupcake stands from plates and vases
Step 1: Prepare your work surface
This 5-minute epoxy is wicked so you'll want to get a good space set up. Cover your surface with sheets of newspaper or an old magazine, and be sure to work in a well-ventilated space. Spread out your supplies and place the plate face-down on the paper.
Step 2: Mix 5-minute epoxy
Next, follow the epoxy glue package directions and quirt out some glue into a mixing vessel (I used the disgarded packaging). Stir the glue with a chopstick until mixed.

Step 3: Quickly attach the vase to the plate
Spread the glue on the top of the planter/vase/candlestick. Try not to use too much and be sure to work fast before the glue starts to set. Place the planter in the center of the plate.
Step 4: Add cupcakes to the cupcake stand

Open the cute package of cupcakes, plate, and pass around. Happy birthday, big sister!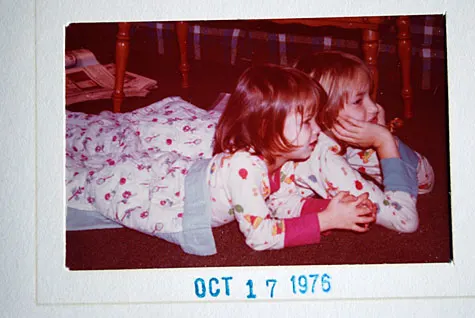 —
Like it? Share it!
The nicest way to say you like it is to pin it on pinterest, post a comment, follow Merriment Design on Facebook, twitter, pinterest, Google+, instagram or sign up for monthly emails. Enjoy! 🙂
Copyright stuff: You're more than welcome to use this free project and tutorial for personal use. Contact me for commercial use and etsy sales.