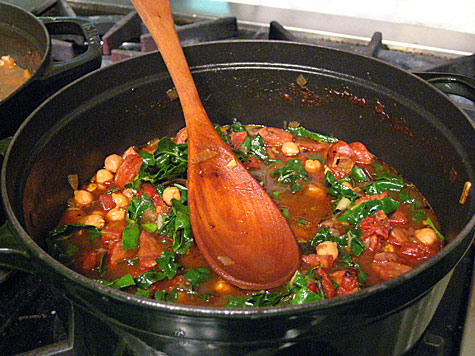 To celebrate Valentine's Day, Shane and I took a cooking class at Sur La Table. While the classes there aren't as hands-on as our beloved, defunct Calphalon Culinary Center Cooking Classes, the personable instructor was full of ad libbed tips and Shane got a spiffy Le Creuset 6.75-qt. Enameled Oval Dutch Oven
soup pot.
Our group cooked five soups together, in my order of preference: (1) Chorizo, Chickpea and Chard Soup with Garlic Toasts — the most flavorful, spicy and unexpected of the bunch, (2) Beef and Barley Soup with tender steak (3) Spicy Thai Green Curry Soup with Shrimp, Eggplant and Aromatic Rice, (4) Corn Chowder with Poblano Chile and Cilantro Cream which was fun to mix but blah compared to other chowders, and (5) Caldo de Pollo, pretty tasteless for all the roasting and chopping.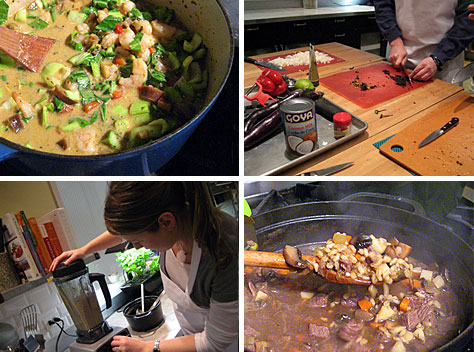 Chorizo, Chickpea and Chard Soup with Garlic Toasts:
1 TBSP extra virgin olive oil, plus additional for brushing
1 large onion, diced
4 garlic cloves, chopped
2 teaspoons smoked paprika, plus additional for sprinkling
1 14.5-oz can fire-roasted diced tomatoes in juice
8 oz Spanish chorizo, diced (do not use Mexican chorizo which is raw but you can substitute andouille or smoked linguica sausage)
1/3 cup dry white wine
4 cups low-salt chicken broth
1 15-oz can garbanzo beans (chickpeas), drained
1/2 tsp dried oregano
4 cups lightly packed trimmed Swiss chard, sliced into 1/2-inch-wide strips
1 loaf pain rustique, ciabatta or other rustic country-style bread
1 garlic clove, cut in half
Heat 1 TBSP oil in heavy large pot over medium heat. Add onion and saute until soft and golden, about 12 minutes. Stir in chopped garlic and 2 tsps smoked paprika and cook until fragrant, about 3 minutes. Add tomatoes with juices. Reduce heat to medium-low and cook until all liquid evaporates, tomatoes break down, and mixture becomes very thick, stirring frequently and scraping bottom of pot, about 18 minutes. Add sausage and cook 3 minutes. Stir in wine and cook, scraping bottom of saucepan to loosen mixture, until liquid evaporates, about 3 minutes. Add broth, garbanzo beans and oregano, bring to simmer. Cover and simmer over low heat 10 minutes to develop flavors. Mix in chard and simmer until tender, 10 minutes. Season to taste with salt and pepper.
Preheat broiler. Arrange 1 inch slices of bread on baking sheet. Broil until bread is very lightly toasted on both sides. Rub toasts with halved garlic clove and brush with oil. Sprinkle lightly with salt and smoked paprika. Broil again until well toasted.
Ladle soup into bowls, top with toasts and serve.