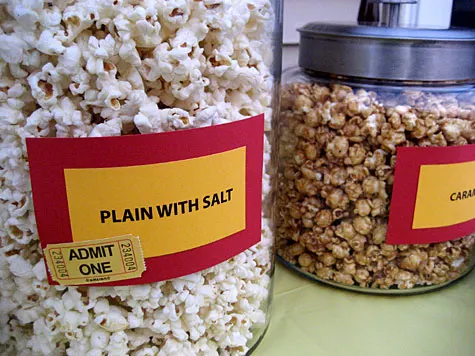 As part of my Rooftop Outdoor Movie Night Birthday Party I created a gourmet popcorn bar. It was a big hit!
Supplies:
8.5″x11″ red and yellow paper
Admit One tickets (at Party City)
Paper cutter or scissors
Rubber cement
Scotch tape
4 large glass jars with lids (I got mine at Target)
Popcorn bags (optional)
Popcorn
Lots of butter
Pecorino Romano and Parmesan Cheeses
Based on my guests' evite votes on their favorite flavors I settled on four: Plain, Cheese, Butter, and Caramel. Print out your flavor names using a large-size font on your computer onto the yellow paper. Be sure to leave enough space around the lettering; if you have Illustrator you can download my template. Cut out the yellow squares and then cut 4 larger red squares so you can see a border. Glue the yellow onto the red and add an Admit One ticket. Once it's dry, tape it to the outside of the jar.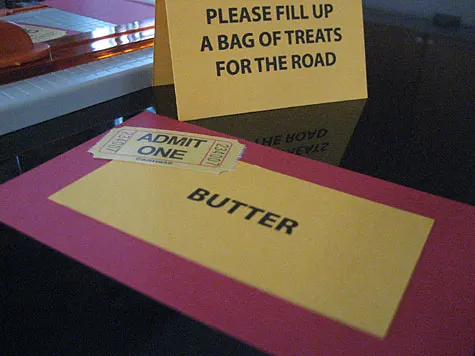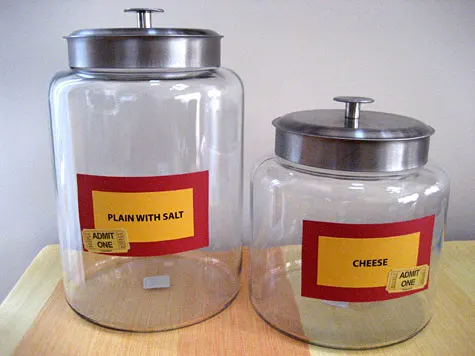 Now it's time to pop some corn. Forget microwave popcorn; it's just no good. I am a huge fan of the Whirley Pop ($19.99 at Amazon); it's a bit more work but totally worth it and uses very little oil to pop. I followed Giada's Pecorino and Parmesan Cheese Corn recipe and skipped the candy thermometer and bought Garrett's caramel corn (hey, it's my birthday). Use lots of real butter on the popped corn. You're celebrating. Fill up the jars and serve with old fashioned popcorn boxes ($8 for 20 at PlumParty.com).