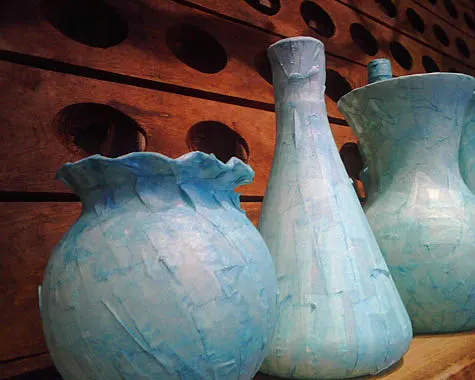 So my friend Renee and I decided to browse through Anthropologie after having afternoon tea at Julius Meinl. It's no surprise to anyone that Anthropologie has some of the most crafty, creative, seasonal store decorations out there. But this one made me giggle. I remember back in Girl Scouts making 'vases' from bell jars, masking tape and shoe polish. But displaying multiples in various shapes (and blue!) elevate these tape creations to chic home accessory.
Supplies:
Masking tape
Watercolors and rag or brush
Glass vase, canister or other vessel
Tear masking tape into strips and place on the glass vase, making sure the tape pieces overlap to completely cover the vase. Using watercolors, brush paint on the tape or for a faster method, dip a wet rag in the paint and rub.