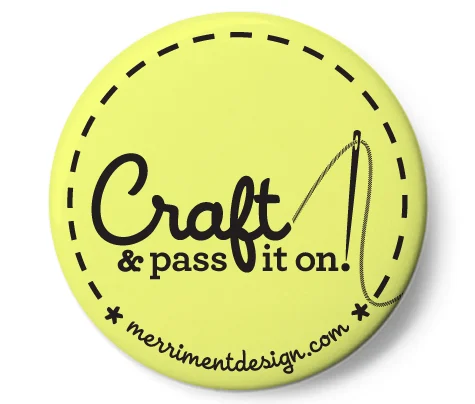 I'm pleased to announce that I'll be at Chicago's Renegade Craft Fair on September 13-14, 2008.
"Craft and pass it on" is the new MerrimentDesign.com motto that came to me while I was trying to describe the purpose of the site to my friend Renee. Merriment is all about creating things for special occasions and everyday. It's about commenting and sharing new ideas and instructions with each other. It's about building a supportive crafting community.
I'll be featuring chalkboard pillows and applique onesies at my booth that you can either make for free or buy from me. And I'll be passing out these cute buttons designed by YanYan Zhang.
Site visitors who add comments to the site or email me ideas in the months of September and October are eligible to win a $40 Joann Fabrics gift certificate from Merriment.
I'm historically not very good about asking for help and getting ready for Renegade has been a ton of work. So I'd like to send a special thank you to Renee Schultz, YanYan Zhang, Susan Curtis, Brenda Strong, Krista Beymer, Liz Meitus, Jen Martensen, Tamara Bohorquez, Debbie Hawickhorst, Heather Crosby and of course Shane. The fair is coming up soon and I'm excited to meet people and promote crafting. Pass it on!