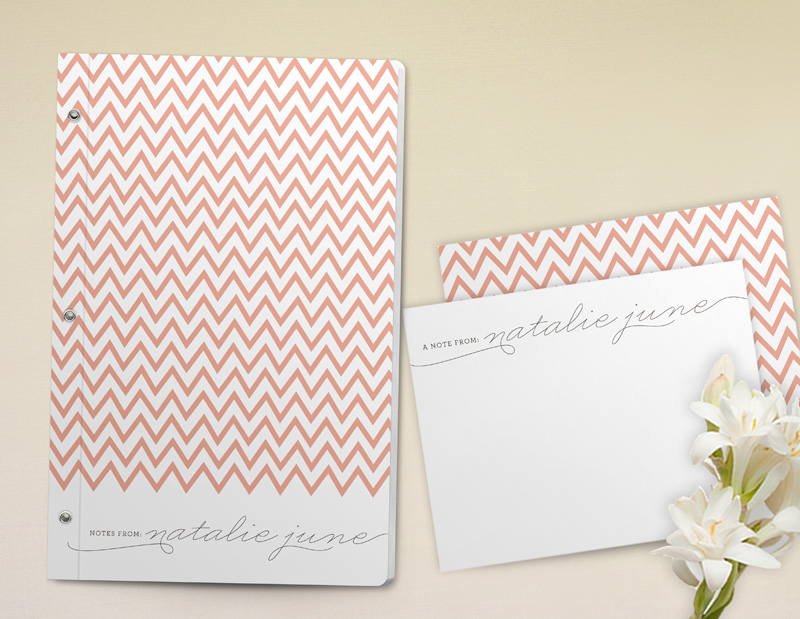 Three readers have each won a personalized stationery set printed on luxe paper and a complementary gift box and personalized 40-page journal for notes and sketches worth $51 plus free ground shipping, from the talented indie designers at minted.
And everyone can use the minted promotion code MOTHERS for 10% off minted personalized stationery sets or journals. Plan to place your order by May 7th for items to arrive by Mother's Day for your mom. Or maybe, uh, for yourself. Don't worry. I won't tell.
To enter this giveaway, I asked you to tell me your Mother's Day plans. Here are a few of my favorite answers:
Kristen Pierce Clemens said "My mom and grandma are the best. I will be making them brunch and bringing them flowers to celebrate all that they have done for me."
Meagan said "Going to see the play Hairspray"
Danielle John said "Eating a special breakfast with the kids that someone else cooks." Ha!
Keep reading to see the three winners who were randomly selected by Rafflecopter…
Winner #1. Monica Lavoie
"Hopefully going to sleep in late!"
Yep, Monica, that's my wish too. Here's hoping.
Winner #2. Melissa Pruitt
"Taking mom to dinner."
Sounds nice. My mom lives in another city so we will have to Skype this year.
Winner #3. Kate Benson
"Breakfast at Grandma and Grandad's. Lunch with my little family – this is my first Mothers Day!"
Hey, Kate, happy first Mother's Day to you!
Congratulations to all three winners! I'd love to hear which lovely minted personalized stationery sets and journals you choose.