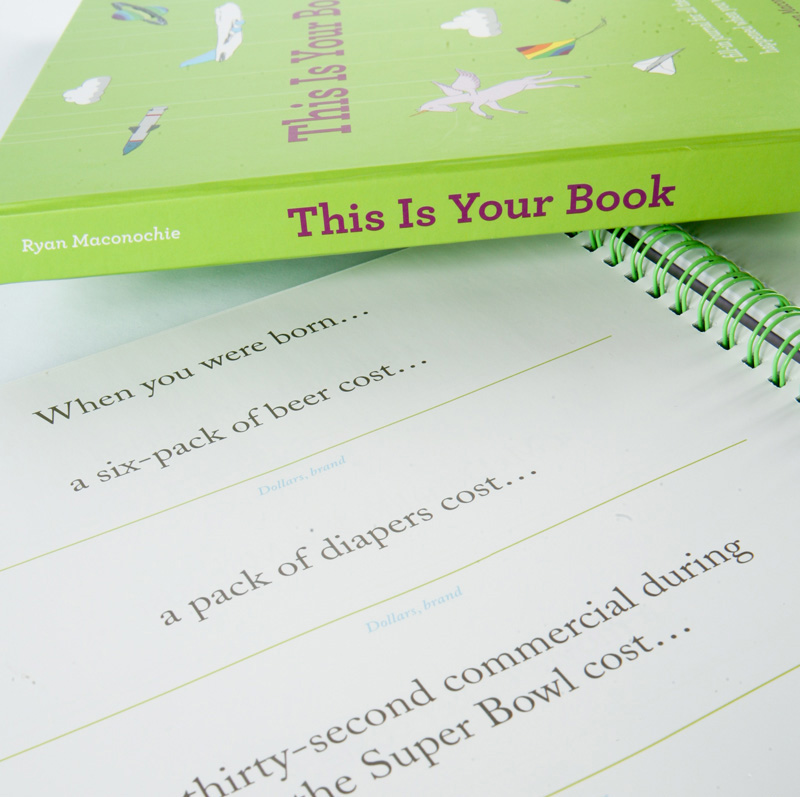 Thanks to everyone who entered to win a copy of This Is Your Book: a fun, modern spin on the traditional baby book. Many of you liked the idea of gifting (or having!) this fill-in baby journal with a pop culture twist: not only do you record standard newborn info like height, weight, birth hospital and hair color but also current events, fun statistics, and other pop culture, everything from Academy Award winners to countries at war to the cost of a Starbucks coffee to musicians your parents liked.
To enter this giveaway, I asked you to tell me who this book would be for in your life:
Rebecca Cynamon-Murphy said "My brother and sister-in-law's baby-to-be. They are stylish and super-busy. This seems perfect."
Liesel said "Me! We are expecting our first, a little guy, in just a few weeks. I haven't bought a book because they are all hideous and generic. I love this!"
Lia Lara-Tellez "My little sister was in a coma last year. This year she'll be giving birth! Daddy is a graphic designer & both of them are awesome so this VERY awesome book would have to be theirs!"
Oh, I wish I had free copies of This Is Your Book for every one of you gifters and new moms! Keep reading to see the lucky winner randomly selected by Rafflecopter…
Giveaway Winner: Kristina Rutledge Phillips who is expecting a daughter due May 30!
Congratulations, Kristina! My son's due date is May 16 so we'll be in baby fog together 😉