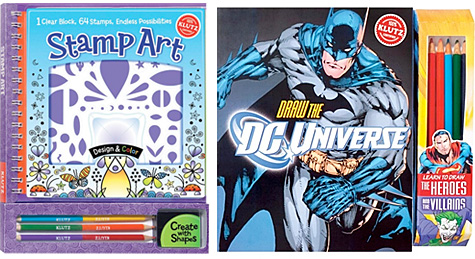 Updated: See this giveaway's winners.
When I was growing up craft kits and activity books were my favorite Christmas gifts, hands down. So trust me: if you have kids on your holiday list you're going to want to enter this giveaway. Klutz is giving away two of its brand new arts and crafts activity books: Stamp Art and Draw the DC Universe.
First, for kids who like stamping:
Stamp Art makes stamping simpler — and more creative — than ever. Stick the included shapes on the see-through acrylic block to create your own one-of-a-kind stamp design. Full of inspirational artwork and instruction, this stamp-right-in-it book shows how to create animals, flowers, houses, aliens… anything you can dream up. Stamp Art retails at $16.99 each.
Take a peek inside at just of the few cool things you can make with these stamps, like undersea creatures:
and jungle animals.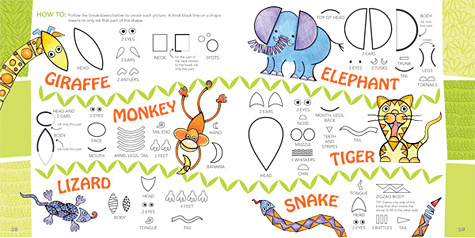 And for kids who like Batman, Superman, Wonder Woman, Catwoman, The Joker, The Green Lantern and other DC Universe comics heroes and villains:
Draw the DC Universe is a complete how-to-draw package, jammed with expert tips and techniques, tons of practice space, and of course, a universe of DC heroes and villains. The draw-right-in-it book comes with everything you need: a sketching pencil, a drawing marker, artist's pencils in six colors, a big block eraser to fight crimes against the page, stencils, and translucent overlays scattered throughout for can't-fail tracing activities. Draw the DC Universe retails at $19.99 each.
To enter for the chance to win one of these two books:
1. Write a comment below telling who you'd give it to this holiday season. Come back and leave a comment every day from now until December 4th at midnight. We will announce the two winners here on MerrimentDesign.com. Giveaway open to US mailing addresses only. Sample & Prizing courtesy of Klutz.

And for additional entries:
2. Subscribe to the monthly MerrimentDesign.com email (yep, only one email a month!) and leave another comment letting me know.
3. Follow MerrimentDesign.com on twitter and/or Facebook and/or an RSS reader and leave another comment below for each.
4. Tweet, stumble, or share the giveaway on Facebook and leave a comment each time letting me now.
And ho! ho! ho! Klutz is giving all MerrimentDesign.com readers 20% off your entire order. Shop Klutz.com and use coupon code KLUTZ4U (Promo cannot be combined with any other offer. Offer expires 12/31/2011).
Klutz.com has all kinds of arts & crafts and science activity books, a crazy range of stuff — knitting patterns, friendship bracelets, pom pom animals, travel games and puzzles, foam rockets and drawing Star Wars characters to name a few. So stock up …winter is coming!