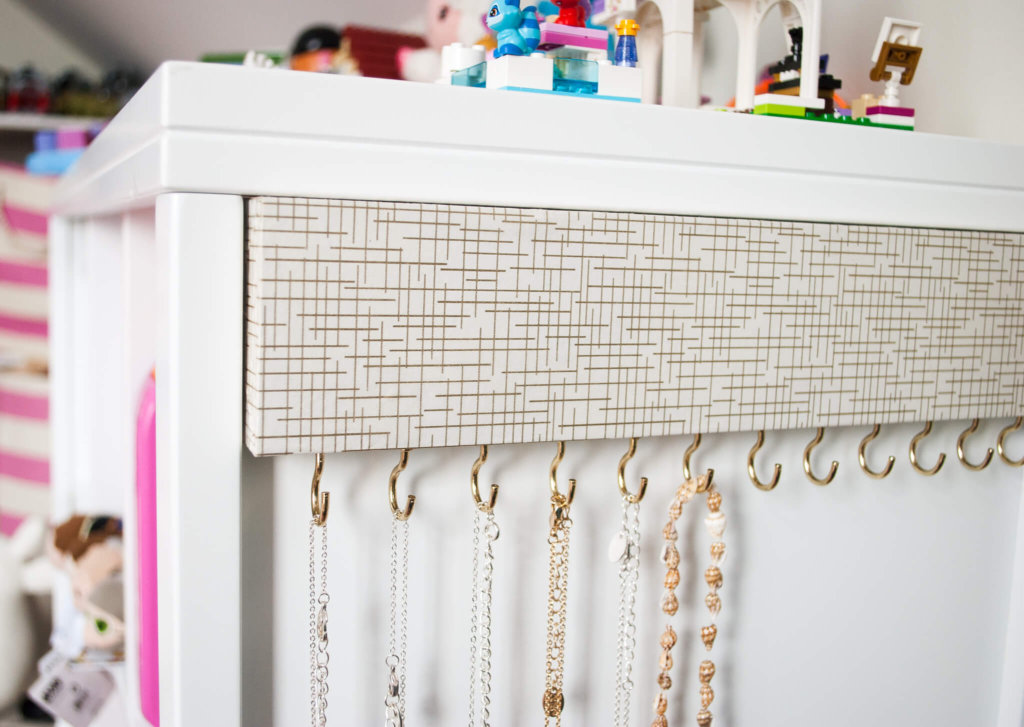 Tired of untangling necklaces? Make an easy DIY jewelry organizer using a piece of wood, cup hooks, decorative paper and Mod Podge (affiliate) in just a couple hours. And I'll show you how to hang it up damage-free on a wall or dresser using my favorite hanging hack: painter's tape + VELCRO® Brand fasteners.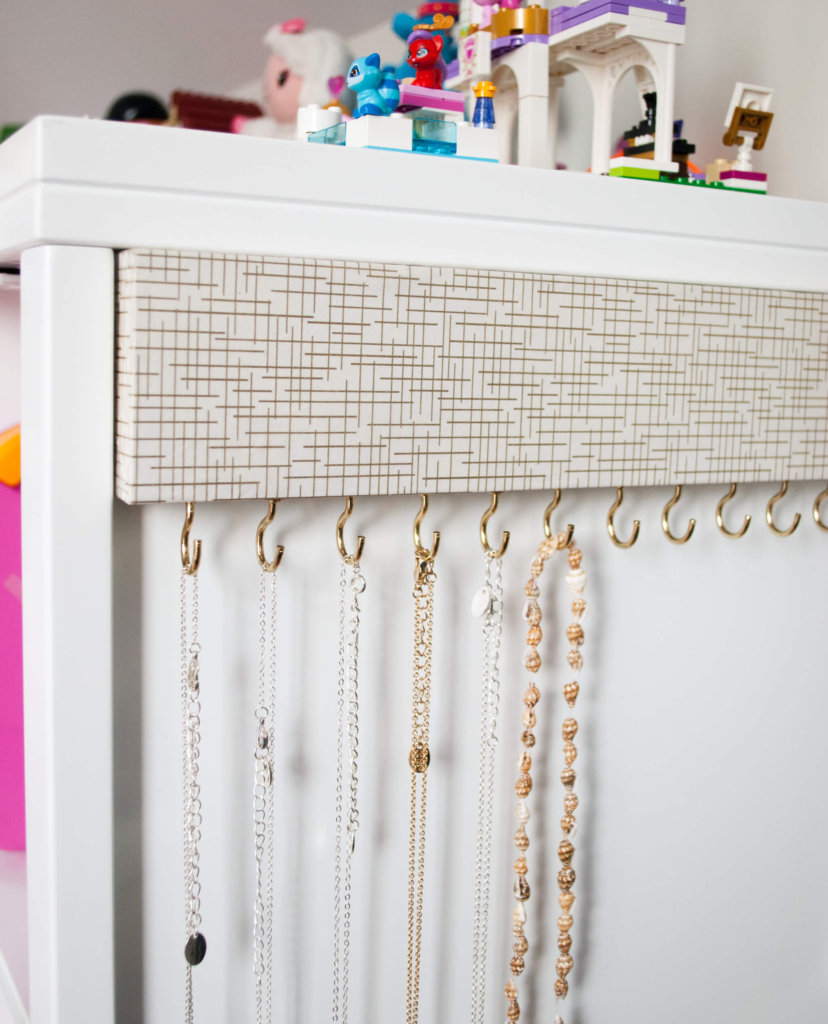 I bought Elise 7 necklaces for her 7th birthday. Liam and I picked them out together: a wishing star, a rainbow unicorn, a sweet daisy, a diamond kitty, a heart, a monkey, and the letter E. Thank goodness for Claire's 💎💎💎 But ever since her birthday the poor (un)lucky seven necklaces have existed in a tangled mess on the top of her dresser.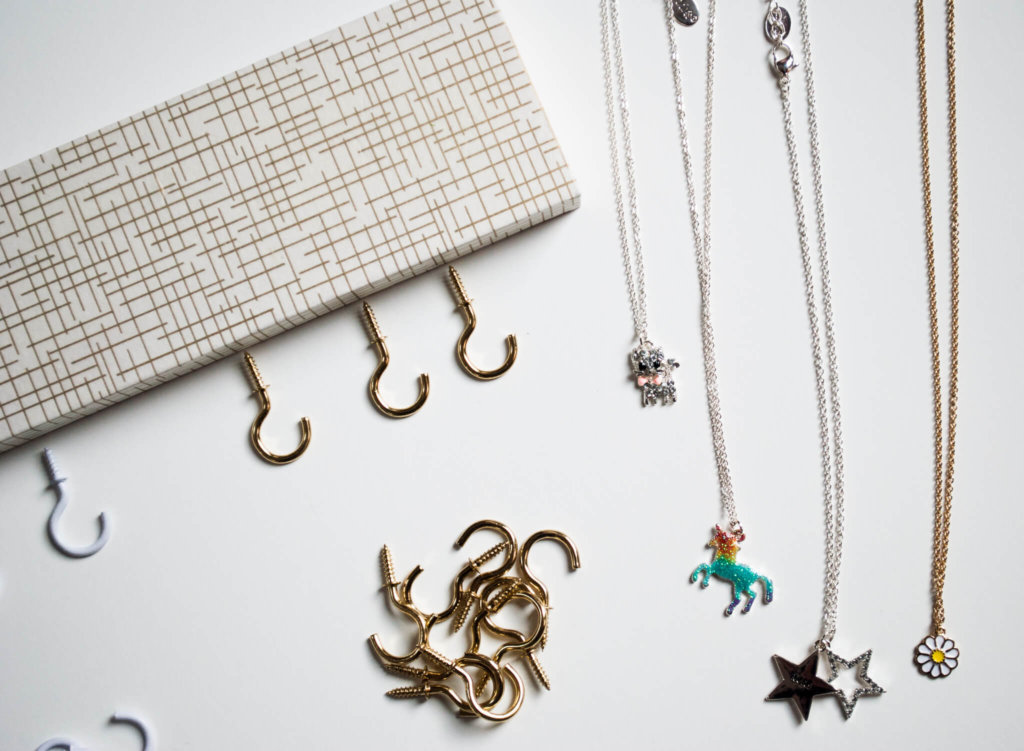 I noticed a few DIY hanging jewelry organizers online and thought they looked pretty easy to make. And wouldn't you know it? Not only was it super easy but it also cost less than $10 to make myself.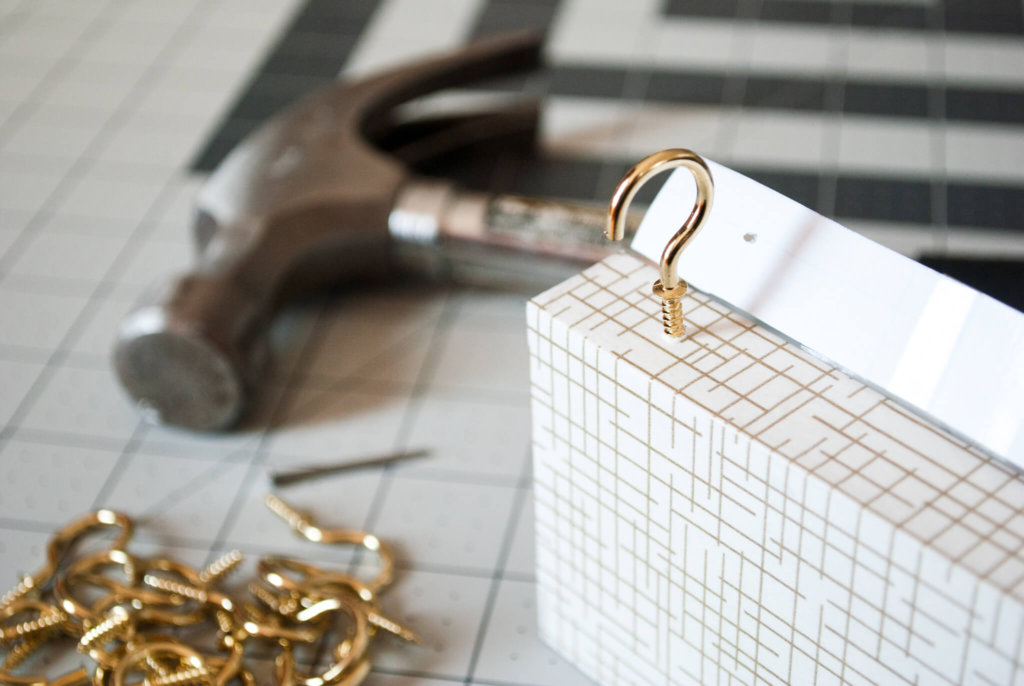 I designed this DIY necklace organizer to fit neatly within the beveled side of her Land of Nod dresser but you could choose to hang it on the wall instead.
Don't you love the gold crosshatch patterned paper? It's from Martha Stewart Crafts and it's super classy, don't you think? Elise has other gold and brass accents in her room so this fit right in.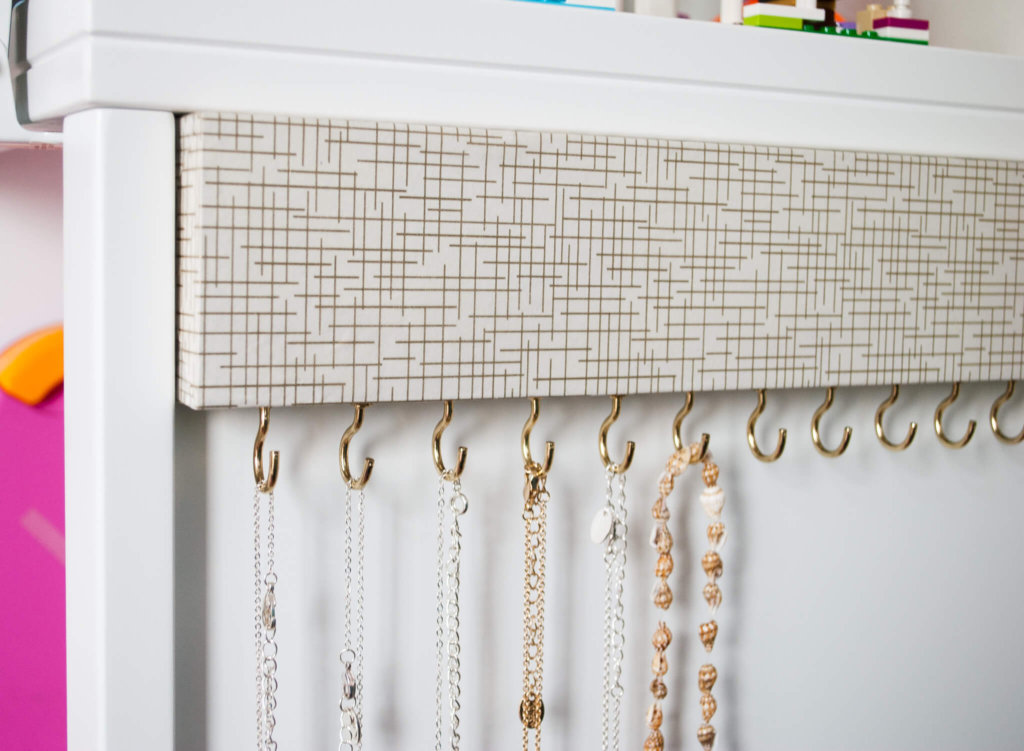 And if you don't have time to make it yourself, jump to the end of this post to see cute handmade jewelry hangers to buy at etsy. (I like to buy handmade things too).
Supplies for making a DIY necklace organizer (with affiliate links):
Piece of scrap wood – mine was 12.5″ wide x 2.5″ tall x 3/4″ deep to fit neatly on the side of Elise's dresser
Optional supplies:
—
How to make a DIY jewelry organizer for tangle-free necklaces:
First, gather your supplies. Pick any color, any paper that you like. And the cup hooks come in both gold and white.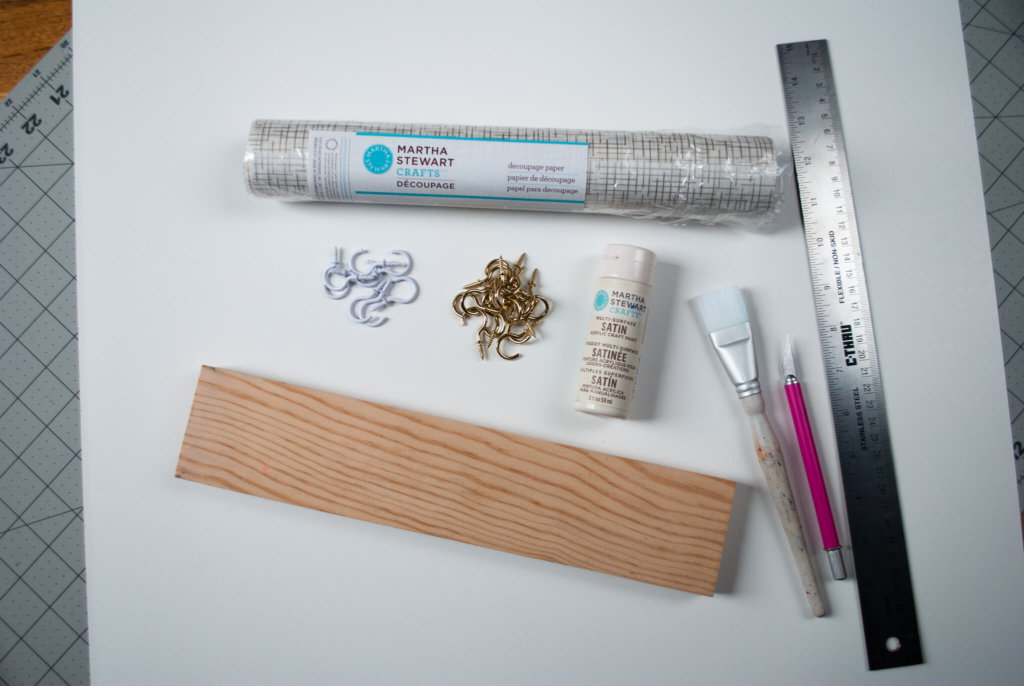 This step is optional: I decided to paint my board with a quick coat of white craft paint (with my favorite paintbrush set) because I wanted the translucent decoupage paper in gold crosshatch to be on a super crisp white and clean background. And don't worry, the coat of paint didn't end up being this globby and brush stroked 😉 I smoothed it out and let it dry.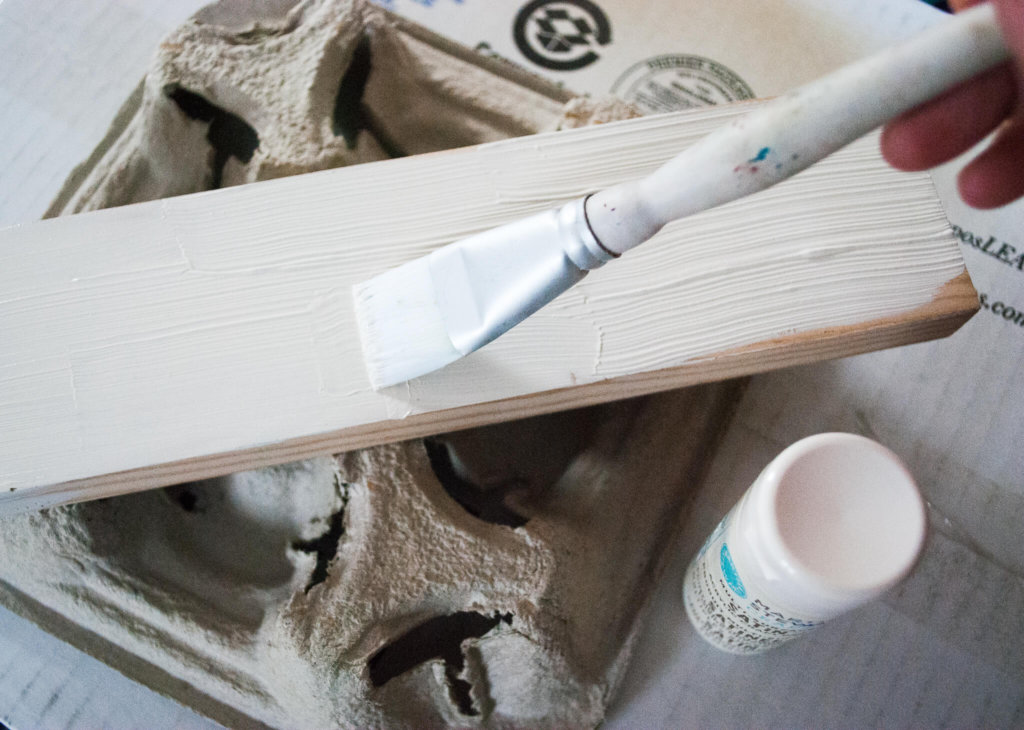 Measure your paper to include the tops and sides and cut using an X-ACTO knife, metal ruler and self-healing cutting mat (or a good pair of paper scissors.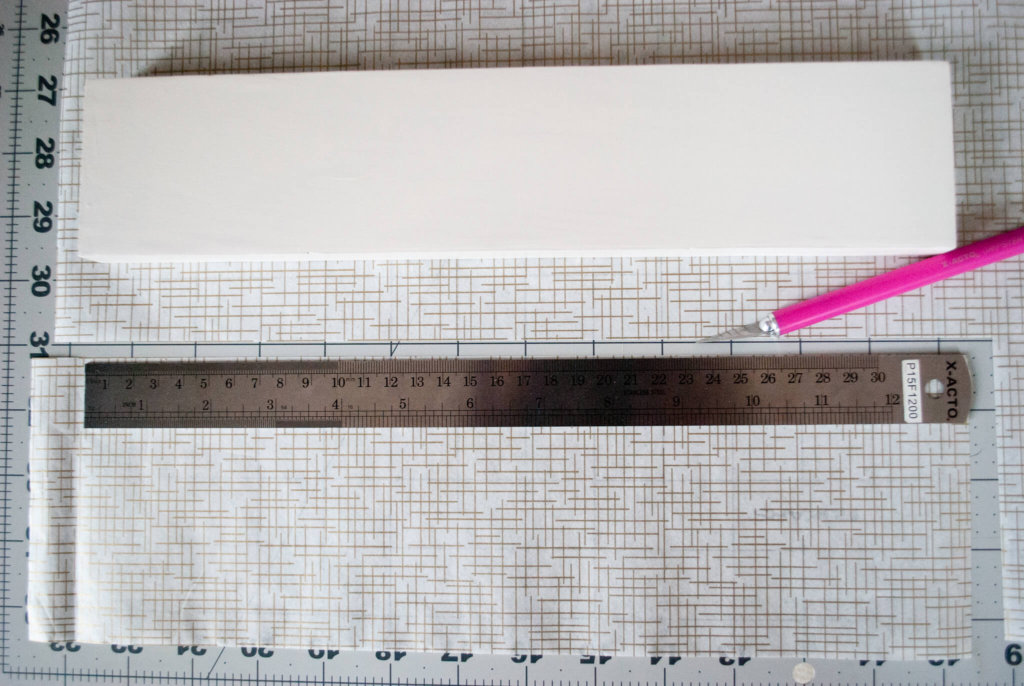 Brush on the Mod Podge. I used a Matte formula because I didn't want it to be shiny. If you want to learn how to Mod Podge, go see my friend Amy from Mod Podge Rocks who is the Queen of Mod Podge craft tutorials.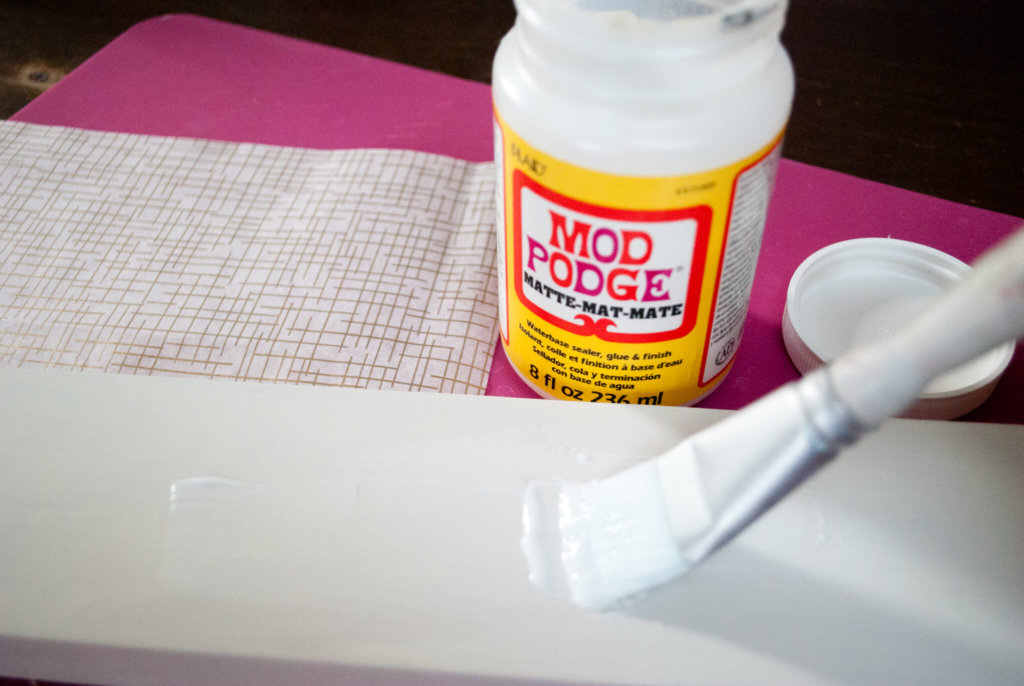 Fold it over the top and bottom and Mod Podge it down.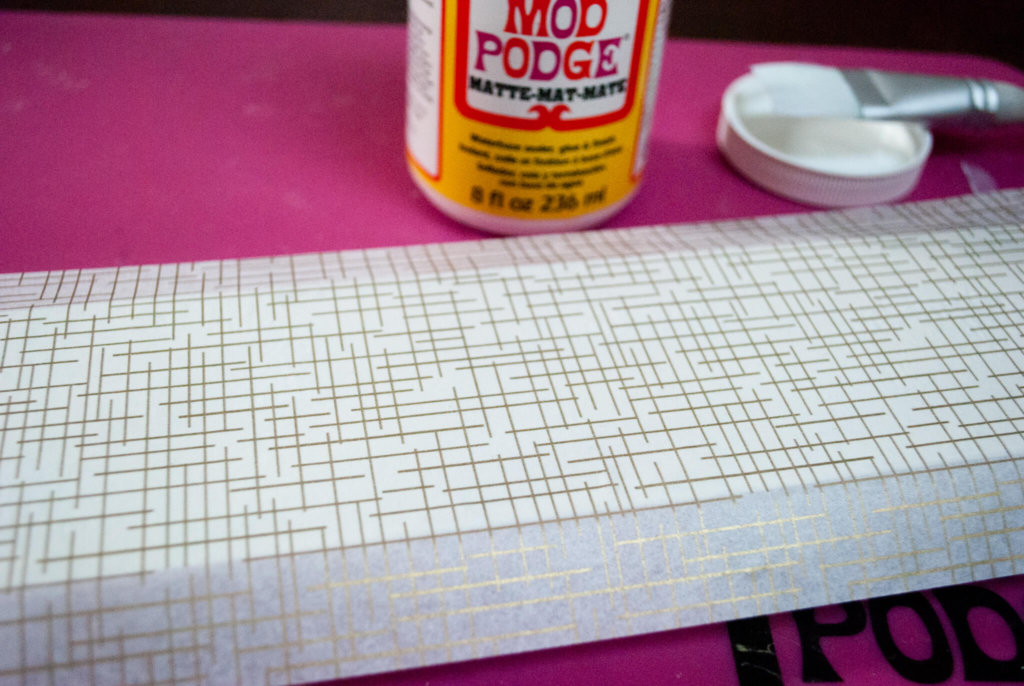 I folded the corners like a present.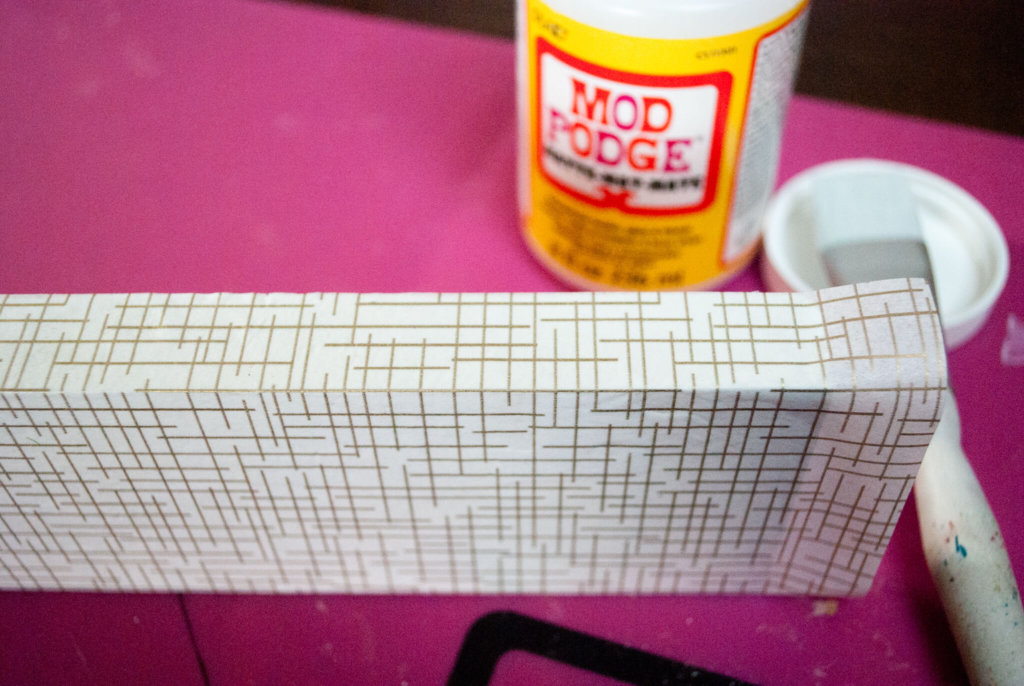 They looked like this. Let the Mod Podge dry completely, overnight is best.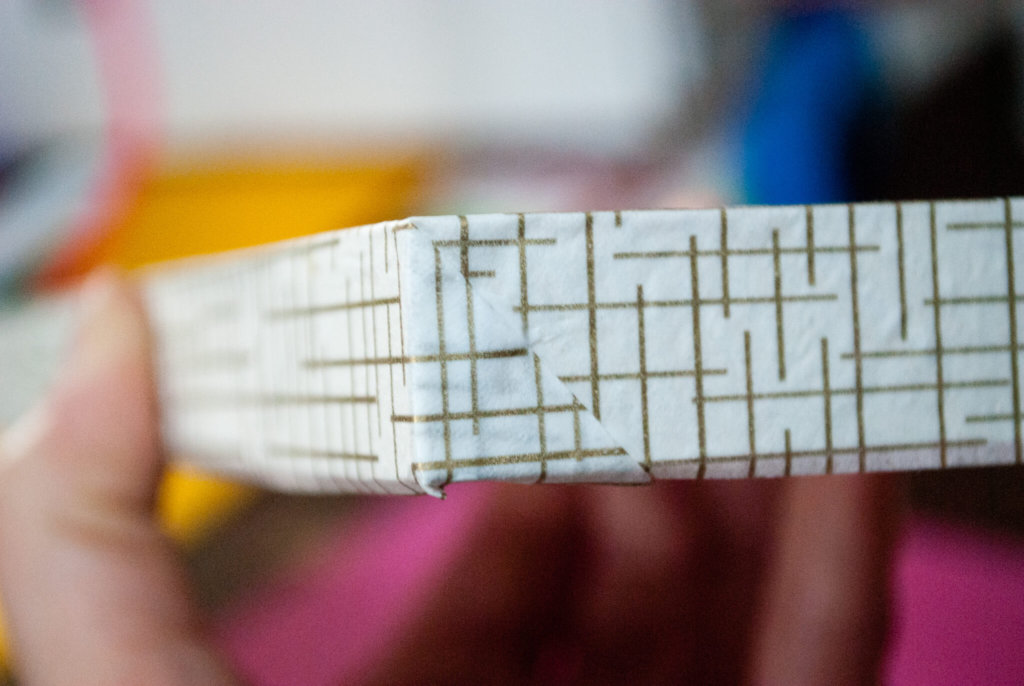 It's easier to twist in the cup hooks with a little starter hole. Tap a nail into the board to just get a hole started, then pull out the nail. I made a paper guide so that my hooks were evenly spaced because misaligned things drive me nuts.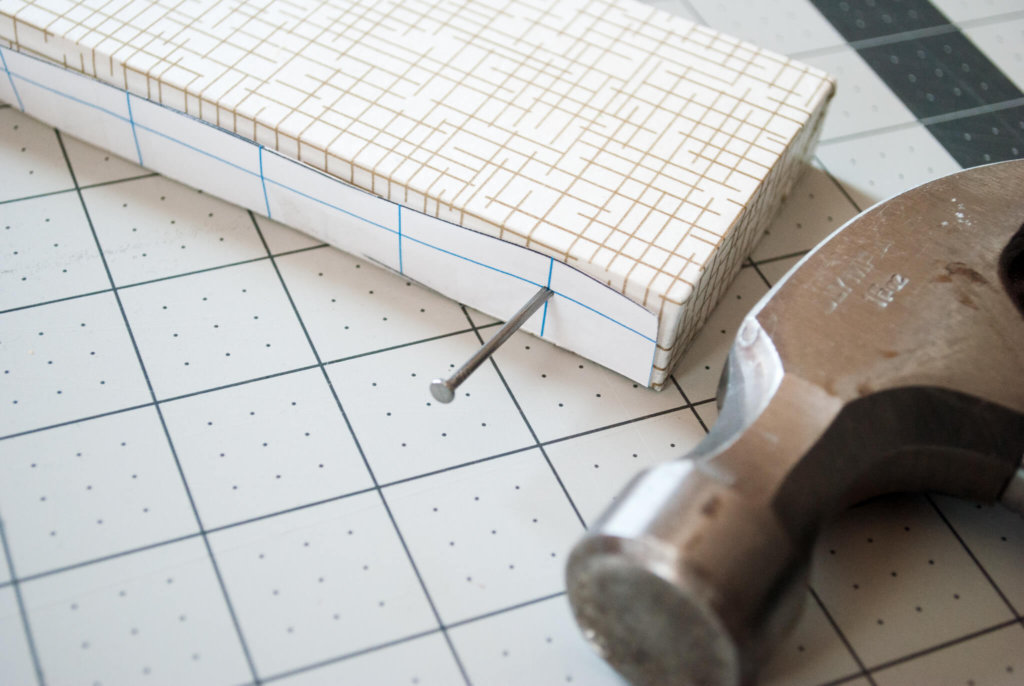 Twist in the cup hooks.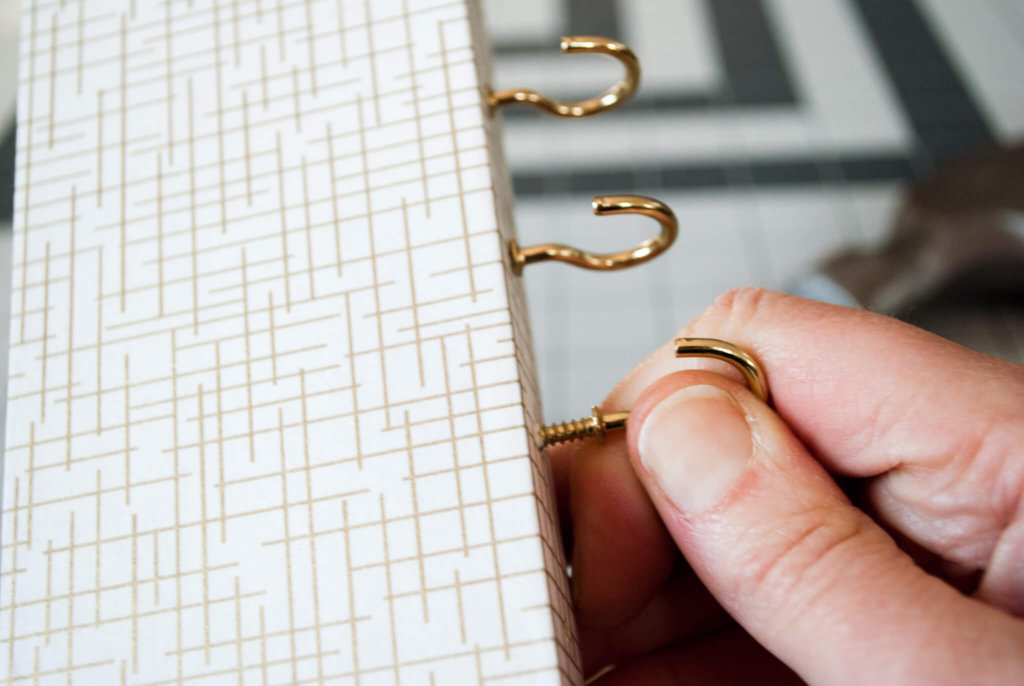 How to hang a jewelry organizer on the wall with no damage
Are you ready for my favorite hanging hack? Use a combo of painter's tape + VELCRO® Brand fasteners. Stick the hook (scratchy) side directly onto the wood. Now you could probably use a little less than I did, like a couple smaller strips; I just wanted to it to really hold tight.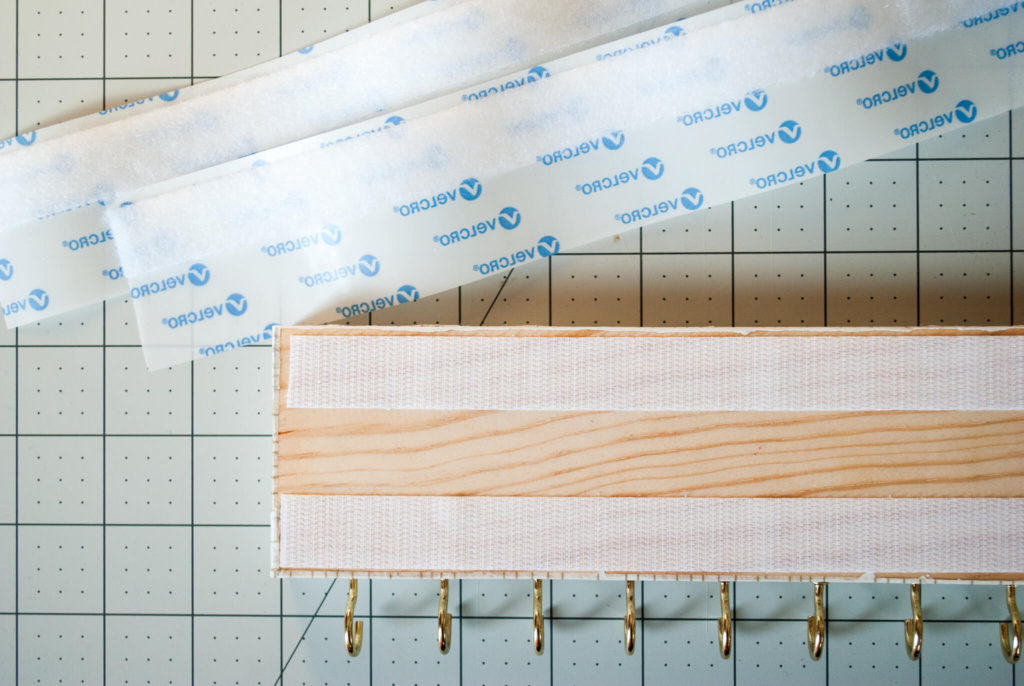 Put a couple of pieces of painter's tape onto the wall or dresser. Then put the loop (soft) side onto the tape. This hack makes any VELCRO® Brand fastener easily removable with no damage. And it holds great.
Now just stick your jewelry organizer to the wall or dresser. Congrats! Now all your pretty necklaces are on display.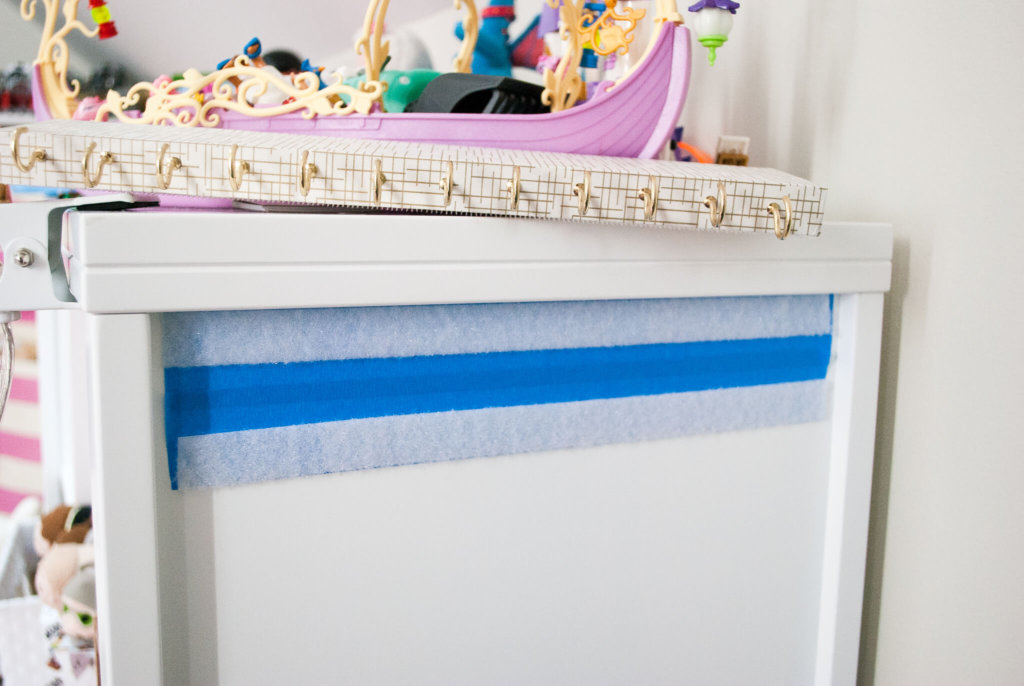 Sometimes our "DIYs-to-make" list is too long, yes? So if you choose to buy a handmade jewelry organizer, here are a few of my favorites on etsy (with affiliate links).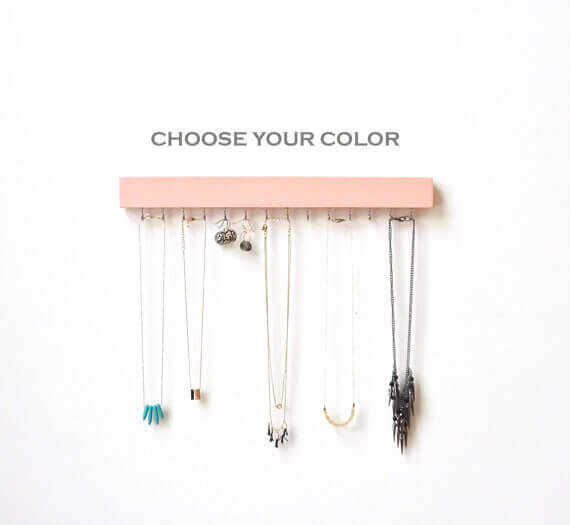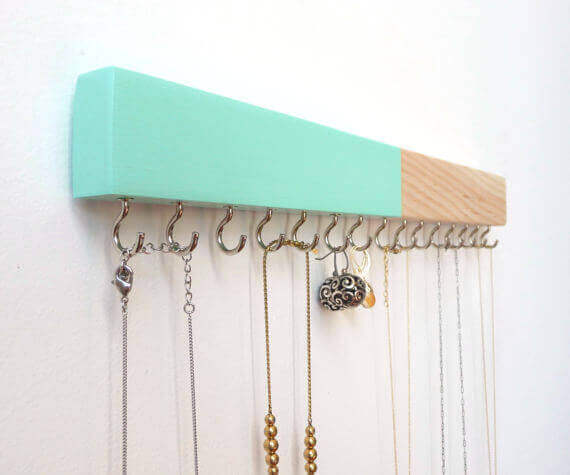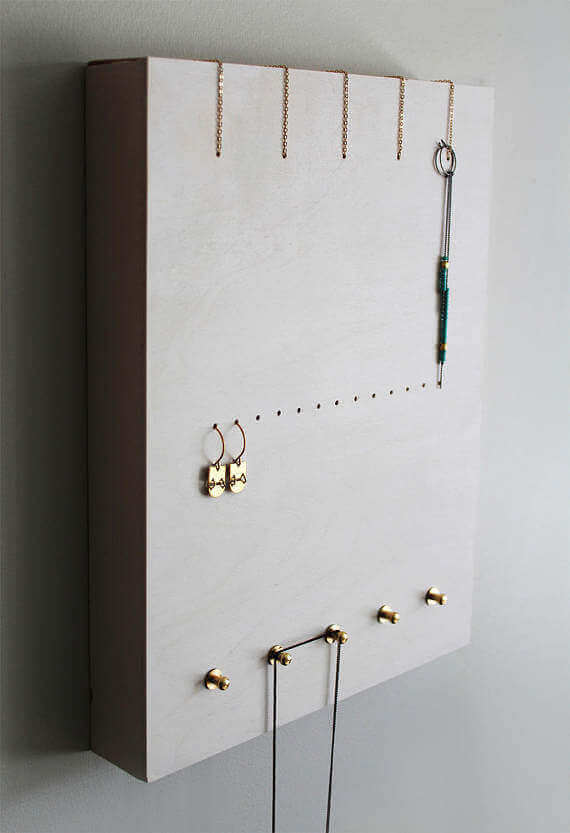 Tell me in the comments below: What color jewelry organizer did you make?
—
Like it? Share it!
The nicest way to say you like it is to pin it on pinterest, post a comment, follow Merriment Design on Facebook, twitter, pinterest, Google+, instagram or sign up for monthly emails. Enjoy! 🙂