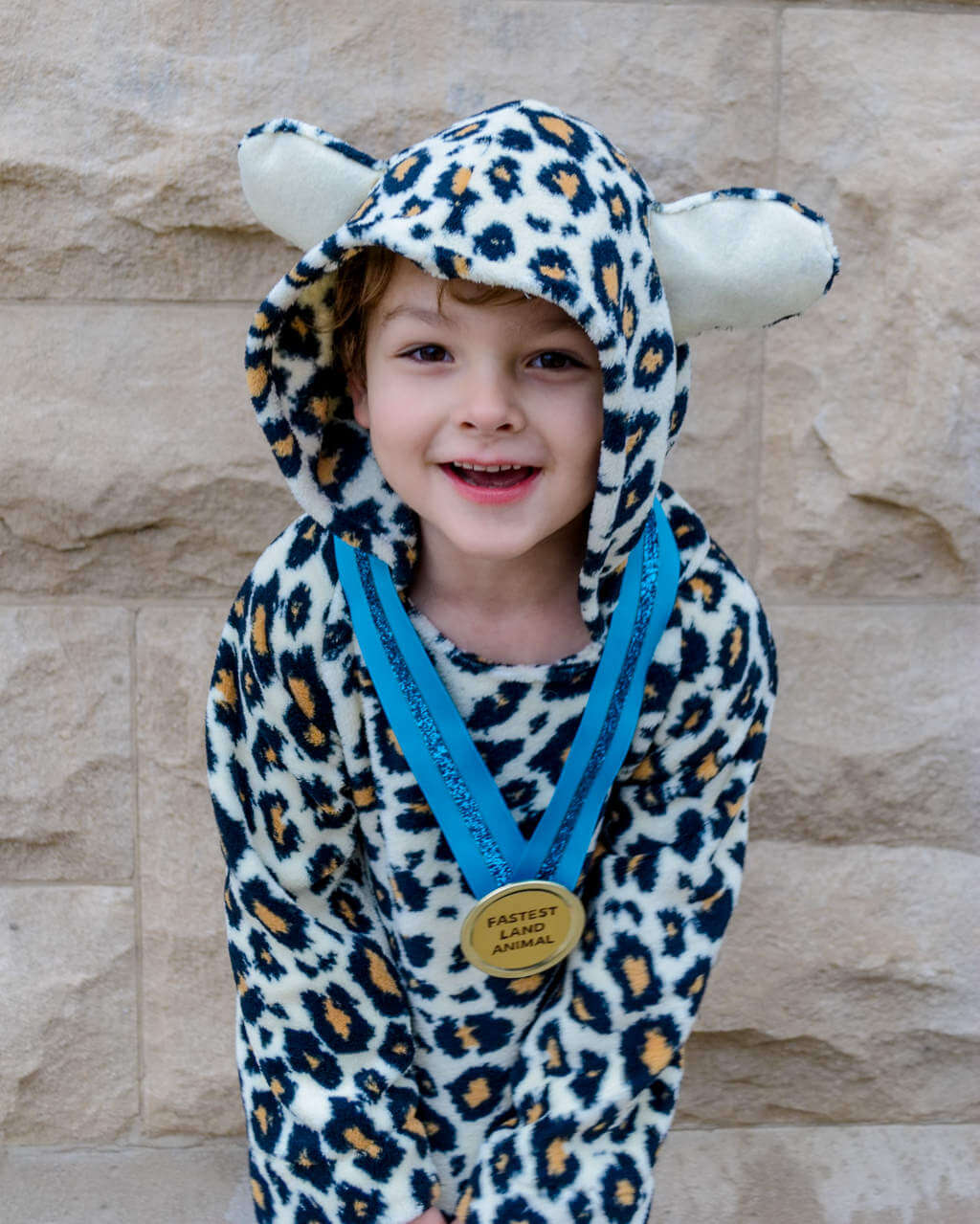 Looking for a cute boys Halloween costume idea? Make this DIY kids cheetah Halloween costume with a cozy hoodie and pants plus a 'World's Fastest Land Animal' running medal and running shoes. This kids cheetah costume is a cute Halloween costume idea for kids that you can make yourself. Kids love animal Halloween costumes and this one is comfy, cute and clever.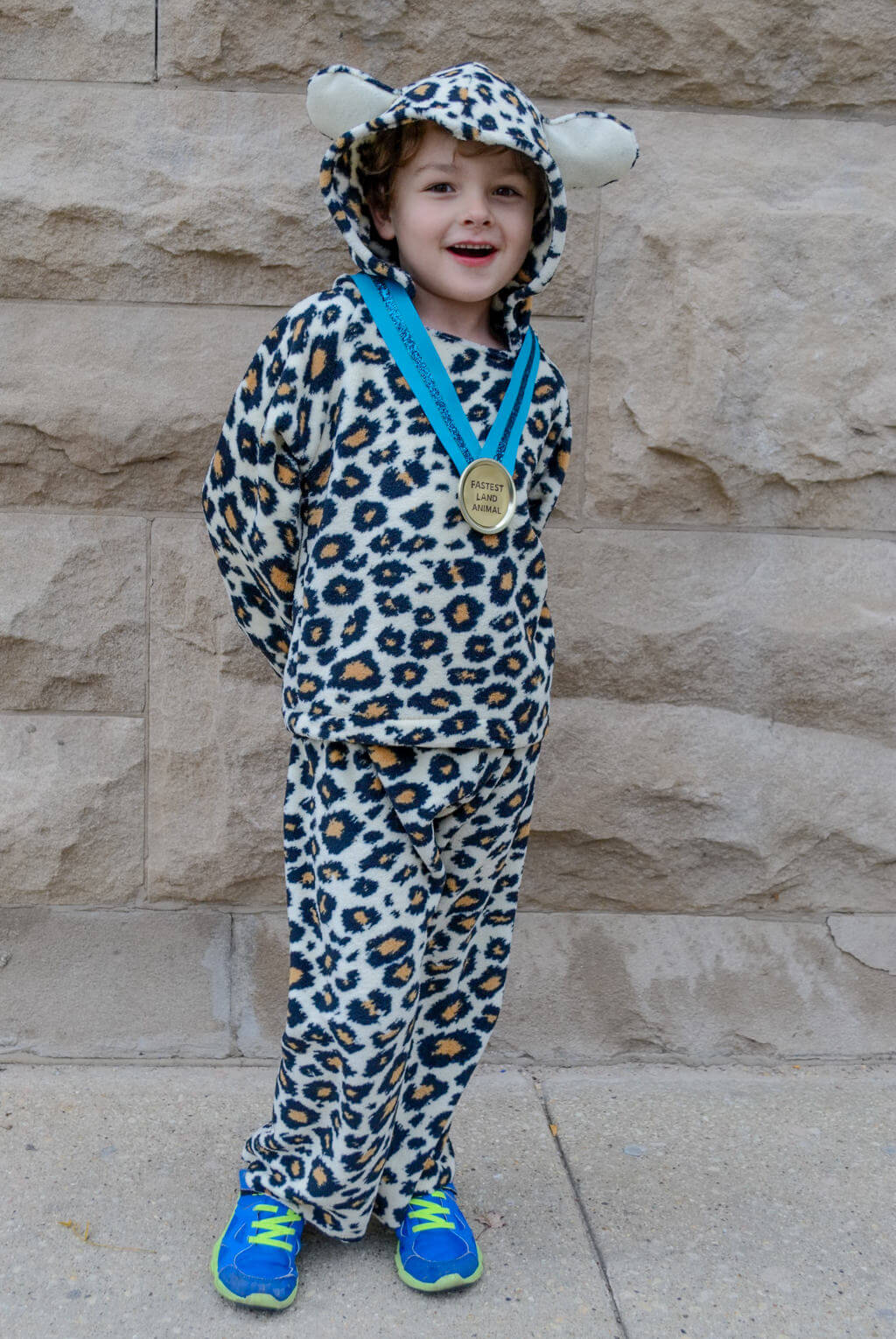 My five-year-old son wanted to be a cheetah for Halloween. And what boy wouldn't? The cheetah is the world's fastest land animal. World's fastest! What little boy wouldn't want to be the world's fastest land animal for Halloween??
See also: 'Bull in a China Shop DIY Halloween Costume for Kids' »
Well, I googled "cheetah Halloween costume" and eesh… I mean, it's all sexy female cheetah costumes. Why?? Why do women dress as 'Sexy Cheetah' for Halloween? Then I googled "cheetah Halloween costume for kids" and eesh, even the little girl cheetah Halloween costumes were no bueno. I was surprised that there weren't more kids cheetah Halloween costumes let alone boys cheetah costumes so I decided to make a DIY cheetah costume for Liam.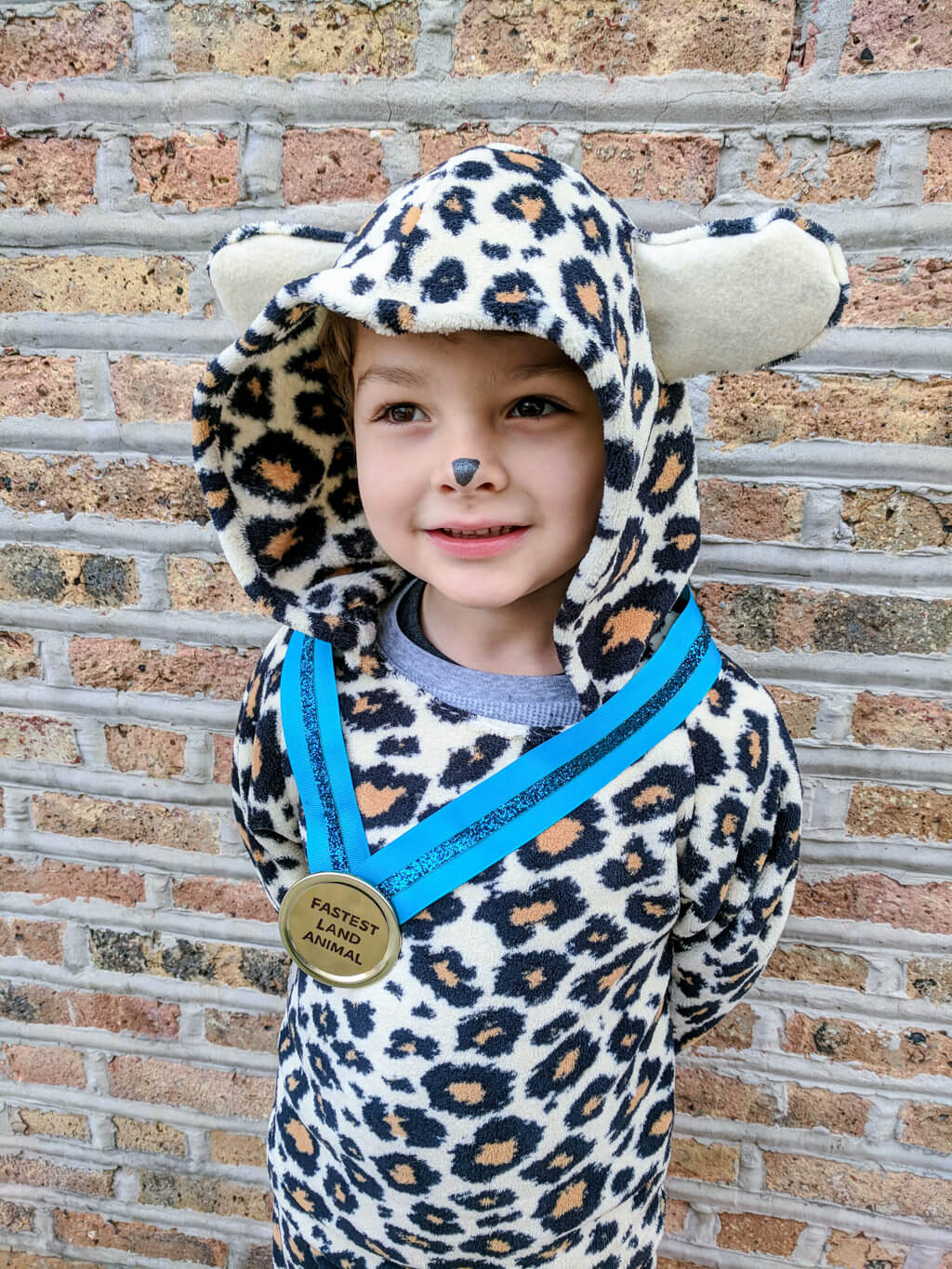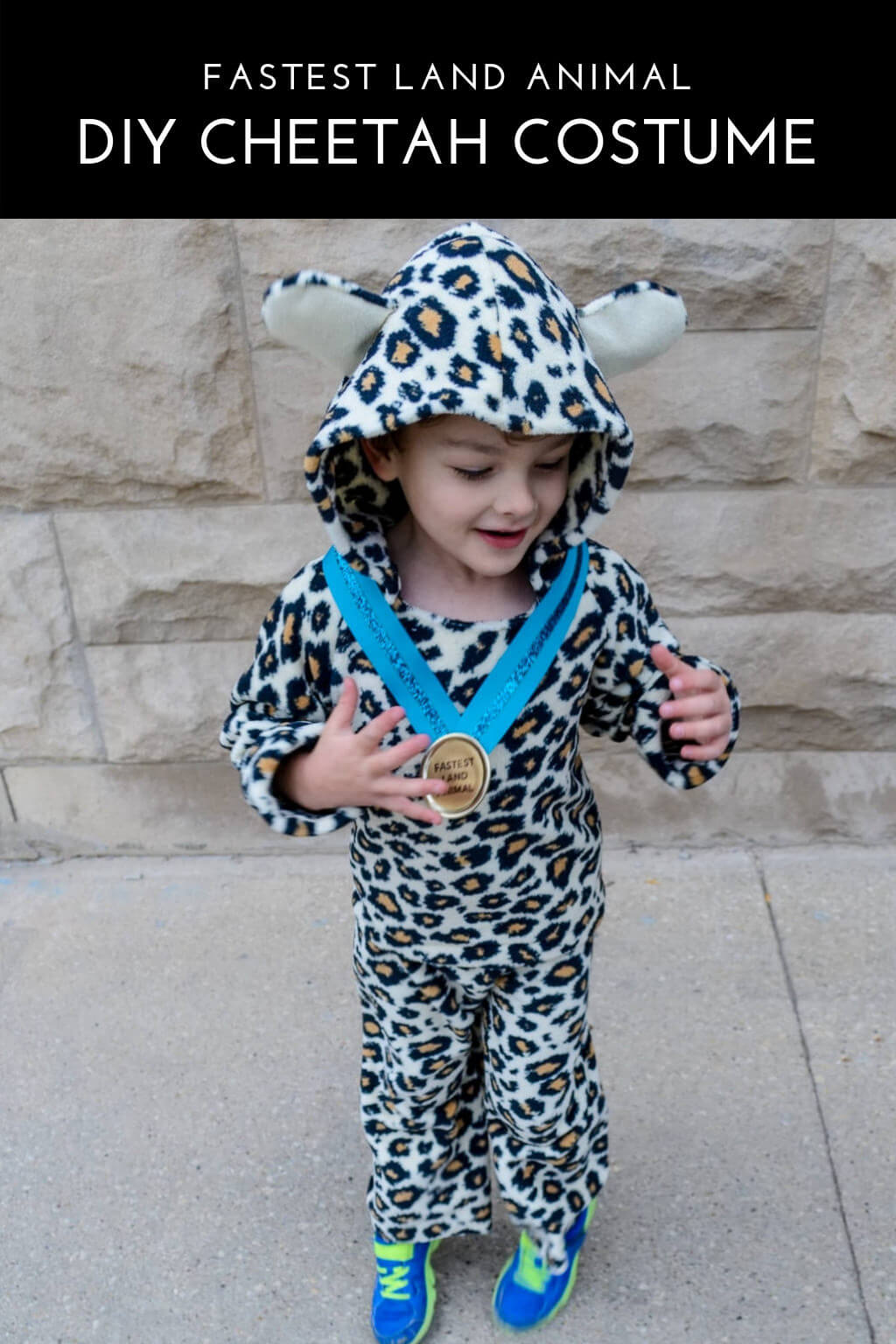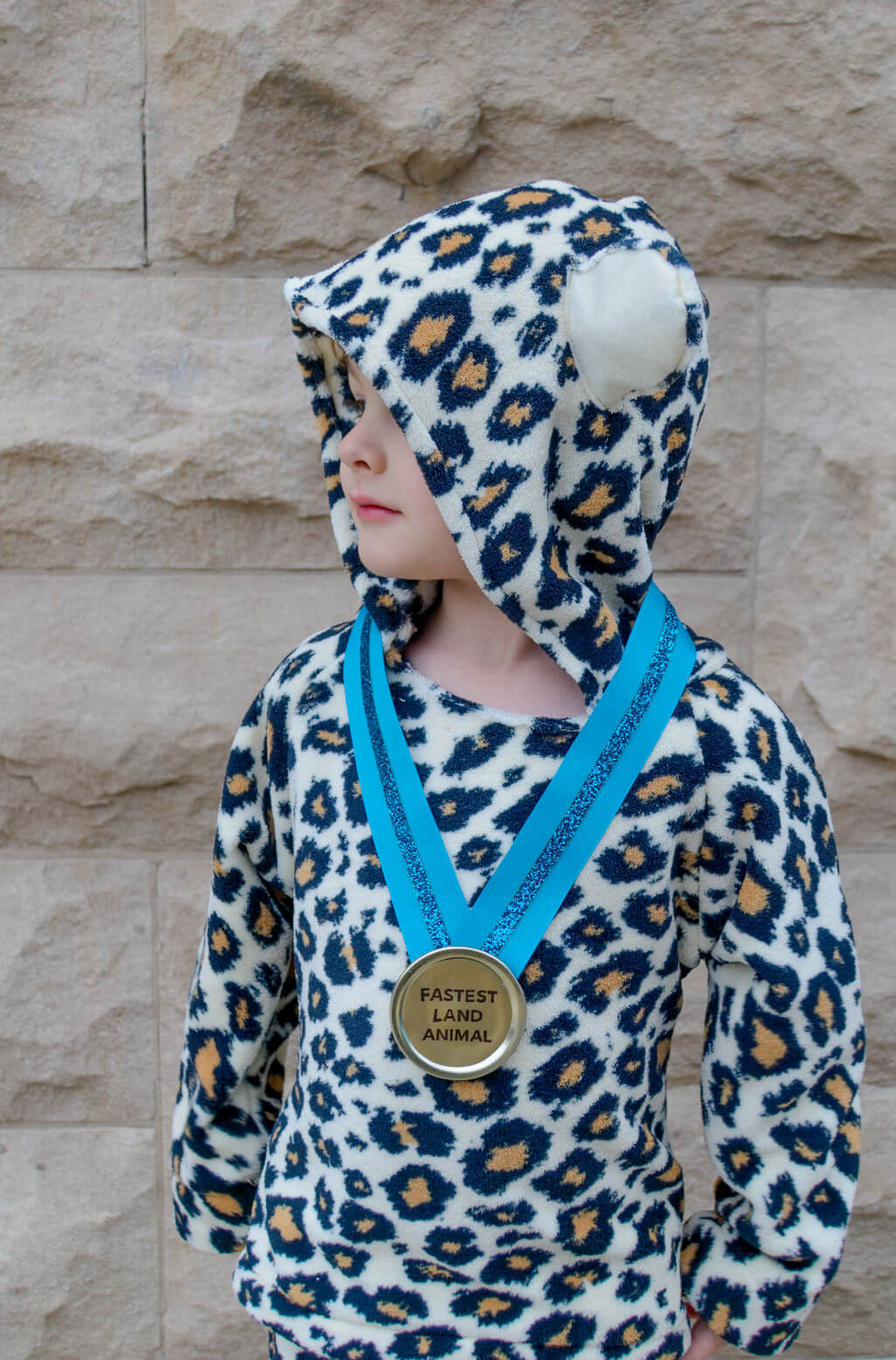 We went with a running motif. The fastest land animal! It felt like some sort of animal Olympics so we definitely needed to make this cheetah a medal. I sewed Liam a comfy DIY cheetah Halloween costume hoodie and pants with tail and then I made a DIY running medal that says "Land's Fastest Animal" — see how to make it below. We added a pair of blue running shoes to complete the look.
Now in hindsight, the fabric that I bought at Jo-Ann Fabrics is actually leopard fabric. Yeah. I was curious about the difference between leopards and cheetahs and turns out, cheetahs have black spots, not clusters of brown and black. But the costume is still cute so I say, go with the animal fleece that you can find.
Liam actually wore his cheetah Halloween costume for kids twice: once to the school Halloween party and once to trick-or-treat. The second time he wore the cheetah costume, we added a little bit of eyeliner to his nose to make a simple cheetah nose. Then the Fastest Land Animal joined Moana for some serious trick-or-treating in the city.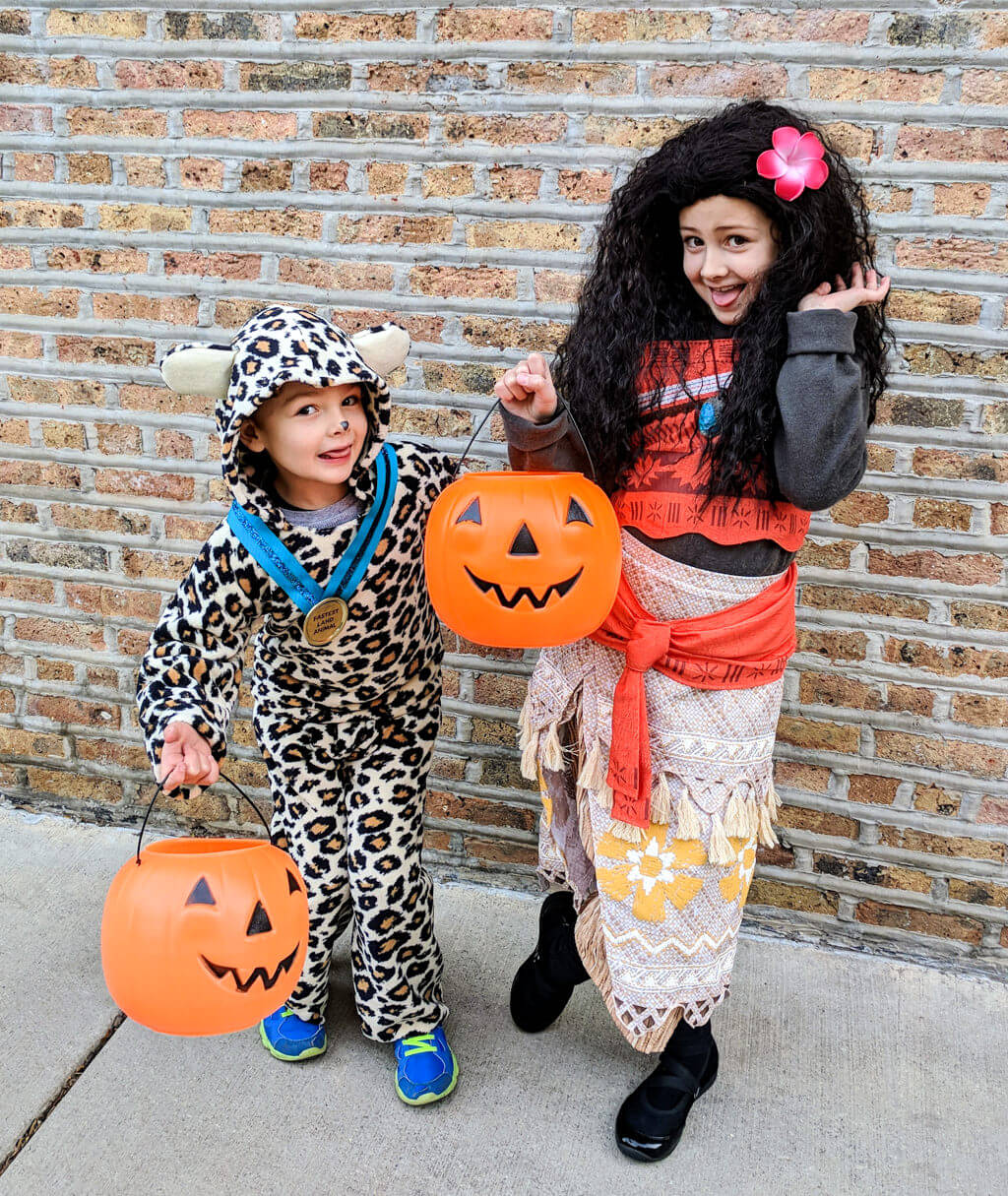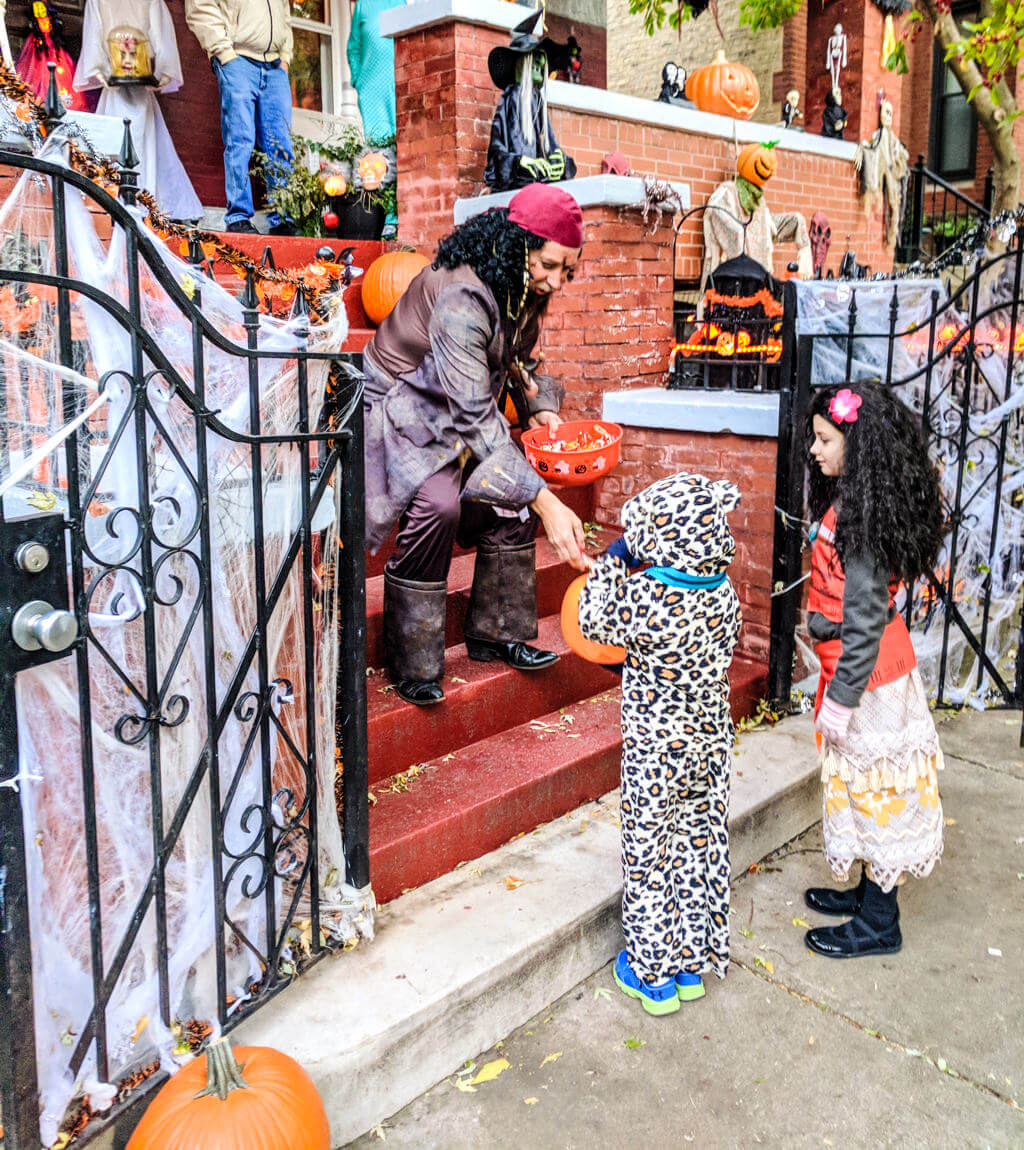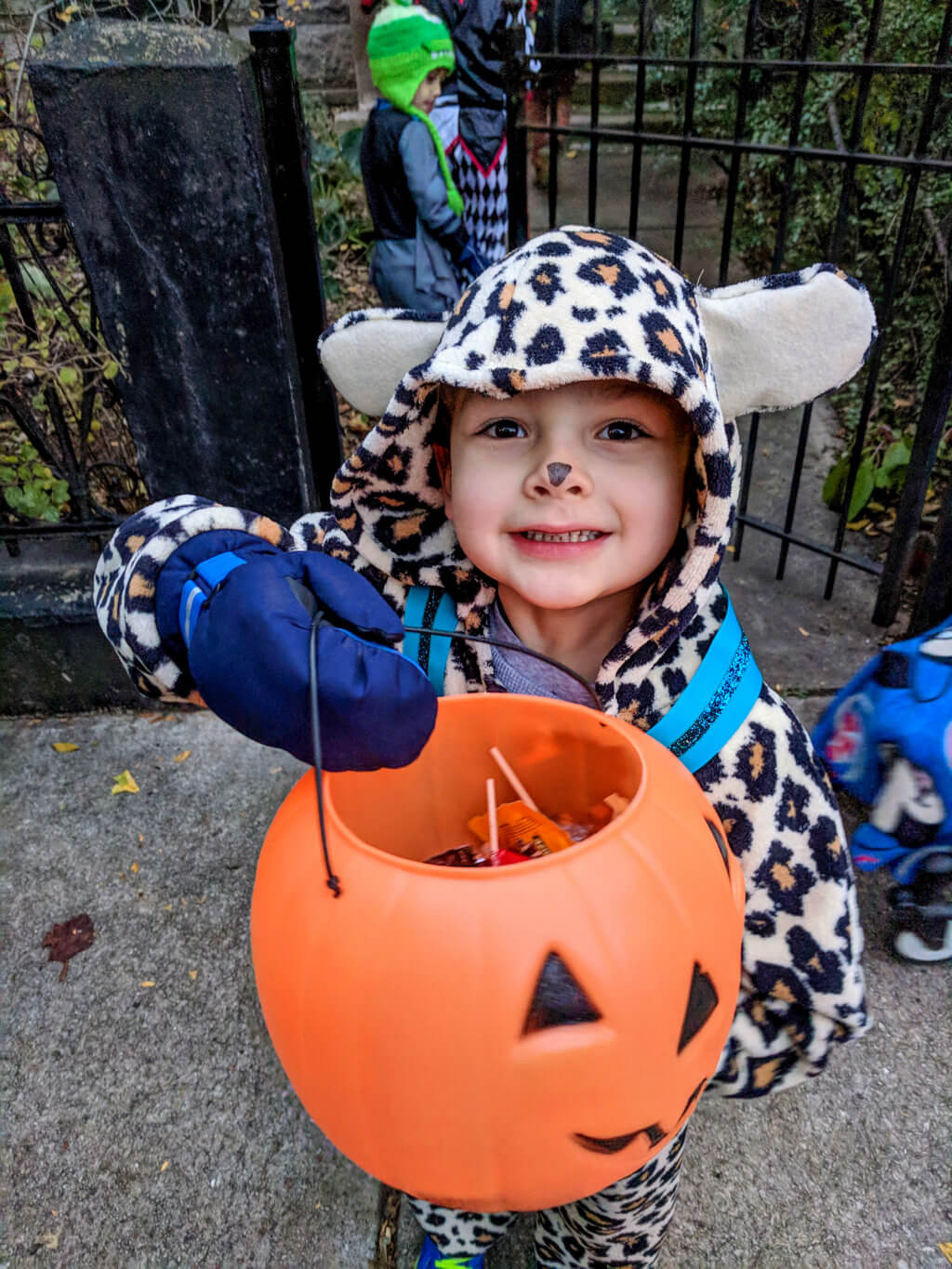 This DIY kids cheetah costume ended up being a great kids animal costume to wear on a chilly Halloween night in Chicago …we just needed to add a pair of blue gloves and a long-sleeved t-shirt underneath. And the Fastest Land Animal was also a big hit at the school Halloween party!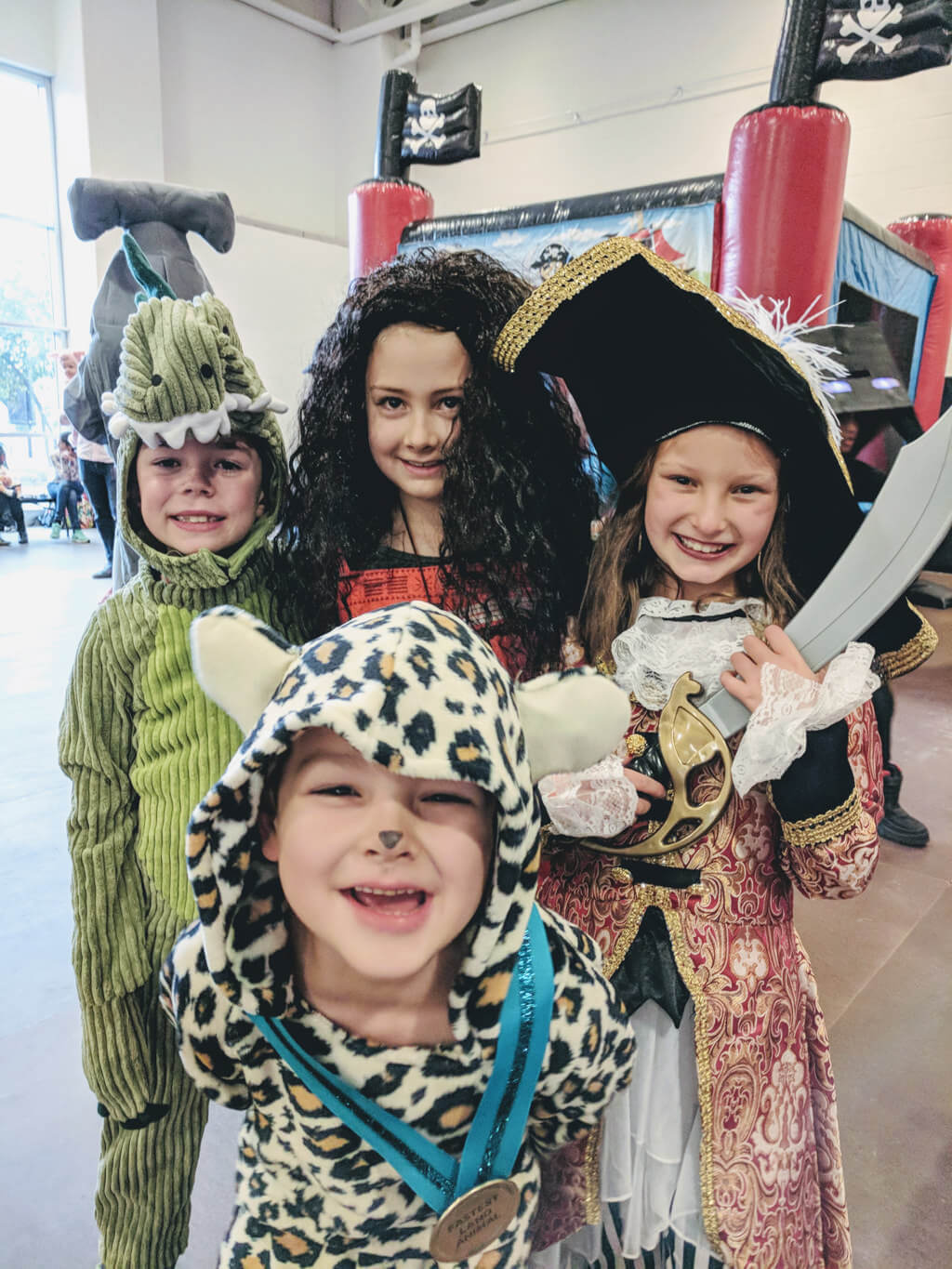 This post contain affiliate links which means that products I recommend may give me a nominal commission at no extra cost to you. Thanks – your clicks help me make more free DIYs!
++++++
Supplies for making a DIY kids cheetah Halloween costume:
Note: You could also buy a kids cheetah costume and only make the DIY medal to add to it. I think my design is cuter but I'm all for taking shortcuts when you need them.
++++++
Supplies for making a DIY running medal for a Halloween costume:
—
How to make a running medal for a DIY kids cheetah Halloween costume:
Download my free DIY running medal template (PDF). Print onto printer-friendly gold metallic paper. (NOTE: I only had super thin metallic gold wrapping paper so I taped it onto a piece of printer paper using washi tape and ran it through the printer. I traced it then with a black fine Sharpie marker to make it look hand-lettered but this is optional). Cut the gold circle out and tape or glue onto a mason jar lid.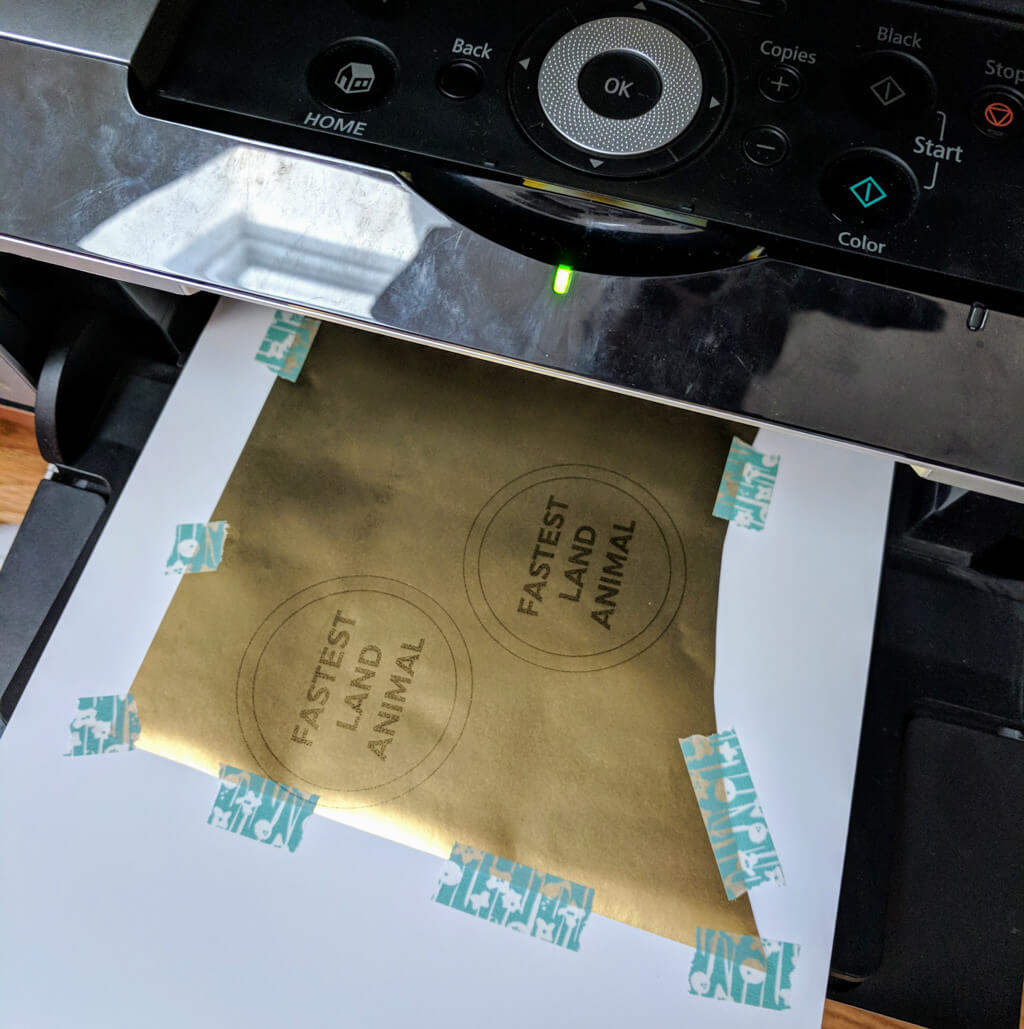 Glue the blue glitter ribbon onto the wide blue ribbon using fabric glue and let it dry. Attach the ends to backside of the gold medal with a bit of VELCRO® Brand Sticky Back fastener.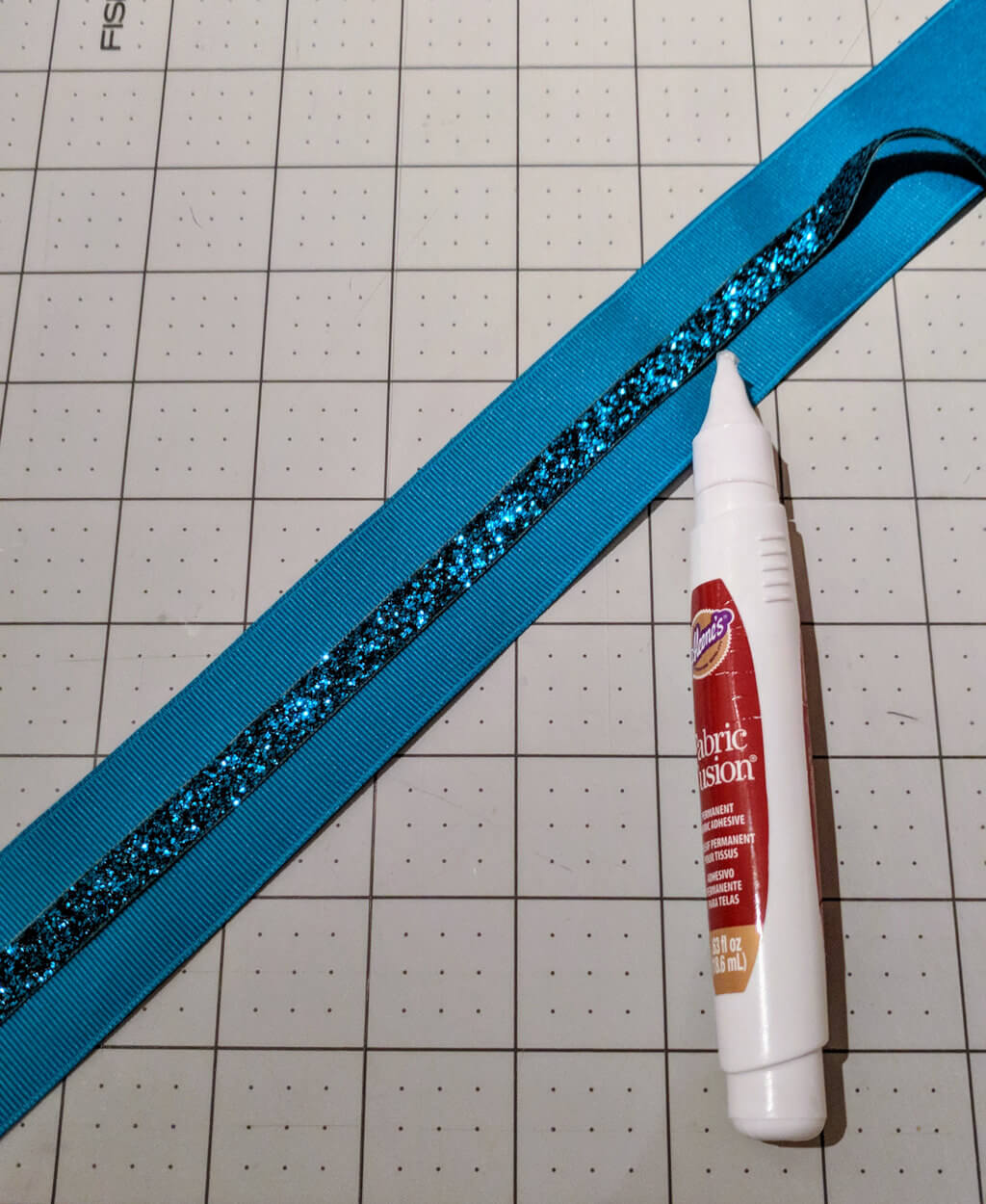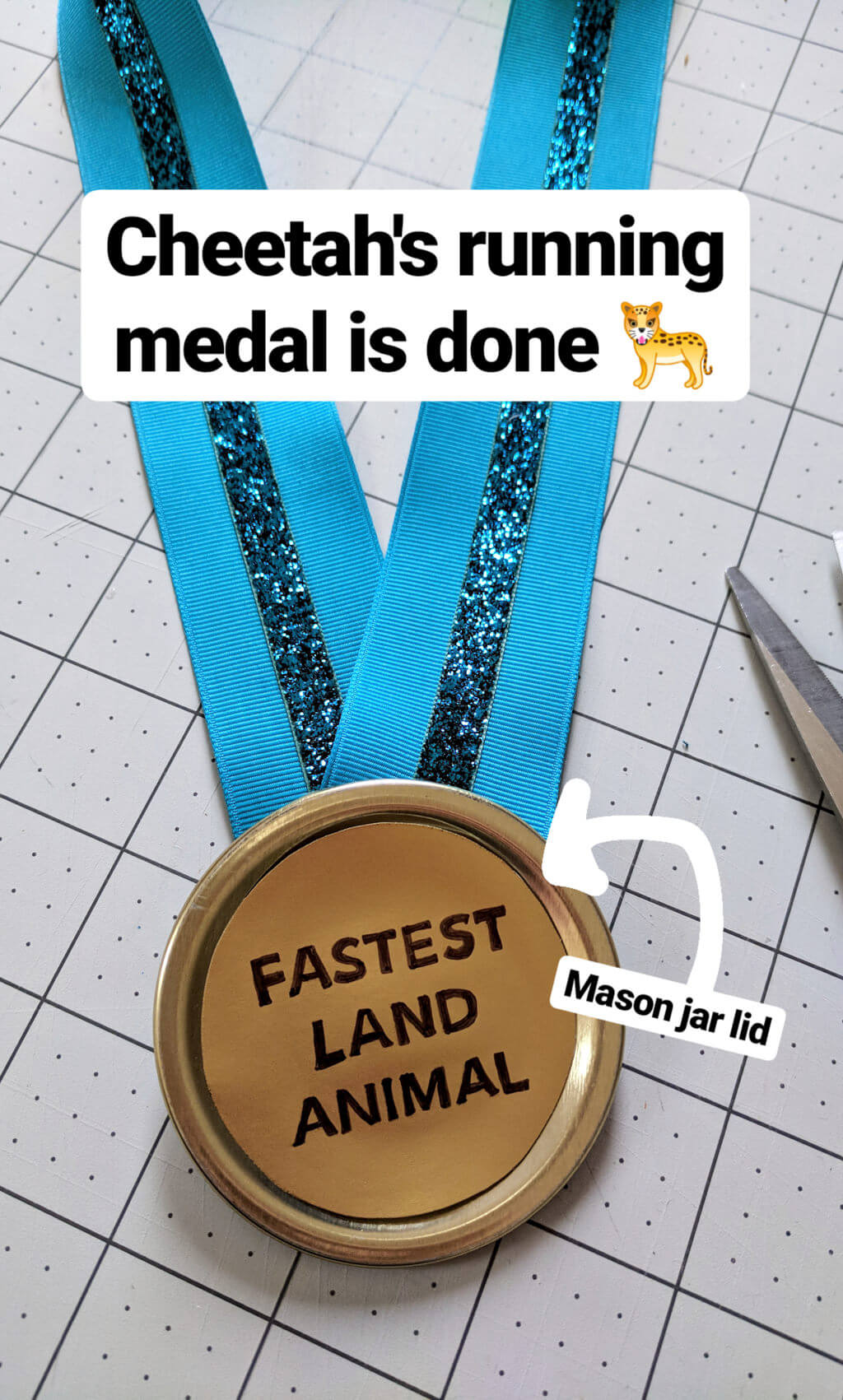 How to make pants for a DIY kids cheetah Halloween costume:
Making pants is actually really fast and easy — it should take under an hour to make. I watched some YouTube video on how to do it. I'm going to summarize it the process here and I recommend that you to YouTube like I did — just search 'sew pajama bottoms' in YouTube and there are a bunch of tutorials. You basically trace some pants out of cheetah fabric that already fit, cut out two pattern pieces and sew them together.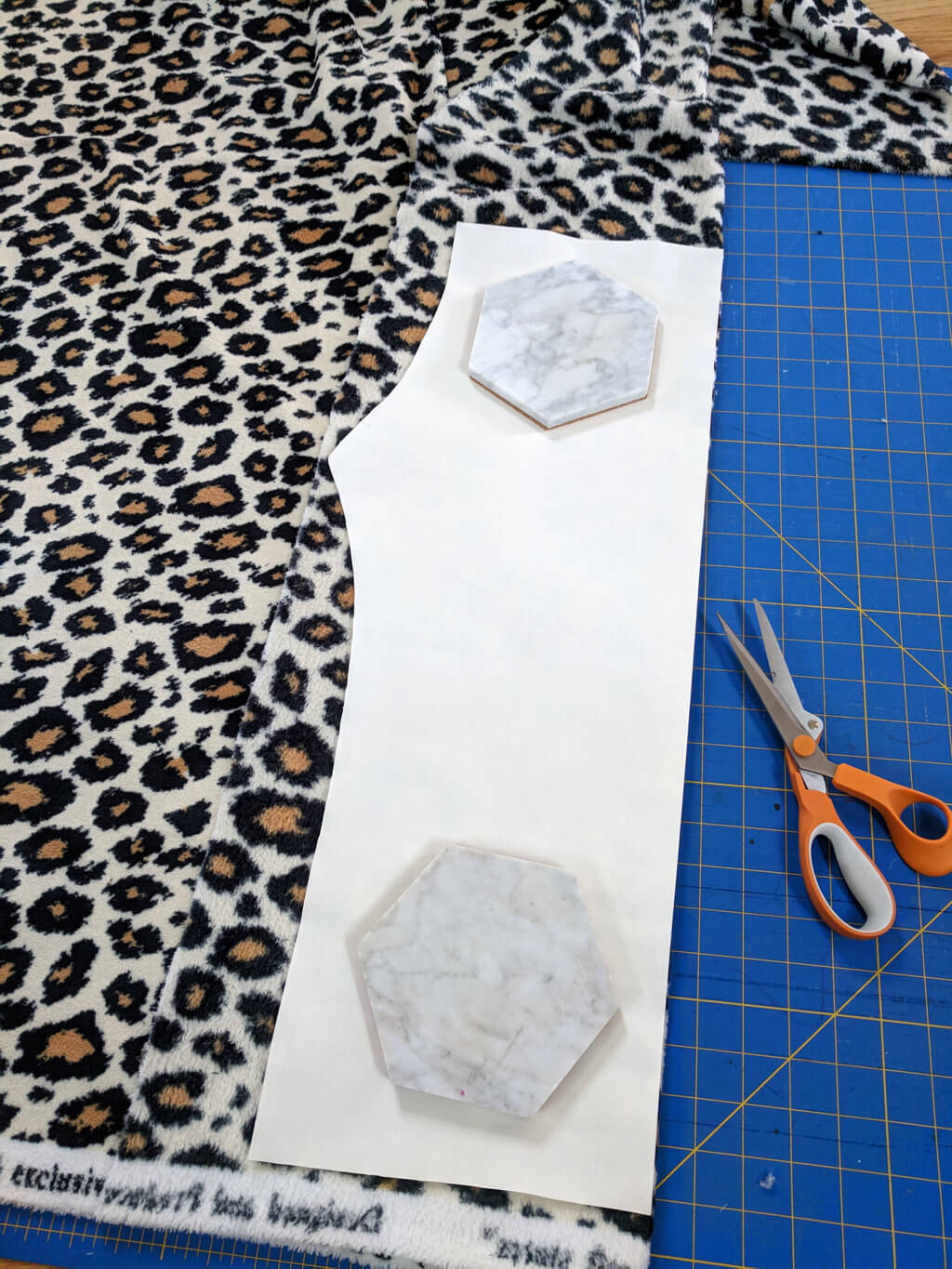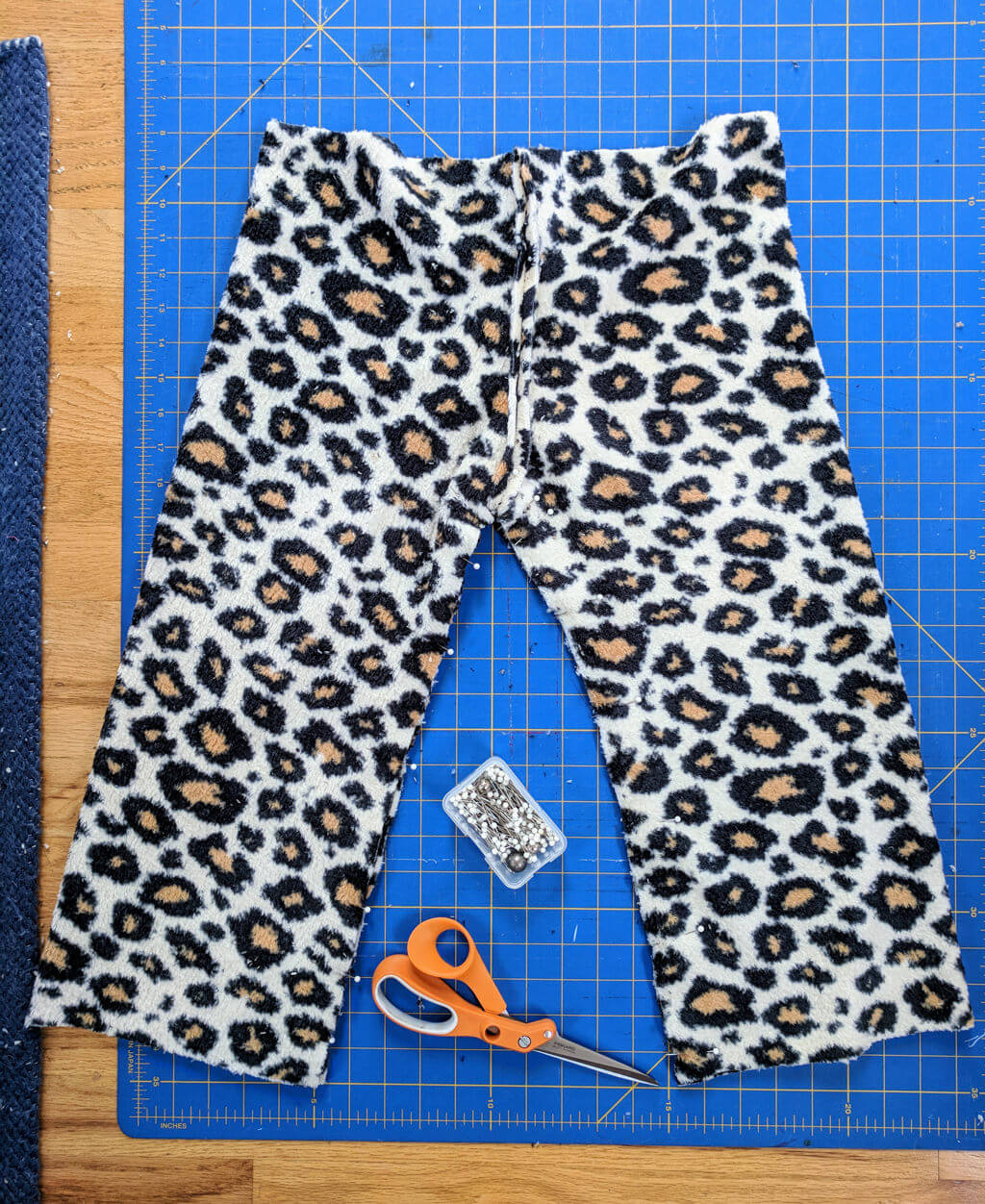 Then fold down a casing, sew around leaving about 2″ open. Put a straight pin into the end of the elastic by-the-yard and side the pin and elastic through the casing, then sew each end of the elastic together. Last step is to try on the pants for length and hem.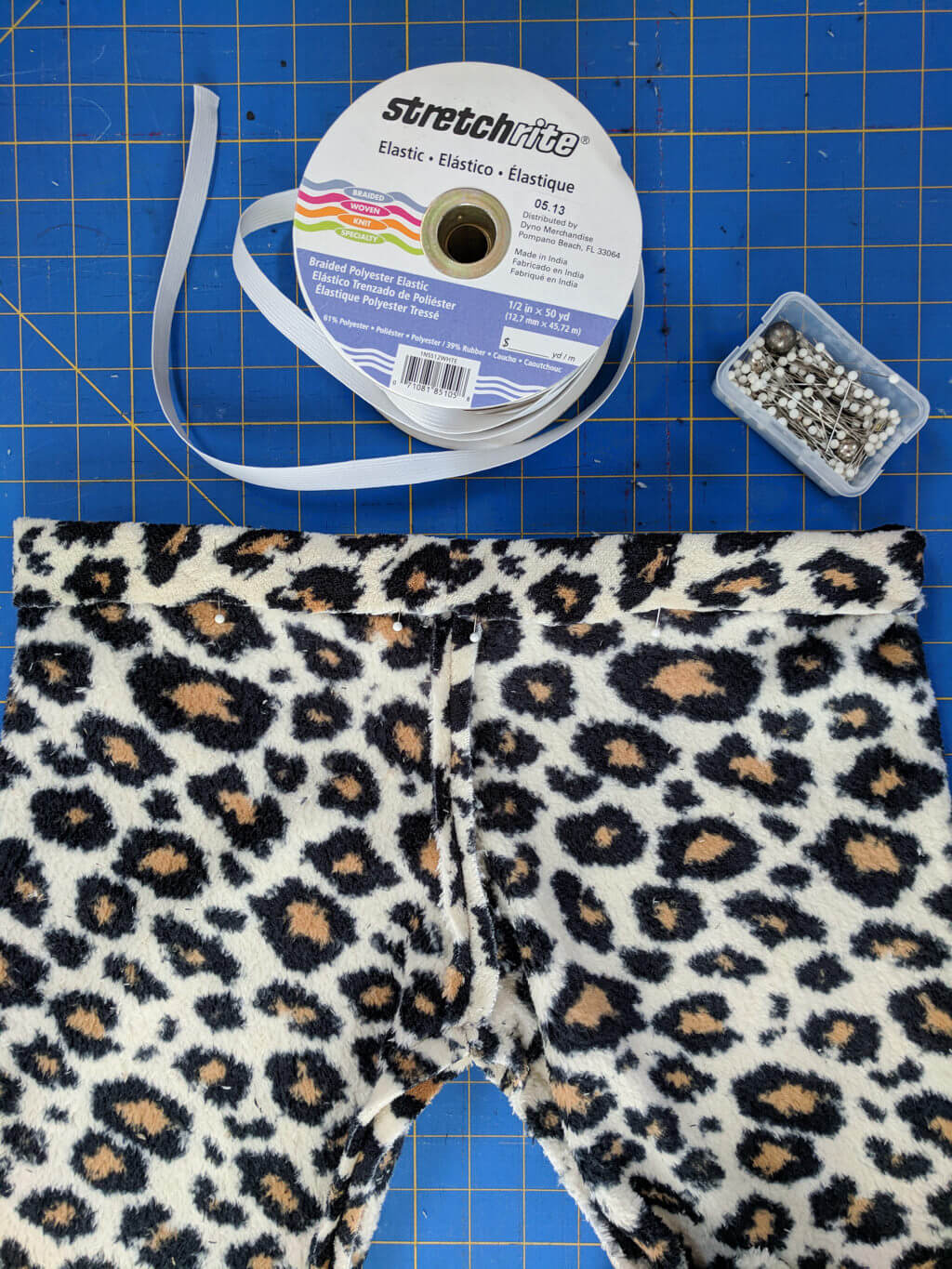 How to make a hoodie for a DIY kids cheetah Halloween costume:
Making the hoodie was more involved than the pants for sure. I used a hoodie that fit Liam well and roughly traced the pieces onto paper. I added seams to all sewn edges and cut out the pieces from cheetah fabric.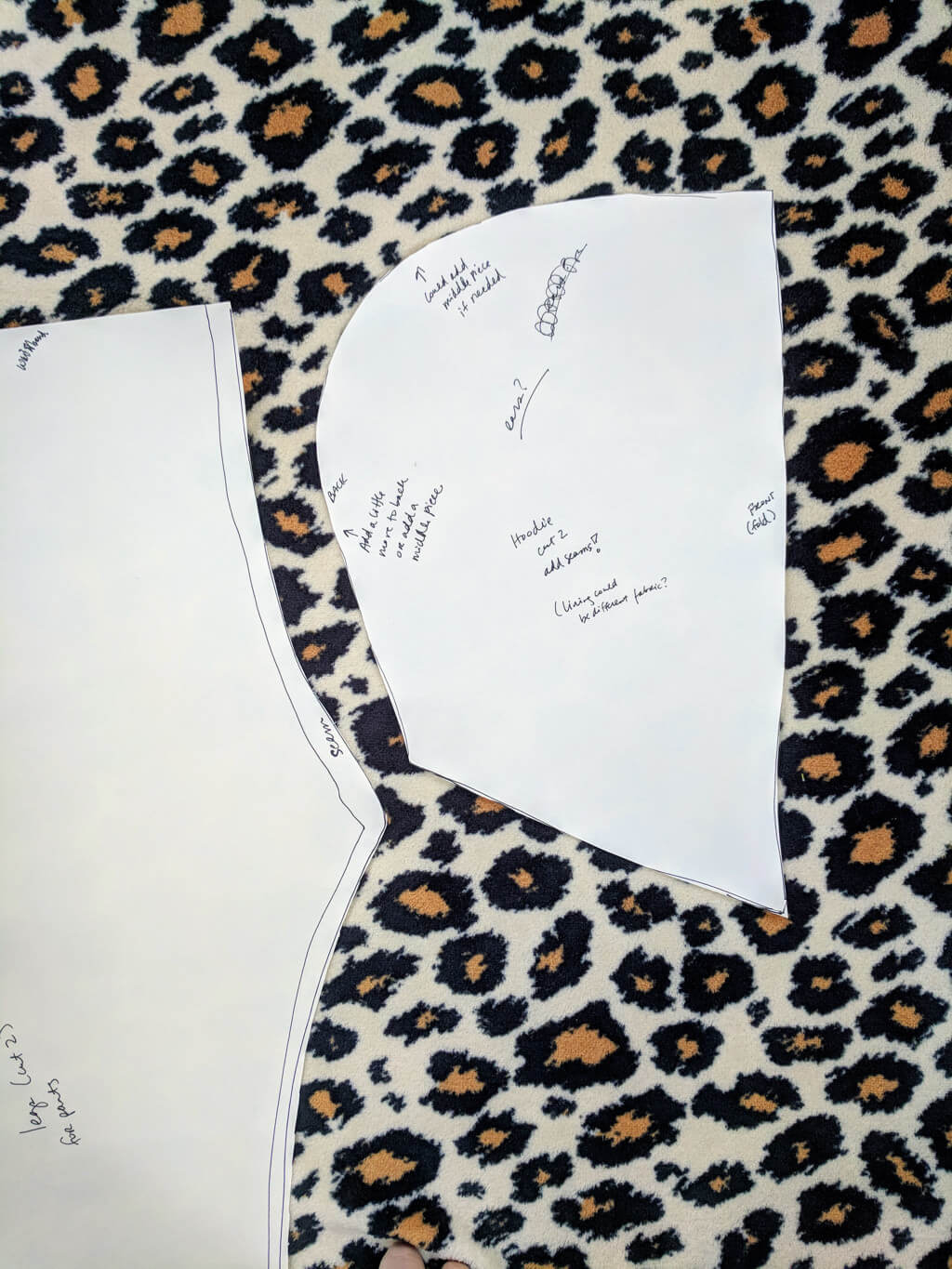 Here's what the cheetah costume basic hoodie part looked like. Then I attached the hood to the neck opening back and sides.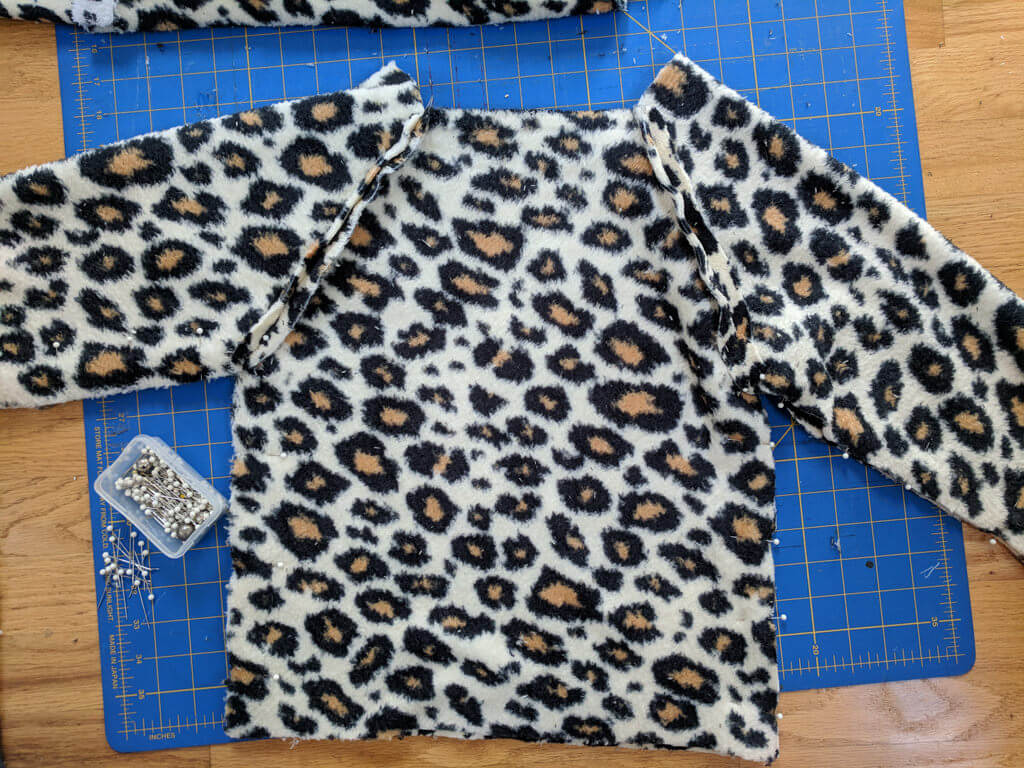 To make the cheetah's tail: Decide how long you'd like your tail to be. Then cut one 6″ wide piece of cheetah fabric that length. Sew it together along one edge, leaving one end unsewn. Turn the cheetah tail right-side-out. Stuff the cheetah tail using loose pillow stuffing.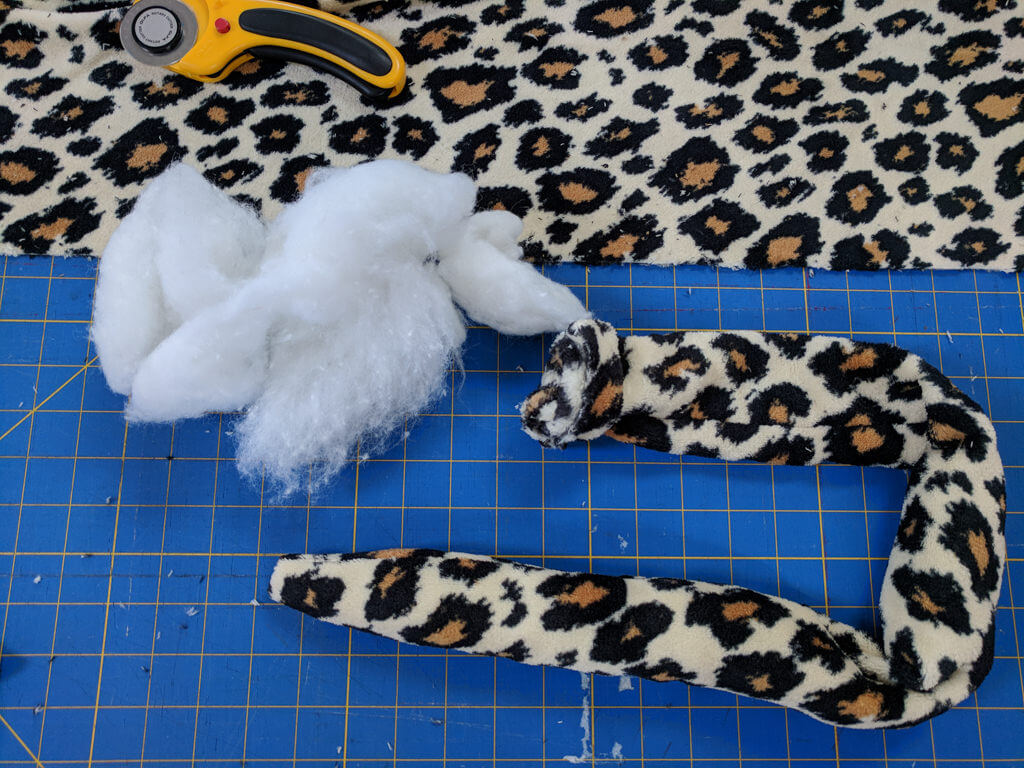 Then sew the cheetah tail onto the back of the cheetah hoodie. To make cheetah ears: cut out two ear shapes from the cheetah fabric and two ears from cream felt. Sew one cream felt piece to one cheetah fabric, leaving the bottom open. Turn the ear right side out. Repeat for the other cheetah ear. Stuff with a bit of pillow stuffing and hand sew it to the cheetah hood.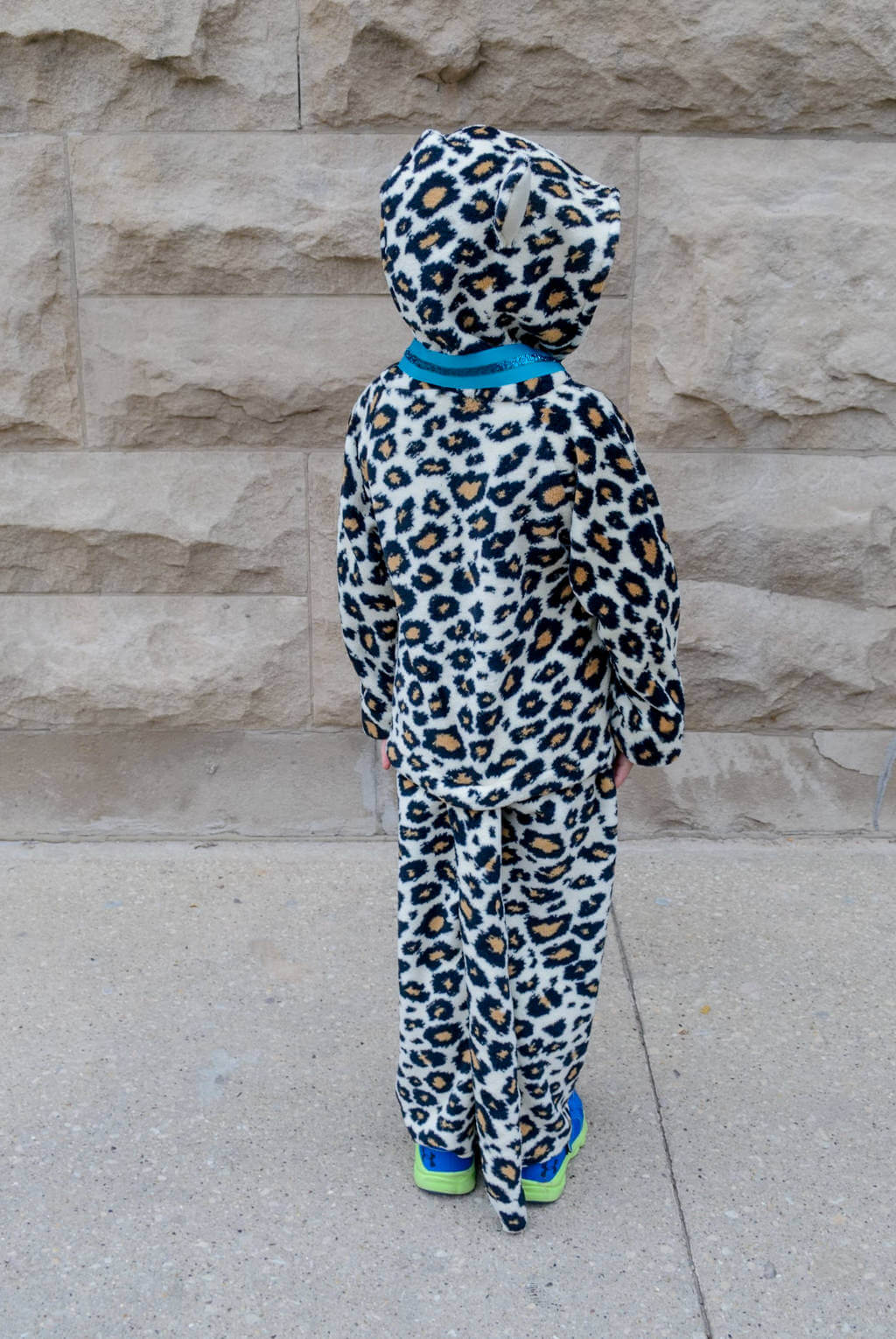 ++++++
Be sure to pin this DIY kids cheetah Halloween costume for later: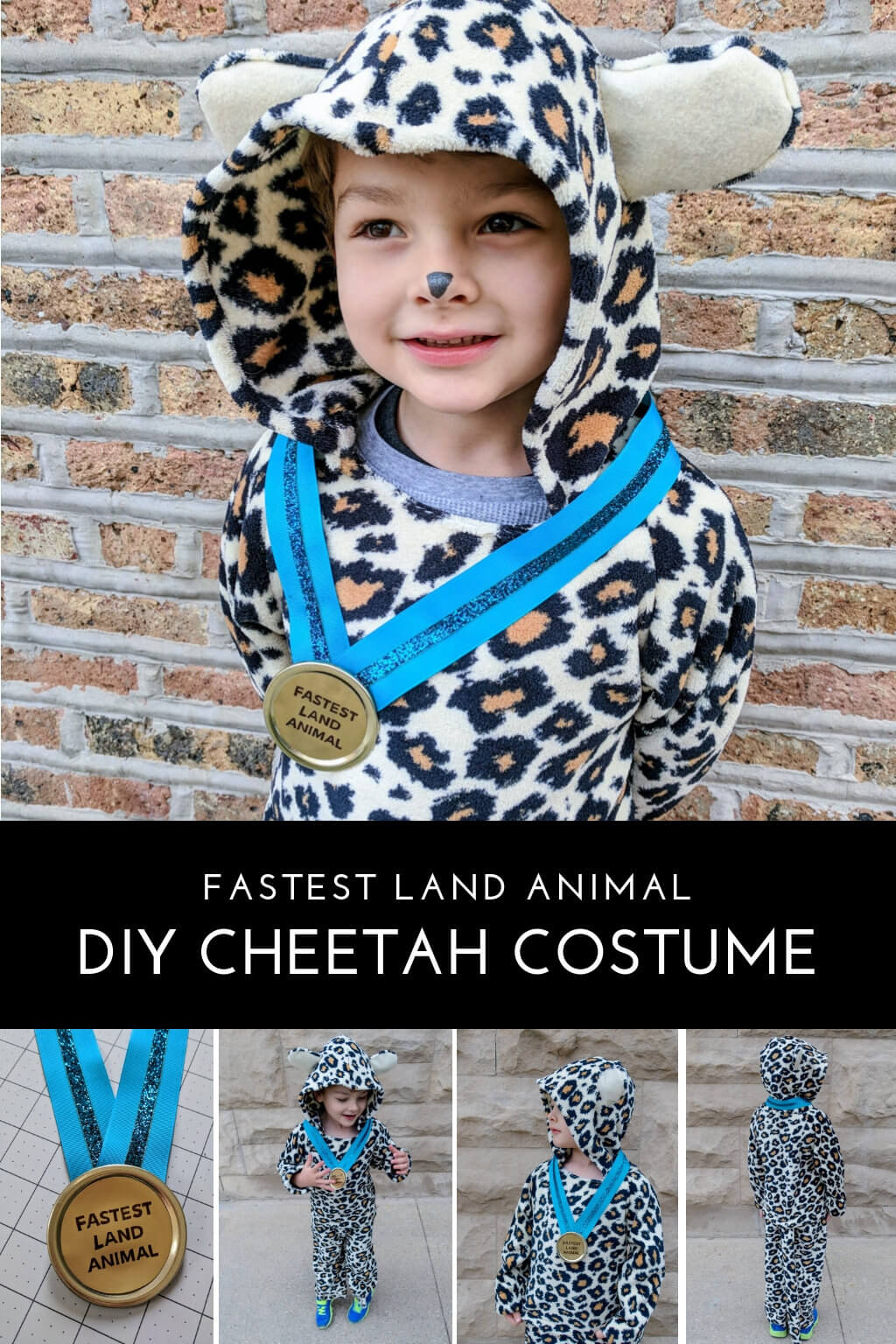 See more DIY Halloween costumes, games and trick-or-treat bags for kids and adults.
—
Like it? Share it!
The nicest way to say you like it is to pin it on pinterest, post a comment, follow Merriment Design on Facebook, twitter, pinterest, Google+, instagram or sign up for monthly emails. Enjoy! 🙂
Copyright stuff: You're more than welcome to use this free project and tutorial for personal use. Contact me for commercial use and etsy sales.