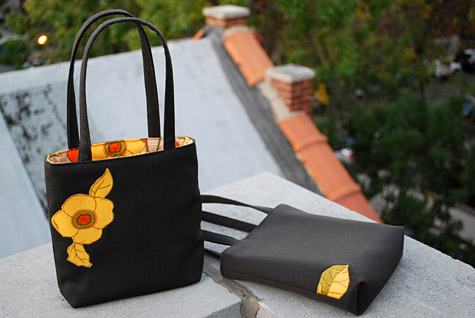 Back in the summer, Liesel Eastman saw our wedding featured in the Knot Magazine and contacted me to see if I could help with the creative details for her October wedding to Barrett.
In addition to creating her online RSVP system and designing the sewn zigzagged programs, table numbers, ring bearer pillow, place cards and menu, I made eight super cute evening handbags for Liesel and her seven bridesmaids using retro poppy fabric. The pattern I designed for Liesel was improved upon what I'd made for my bridesmaids. Practice makes perfect 🙂
Each handbag was unique: I made eight different flower appliques on the handbag fronts and added eight leaves playfully peeking out of the seam on the handbag backs.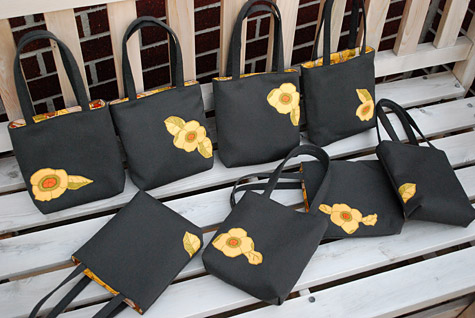 As always, free instructions to make your own are below. Don't feel like making them yourself? Contact me and I can help.
You're welcome to use these instructions and templates for free for your own personal use. Anyone using the template simply post a comment below or email me to track its usage.
Supplies:

Cut your pieces. Cut out the handbag pieces using a rotary cutter
, clear fabric ruler
and rotary mat
:
Outside fabric (I used chocolate wool gabardine from Fabric.com)
Front (cut 1): 8.5″ wide x 16″ tall
Straps (cut 2): 4″ wide x 14″ tall
Inside fabric (I used retro-inspired poppy fabric)
Inside (cut 1): 8.5″ wide x 16″ tall
Iron-on interfacing
Inside fabric lining (cut 1): 8.5″ wide x 16″ tall
Straps interfacing (cut 2): 4″ wide x 14″ tall
Blockout drapery lining
Outside fabric lining (cut 1): 8.5″ wide x 16″ tall

Make your handbag inside. Iron your interfacing onto the wrong side of the floral fabric. Fold it in half, right sides together and sew 1/2 inch seams on the left and right sides.

Now this part is sort of hard to explain. Make your handbag bottom by creating a triangle where the side seam meets the bottom. Your triangle should be 1.5 inches wide and 1 inch tall with the seam flattened open. Mark with a pencil and sew across the bottom of the triangle. See how it's already creating a soft handbag bottom?

Sew your appliques. So here's the way I do appliques. Iron interfacing onto the back of your flowers and leaves. Cut out once the fabric is cool.

Cut a square of heavyweight sew-in interfacing
slightly larger than your applique. Fold your chocolate brown piece together in half, wrong sides together, and place on your mat. Place your flower where you want, being sure to put it at least 1 inch from the side and 1.5 inches from the bottom account for seam allowances and the bag bottom.